There's Jack Hughes, then there's everybody else.
Hughes belongs in the conversation with those generational players that have come before him — Connor McDavid, Auston Matthews — although his game is more reminiscent of Mitch Marner.
There's plenty to like in this draft class, especially at centre. Lethbridge's Dylan Cozens and Saskatoon's Kirby Dach will slug it out to the end of the season to be the top Canadian selected, but both are currently projected to be top-seven picks.
We don't have the high-end depth at defence we had a year ago and, in fact, we may see only one blueliner go inside the top 10.
With two key events currently taking place in Europe, we're sure to have some changes in December, but for now, here's our November rankings.
1. Jack Hughes, C, USNTDP, 5-foot-10, 168 pounds: Has hit the quarter mark in quest for wire-to-wire status as this draft's top player.
2. Kaapo Kakko, RW, TPS (Liiga), 6-foot-4, 207 pounds: Adapting well at taking the same game he plays against his peer group and applying it in Finland's top league. Handles and protects the puck well at top speed.
3. Dylan Cozens, C, Lethbridge Hurricanes (WHL), 6-foot-3, 185 pounds: Adapting to a heavier workload and the attention given to top players by the opposition, yet still producing at more than a point per game rate.
4. Kirby Dach, C, Saskatoon Blades (WHL), 6-foot-3, 195 pounds: With more trust in his shooting ability, he's proving he can score (11 goals in 19 games). Extremely focused and won't allow distractions to take his eye of the prize.
5. Vasily Podkolzin, RW, SKA St. Petersburg (MHL) 6-foot-1,183 pounds: Based on his play at the Hlinka-Gretzky Cup, he should be a dominant MHL player. Maybe's he's bored, but seeing him play against stiffer competition would be helpful.
6. Alex Turcotte, C, USNTDP, 5-foot-11, 189 pounds: Injury-plagued season has limited him to just three games. Based on past successes, however, he's still a top 10 pick.
7. Raphael Lavoie, C/RW, Halifax Mooseheads (QMJHL) 6-foot-4, 192 pounds: Great hands with the ability to work in tight spaces. Combined with acute shooting ability, he is a threat every time he crosses the blue line.
8. Alex Newhook, C, Victoria Grizzlies (BCHL) 5-foot-11, 190 pounds: Highly motivated from not making Canada's Hlinka-Gretzky team, he has taken his frustrations out against the rest of the BCHL with 34 points in 22 games.
9. Matthew Boldy, LW, USNTDP, 6-foot-1, 187 pounds: Size, skate, score, say no more.
10. Ryan Suzuki, C, Barrie Colts (OHL) 6-foot, 172 pounds: Can process the game as quickly as he moves, a major asset in today's NHL.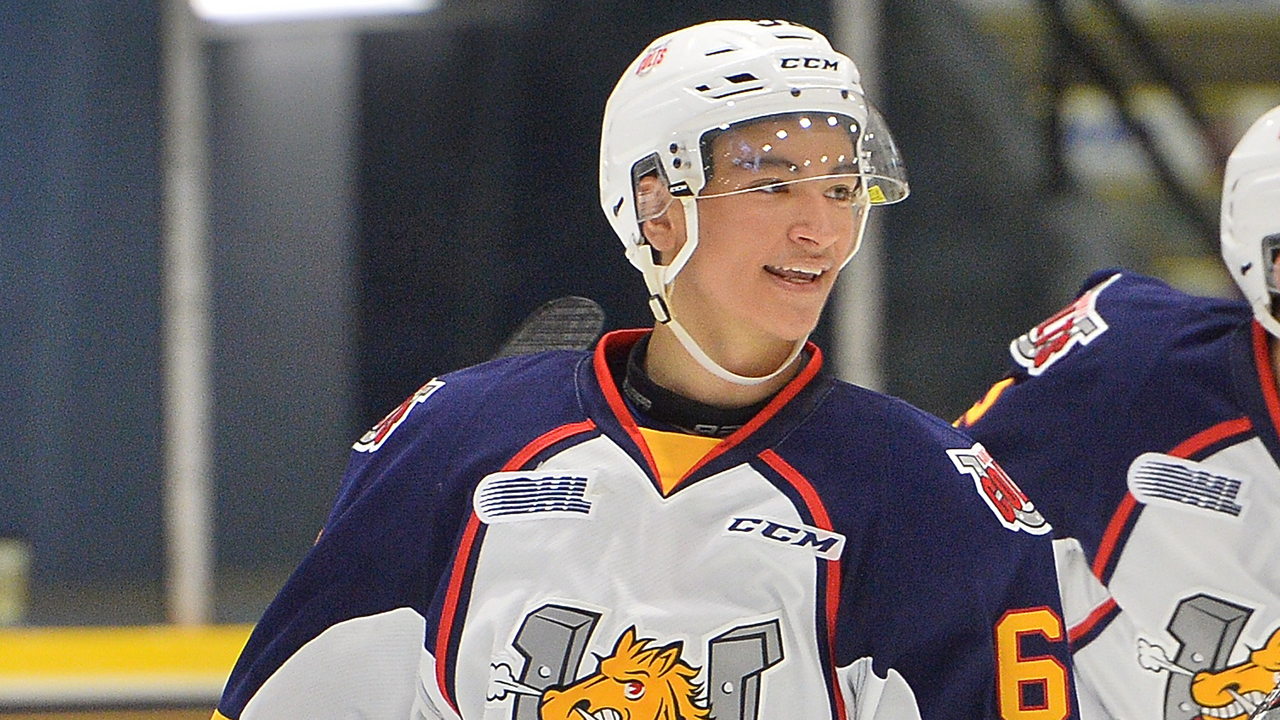 11. Trevor Zegras, C, USNTDP, 6-foot, 166 pounds: Makes plays, and that's a term scouts use so frequently today.
12. Bowen Byram, D, Vancouver Giants (WHL) 6-foot-1, 195 pounds: Is multi-faceted in that not only can he play a new-aged offensive game, but he's utilizing his smarts to defend as well.
13. Philip Broberg, D, AIK (Allsvenskan) 6-foot-3, 190 pounds: A big man who skates like the wind. Improving his stick skills will allow him to put more deception into his game, which will improve his output.
14. Peyton Krebs, C, Kootenay Ice (WHL) 5-foot-11, 180 pounds: Drives the play with high compete. Skates well, with excellent vision and distribution skills.
[relatedlinks]
15. Cole Caufield, RW, USNTDP, 5-foot-6, 155 pounds: The snipe show has transcended every type of competition and projects to do the same at the next level.
16. Arthur Kaliyev, RW, Hamilton Bulldogs (OHL) 6-foot-1, 190 pounds: The goal scoring has always been there. He has shown other parts of his game that make you think the sky's the limit. Finding consistency in those other areas will cement him inside the top-15.
17. Matthew Robertson, D, Edmonton Oil Kings (WHL), 6-foot-3, 201 pounds: He's as steady as they come and is currently a better defender than point producer. The offensive side continues to evolve.
18. Yaroslav Likhachev, RW, Gatineau Olympiques (QMJHL) 5-foot-10, 160 pounds: The smaller ice is forcing him to think the game and make plays quicker. Stick skills are multi-dimensional.
19. Victor Soderstrom, D, Brynas (Sweden U20) 5-foot-11, 179 pounds: Not quite as dynamic as either Adam Boqvist or Nils Lundkvist – a couple of 2018 first-rounders — but he's more well-rounded at this stage.
20. Matvey Guskov, LW, London Knights (OHL) 6-foot-1, 172 pounds: There's rawness to his game. Will benefit in a variety of ways with Evan Bouchard and Alex Formenton returning to the Knights.
21. Anttoni Honka, D, JYP (Liiga) 5-foot-10, 179 pounds: Is playing top-six minutes as an 18-year-old in the highest Finnish league. While his team has struggled, he's still performing to expected levels.
22. Cam York, D, USNTDP, 5-foot-11, 171 pounds: Adept with deception in his game and always looking for offensive opportunities, be it by jumping into the rush or with deft passing ability.
23. Thomas Harley, D, Mississauga Steelheads (OHL) 6-foot-3, 188 pounds: Starting to come out of his shell. A smooth skater with excellent passing abilities. Has good reach to help him defensively.
24. Nolan Foote, LW, Kelowna Rockets (WHL) 6-foot-3, 187 pounds: A big summer put him in position to take off this season as Kelowna's go-to guy. It's hard to say which way it will go with his dad now behind the bench, but the early returns indicate he has rediscovered his goal-scoring touch with 10 in 15 games.
"Lose to choose Hughes" has a nice ring to it.

Here's our initial list of of the top 31 NHL Draft prospects for 2019, courtesy of Sam Cosentino.https://t.co/eCvokwAbQt

— Sportsnet (@Sportsnet) October 2, 2018
25. John Beecher, LW, USNTDP, 6-foot-2, 203 pounds: The type of player every team needs in that he plays the game the right way. Won't dazzle with offensive ability, but will do enough of the little things to maintain top-six minutes.
26. Jakob Pelletier, LW, Moncton Wildcats (QMJHL), 5-foot-9, 161 pounds: The hockey IQ is way too high to ignore. He makes those around him better and competes like a champ.
27. Lassi Thomson, D, Kelowna Rockets (WHL) 6-foot, 188 pounds: Playing with confidence and asserting himself offensively, he'll continue to hone his defensive game by playing for yet another long-tenured former NHL star defenceman in Adam Foote.
28. Alex Vlasic, D, USNTDP, 6-foot-5, 193 pounds: Because of size and skating ability, he will produce at this level. Projects more as a two-way player at the next level.
29. Samuel Poulin, LW, Sherbrooke Phoenix (QMJHL) 6-foot-1, 207 pounds: Not afraid to have a shoot-first mindset. Six of his nine goals have come at even strength.
30. Kaedan Korczak, D, Kelowna Rockets (WHL) 6-foot-2, 192 pounds: There's still plenty of room in hockey for the complementary defenceman who holds down the fort. Korczak produces well in the CHL, but that won't be his calling card at the next level.
31. Moritz Seider, D, Mannheim (DEL) 6-foot-3, 183 pounds: Minutes have increased overall, but most notably he's seeing more time in more important situations. Benefits from playing in a top-notched program loaded with developmental resources.