Now we'll see who can separate themselves from the pack.
The world juniors are just around the corner, an opportunity for some, not all, of the top-ranked players for next summer's NHL Draft to make a statement. The tournament last year in Toronto and Montreal put the final stamp on Connor McDavid's position as the top-ranked junior on the planet, and it certainly cemented Lawson Crouse's position as a high first round talent.
Finland's Mikko Rantanen caught the eye of many scouts, and he ended up going 10th overall to Colorado. Americans Jack Eichel, Noah Hanifin and Zack Werenski all ended up being top-10 picks and Brandon Carlo went early in the second to Boston after playing at the tournament. Russia's Ivan Provorov, centre Pavel Zacha of the Czech Republic and Swiss winger Timo Meier went in the top 10 as well.
This time, the tournament is in Finland. Defenceman Jakob Chychrun (Sarnia) wasn't able to crack Team Canada's roster, but otherwise many of the projected top picks will be in Helsinki, trying to win a gold medal for their country and impress the NHL scouts in attendance.
---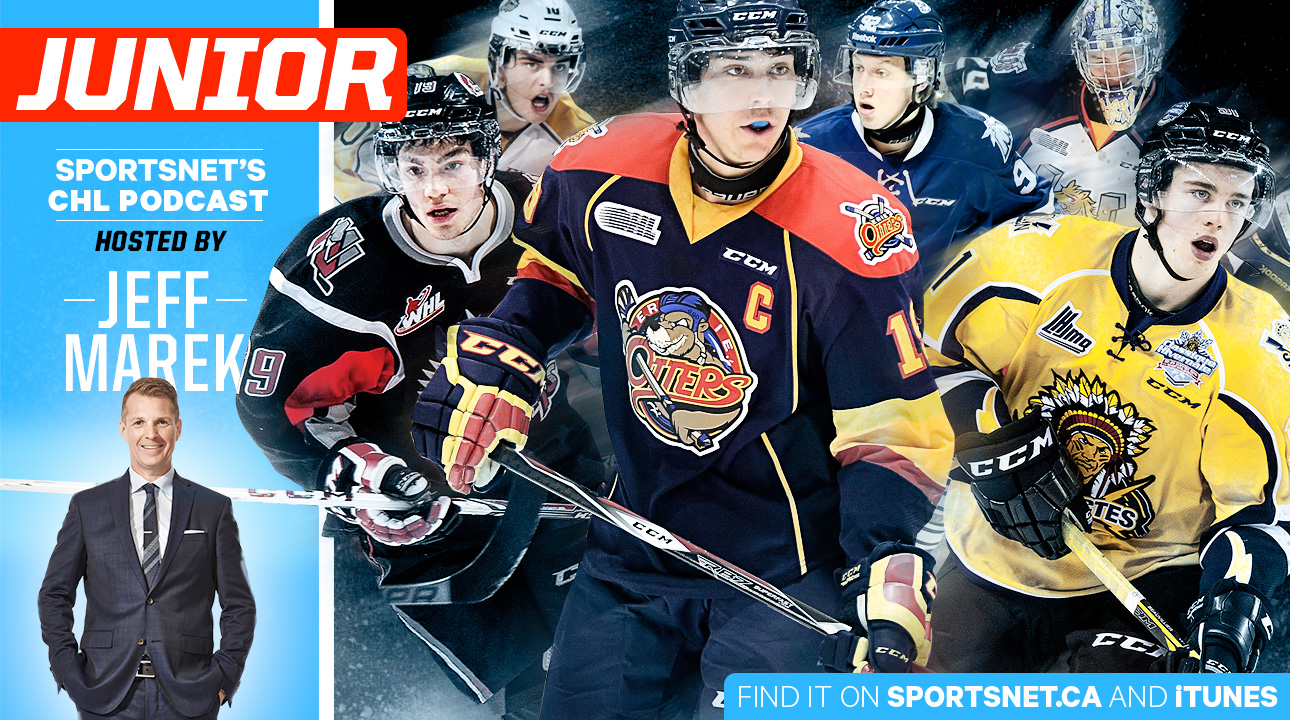 Jeff Marek hosts Sportsnet's weekly CHL podcast, a one-stop shop for news, analysis, opinion and interviews covering the WHL, OHL and QMJHL. Sam Cosentino, the CHL's top analyst/insider, joins Marek each week to discuss the latest from around the league, as do newsmakers from across the CHL. Couple that with NHLers remembering their days in junior hockey and regular updates on the latest risers and fallers for the NHL Draft, and there's really nowhere else fans need to go.
Listen now | iTunes | Podcatchers
---
Here are Sportsnet's Top 30 NHL Draft Prospects for December:

1. (1) Auston Matthews, C, Zurich (Swiss), 6-2, 190 lb. Joined his Team USA juniors in Boston on Monday. He's expected to dominate the competition after playing pro all season.

2. (2) Matthew Tkachuk, LW, London (OHL), 6-1, 188 lb. "Strong enough to play in the NHL right now," according to one junior exec. Excels at puck protection, finding quiet areas.

3. (4) Jesse Puljujarvi, F, Karpat (Finland), 6-3, 198 lb. He played in the world juniors last year and is expected to make an even bigger impression this time. Owns a well-rounded game.

4. (3) Patrik Laine, LW, Tampere (Finland), 6-3, 195 lb. Scouts love him one game, less so the next. The world juniors are a good chance for him to show his consistency.

5. (5) Jakob Chychrun, D, Sarnia (OHL), 6-2, 194 lb. Cut from Canada's world junior camp on Sunday in a bit of a surprise. Still, some compare him to Denis Potvin as a junior.

6. (10) Alexander Nylander, LW, Mississauga (OHL), 6-0, 172 lb. He's expected to play with his brother William in Helsinki. The maturity to his game at 17 is beyond where his brother was at the same point.

7. (19) Clayton Keller, C, USNTDP (USHL), 5-9, 170 lb. Will give the U.S. an outstanding 1-2 punch down the middle at the WJC. Committed to Boston University, but OHL Windsor owns his rights. Watch this play out.

8. (6) Kieffer Bellows, LW, USNTDP (USHL), 6-0, 189 lb. Plays regularly with Keller. Is a pure shooter who loves to score and can play with an edge.

9. (7) Julien Gauthier, RW, Val d'Or (QMJHL), 6-4, 221 lb. His 29 goals in 30 games make a strong statement, as do his eight assists. Big net presence.

10. (8) Mikhail Sergachev, D, Windsor (OHL), 6-3, 195 lb. A powerful skater with offensive instincts. Opponents just bounce off him.

11. (11) Pierre-Luc Dubois, C, Cape Breton (QMJHL), 6-3, 201 lb. Won't be at the world juniors, but has already surpassed last season's offensive totals in just 33 games.

12. (9) Tyson Jost, C, Penticton (BCJHL), 6-0, 195 lb. Scouts are very eager to see him at the World Junior A Challenge in Whitby and Cobourg, Ont. this week. He's putting up big numbers with the Vees.

13. (12) Dante Fabbro, D, Penticton (BCJHL), 6-1, 185 lb. Also part of the Canada West team with Jost at the world Jr. As. Committed to Boston University next fall.

14. (14) Michael McLeod, C, Mississauga (OHL), 6-1, 184 lb. He's a world class skater with a high compete level. It may take a while for his hands to catch up to his feet.

15. (15) Jake Bean, D, Calgary (WHL), 6-0, 165 lb. Third in scoring on a strong Hitmen team with 30 points in 33 games.

16. (16) Olli Juolevi, D, London Knights (OHL), 6-2, 180 lb. Smart, efficient game. He's beyond his years in ability to cut down the ice and angle and makes the simple, smart pass.

17. (17) Luke Kunin, C, University of Wisconsin (NCAA), 6-0, 190 lb. Playing left wing on a struggling Badgers team despite being a right hand shot. Running a bit under the radar.

18. (18) Alex DeBrincat, RW, Erie (OHL), 5-7, 165 lb. Has 33 goals in 30 games for the Otters and is at Team USA camp right now trying to crack the final WJC roster.

19. (20) Tyler Benson, LW, Vancouver (WHL), 6-0, 196 lb. He's playing through a tough season in Vancouver, but is starting to put up some numbers after a slow start.

20. (24) Max Jones, LW, London (OHL), 6-2, 189 lb. He goes to the tough areas and is not a fun guy to play against. Plays playoff-style hockey naturally.

21. (22) German Rubtsov, C, Russian national U-18 (MHL), 6-1, 174 lb. Scouts come away thinking this youngster's an undiscovered gem. He's not part of Russia's world junior squad.

22. (13) Kale Clague, D, Brandon (WHL), 6-0, 194 lb. He's really struggling offensively this season with only one goal. A bit of a puzzle at the moment.

23. (30) Logan Stanley, D, Windsor (OHL), 6-7, 210 lb. One OHL exec says he's the most improved player in the OHL. Has a mean streak and is very competitive.

24. (21) Brett Howden, C, Moose Jaw (WHL), 6-1, 190 lb. NHL Central Scouting has dropped him to a "B" prospect. But there are lots of good elements to his game. His second half will be big.

25. (28) Charlie McAvoy, D, Boston University (NCAA), 5-11, 195 lb. Part of the preliminary U.S. roster for the world juniors. Is a freshman at Boston U.

26. (25) Dillon Dube, C, Kelowna (WHL), 5-10, 175 lb. Thirty-two points in 25 games. Pretty good numbers after suffering an eye injury earlier this season.

27. (29) Simon Stransky, LW, Prince Albert (WHL), 6-0, 160 lb. Slippery and skillful. The question will be whether his skill wins out over his average work ethic, or the other way around.

28. (27) Riley Tufte, LW, Blaine H.S. (Minnesota), 6-5, 205 lb. The 2014 No. 1-overall pick in the USHL draft. Playing in high school now, headed to Minnesota-Duluth.

29. (HM) Taylor Raddysh, RW, Erie (OHL), 6-1, 198 lb. He'll have a greater load to carry with Dylan Strome, Alex DeBrincat and Travis Dermott off to the world juniors. Has 45 points in 31 games.

30. (HM) Nathan Bastian, C/RW, Mississauga (OHL), 6-3, 194 lb. Has 36 points in 31 games, and may just be scraping the surface. Tall with soft hands and a pretty good understanding of the game.
Honourable mention
Logan Brown, C, Windsor (OHL), 6-5, 215 lb.
Filip Gustavsson, G, Lulea (Sweden), 6-2, 184 lb.
Pascal Laberge, C, Victoriaville (QMJHL), 6-1, 170 lb.
Libor Hajek, D, Saskatoon (WHL), 6-1, 196 lb.
Markus Niemelainen, D, Saginaw (OHL), 6-6, 195 lb.
Vladimir Kuznetsov, LW, Acadie-Bathurst (QMJHL), 6-2, 214 lb.
Sam Steel, C, Regina (WHL), 5-11, 165 lb.
Chad Krys, D, USNTDP (USHL), 5-11, 185 lb.
Samuel Girard, D, Shawinigan (QMJHL), 5-9, 165 lb.
Rasmus Asplund, C, Farjestads (Sweden), 5-10, 175 lb.