It's going to be close. Very close.
Now, if it does turn out that no Canadian-born player is selected in the top 10 of June's NHL Draft, it won't be the end of the world, not after a decade in which Canada has graduated a series of stars to the big leagues. But it will be noteworthy, perhaps saying as much about the other hockey countries—notably the United States and Finland—as it will about Canada.
Right now, it appears big Val-d'Or winger Julien Gauthier has the best chance among Canadian-born players to go in the first 10 picks. Sarnia defenceman Jakob Chychrun, of course, is a different case, a player born and raised in Boca Raton, Fla. who has thus far competed internationally as a Canadian.
There is much time left for this to change, and not just at the very top of the draft. NHL mid-season rankings come out next Wednesday, and the following week the Vancouver area will host both the CJHL prospects game and the CHL Top Prospects Game. So NHL scouts are going to have a lot more to chew on by the end of the month.
---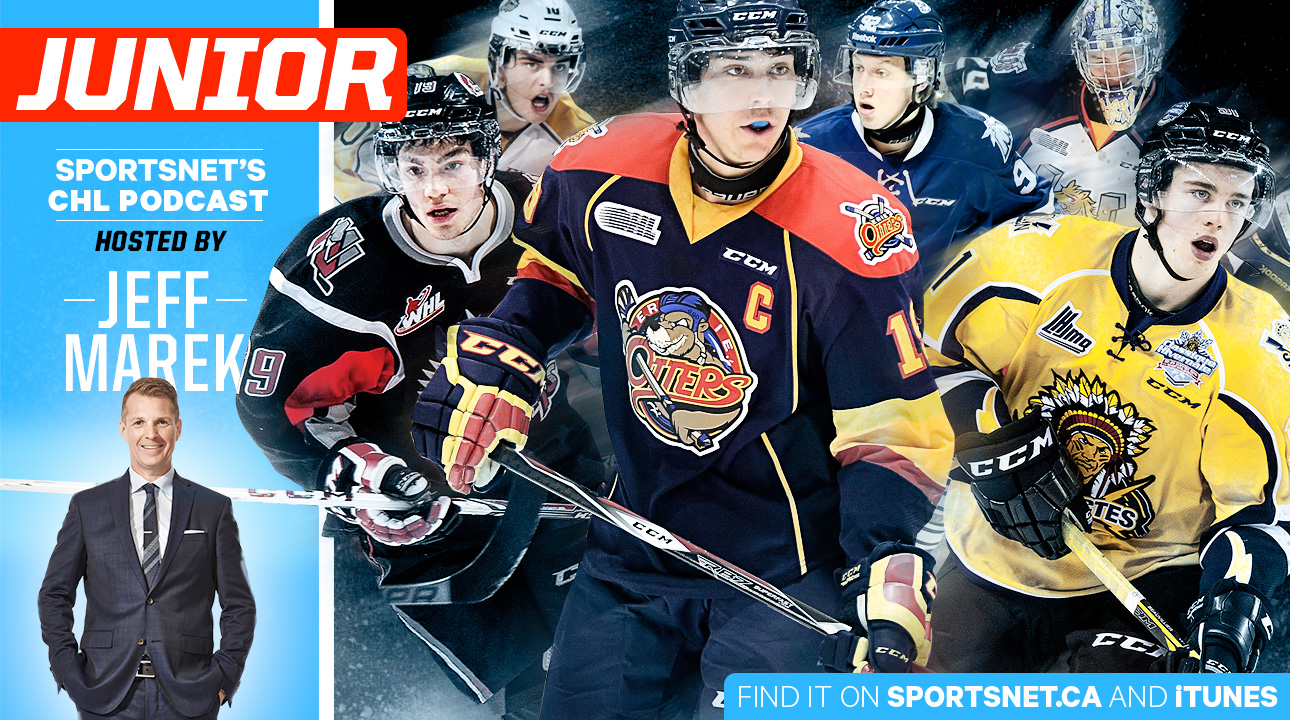 Jeff Marek hosts Sportsnet's weekly CHL podcast, a one-stop shop for news, analysis, opinion and interviews covering the WHL, OHL and QMJHL with regular updates on the latest risers and fallers for the NHL Draf.
Listen now | iTunes | Podcatchers
---
Scouts also want to see in the coming weeks if Regina's addition of 50-goal shooter Cole Sanford will boost the production of point-per-game centre Sam Steel, whether Acadie-Bathurst forward Vladimir Kuznetsov will continue to surge in the second half and how Red Deer defenceman Josh Mahura will fare when he gets back into the Rebels lineup after missing most of the season with a knee injury.
In other words, there are still six months to go and lots can change. For now, here are Sportsnet's Top 30 Prospect Rankings for January.

1. (1) Auston Matthews, C, Zurich (Swiss), 6-2, 190 lb. Some scouts detected a few lazy habits picked up during his months in Europe. But he's still at the top of the heap.

2. (4) Patrik Laine, LW, Tampere (Finland), 6-3, 195 lb. The onsensus out of the world juniors among NHL scouts was he's just got that little extra something. Dynamic scorer.

3. (3) Jesse Puljujarvi, RW, Karpat (Finland), 6-3, 198 lb. MVP at the world juniors, and better than Laine in the eyes of some. It's going to come down to the preferences of a specific team.

4. (2) Matthew Tkachuk, LW, London (OHL), 6-1, 188 lb. It's Tkachuk's playmaking more than his scoring that stands out when you watch him. Was very good at WJC.

5. (6) Alexander Nylander, LW, Mississauga (OHL), 6-0, 172 lb. He only got to play a few shifts with his older brother at the world juniors, but showed very well in Helsinki.

6. (5) Jakob Chychrun, D, Sarnia (OHL), 6-2, 194 lb. Didn't make WJC team after struggling against CIS teams in exhibition. He wasn't crisp with the puck. The Top Prospects Game will be important for him.

7. (16) Olli Juolevi, D, London Knights (OHL), 6-2, 180 lb. Was terrific on the big stage in Helsinki. Owns superb hockey sense. Some have him ahead of Chychrun.

8. (7) Clayton Keller, C, USNTDP (USHL), 5-9, 170 lb. Disappointed that he was final cut from the American world juniors team. Has 63 points in 32 games.

9. (8) Kieffer Bellows, LW, USNTDP (USHL), 6-0, 189 lb. Another Team USA cut cut for Helsinki. The pure sniper has 26 goals in 33 games.

10. (10) Mikhail Sergachev, D, Windsor (OHL), 6-3, 195 lb. Continues to impress with his mature game. Now one of three Spitfires rated in the first round.

11. (9) Julien Gauthier, RW, Val-d'Or (QMJHL), 6-4, 221 lb. Didn't hurt his draft status at WJC, but didn't help it. He'll be challenged to keep up his goal-scoring pace with the Foreurs.

12. (11) Pierre-Luc Dubois, C, Cape Breton (QMJHL), 6-3, 201 lb. Really starting to put up some numbers for the Screaming Eagles and has a very complete 200-foot game.

13. (12) Tyson Jost, C, Penticton (BCJHL), 6-0, 195 lb. Despite not being in the CHL scouts are getting a look at him in lots of different scenarios. CJHL prospects game is next.

14. (13) Dante Fabbro, D, Penticton (BCJHL), 6-1, 185 lb. Holding pretty steady in this part of the draft. Scouts are very comfortable having watched this young man for years.

15. (14) Michael McLeod, C, Mississauga (OHL) 6-1, 184 lb. An explosive skater, he may take time as pro for other skills to catch up, like Mikael Boedker. He still has potential to move up.

16. (15) Jake Bean, D, Calgary (WHL), 6 ft, 165 lb. The offensive blueliner wasn't drafted into WHL, but has already equaled his scoring numbers from last season.

17. (20) Max Jones, LW, London (OHL), 6-2, 189 lb. Like McLeod, he could still move up. Really produced when teammates were away playing in the world juniors.

18. (17) Luke Kunin, C, University of Wisconsin (NCAA), 6-0, 190 lb. Continues to stick as a likely first rounder despite not being part of a strong team. The Sarnia rumours won't die.

19. (18) Alex DeBrincat, RW, Erie (OHL), 5-7, 165 lb. Had a rough world juniors. Was kicked out of one game, benched in another, and didn't get extended first-line exposure.

20. (23) Logan Stanley, D, Windsor (OHL), 6-7, 210 lb. Has solidified his position as a first-rounder. Will be interesting to see him against his peers at the Top Prospects Game.

21. (21) German Rubtsov, C, Russian national U-18 (MHL), 6-1, 180 lb. There are those who believe the solid, two-way pivot could go even higher.

22. (HM) Logan Brown, C, Windsor (OHL), 6-5, 215 lb. Just six goals in his first 33 games, but making the plays scouts want to see. And they love his size.

23. (25) Charlie McAvoy, D, Boston University (NCAA), 5-11, 195 lb. Ended up getting lots of playing time in key situations with Team USA at world juniors. And impressed.

24. (19) Tyler Benson, LW, Vancouver (WHL), 6-0, 196 lb. The numbers just aren't there, which has scouts divided. Some love his effort and grit, some really don't see the upside. He'll captain Team Cherry on home ice at the Top Prospects Game.

25. (26) Dillon Dube, C, Kelowna (WHL), 5-10, 175 lb. Will be in the Top Prospects Game as well, along with teammate Lucas Johansen, a defenceman. Continuing to be productive.

26. (22) Kale Clague, D, Brandon (WHL) 6-0, 194 lb. Smart with decent skills. Second half will be big for his ranking. Right now, he's fallen back in the rankings from last fall.

27. (28) Riley Tufte, LW, Blaine H.S. (Minnesota), 6-5, 205 lb. Lots of potential, but tough to evaluate in high school hockey. Size is there, as is his skating.

28. (30) Nathan Bastian, C/RW, Mississauga (OHL) 6-3, 194 lb. We'll see how he responds to being more closely watched in second half. Will also play in the Top Prospects Game.

29. (NR) Carl Grundstrom, LW, Modo (Sweden) 6-0, 184 lb. Got good exposure at WJC. He's a strong skater who was trusted enough to kill penalties for Tre Kronor.

30. (HM) Vladimir Kuznetsov, LW, Acadie-Bathurst, 6-2, 214 lb. The No. 1 pick in last year's CHL import draft seems to be getting more and more acclimatized to North America.
Honourable Mention
Brett Howden, C, Moose Jaw (WHL), 6-1, 190 lb.
Taylor Raddysh, RW, Erie (OHL), 6-1, 198 lb.
Simon Stransky, LW, Prince Albert (WHL) 6-0, 160 lb.
Filip Gustavsson, G, Lulea (Sweden), 6-2, 184 lb.
Pascal Laberge, C, Victoriaville (QMJHL), 6-1, 170 lb.
Libor Hajek, D, Saskatoon (WHL), 6-1, 196 lb.
Markus Niemelainen, D, Saginaw (OHL), 6-6, 195 lb.
Sam Steel, C, Regina (WHL), 5-11, 165 lb.
Chad Krys, D, US NTDP (USHL) 5-11, 185 lb.
Samuel Girard, D, Shawinigan (QMJHL), 5-9, 165 lb.
Rasmus Asplund, C, Farjestads (Sweden), 5-10, 175 lb.
Will Bitten, C, Flint (OHL), 5-9, 150 lb.