It's a St. Louis version of the quintessential rink-in-the-backyard Canadian hockey story.
And it's Logan Brown's story. The story of a young man whose father, Jeff, played in the NHL, imagined a hockey future for his son and had to come up with innovative ways to make it happen.
"At our first house in St. Louis, it didn't have anywhere for us to shoot," said Logan Brown. "So when we built a new house, it had a huge unfinished basement. So my dad put boards up, bought the floor tiles from a local roller rink and put up a net.
"We spent a lot of times playing in the basement in roller blades."
---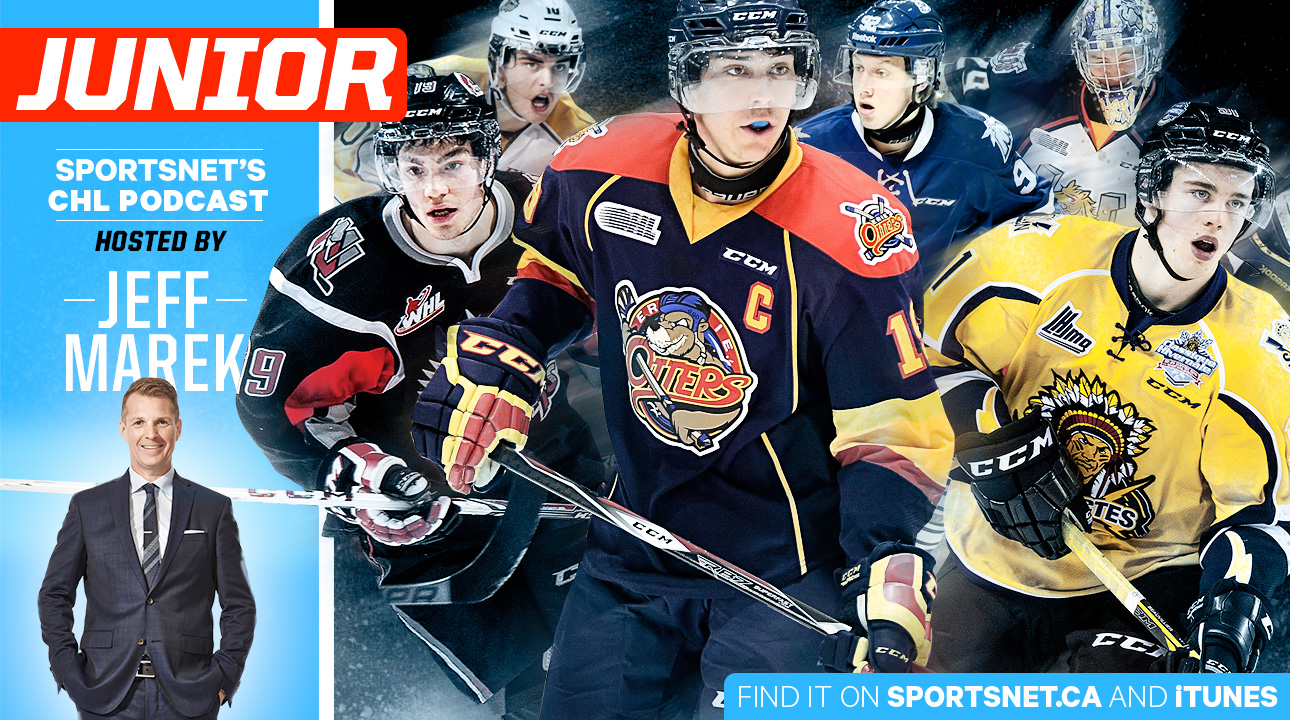 Jeff Marek hosts Sportsnet's weekly CHL podcast, a one-stop shop for news, analysis, opinion and interviews covering the WHL, OHL and QMJHL.
Listen now | iTunes | Podcatchers
---
What Jeff Brown, now the head coach of the Ottawa 67s, didn't count on was his son stretching out to 6-foot-6, one of the factors that makes him such an intriguing prospect for the June NHL draft.
"The big knock on me always is people say I don't give 100 percent," Logan Brown said in an interview at this year's CHL Top Prospects Game. "But really, it's that I'm 6-6 and still growing and I don't have that jump yet. It kinda makes me mad. For a year or two now I've been saying I'd like to stop growing."
Brown is going through the draft process alongside his boyhood chum, Jakob Chychrun. Jeff Brown and Jeff Chychrun were drafted 36th- and 37th-overall in the 1984 NHL Draft, and now their sons are expected to be first-round picks in 2016.
"He was born 20 days after me, our dads grew up together," said Logan. "There's actually a cool picture of us, we're not even a year old and we're at our cottage up in Ottawa. It's pretty special to be going through something like this with my best friend."
Brown has 19 goals and 48 assists in 56 games this season with the Windsor Spitfires, and his size has scouts drooling with the possibilities. He's one of a handful of players who might turn out to alter the shape and dynamics of this year's draft depending on when they go.
Who else? Well, Russian centre German Rubtsov is a little bit of a mystery in the same way Denis Gurianov was last year before Dallas stepped up and grabbed him at No. 12. He's playing for the Russian under-18 national team this year, but is expected to move to North America next fall, either to play in the CHL or AHL.
Another player who could impact the draft by going higher than many project might be University of Wisconsin forward Luke Kunin, another product of the St. Louis hockey system, who was projected as a right-hand shooting centre but has played left wing all season. Kunin didn't play in the world juniors and will be too old for the under-18 world championships in Grand Forks. He starred in the showcase event he did participate in, the All-American Prospect Game in Buffalo last fall.
Here's the rest of this month's Top 30 prospects:

1. (1) Auston Matthews, C, Zurich (Swiss), 6-2, 190 lb.


2. (2) Patrik Laine, LW, Tampere (Finland), 6-3, 195 lb.


3. (3) Jesse Puljujarvi, RW, Karpat (Finland), 6-3, 198 lb.


4. (4) Matthew Tkachuk, LW, London (OHL), 6-1, 188 lb.


5. (5) Alexander Nylander, LW, Mississauga (OHL), 6-0, 172 lb.


6. (6) Olli Juolevi, D, London Knights (OHL), 6-2, 180 lb.


7. (7) Jakob Chychrun, D, Sarnia (OHL), 6-2, 194 lb.


8. (10) Pierre-Luc Dubois, LW/C, Cape Breton (QMJHL), 6-3, 201 lb.


9. (8) Clayton Keller, C, USNTDP (USHL) 5-9, 170 lb.


10. (10) Mikhail Sergachev, D, Windsor (OHL), 6-3, 195 lb.


11. (11) Michael McLeod, C, Mississauga (OHL), 6-1, 184 lb.


12. (12) Julien Gauthier, RW, Val-d'Or (QMJHL) 6-4, 221 lb.


13. (13) Max Jones, LW, London (OHL), 6-2, 189 lb.


14. (14) Tyson Jost, C, Penticton (BCJHL), 6-0, 195 lb.


15. (15) Jake Bean, D, Calgary (WHL), 6-0, 165 lb.


16. (18) Charlie McAvoy, D, Boston University (NCAA), 5-11, 195 lb.


17. (17) Dante Fabbro, D, Penticton (BCJHL) 6-1, 185 lb.


18. (16) Kieffer Bellows, LW, USNTDP (USHL), 6-0, 189 lb.


19. (19) Luke Kunin, C, University of Wisconsin (NCAA), 6-0, 190 lb.


20. (20) Logan Stanley, D, Windsor (OHL), 6-7, 210 lb.


21. (21) Logan Brown, C, Windsor (OHL), 6-6, 215 lb.


22. (23) German Rubtsov, C, Russian national U18 team (MHL), 6-1, 180 lb.


23. (22) Alex DeBrincat, RW, Erie (OHL), 5-7, 165 lb.


24. (24) Riley Tufte, LW, Blaine H.S. (Minnesota), 6-5, 205 lb.


25. (25) Nathan Bastian, C/RW, Mississauga (OHL), 6-4, 208 lb.


26. (26) Kale Clague, D, Brandon (WHL), 6-0, 194 lb.


27. (27) Pascal Laberge, C, Victoriaville (QMJHL), 6-1, 170 lb.


28. (HM) Rasmus Asplund, C, Farjestads (Sweden), 5-10, 175 lb.


29. (29) Carl Grundstrom, LW, Modo (Sweden), 6-0, 184 lb.


30. (30) Tage Thompson, C, Connecticut (NCAA) 6-5, 189 lb.