Marc Crawford sidled up to Auston Matthews at practice this week and inquired when the presumptive No. 1 pick in next summer's NHL draft might be ready to return. "He said, 'I could play right now,'" said Crawford. "But everybody's being cautious. He's going to be playing for a long, long time, so there's no rush."
So Matthews wasn't on the team bus for the trip to Davos for a game Tuesday night—Davos won 4-2—but Crawford said he anticipates the Arizona-born teenager will be back playing for Zurich in the Swiss elite league as early as Monday.
For several days, Matthews has been skating full out in a red sweater, which means he hasn't been cleared for full contact yet as he recovers from a back injury suffered last month when he fell into the boards and then had an opposing defenceman fall on top of him. He goes for an MRI on his back this Friday.
He missed playing for the U.S. at the Deutschland Cup earlier this month, but is expected to be part of the national team for the World Junior Championships in Finland after Christmas.
Here's this month's Sportsnet Top 30 draft rankings:

1. (1) Auston Matthews, C, Zurich (Swiss) 6-2, 190 lb.
Marc Crawford calls him the "best player in our league." He had 10 goals in 14 games before suffering back injury.

2. (3) Matthew Tkachuk, LW, London (OHL), 6-1, 188
He's meshing with Mitch Marner on London's top line and has 34 points in 18 games. I'm hearing his younger brother Brady might be even better.
---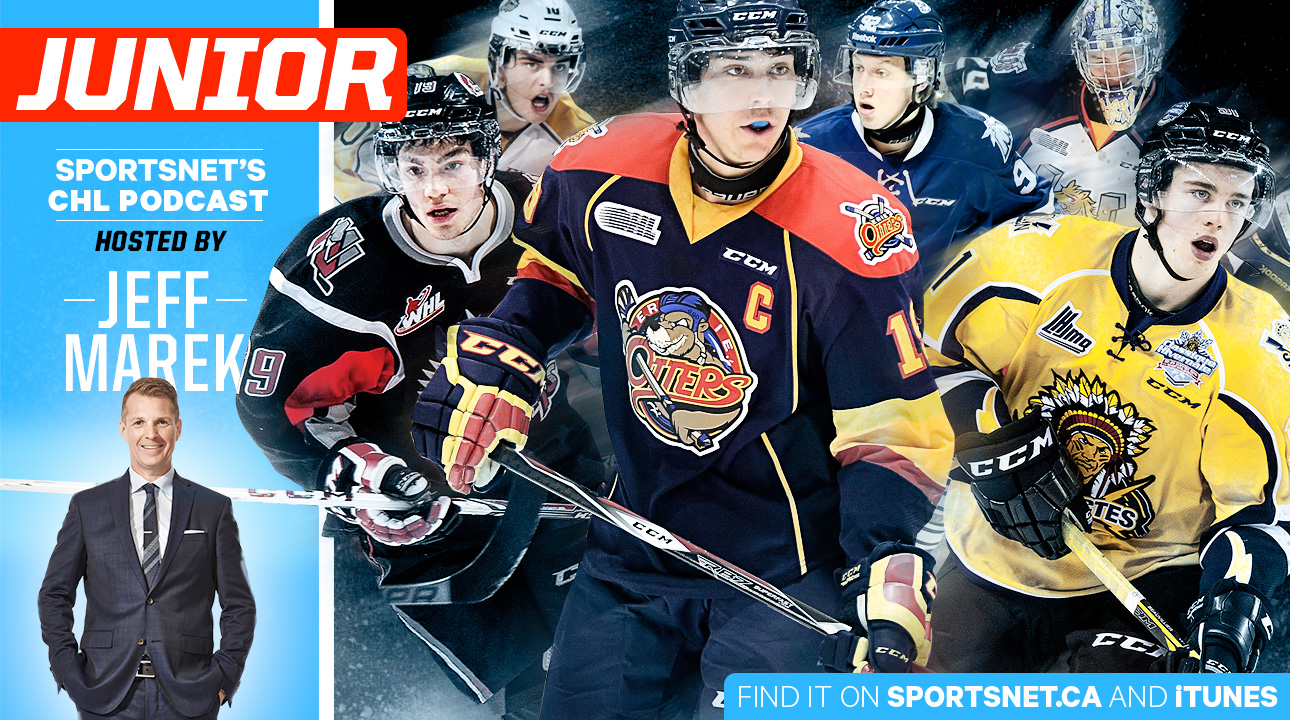 Puck drop | iTunes | Podcatchers
---

3. (4) Patrik Laine, LW, Tampere (Finland), 6-3, 195
The big winger is inconsistent but often impressive. The world juniors will be an interesting test.

4. (6) Jesse Puljujarvi, F, Karpat (Finland), 6-3, 198
He and countryman Laine are seen as very close. Puljujarvi is smoother, more skilled, more consistent.

5. (2) Jakob Chychrun, D, Sarnia (OHL), 6-2, 194
Has a great stick and is always in the right spot to deflects a lot of passes. Scouts want to know about the health of his shoulders.

6. (7) Kieffer Bellows, LW, USNTDP (USHL), 6-0, 189
The son of former NHLer Brian Bellows knows how to score. He has 16 goals in 18 games.

7. (5) Julien Gauthier, RW, Val d'Or (QMJHL), 6-4, 221
The big bodied winger is in his third QMJHL season and is vying for that league's Cy Young with 20 goals, 4 assists.

8. (HM) Mikhail Sergachev, D, Windsor (OHL), 6-3, 195
Plays defence like he's "sitting in a rocking chair" and has surged in the rankings over the past month. Was the sixth pick of this year's CHL import draft.

9. (10) Tyson Jost, C, Penticton (BCJHL), 6-0, 195
The Vees captain has 45 points in 23 games, including 22 goals. A Jonathan Toews-type centre.

10. (12) Alexander Nylander, RW, Mississauga (OHL), 6-0, 172
Plays on a line with two other top prospects, Michael McLeod and Nathan Bastian, and leads all OHL rookies in scoring.

11. (14) Pierre-Luc Dubois, C, Cape Breton (QMJHL), 6-3, 201
A prototypical big centre with an all-around game. He has 30 points in 25 games and can play all three forward positions.

12. (13) Dante Fabbro, D, Penticton (BCJHL), 6-1, 185
The Vees have won 22 straight games, and Fabbro is a big reason why. He's viewed as a Ryan McDonagh-style blueliner.

13. (8) Kale Clague, D, Brandon (WHL), 6-0, 194
He's Smooth and skilled and Had an excellent start to the campaign, but has tailed off. Last season played only 20 games because of injuries.

14. (9) Michael McLeod, C, Mississauga (OHL), 6-1, 184
He's had to shoulder leadership responsibilities early in the season after the captain was traded and is now starting to put up numbers.

15. (18) Jake Bean, D, Calgary (WHL), 6-0, 165
He was never drafted into major junior, but he's rapidly ascending the NHL rankings and really impressed in the Canada Russia Series.

16. (15) Olli Juolevi, D, London Knights (OHL), 6-2, 180
Having a very solid start to his first CHL season with 13 points in 18 games. Is seen as similar to Knights alum Olli Maatta.

17. (11) Luke Kunin, C, University of Wisconsin, 6-0, 190
Having a so-so start with a Badgers squad struggling with three wins in its first 10. They have a big double-header with Denver this weekend.

18. (20) Alex DeBrincat, RW, Erie (OHL), 5-7, 165
Leads all CHL players with 27 goals and is on pace to shatter Ernie Godden's junior record of 87.

19. (HM) Clayton Keller, C, USNTDP (USHL) 5-9, 170
A linemate of Bellows in Plymouth, the new home of U.S. program. He's small, but wonderfully skilled with great vision.

20. (17) Tyler Benson, LW, Vancouver (WHL), 6-0, 196
He's a coach's dream who some scouts see as a third liner who can play higher in the lineup. He could be a poor man's Gabriel Landeskog.

21. (16) Brett Howden, C, Moose Jaw (WHL) 6-1, 190
Big, smart and competitive. He had 22 goals as a 16-year-old. The question is can he play in an NHL team's top six?

22. (NR) German Rubtsov, C, Russian national U-18 team (MHL), 6-1, 174
It's the first year for this program. He's a two-way centre likely to be the second Russian taken in the first round.

23. (24) Libor Hajek, D, Saskatoon (WHL), 6-1, 196
The rookie is still feeling his way. He's a very good skater who offers lots of risk and reward and has 13 points in 19 games for improved Blades.

24. (19) Max Jones, F, London (OHL), 6-2, 189
He's a big guy who gets involved, goes hard to the net and has some bite in his game. He went goalless in first six OHL games and then was suspended for two.

25. (25) Dillon Dube, C, Kelowna, 5-10, 175
Hurt his eye at Portland in early November and is expected to be out three weeks. Some see him as a similar prospect to Travis Konecny.

26. (NR) Pascal Laberge, C, Victoriaville (QMJHL), 6-1, 170
The right-hand shooting centre has 21 points in 22 games and is starting to catch the attention of scouts.

27. (28) Riley Tufte, LW, Blaine H.S. (Minnesota), 6-5, 205
Started the season with Fargo (USHL), but returned to high school. Some wonder if he's the next Nick Bjugstad.

28. (29) Charlie McAvoy, D, Boston University (NCAA), 5-11, 195
Waiting for several other NTDP players to join him with the Terriers. He's a solid blueliner who can run a power play.

29. (NR) Simon Stransky, LW, Prince Albert (WHL), 6-0, 160
One of the players responsible for an excellent Raiders start. He's a brilliant stickhandler who's elusive in traffic.

30. (NR) Logan Stanley, D, Windsor (OHL) 6-7, 210
As assistant coach Trevor Letowski urges the Spits "D" to be more offensive, Stanley is showing he's more than a stay-at-home blueliner.
Honourable mentions
Taylor Raddysh, RW, Erie (OHL), 6-1, 198
Markus Niemelainen, D, Saginaw (OHL) 6-6, 195
Logan Brown, C, Windsor (OHL) 6-5, 215
J.D. Greenway, D, USNTDP (USHL), 6-4, 205
Vladimir Kuznetsov, LW, Acadie-Bathurst (QMJHL), 6-2, 214
Sam Steel, C, Regina (WHL), 5-11, 165
Chad Krys, D, USNTDP (USHL), 5-11, 185
Nathan Bastian, C/RW, Mississauga (OHL), 6-3, 194
Vojtech Budik, D, Prince Albert (WHL), 6-1, 186
Vitalii Abramov, RW, Gatineau (QMJHL), 5-9, 170
Samuel Girard, D, Shawinigan (QMJHL) 5-9, 165
Rasmus Asplund, C, Farjestads (Sweden), 5-10, 175
Boris Katchouk, LW, Sault Ste. Marie, 6-1, 180
Luke Green, D, Saint John (QMJHL) 6-0, 175
Alexander Yakovenko, D, Russian national U-18 team (MHL) 5-10, 160