It's a Thursday afternoon in June 2015 and Joe Veleno is working out at the gym when his mother comes running in with excitement, yelling "Joe you got it!" It's less than 48 hours before the QMJHL draft and "it" is exceptional player status, a designation granted by Hockey Canada that allows players to enter the CHL ranks a year early. Veleno missed the exceptional status application deadline of Feb. 15, but after some work behind-the-scenes, he became eligible for the QMJHL draft. The Saint John Sea Dogs, who held the first pick had a Plan A and a Plan B depending on the outcome of the Veleno situation.
"We told him we'd take him No. 1. He's a special talent," says Sea Dogs GM Darrell Young who scouted Veleno and was particularly enamoured with his performance at the Canada Games as an underaged player.
The 6-foot-1, 177-lb. centre is the first player in the QMJHL to land the exceptional player designation, joining the exclusive group of John Tavares, Aaron Edblad, Connor McDavid and Sean Day. After 16 goals and 52 points in 41 midget-AAA games with the Lac St-Louis Lions as a 14-year-old, Veleno wanted to move on to a more competitive level.
"The maturity level off the ice and on the ice is a big jump from midget. The game itself, the speed, how long you have with the puck and how fast it is—you don't realize it until you get a couple games in," Veleno told Sportsnet late in February as the regular season wound down.
Teammates like Thomas Chabot—a first-rounder by the Ottawa Senators last June—have helped Veleno adjust to life in the 'Q' with a focus on the nuances of the game that matter more at higher levels.
"It was hard for me at 16, so I can't even imagine it for him. It doesn't seem like that big of a deal to him," says Chabot who has watched his game improve all season. "He's moving the puck quicker. He's used to playing midget where you have more time and space. As the season goes, he learns he has less time with the puck and has to make quicker plays."
In 62 regular season games, Veleno finished with 13 goals and 43 points, with 32 of them primary points. According to Prospect Stats, he had an eTOI of 15.442 minutes. Playing on a loaded Saint John team, Veleno didn't see much time in the top six or on special teams (finishing with 1 PPG and 1 SHG). The 43 points were 10th-best among rookies.
Here's a look back at the moments that defined Veleno's historic first season:
Sept. 12, 2015 — Veleno scores in first game
On a three-on-two rush, overager Sam Povorozniouk makes a cross-ice pass from the far right boards to a wide open Veleno streaking down the left wing. He unleashes a shot from the hash-marks of the face-off circle and scores in his first QMJHL game. Veleno is named the game's third star, finishing the night with a goal, a plus-three rating and five shots.
The goal is at the 2:09 mark.
Oct. 22, 2015 — three-point night
It takes Veleno 12 more games to to score his second goal of the season. It's a shorthanded marker in an 8-3 win over the Acadie-Bathurst Titan and it turns out to be the game winner. He also has a pair of assists, giving him three points—his most in one game all season.
Washington Capital's winger Alex Ovechkin is Veleno's favourite player but the one player he tries to emulate is fellow centre Jonathan Toews of the Chicago Blackhawks.
"(He plays) a 200-foot game, is responsible in his own end and creates good offence. I think for everyone playing at centre, he's a good game to model your game to," says Veleno.
When analyzing his own game, Veleno says the best part is his ability to find his teammates, vision and his speed. He wants to continue working on positioning and getting stronger.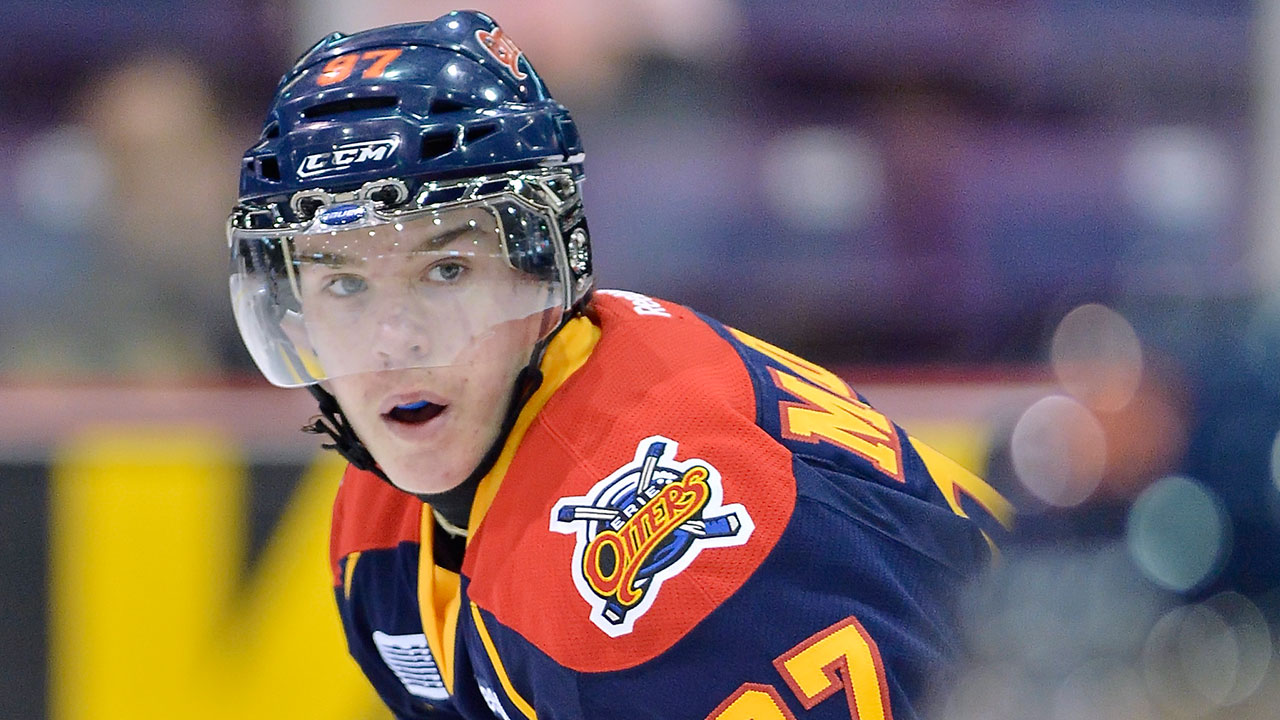 Dec. 11, 2015 — Hit on Veleno sparks fracas
Halifax Mooseheads 20-year-old super-pest Kelly Bent hits Veleno near the Saint John Sea Dogs bench. Veleno responds with a slash, Bent then comes back and gets in a shoving match. Players on the Saint John bench are livid, in particular Bokondji Imama. The Tampa Bay Lightning prospect leaves the bench to fight Bent and is handed a 15-game suspension.
After the incident, Imama tells Halifax-based Sports and Moore: "Everyone knows I have an eye on Veleno, I'm actually here to protect him. There are some unwritten rules in hockey that you have to respect and Kelly Bent didn't do it. I stood up for my teammate and jumped on the ice."
Jan. 13, 2016 — Happy Birthday
The only player in the QMJHL born in the 2000s, Joe Veleno celebrates his 16th birthday. In 35 games as a 15-year-old, he has six goals and 19 assists.
Feb. 25, 2016 — Goal ends pointless streak
Veleno scores against the Halifax Mooseheads, ending a four-game pointless streak. It's the second time in 2016 he's had four games without a point. It's one of the few growing pains he experiences adjusting to the league.
"It was a little frustrating at the beginning (of the season)," says Veleno. "I'm a player who's played in all situations and been the go to guy. Coming to a team where there's a lot of great players, you just have to be relaxed and wait your turn," says Veleno. "I know one day my turn will come. Whatever opportunity you get, you make the most out of it."
The Sea Dogs are loaded with NHL prospects including 2015 first-round defencemen Thomas Chabot and Jakub Zboril. Up front Mathieu Joseph (Tampa Bay), Spencer Smallman (Carolina), Samuel Dove-McFalls (Philadelphia), Adam Marsh (Detroit) and Bokondji (Tampa Bay) round out the team's NHL draftees. They may prevent Veleno from logging big minutes, but it helps him being surrounded by talented players.
"What really impress me the most is he's a young man with no sense of self-entitlement," says GM Young. "He's always working hard on the ice, always wants to be the last guy off the ice. He has great dedication to improving his individual skills."
March 19, 2016 — Regular season ends on point streak
With an assist against Cape Breton, Veleno closes the campaign with helpers in fourth consecutive games, and three straight with a power-play point. He finishes March with two goals and eight points in 10 games. He also fires 31 shots on net, continuing a trend of increasing his shot count every month throughout the season.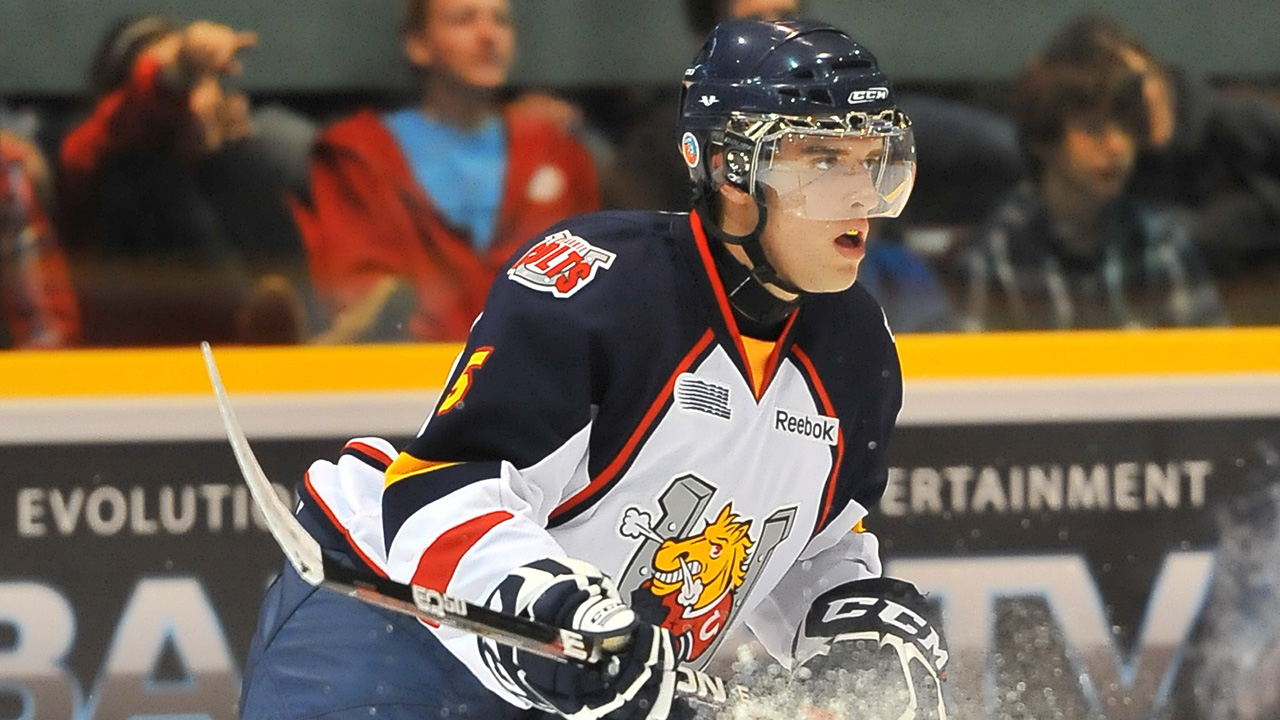 March 29 — First playoff goal
The Sea Dogs win Game 3 against the Titan 7-1. Veleno scores the team's final goal in the third period to give him his first playoff goal.
April 9 — Overtime hero
In the second round against Cape Breton, the Sea Dogs are in danger of going down 2-0 in the series. At the 13:57 mark, Veleno scores his second goal of the playoffs, tying the game 3-3. It's the biggest goal of his QMJHL career, but not for long.
Sea Dogs centre Nathan Noel is pinned behind the net but fires a puck out front. Veleno scoops it up untouched and ties the series 1-1. He's mobbed by his teammates who try to remove his helmet. Bokondji eventually pries it loose as the team celebrates.
The overtime goal is at the 5:55 mark
June 2018 — Veleno's NHL Draft
The 2018 NHL Draft seems miles away, but it's hard to not think ahead to what could happen with Veleno. Three of the previous four exceptional players have gone on to be the first-overall picks. Veleno admits there's a little bit of pressure knowing the legacy of Tavares, Ekblad and McDavid, but also isn't focused on the NHL draft at this point.
An NHL scout also says he could make the jump from junior to the pros immediately.
"He may be one of those four or five guys who leaves right after his draft year and you don't see him again. If his skill level keeps improving like it did from the beginning of the year to the end, he'll have a serious chance," says the scout. "He's got the mindset… to prepare him to play in the National Hockey League. That'll hold him well going forward."
Veleno has already shown flashes of brilliance as an underage player and should provide many highlights for years to come as he becomes the face of the Sea Dogs franchise and the QMJHL.
"We know what Jonathan Huberdeau has done for the franchise and how he makes everyone else around him better," says Young "We hope (Veleno) can do the same thing for us in the future."