CHL Hockey on Sunday features the first-ever appearance by the exciting Mississauga Steelheads, who will play host to the powerhouse Kingston Frontenacs in an Eastern Conference clash at the Hershey Centre.
The Steelheads are in a battle to maintain a top-four position in the conference, while Kingston has been at or near the top of the standings all season long. Despite some high-flying offensively gifted players, Mississauga is stingy defensively and features the best penalty-killing numbers in the league.
---
You can watch the Steelheads and Frontenacs square off live on Sportsnet East, Ontario and West Sunday at 3:00 p.m. ET.
---
Kingston is also a defensive-minded team that prefers a more rugged style of game.  The Frontenacs are one of two teams in the league averaging over 16 PIM per game.
Mississauga Steelheads
The 2016 NHL Draft should produce the best crop of Mississauga players in the franchise's history.  Alexander Nylander and Michael McLeod should fit in the top 20, while Nathan Bastian has been making waves and may very well sneak into the first round.  Nylander was brilliant for Sweden at the world juniors, leading the team with nine points in a fourth-place finish.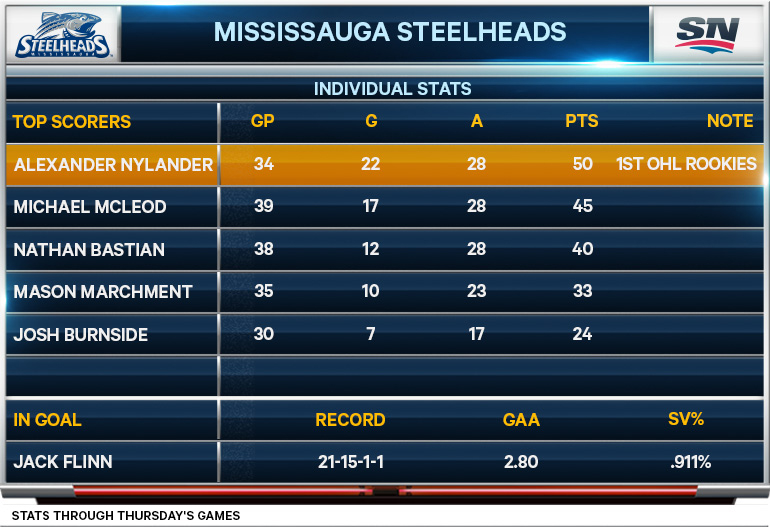 McLeod made his mark at the Ivan Hlinka tournament in August, helping Canada capture gold once again.  Nathan Bastian is a rink rat who performed well during the Canada-Russia series in November.  He's smart, has a good stick, and isn't afraid to get involved.
With all of the first-year draft eligibles, Mississauga's best season may be a year away.  OHL first-rounder Owen Tippett is a star in the making, as is six-foot-four defenceman Nicolas Hague.  The Steelheads also feature another McLeod, Ryan, who is as dynamic a young player as there is in the league, but he's not eligible for NHL consideration until 2018.  Between the 2016, '17 and '18 NHL drafts, it's not inconceivable that the Steelheads will have a total of six first-round picks.
And we haven't even mentioned Sean Day, the most polarizing figure in the 2016 class.  Granted exceptional status three years ago, Day has not progressed as expected, but the toolbox is so full that it's scary to think of what his unlocked potential may be.
Jack Flinn has been a real find for GM/head coach James Boyd.  He's the most-played goaltender in the league and gives a young Mississauga team a chance to make mistakes in front of him.  His six shutouts lead the league.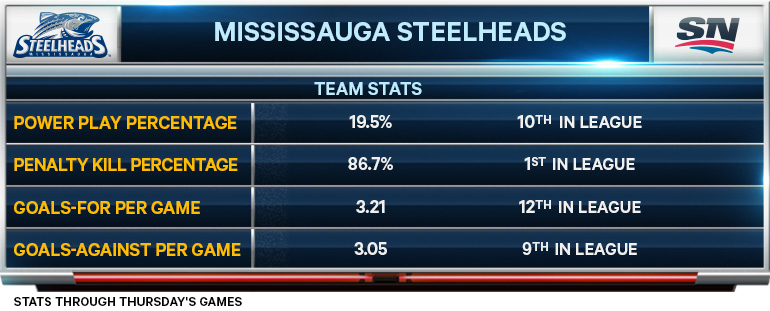 NHL Drafted/Signed Players
Nil
NHL Central Scouting
PTW A
Alexander Nylander
Michael McLeod
Nathan Bastian
PTW B
Sean Day
PTW C
Austin Osmanski
Under The Radar
Nicolas Hague is a late '98 birthday who's growing into his body. He turned heads at Canada's POE camp in August and has put up solid numbers for a rookie.
Kingston Frontenacs
Kingston was swept out of the playoffs by conference-finalist North Bay in 2015.  The Frontenacs were only able to score four times in the four games, but the sweep helped Kingston refocus on adding offence for this season.
Carolina prospect Warren Foegele left the University of New Hampshire to become a Front, and he's produced at a point-per-game pace playing on Kingston's top line.  Spencer Watson continues to be a scoring threat, while newly added Michael Dal Colle has found his game since being moved from Oshawa.
Secondary scoring comes from world junior gold medalist Juho Lammikko, Florida Panthers prospect Lawson Crouse and all-world rookie Jason Robertson who's approaching the 20-goal mark.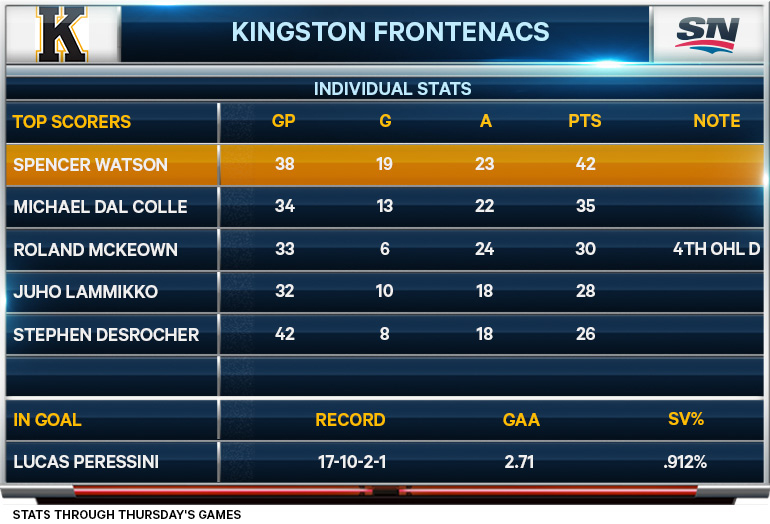 If scoring fails, the Fronts play an in-your-face style of game that can spill over into the over-exuberant.  There are 11 Kingston players with 35 or more PIM.
Defensively, GM Doug Gilmour struck early, acquiring Stephen Desrocher, a Mastercard Memorial Cup champ a year ago.  He's great on the power play, scoring more than half of his points on the man advantage. Add Canadian world junior Roland McKeown, who has magically regained his offensive touch, and you have a great one-two punch on the back to help boost the offence.
In goal, Lucas Peressini is proving that last year was no fluke.  He's back at it again in the Kingston nets, where his numbers aren't quite as impressive as they were a year ago, but the wins are starting to pile up.  Paul McFarland has been able to not only rest Peressini but also challenge him by putting Jeremy Helvig in goal.  The Fronts actually have a better record when Helvig plays, but Peressini will be the one to carry the load into the playoffs.
NHL Drafted/Signed Players
Michael Dal Colle (NYI) 5th, 2014
Lawson Crouse (FLA) 11th, 2015
Roland McKeown (LAK) 50th, 2014
Warren Foegele (CAR) 67th, 2014
Juho Lammikko (FLA) 65th, 2014
Stephen Desrocher (TOR) 155th, 2015
Spencer Watson (LAK) 209th, 2014
NHL Central Scouting
PTW C
Konstantin Chernyuk
Ryan Cranford
Under The Radar
Despite being a Carolina pick, Warren Foegele is a relative unknown to OHL fans, but his point-per-game pace has added much needed punch to Kingston's offence.