LAS VEGAS – There is no playbook for this. No guide for how the surviving members of the Humboldt Broncos should pick up and carry on and start living lives that are suddenly being played out in the public eye.
But there was clearly some comfort here as 10 of the 13 players who survived the April 6 bus crash gathered ahead of the NHL awards show. It was the first time they'd all been together since their lives were changed forever. They shared hugs and tears and handshakes with Connor McDavid.
So, it was not just any other day.
"It's the best thing ever. We all wish that we lived in the same neighbourhood," said Tyler Smith, who has been recovering back home in Leduc, Alta., since being released from hospital. "It's pretty important to try and get together as much as we can just to heal. I think just being together and sharing stories and kind of just being a team [as much] as we can again is important.
"A lot of guys we can cry together, we can laugh together, we can do everything together and just kind of heal in our own way. It's a blessing to be able to be here together."
Or, as teammate Ryan Straschnitzki, put it: "Just like old times."
[relatedlinks]
The NHL brought them here because Broncos head coach Darcy Haugan, who died in the accident, is nominated for the inaugural Willie O'Ree Community Hero Award. The league also announced Tuesday that it would be sending players to Humboldt for a skills event on Aug. 24 – the same day Saskatoon native Chandler Stephenson of the Washington Capitals hosts the Stanley Cup in the town of nearly 6,000 people.
"The community of Humboldt needs that, honestly," said Broncos forward Kaleb Dahlgren. "They need that to come to them."
The surviving members of the team were brought on stage wearing their yellow sweaters with green and yellow ribbons pinned over their hearts.
You had Derek Patter in the back left corner. He intends to play for the SJHL squad again next season. He was seated beside Xavier Labelle, who was only released from hospital 11 days ago. Then you had Brayden Camrud – another player hoping to return to the Broncos – and Dahlgren and Graysen Cameron, who just accepted an assistant coaching job with the Red Deer Optimist Chiefs.
Up front, there was Matthieu Gomercic, Smith and two players now in wheelchairs: Jacob Wassermann and Straschnitzki. Bryce Fiske, who will play for the University of Ontario Institute of Technology in the fall, was also in town but didn't take part in the media event.
"Seeing Wass and seeing Strass, seeing the boys again, it's heart-wrenching," said Smith. "A lot of memories come back."
Once the formal part of the program was completed, the Broncos gathered around a table together. Next thing they knew they were surrounded by faces they'd only previously seen on TV.
McDavid engaged a couple players in a chat about his experience at the IIHF World Hockey Championship and subsequent travels around Europe. Pekka Rinne, eloquently attired in a robin egg blue suit, took some compliments on his choice of outfit. Victor Hedman chided members of the Broncos about a type of drink he'd been told the players are fond of. Nathan MacKinnon encouraged them to avoid some of the potential dangers found in Las Vegas.
Eventually, P.K. Subban grabbed Anze Kopitar and gathered everyone around for a group selfie.
It was a pretty cool experience for some young hockey-loving Canadians.
"It's overwhelming in a good way," said Smith. "Anybody that comes up to us, it feels like you're a part of it. Like you feel like you're a friend to them and they want to be here for you, too."
"It's a special group of kids," said Subban. "Obviously with what they went through this year, it just touched everybody – not just people in the hockey world, but communities across the world and all of sports. Even people that don't know anything about hockey can resonate with a story like that.
"I feel like after that story and hearing what happened in that event, everybody kind of held their loved ones a little bit closer. It's important for them to know that the inspiration they provide people runs deep."
Dahlgren spoke of how grateful they all are for the support of the hockey world. He said they're here to represent the three members of the team unable to make it to Las Vegas, not to mention the 16 that died in the bus crash.
They are trying to move forward together.
Haugan, their coach, was fond of saying "It's a good day to be a Bronco" – a phrase some of the survivors intend to eventually memorialize with a tattoo. It was something that came back to mind Tuesday as they shared in the NHL's hospitality together.
"The best part of it honestly was just seeing the guys' faces," said Smith. "There's nothing else that kind of beats that. We had the most fun on a hockey team you could ever have. It's important that we smile. All the guys, we have our guardian angels, and they will always be with us.
"I think it's important to just see each other and hug each other."
Hopefully, this will turn into a great week for the Broncos. The players and some family members will travel to Dallas for the NHL Draft after Wednesday's awards ceremony.
Their presence here left a big impression on some of the NHL's biggest stars. Hedman, who previously spoke with members of the team over FaceTime from the Tampa Bay Lightning plane during the playoffs, was happy to put handshakes to familiar faces.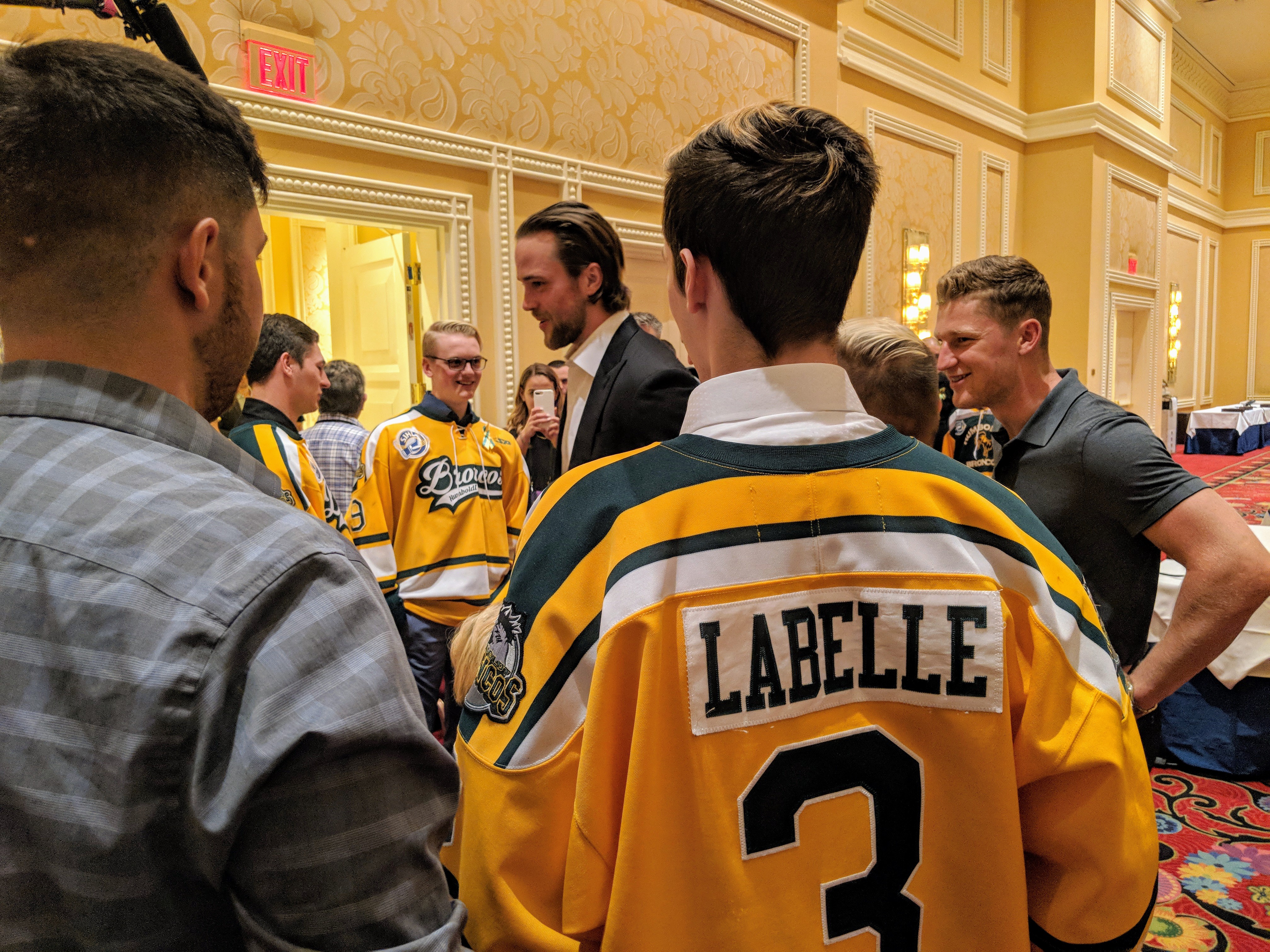 "What they went through, you can't even put words on them. To see them here, and to talk to them, it's such a great honour for us," said Hedman. "I told them they were a big inspiration for us during the season the way they battled and the way they handled the tragedy that they went through.
"It's a big honour for me to meet those guys."
At one point, NHL commissioner Gary Bettman crossed paths with a couple of Broncos. He shook hands and touched Smith's left shoulder and told the players that they've shown people around the world how to be strong in the face of unimaginably tough circumstances. Bettman added "You should be proud of yourselves."
He's right. I hope they are.