After a tough selection camp that included 34 players competing for spots on the final roster, Team Canada is set to defend its World Junior Championship title when the tournament opens up on Boxing Day in Vancouver against Denmark.
With Alex Formenton forced out of the tournament due to injury Maxime Comtois will be the only returning player from last year's team. NHL clubs do have until Dec. 19 to release players for the tournament and final rosters aren't due until Christmas Day so while there is a chance for more change, at this point that appears unlikely.
The team will have exhibition games against Switzerland, Slovakia and Finland before the preliminary round begins.
To get you ready for the 2019 WJC, we took a look at each player and share a note on what they're doing this season and what they could bring to Team Canada led by head coach Tim Hunter.
GOALIES
Michael DiPietro, Ottawa, OHL
Drafted: Round 3, 64th overall, by Vancouver in 2017
After being cut by Team Canada last year, DiPietro took the tough news as motivation finishing the 2017-18 season as the goaltender of the year in the OHL. Picked by the Canucks in 2017, the 19-year-old has accomplished a lot in his junior career, including a Memorial Cup win with Windsor and being named the CHL's top goaltender in his draft year.
A recent blockbuster trade sent DiPietro to the Ottawa 67's, who hope he can now lead them to their first OHL title since the 2001 season.
At 6-foot, 183 pounds, DiPietro doesn't have the typical size most NHL teams look for in a starting goalie, but he continues to produce elite numbers with a 12-8-1 record this season along with a 2.26 GAA and a .922 save percentage. The Amherstburg Ont., native will have some tough competition with Ian Scott behind him, but is expected to be the go-to goalie this tournament.
Ian Scott, Prince Albert, WHL
Drafted: Round 4, 110th overall, by Toronto in 2017
After posting a 3.10 GAA and a .897 save percentage last season, Scott wasn't initially in the picture for Team Canada as he wasn't invited to the World Junior Summer Showcase. He has turned heads this season, though, with a 23-2-0-1 record, 1.61 goals-against average, .943 save percentage and four shutouts to help the Raiders rise to the top of the CHL rankings. He also scored his first career goal.
The 19-year-old will look to challenge DiPietro to be the No. 1 goalie and he'll have some extra motivation after recently signing his entry-level contract with the Toronto Maple Leafs. Scott credits the time he spent with the Toronto Marlies at the end of last season as part of the reason his game has reached another level.
"I am a lot calmer in the net, a little more confident too with the base of my game, that I can always resort back to it if I feel things get a little tough," Scott told Kevin Woodley of NHL.com. "I am able to regroup and go back to what I feel comfortable with and build from there again."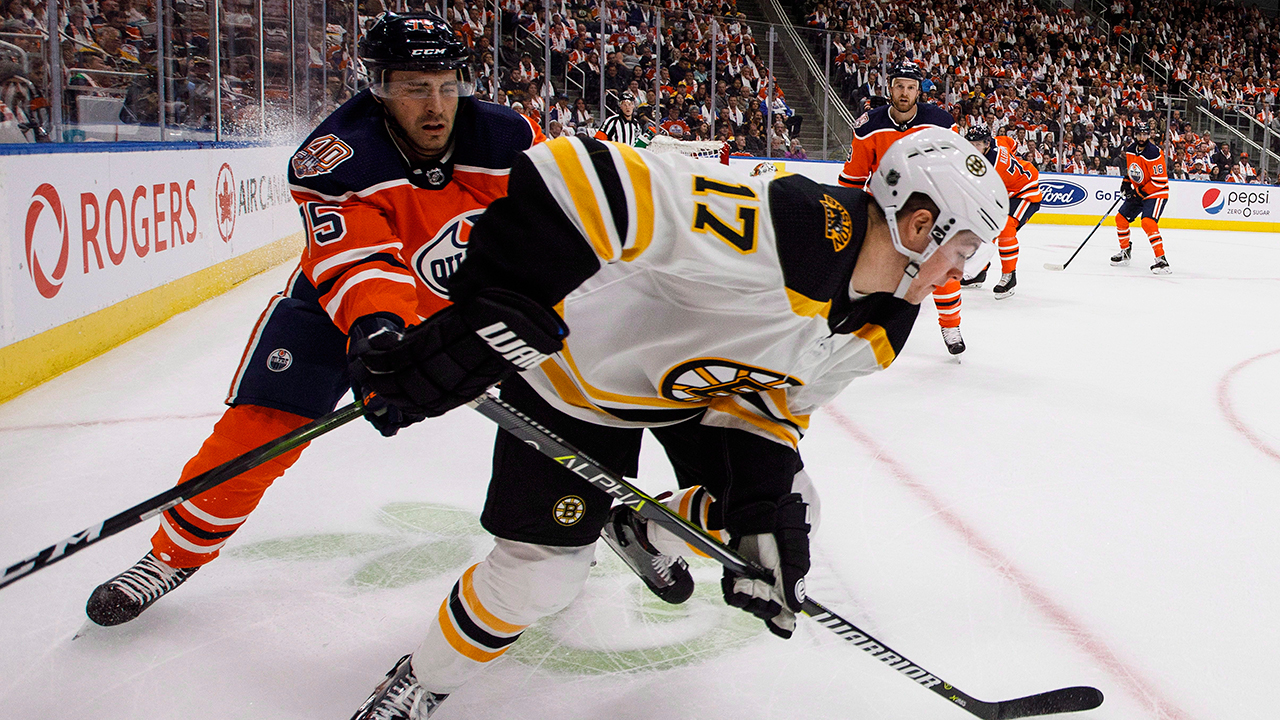 DEFENCE
Evan Bouchard, London, OHL
Drafted: Round 1, 10th overall, by Edmonton in 2018
It wasn't surprising to see Bouchard make Canada's roster and the Oilers are hoping it helps him take another step in his development. After spending seven games with Edmonton where he scored a goal, the 19-year was reassigned to London and he hasn't looked out of place with five goals, 13 assists for 18 points in 13 games.
He is expected to play a big role on Canada's blue line where he'll probably quarterback the power play with a big shot from the point, but he's also known for his smart decision making in the defensive zone. He was paired with Josh Brook during their exhibition games against the U Sports All-Stars so that could be his partner when the tournament opens.
Ian Mitchell, University of Denver, NCAA
Drafted: Round 2, 57th overall, by Chicago in 2017
Mitchell has taken a step forward this season in Denver and has already matched his goal total from last season with two in 14 games. He has helped Denver during a transition season where they have an 8-4-2 record after losing Henrik Borgstrom, Dylan Gambrell, and Troy Terry in the off-season. With 11 points in 14 NCAA games, he's another option Canada can use on the power play and he's not shy about being physical either despite having a smaller frame.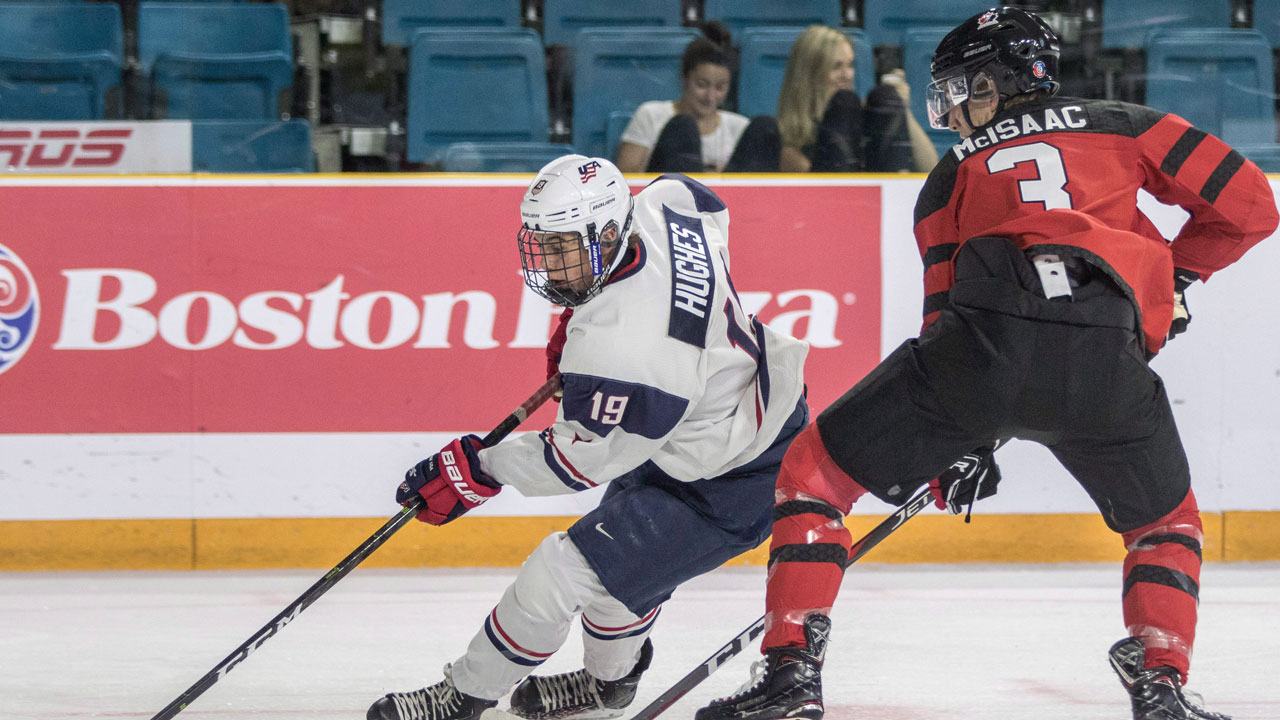 Jared McIsaac, Halifax, QMJHL
Drafted: Round 2, 36th overall, by Detroit in 2018
With Halifax hosting the Memorial Cup this season, the pressure has been on McIsaac to take his game to the next level and while he's known for his offence the 18-year-old also knows that he'll be relied on for his defensive game.
"There are lots of great defensive players that will be there and I suspect that's what they'll want from me too," McIsaac told the Chronicle Herald before the selection camp.
"But you obviously have to show you can do a little bit of everything. To get the chance to play for your country would be pretty special so I'd play whatever role they give me."
With seven goals, 15 assists and 22 points in 23 games, McIsaac has been credited for his commitment towards rounding out his two-way play and has been capable of performing in different situations for the Mooseheads.
Josh Brook, Moose Jaw, WHL
Drafted: Round 2, 56th overall, by Montreal in 2017
Brook was signed by the Montreal Canadiens during training camp after impressing management and the coaching staff with his vision, poise and puck moving ability. Although he is a right-handed shot, Canada has been using him to play on his opposite side which probably helped his case to make the team. The 19-year-old has nine goals, 24 assists and 33 points in 25 games for the Warriors this season.
Markus Phillips, Owen Sounds, OHL
Drafted: Round 4, 118th overall, by Los Angeles in 2017
Phillips came into this camp as an underdog to make it, considering he only has 10 points in 30 games for Owen Sound. He was a part of Team OHL's blue line during the CIBC Canada-Russia Series, which helped showcase his abilities as a puck-moving defenceman.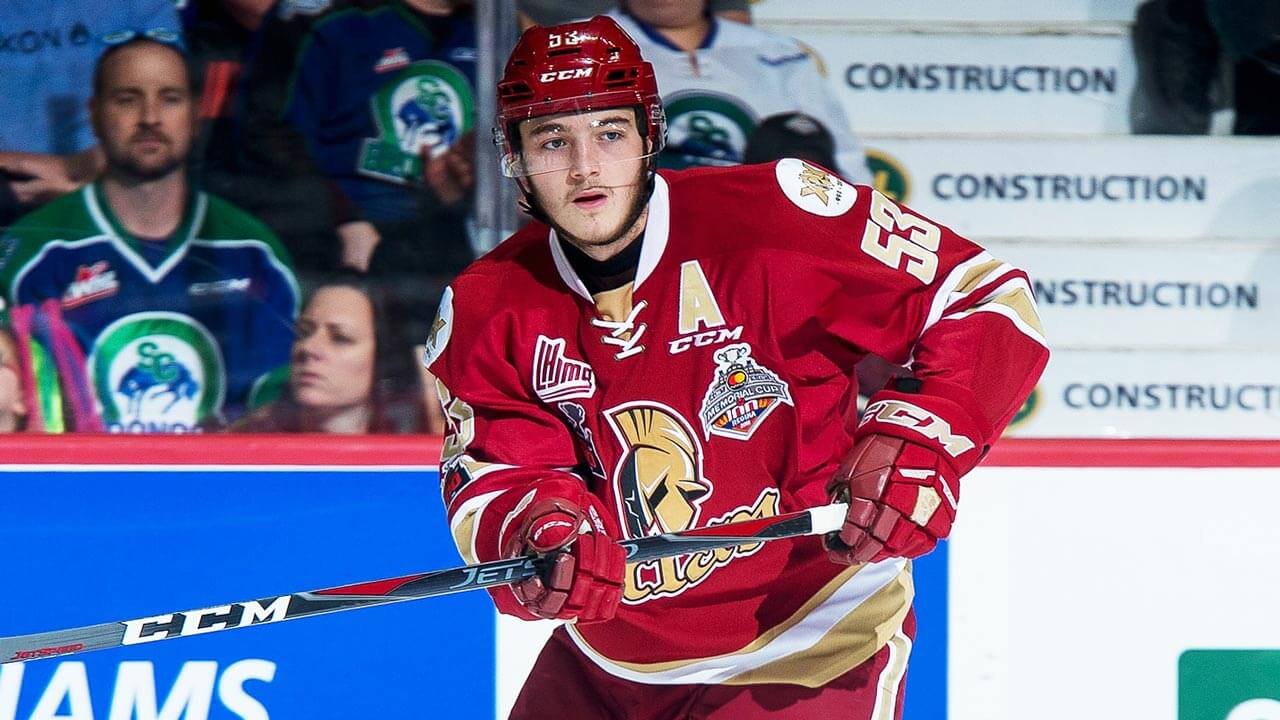 Noah Dobson, Acadie-Bathurst, QMJHL
Drafted: Round 1, 12th overall, by NY Islanders in 2018
Canada is fortunate to have a strong cast of defencemen on the right side and Dobson is no exception after starring in the 2018 Memorial Cup with seven points in four games helping Acadie-Bathurst to the title. That experience will be a valuable addition for Canada considering they only have one returning player from last year's roster.
After putting up 17 goals, 52 assists and 69 points in 67 games last season, Dobson was named the Titan's captain in 2018-19. He has nine goals, seven assists and 16 points in 28 games as Acadie-Bathurst goes through a rebuilding season.
Ty Smith, Spokane, WHL
Drafted: Round 1, 17th overall, by New Jersey in 2018
One major strength Canada's blue line will have going into this tournament is its speed and skill, which is the highlight of Smith's game. There's no denying the offensive ability the 18-year-old brings as he leads all WHL defenceman in scoring with 39 points in 28 games.
Expect Smith to be paired with Dobson, who he played with during the team's exhibition games at the selection camp.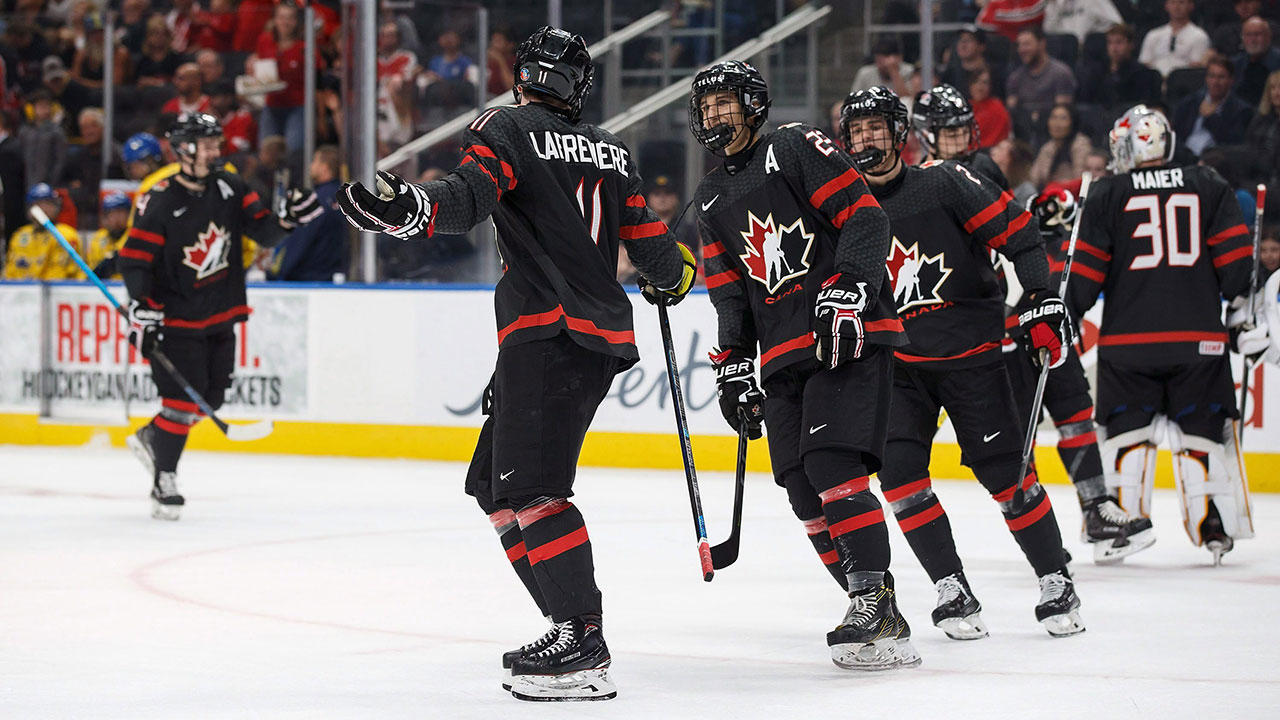 FORWARDS
Alexis Lafrenière, Rimouski, QMJHL
Drafted: Draft eligible in 2020
There will be a lot of eyes on Lafrenière going into the tournament even though he's only a 17-year-old. He joins an exclusive list of NHL players to make Canada's roster at that age, joining Sidney Crosby, Connor McDavid, Jason Spezza, Eric Lindros and Jay Bouwmeester.
It speaks a lot to the pedigree the winger possesses and in his second season in the QMJHL he has 17 goals, 37 assists and 54 points. He had 42 goals as a 16-year-old rookie with Rimouski joining Crosby as the only player to accomplish that in CHL history. His 6-foot-1, 192-pound frame is a big asset for him, but considering he'll be playing against elite 18- and 19-year-old players, he may not play a significant role on this year's team. Stay tuned.
Barrett Hayton, Sault Ste Marie, OHL
Drafted: Round 1, 5th overall, by Arizona in 2018
When the Coyotes selected him fifth overall in the draft it was met with some surprise, but the team sees great potential in the Peterborough, Ont., native. So far, he's delivered in his third OHL season with 15 goals, 18 assists and 33 points in 20 games.
Hayton's plan going into the selection camp was to show he could play any role the coaching staff needed. He can play either centre or on the wing, which is valuable considering some of the injuries Canada has up front.
Brett Leason, Prince Albert, WHL
Drafted: Undrafted
After not getting selected in two straight NHL drafts, Leason has been one of the more dominant forwards in the CHL with 28 goals, 36 assists and 64 points in 31 games for the top-ranked Raiders. His 30-game point streak was a major talking point this season, but he still comes into the WJC with something to prove.
Leason will play in Canada's top-six and should be a prominent contributor on the power play and even penalty kill. Hunter has seen Leason's emergence this season first hand as the head coach in Moose Jaw and will likely lean on him throughout the tournament when/if he returns from his hand injury.
Cody Glass, Portland, WHL
Drafted: Round 1, 6th overall, by Vegas in 2017
Glass was the Golden Knights' first ever draft pick and has built a reputation as a productive two-way centre. Last season he had 102 points in 64 games after scoring 94 in 69 games in his draft year. In 26 games with the Winterhawks this season, the 19-year-old has 12 goals, 42 assists and 54 points.
He played on the de facto top line between Maxime Comtois and Owen Tippett during the selection camp's exhibition games. His playmaking ability should complement what Tippett brings as a sniper.
Jack Studnicka, Oshawa, OHL
Drafted: Round 2, 53rd overall, by Boston in 2017
Studnika earned a lot of praise for his work during selection camp playing with Morgan Frost and Lafrenière. The 19-year-old was named the Generals captain during the off-season and has 12 goals, 21 assists and 33 points in 29 games with Oshawa.
Part of the reason for Studnicka's improvements this season, especially his defensive game, can be pointed to when he played with Brad Marchand and David Pastrnak while Patrice Bergeron was injured during Boston's training camp.
Jaret Anderson-Dolan, Spokane, WHL
Drafted: Round 2, 41st overall, by Los Angeles in 2017
Anderson-Dolan finally got the green light to play after recovering from a wrist injury. He spent five games with the Kings in the NHL this season, recording an assist before being re-assigned to Spokane.
Last season was a big breakout for the 19-year-old, scoring 40 goals, 51 assists and 91 points so expect him to be a go-to scorer.
Joe Veleno, Drummondville, QMJHL
Drafted: Round 1, 30th overall, by Detroit in 2018
Veleno is rewarding the Red Wings for drafting him late in the first round with a breakout season for the Voltigeurs for whom he has 22 goals, 32 assists and 54 points in 28 games. He has already matched his goal total from last season and that pace could accelerate even more with teammate Maxime Comtois returning from Anaheim. It will be interesting to see if his success from this season can carry over on the big stage.
MacKenzie Entwistle, Hamilton, OHL
Drafted: Round 3, 69th overall, by Chicago in 2017
Seeing Entwistle make the cut might not come as a major surprise given that Bulldogs general manager Steve Staios is a part of the management group, but it's important to understand Entwistle earned his way on this roster with his own play. Hamilton's captain helped the Bulldogs upset the Greyhounds in last year's OHL championship playing both centre and right wing.
While he can produce offensively scoring 15 goals, 12 assists, and 27 points in 29 games, he is a capable defensive player too.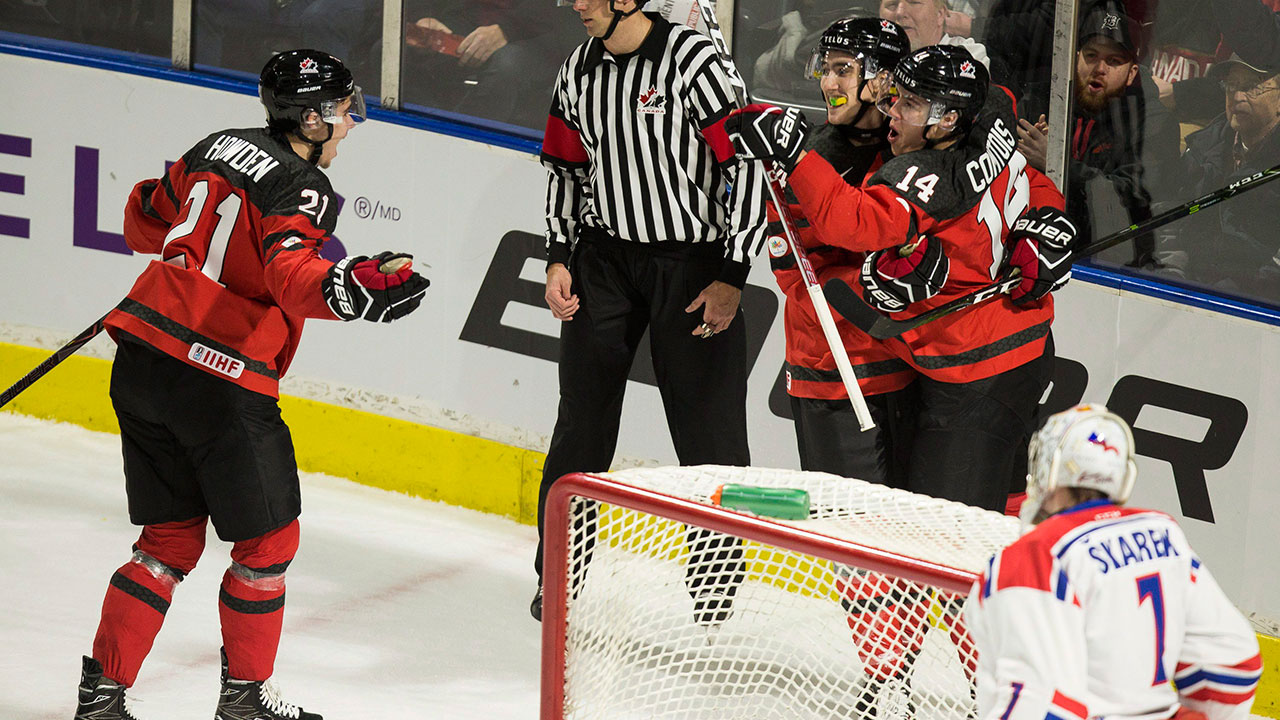 Maxime Comtois, Drummondville, QMJHL
Drafted: Round 2, 50th overall, by Anaheim in 2017
The only returning player from last year's team is also the most experienced considering how his season has gone. He played 10 games with the Ducks, scoring two goals, five assists and seven points before being returned to Drummondville where he has three goals, four assists and seven points in five games.
With good size and this kind of recent experience, he is expected to be a major piece of this year's Canadian lineup. Not only that, he will be expected to take a leadership role considering he is the only player with experience at the WJC.
Morgan Frost, Sault Ste Marie, OHL
Drafted: Round 1, 27th overall, by Philadelphia in 2017
Frost currently sits third in OHL scoring with 20 goals, 38 assists and 58 points in 32 games, but wanted to show the Team Canada brass that he's more than just a goal scorer.
"I want to show them I can play a 200-foot game and thrive in any role they ask me to play," Frost told Peter Ruicci of the Sault Star before selection camp. "I think I've become more of a complete player."
He has been showing the Flyers why he was worth trading back into the first round for, doubling his goals from 20 in his draft year to 42 last season and finishing with 112 points in 67 games. He also had 29 points in 24 playoff games leading the Greyhounds to the OHL finals. Frost should play a big role offensively for Canada and provide Flyers fans with some much-needed good news.
Nick Suzuki, Owen Sound, OHL
Drafted: Round 1, 13th overall, by Vegas in 2017, traded to Montreal
Even with the additional expectations of being named the captain in Owen Sound, Suzuki continues to produce with 20 goals, 23 assists and 43 points in 28 games this season. He was the centrepiece in the trade that sent Max Pacioretty to the Golden Knights.
He helped his case at the World Junior Showcase, scoring a goal against the Americans, and has a lot of tools that make him a pivotal all-around player in Owen Sound. While he likes to shoot his GM Dale DeGray believes no one in the OHL is a better passer than Suzuki.
Owen Tippett, Mississauga, OHL
Draft: Round 1, 10th overall, by Florida in 2017
Tippett was close to making last year's team but was a late cut despite being one of the most lethal goal scorers in the OHL. Now, he's using the lessons learned from last year to get on to this year's team. One thing keeping him from making the NHL full-time is his defensive play. He has the offensive firepower to be successful and has 19 goals, 14 assists and 33 points in 23 OHL games after spending five games in the AHL.
He has the right combination of size, speed and skill to be an effective forward, but if he can be an effective 200-foot player he has a chance to be dominant in this tournament.
Shane Bowers, Boston University, NCAA
Draft: Round 1, 28th overall, by Ottawa in 2017, traded to Colorado
Bowers was a part of the trade that sent Matt Duchene to the Ottawa Senators and scored the shootout winner in one of Team Canada's selection camp exhibition games. Boston University lost Brady Tkachuk when he decided to sign with the Senators, but Bowers is trying to fill in the gap offensively with five goals, three assists and eight points in 15 games.
He's not a dynamic offensive player, so Canada will likely rely on him to play in more defensive situations and on the penalty kill, but he can still provide offence when needed after scoring 32 points in 40 games last season.