REGINA – As a coach, Mario Pouliot hated what he was doing. He was essentially not putting his team in the best position to try and win.
But he had no doubt he and the organization were making the right decision. And, with his Acadie-Bathurst Titan in Sunday's Memorial Cup final against the host Regina Pats, he's glad they played the odds.
"With just one goal difference, I don't want to go all-in to put my money and maybe give an empty-net goal," Pouliot said. "From that it was clear – no chance for us to go in the final directly.
"It was being logical."
To rewind, the circumstances were bizarre late in the Titan's last round-robin game against the Hamilton Bulldogs.
A win would have given the Titan a perfect unbeaten record in round-robin play and a no-questions-asked bye to the tournament final.
The Titan trailed by a goal with 1:34 left in the third period and were given a power play, which resulted in a faceoff in the Hamilton end.
The natural decision would have been to pull goalie Evan Fitzpatrick for an extra attacker.
But there was a dilemma at hand.
A two-goal loss would have relinquished a tiebreaking scenario – goals for and goals against differential – the Titan had over the Bulldogs if Regina was to beat Swift Current a night later.
Under those circumstances – which ultimately came to fruition – all three teams would be 2-1 and the differentials would be determined based on games not involving Swift Current. (Thus, Regina's ratio was set before its last matchup.)
So, Pouliot never even considered removing Fitzpatrick and lost 3-2.
"As a coach you want to win every game," Pouliot said. "So, it was really tough for me."
Pouliot wanted to ensure he had one tiebreaking scenario in his possession, even though a Swift Current win over Regina would have given those teams identical 1-2 marks and forced them to face off in a tiebreaking game. If that had happened, Hamilton would have earned the bye to the final based on its head-to-head win over Acadie-Bathurst.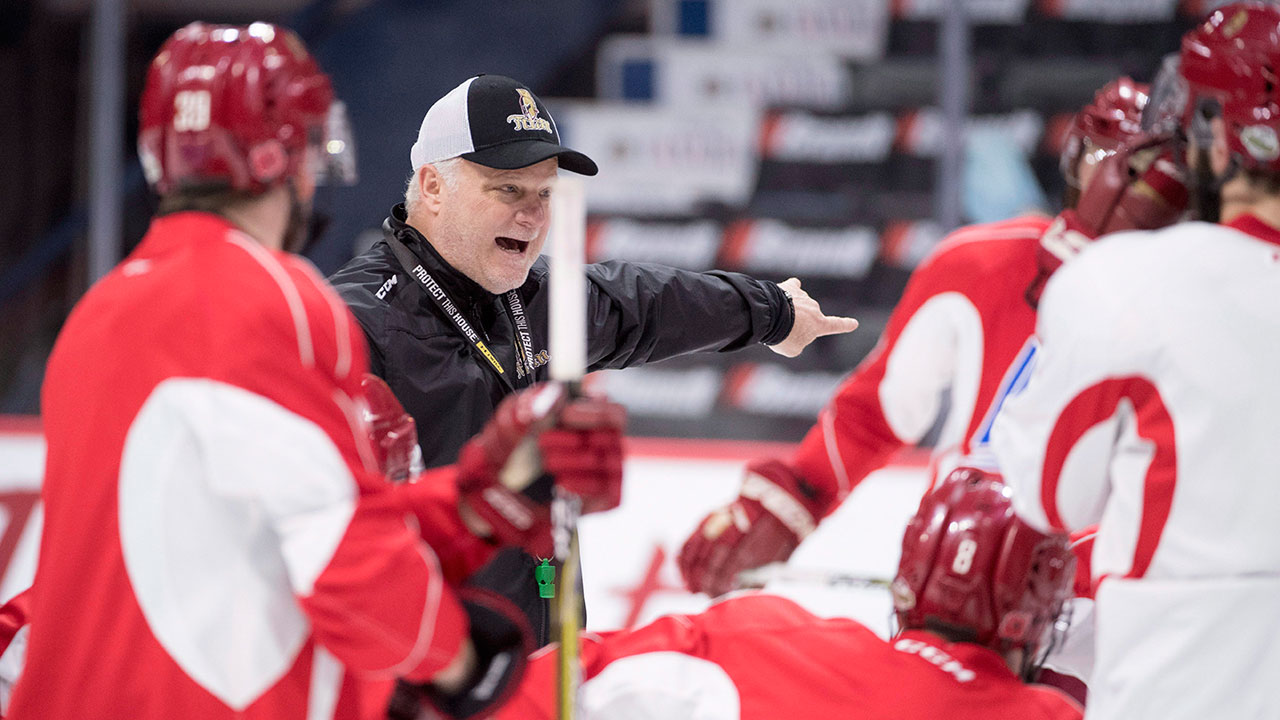 Pouliot said the decision not to pull Fitzpatrick under such a situation was made before the game through consultations with GM Sylvain Couturier. They ran the numbers, double- and triple-checked them, and verified them with the CHL.
He even called Couturier during the second intermission when the Titan were down 2-1 to see if they should consider calling an audible. Nope. They'd stick to the plan.
"It was clear it was the direction we wanted to do," Pouliot said.
Pouliot informed his players not to press late in the third period. Normally, with around five to seven minutes remaining when trailing a goal, they switch to a more aggressive forecheck, he said. Abort those tactics.
He then let them know with two minutes remaining that Fitzpatrick would stay in the crease.
He wasn't thrilled with having to play it safe – and protecting a one-goal disadvantage – but it worked out for the best.
Bulldogs coach John Gruden said he didn't care his team couldn't win by two and thought it would be advantageous for his group to stay sharp by playing in the semifinal.
Of course, they ended up losing to the Pats.
That's exactly what the Titan were trying to avoid.
"Ask John Gruden if he wants to play again in the semifinal game," Pouliot said. "When it's a game, it's one shot, one opportunity, everything can happen. (Friday) night that happened. (Pats goalie Max) Paddock was really solid and every chance they got, they scored.
"Hamilton maybe didn't play their best game. But, for sure, they created a lot of scoring chances to win the game. During one game we never know what can happen."
As for a long layoff for the Titan, Pouliot isn't considered in the slightest.
The last two days gave the players a chance to see family members and participate in a team ping pong tournament on Friday, before a practice on Saturday. Pouliot believes they'll be mentally sharp once the puck is dropped.
The Titan won 10 straight games during the QMJHL playoffs, which meant extended breaks after two sweeps. Rest trumped any rust for his players, he noted.
Even if how the Titan got there was a little unsettling, trying to move straight to the final was the best and safest bet.
"I don't like to play at the casino," Pouliot said. "I like to take care of my money."
[relatedlinks]
THE TITAN WAY
All Titan players pick up pucks after practices and pre-game warmups.
This type of mentality isn't reserved for the ice either.
Pouliot said that while on the road the team is split into groups of four with the veterans acting as leaders rather than delegators. Duties are packing the bus, unpacking it, cleaning it, and picking up meals.
"If we want to be a team on the ice, we have to be a team off the ice," he said.
Right from the start of training camp, the message was the Titan would have a winning mindset.
"Our expectation was to win our last game," Pouliot said.
They have a chance to do that Sunday.