After finishing the regular season first and second in the league, the Rouyn-Noranda Huskies and Shawinigan Cataractes have each knocked off three teams in the playoffs and now go head to head for the President Cup.
Rouyn-Noranda took down the Moncton Wildcats in six games, scoring four in a row to erase a 4-1 deficit in Game 6. They won 14 in a row to finish as regular season champs with 103 points and that momentum has carried over into the playoffs. With just three playoff losses, the Huskies are the favourite to win their first President Cup since moving to Rouyn-Noranda 20 years ago—the franchise last title came in 1984-85 when the team was the Verdun Junior Canadiens.
whata team effort!!!! @HuskiesRn love you boys!! #final #bounceback

— Timo Meier (@MeierTimo) May 1, 2016
With 93 points, Shawinigan had the fourth most points but finished in second-place thanks to winning the East Division. After dropping the opening game of the semis in overtime to the Saint John Sea Dogs, the Cataractes rolled out four straight victories to return to the President Cup final for the first time since 2009. The franchise has been in Shawinigan since 1969, but has yet to win a league championship, although the Cataractes won the 2012 Memorial Cup as hosts.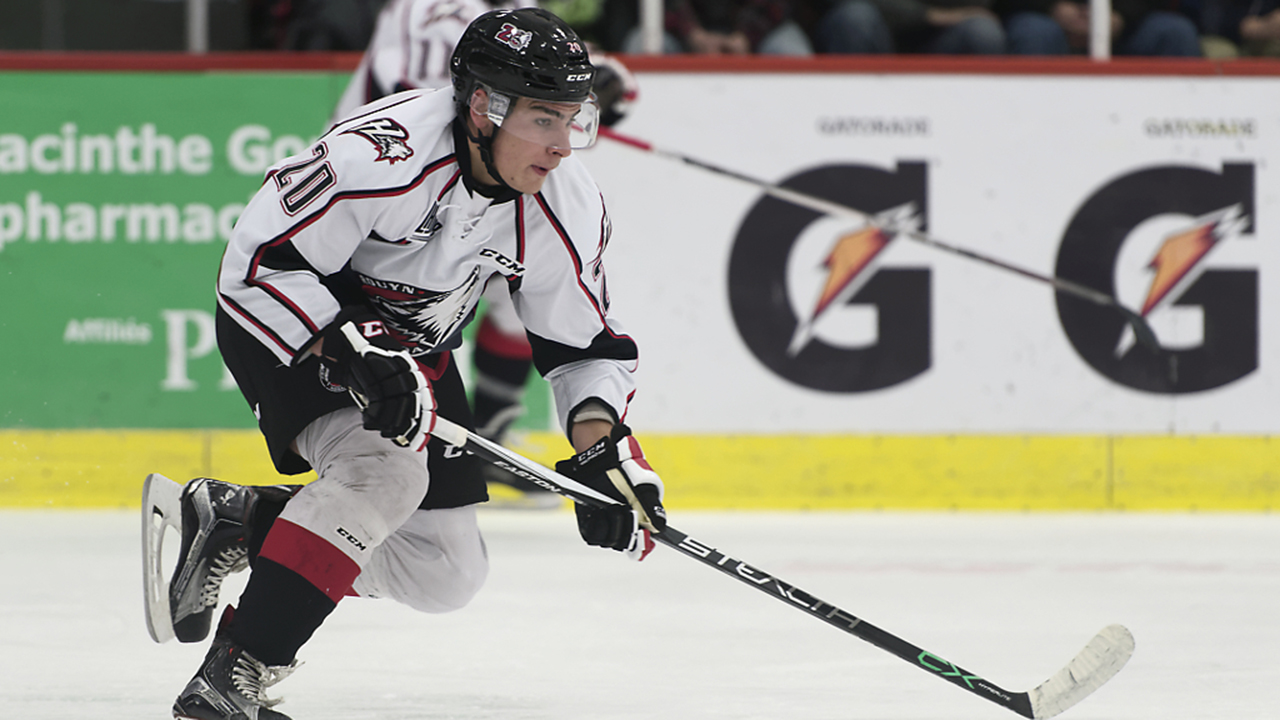 Both teams were in the arms race over the trading period, stealing the show by bringing in the most coveted players on the final day. Rouyn-Noranda brought Timo Meier from the Halifax Mooseheads and Shawinigan Dmytro Timashov. Both players are owning the competition in the playoffs and the showdown of "Timo Time" vs. "Timashov Time" will be one for the ages—although it will have to wait for Game 2 after Meier was suspended for a head shot.
| QMJHL PT/G LEADERS | | | | | | |
| --- | --- | --- | --- | --- | --- | --- |
| Name | Team | GP | Pt/G | G | A | PTS |
| Francis Perron | Rou | 13 | 1.85 | 10 | 14 | 24 |
| Anthony Beauvillier | Sha | 16 | 1.63 | 12 | 14 | 26 |
| Samuel Blais | Cha | 12 | 1.58 | 4 | 15 | 19 |
| Dmytro Timashov | Sha | 16 | 1.5 | 12 | 12 | 24 |
| Olivier Galipeau | VdO | 6 | 1.5 | 1 | 8 | 9 |
| Sam Povorozniouk | SNB | 17 | 1.47 | 14 | 11 | 25 |
| Mathieu Joseph | SNB | 5 | 1.4 | 5 | 2 | 7 |
| Jeffrey Truchon-Viel | Bat | 5 | 1.4 | 2 | 5 | 7 |
| Maxim Lazarev | Cap | 11 | 1.36 | 5 | 10 | 15 |
| Kay Schweri | She | 3 | 1.33 | 0 | 4 | 4 |
| Alexis D'Aoust | Sha | 16 | 1.31 | 8 | 13 | 21 |
| Vitalii Abramov | Gat | 10 | 1.3 | 7 | 6 | 13 |
| Gabryel Paquin-Boudreau | Gat | 10 | 1.3 | 7 | 6 | 13 |
| Timo Meier | Rou | 14 | 1.29 | 10 | 8 | 18 |
| Jean-Christophe Beaudin | Rou | 15 | 1.27 | 7 | 12 | 19 |
The two teams met four times, going to overtime twice. Rouyn-Noranda won three of four, but it's hard to take too much stock in the results since three of those games came before the trading period.
Here's how the final two teams compare:
Forwards
Rouyn-Noranda
The three-headed monster of league MVP Francis Perron, Timo Meier and Jean-Christophe Beaudin has wreaked havoc as Rouyn-Noranda's top line, combining for 27 of the team's 67 goals and 61 total points. San Jose Sharks first-rounder Meier had a quiet series against Moncton, only scoring once and adding two assists. His biggest impact on the score sheet was for all the wrong reasons as he was kicked out of Game 4 for removing an opponents helmet in a fight, resulting in a one-game suspension. He returned in Game 6 but was again ejected for a hit to the head, hence the suspension. He needs to be on his best behaviour rest of playoffs since he's not much help from the press box.
Rouyn-Noranda's forward lines are sprinkled with NHL prospects and two-way forwards, making the Huskies a hard team to play against in all areas of the ice. The second line of A.J. Greer (Colorado Avalanche), Gabriel Fontaine and Martins Dzierkals (Toronto Maple Leafs) went cold against Moncton, only scoring three goals. The Huskies will need more secondary scoring this round to match Shawinigan.
Shawinigan
Toronto Maple Leafs prospect Dmytro Timashov only managed four goals in 28 regular-season games with Shawinigan, but has blown up in the playoffs with 12 markers in 16 games. Timashov is third in playofff points with 24, two behind linemate and top scorer Anthony Beauvillier. The New York Islanders first-rounder shredded Saint John for six goals and 12 points.
The second line of Tampa Bay Lightning prospect Dennis Yan, Brandon Gignac and Mathieu Olivier also has been popping in goals, led by Yan who has eight. The only knock on the unit is they've struggled at 5-on-5. Everyone on the first and third line are plus-12 or better, but Yan, Gignac and Olivier are all plus-5 or below.
Shawinigan's 77 goals are the most in the playoffs thanks to second and third lines that could pass as the top line on many QMJHL teams. The third line is key to Shawiginan's stacked offence. After an injury-riddled regular season, Sens prospect Gabriel Gagné is back to his scoring ways with nine goals and 10 assists. The 6-foot-5, 187-pounder is a wrecking ball around the net. Danny Moynihan's production has dipped considerably after going from the top line in Halifax to a secondary role in Shawinigan, but he's another dangerous forward on the third line.
Advantage
Shawinigan
Defencemen
Rouyn-Noranda
The Huskies have only allowed 19 goals in 15 games with 12 of those coming from Moncton in the third round. The blueline found a way to lock down regular season top scorer Conor Garland, limiting him to two goals and an assist in six games. The Huskies power play and top pairing took a big hit in the second round when Boston Bruins prospect Jérémy Lauzon exited the post-season after a skate to the neck.
Even without Lauzon available, the team is deep with Philadelphia Flyers prospect Philippe Myers, offensively-minded veteran Nikolas Brouillard and big bodies Allan Caron, Jacob Neveu and Zachary Lauzon. While this team was able to shut down Garland, they'll have a much bigger challenge holding off wave after wave of Shawinigan attackers.
Shawinigan
After allowing an average of 3.24 goals against per game in the regular season, the Cataractes have tightened up in the playoffs allowing 2.75 GA/GP. The team brought in San Jose Sharks free agent signee Cavan Fitzgerald from Halifax and Jonathan Deschamps over the trading period, and the two have formed the team's top pairing. NHL Draft prospect Samuel Girard only has one goal in the post season, but has 17 assists and is plus-17.
Advantage
Rouyn-Noranda
Goaltending
Two 20-year-old goalies look to finish their junior careers with a President Cup championship. Both took weird roads to get to the final and have reason to be hungry to win it all.
Rouyn-Noranda
After leading the league with the best GAA in the regular season, Marchand leads the playoffs with a 1.13 GAA and .955 save percentage. Of his 11 playoff wins, six have been shutouts including in Game 5 against Moncton. After facing 20 or fewer shots in five contests against Blainville-Boisbriand, Marchand was much busier against Moncton who averaged 29.7 shots per game. Outside of the two games in the series where he allowed four goals, Marchand has been absolutely lights out.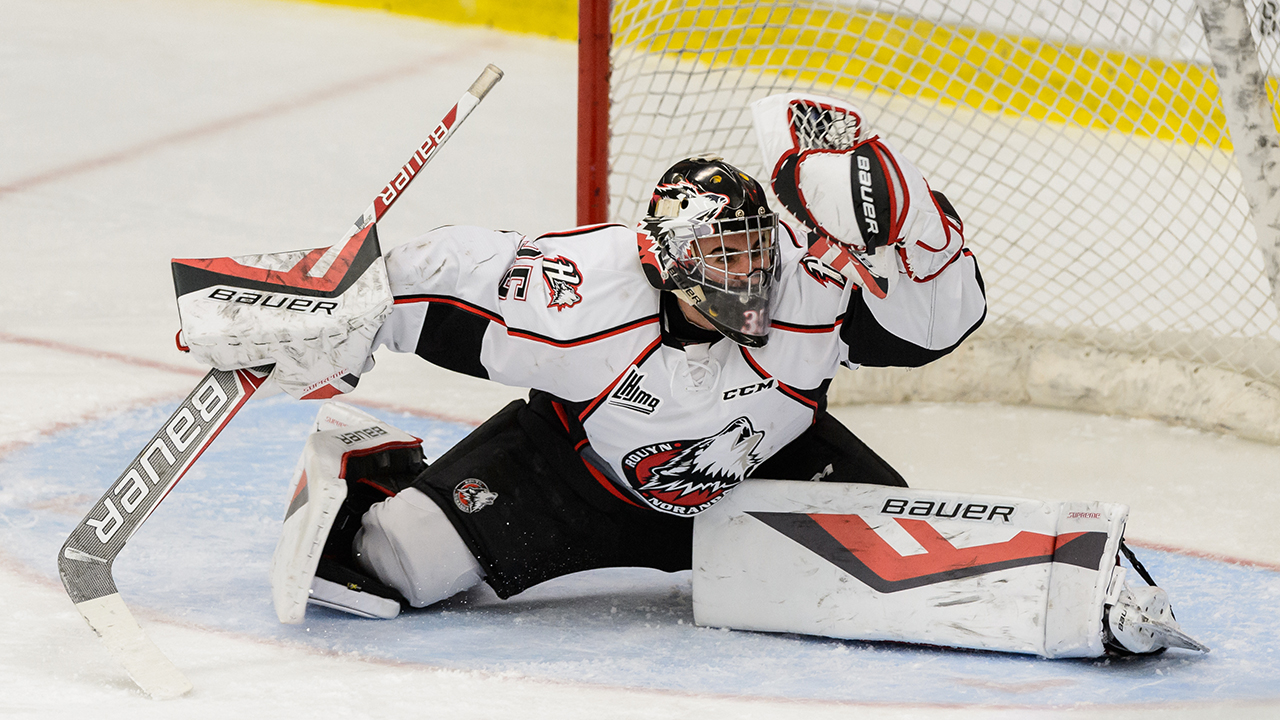 Shawinigan
Philippe Cadorette is now the QMJHL's all-time playoff wins with 50 and holds the record for most playoff appearances. This is the third time in four seasons he's reached the President Cup final, but he's still chasing that ever-elusive championship title. He's been remarkably consistent in the playoffs, posting a .914 save percentage the last three years with Baie-Comeau. Now with Shawinigan, he's rocking a .913.
Congratulations to @Cataractes_Shaw goaltender Philippe Cadorette on setting a new @QMJHL record for most wins in the pkayoffs by a goalie.

— Titan AcadieBathurst (@ABTitan) April 30, 2016
Advantage
Rouyn-Noranda
Special teams
Rouyn-Noranda is has the second-best power play in the post-season, clicking at 32.1 percent (24-for-75). Shawinigan is fifth at 26.0 percent (19-for-73).
Rouyn-Noranda also has the second-best penalty kill at 89.9 percent and has a league-leading five shorthanded goals. Shawinigan is tenth at 77.0 percent but has four shorties.
Advantage
Rouyn-Noranda
NHL Prospects
Rouyn-Noranda
Timo Meier (SJ, 2015, 9th)
Jérémy Lauzon (BOS, 2015, 52nd)
A.J. Greer (COL, 2015, 39th)
Martins Dzierkals (TOR, 2015, 68th)
Jean-Christophe Beaudoin (COL, 2015, 71st)
Francis Perron (OTT, 2014, 190th)
Julien Nantel (COL, 2014, 204th)
Philippe Myers (PHI, 2015 free agent)
Shawinigan
Anthony Beauvillier (NYI, 2015, 28th)
Gabriel Gagné (OTT, 2015, 36th)
Dennis Yan (TB, 2015, 64th)
Dmytro Timashov (TOR, 2015, 125th)
Cavan Fitzgerald (SJ, 2015, free agent)
Prediction
Rouyn-Noranda in seven