Travis Konecny knows a NHL prospect's window to play 'til May in the OHL can be very, very short.
The Philadelphia Flyers first-rounder has been characteristically dynamic since returning from the World Junior Championship and being moved to Sarnia, tallying 19 goals and 45 points across 27 games to help the Sting get a shot at the Western Conference's No. 2 playoff seed and their first West Division banner since 2004. Sarnia is one point ahead on the Windsor Spitfires, with a game in hand, heading into a first-place showdown on Thursday.
---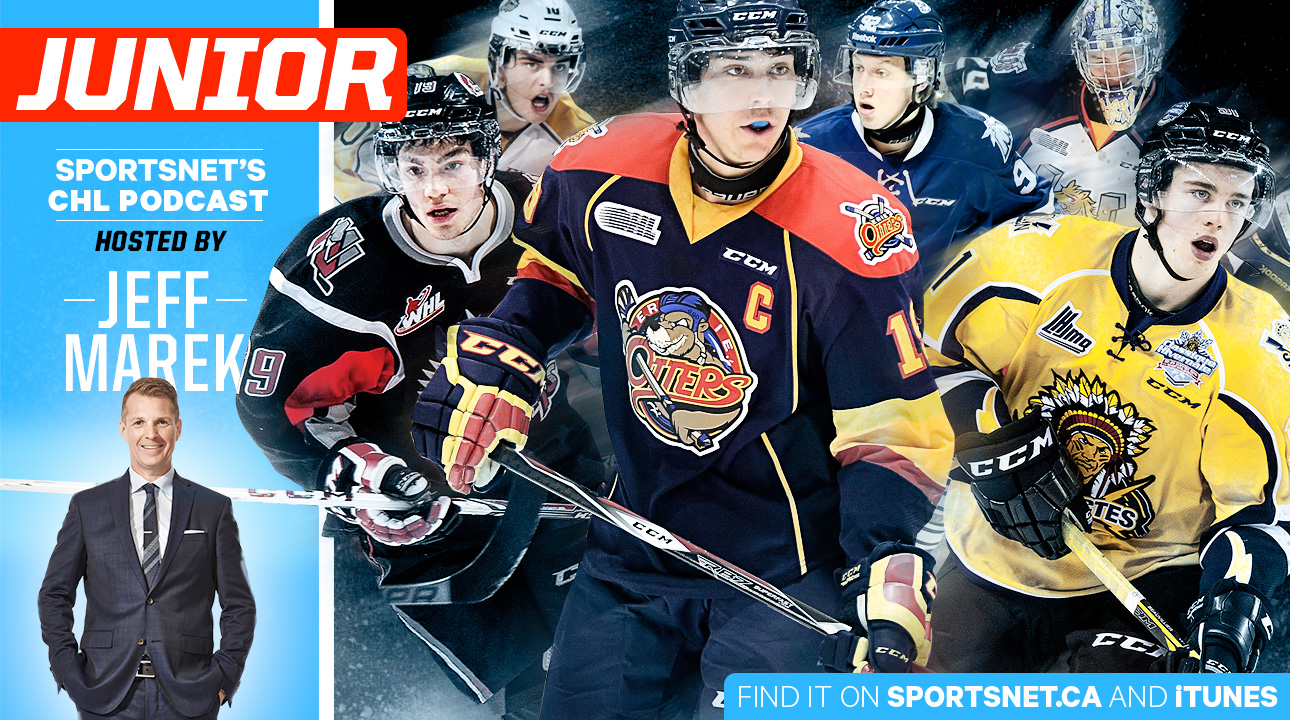 Jeff Marek hosts Sportsnet's weekly CHL podcast, a one-stop shop for news, analysis, opinion and interviews covering the WHL, OHL and QMJHL.
Listen now | iTunes | Podcatchers
---
The 5-foot-10, 176-pound right wing aggravated a separated shoulder last spring in the penultimate match of the Ottawa's spirited six-game defeat loss to Niagara. That ultimately played into the Flyers getting an NHL Draft steal at No. 24 overall. In Konecny's rookie year, Ottawa was cut out of the playoff picture on the final weekend, so he's only had a nibble of OHL playoffs.
"It was tough going through that last year, fighting my body and fighting to stay in the lineup," says Konecny, who is eighth in OHL scoring with 90 points (26G-64A) in 56 games. "It's definitely made me much more eager to go deeper into the playoffs than I have in previous years.
"It has been a lot of fun these past two months… it's true what they say, the West [Western Conference] is tougher to play in. Each division is really tight. It's been fun battling and competing. At the same time, it toughens you for the playoffs. If we can come together as a team and get a good roll, I believe we can be one of those teams that goes a long way."
In order to load up with Konecny and overage centre Sam Studnicka, now the Sting captain, Sarnia GM Nick Sinclair anted 16-year-old centre Sasha Chmelevski, 17-year-old wing Chase Campbell and eight guaranteed OHL priority selection choices, including three seconds and three thirds over the next five years. (Two conditional seconds accrue to Ottawa if Konecny plays in the OHL next season.)
The Sting are 18-7-1-1 (.704 point pct.) since the Jan. 6 trade. Their average attendance is 3,071, its highest since the NHL lockout season of 2012-13.
"Travis is a world-class player, a gamebreaker, an elite-level talent," Sinclair says. "I think that the rest of the guys in the locker room really draw from having Travis in there. He leaves it all on the ice every single night, every single shift. So, I guess the trickle-down effect is that his work ethic, his compete level, has only worked wonders for the group.
"Off ice, it's generated tremendous excitement around the city. Our sales have gone significantly up. We've had a number of sellouts since the trade deadline."
But the terms caused some sticker shock, which Sinclair has heard about.
"You don't get those guys for half a dozen pucks and a couple of Sher-Woods," the GM says. "The off-ice impact that he's had has been a bonus. And we'll see, hopefully we can have some success in the playoffs. Everything he's done for us, we couldn't have asked for more, that's for sure."
Five members of the NHL Draft class of 2015 have debuted this season. Many observers maintain that Konecny, who was criminally underused by sixth-place Team Canada during the world juniors, isn't far off from making the jump. He nearly made the Flyers in the fall.
"I think I've made good progress so far just developing as a two-way player," Konecny says. "The speed of the game is going to be the biggest adjustment. The passing and the way the guys think in the NHL is much faster. If I can adapt to that, I think I will give myself a good chance."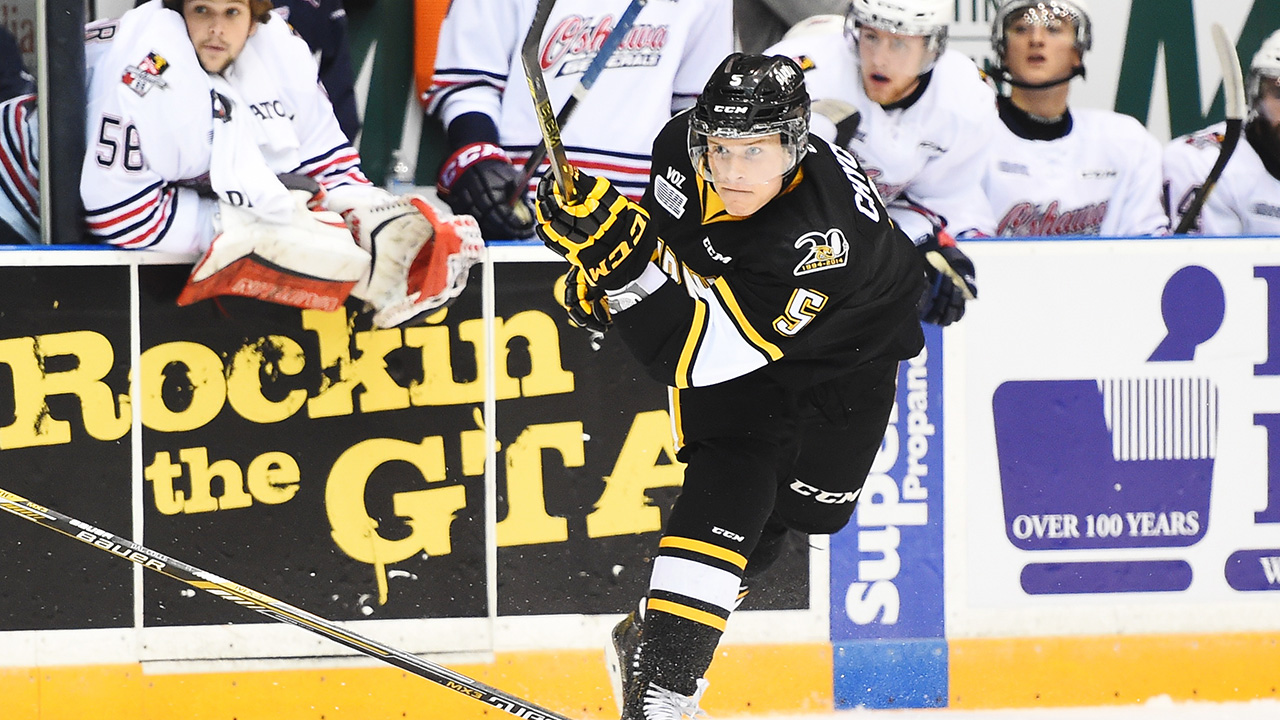 Defenceman Jakob Chychrun is set to be the next top first-rounder chosen from Sarnia. (Aaron Bell/OHL Images)
Sting owner-coach Derian Hatcher is a former Flyer. The longtime NHL defenceman also worked for the organization as a development coach, before he and Ottawa Senators forward David Legwand purchased the Sting in early 2015.
"He's been great for me," Konecny says of Hatcher. "Whenever he is talking, you have to listen. There have been moments where he pulls you into the office and says, 'If you want to make it to the next level, just try this' so I can work on it on the ice."
Sarnia and Windsor each have one game left against a potential playoff opponent, the injury-riddled Kitchener Rangers, the odds-on No. 4 seed. The rivals also have a March 20 season finale in Sarnia.
Konecny needs 10 points in the last six games to reach the century mark. The OHL's last two-team 100-point scorer was also a 5-10 forward. Current Florida Panthers sophomore Vincent Trocheck had 109 across 63 games for Saginaw and Plymouth as a 19-year-old in 2012-13.
Whereas Trocheck moved downstate, Konecny criss-crossed the province. The deal caused a whirlwind—first digesting the terms, as well as having it sink in that Ottawa coach-GM Jeff Brown had moved a franchise player in the service of a brighter future.
"I was coming back from the world juniors, and I find out there's a trade on the table for me to come over to Sarnia," Konecny says. "I had a lot to think about while I was in the air. But I made the right move and it worked out for both sides, Sarnia and Ottawa.
"It was crazy, the way it happened, but that's a good learning experience. I played Friday, Saturday, Sunday. Then Monday morning I flew up to Ottawa and made my way back with all my stuff in my car on the Tuesday."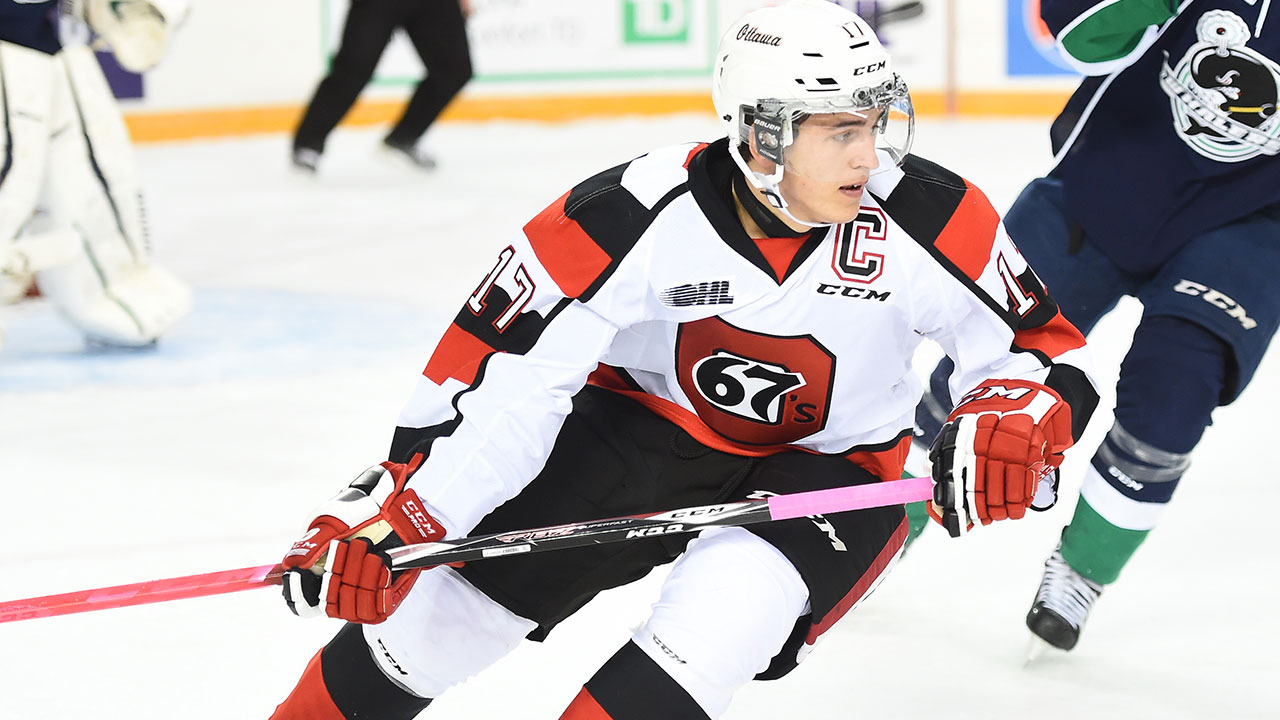 Ottawa chose Konecny first-overall pick in the 2013 OHL Priority Selection. (OHL Images)
The timing and the fact Sarnia visited Ottawa in late November precluded both a public send-off and a return game for Konecny. Such is the business side of the OHL.
Of course, the next time he plays in Ottawa, he might very well be clad in Flyers orange.
(Editor's note: This story originally said Konecny had shoulder surgery following last season. He did not. The paragraph has since been changed.)