With the second half of the season underway, we will now be bringing you two CHL games per week. Our second game this week comes to you from Swift Current, where the Broncos will play host to the Moose Jaw Warriors as part of Rogers Hometown Hockey.
Moose Jaw Warriors
Moose Jaw has failed to make the playoffs in each of the last three seasons, but it looks as if that drought will come to an end this year. The Warriors have been able to keep pace without Brayden Point since Nov. 17 and Czech import Jiri Smejkal since early December while he was with his countrymen at the world juniors. Brett Howden also missed a few games during that stretch. Despite having those top offensive players out of the lineup goal scoring hasn't really been an issue for the Warriors, although getting those three back and healthy should boost the offence and increase puck possession time, takeaways and as a result impact the team's ability to defend better.
There are three main reasons why Moose Jaw has remained competitive offensively over this difficult stretch. Dryden Hunt remains a force in the league and is amongst the WHL's top point getters. Rookies Noah Gregor and Nikita Popugaev have also performed extremely well. Both rookies will benefit having the others back in the lineup as they will be slotted where Tim Hunter will be able to get them more favourable matchups. Popugaev is a late '98 birthday and is already being projected as a first-round pick in 2017.
Moose Jaw is below the middle of the pack in goals against and a big reason for that is the more than 35 shots per game it is allowing. GM Alan Miller has addressed his defence by added Brandon Kennedy, Tanner Faith and Mark McNulty to the fold since the start of the season. Josh Brook, Ryan Gardiner and Tyler Brown round out the group.
In goal, Zach Sawchenko is a battler. He's had to fight for playing time with top goalie prospects Daniel Wapple and Justin Paulic to earn the No. 1 job. Sawchenko won't win style points, but he never gives up on the play, is extremely athletic and has great inner drive. The 18-year-old Calgary native will represent Moose Jaw in the 2016 BMO Top Prospects game as a member of Team Cherry and will receive consideration for Team Canada at next year's world juniors.
NHL Drafted/Signed Players
Brayden Point, Tampa Bay, 79th (2014)
Tanner Faith, Minnesota, 139th (2014)
Marc McNulty, Detroit, 169th (2013)
NHL Central Scouting
Brett Howden (B)
Zach Sawchenko (C)
Noah Gregor (C)
* B rating indicates a second/third-round candidate; C rating indicates fourth/fifth/sixth-round candidate
Under The Radar
Tanner Faith has played relatively few games considering he's an overager. He's steady if not spectacular and that's exactly what Moose Jaw needs.
Swift Current Broncos
Swift Current is a team in transition. The Broncos have been in the post-season in each of the last three seasons, two times bowing out to the eventual conference champ. Last year the Broncos were surprisingly swept by Regina in the first round. Smaller markets tend to experience the cyclical nature of junior hockey more so than big markets and GM and head coach Mark Lamb is facing the difficult task of trying to simultaneously rebuild and earn a playoff berth. In the last two weeks, he's moved Boston first-rounder Jake DeBrusk, defenceman Cavin Leth and overage goalie Landon Bow, acquiring a mix of players and picks that should hasten the rebuild but will make playoff hockey a difficult task to achieve this season.
Up front, the Broncos have steal-of-the-year Jon Martin leading the way. Martin was acquired for a fourth-round pick and has been a top producer all season long. Martin was rolling on a line with Glenn Gawdin and DeBrusk, but Gawdin has been injured and DeBrusk is now in Red Deer. Former Rebel Lane Pederson is a solid addition as is Jamal Watson, whose energy can be infectious.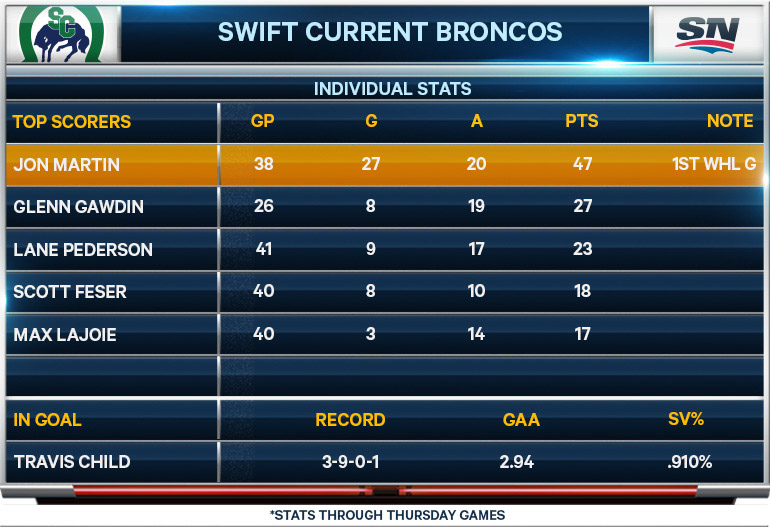 On the back end, Max Lajoie has all the tools to be a first-round pick in the 2016 NHL draft. He'll look to follow the likes of Dillon Heatherington, Julius Honka and Brycen Martin as solid NHL draftees. Lajoie provides the bulk of Swift Current's offence from the back end. The rest of the group, consisting of Kade Jensen, Artyom Minulin and Mark Taraschuk, is solid but offers limited offensive production.
The Thunderbirds acquired goaltender Taz Burman from Seattle, where his numbers were good but not great. Lamb is particularly good at drafting and developing defencemen and that should serve Burman well as he tries to establish himself as a No. 1 in the league. In the meantime, Travis Child has put up decent numbers despite intermittent playing time while Bow was still with the Broncos.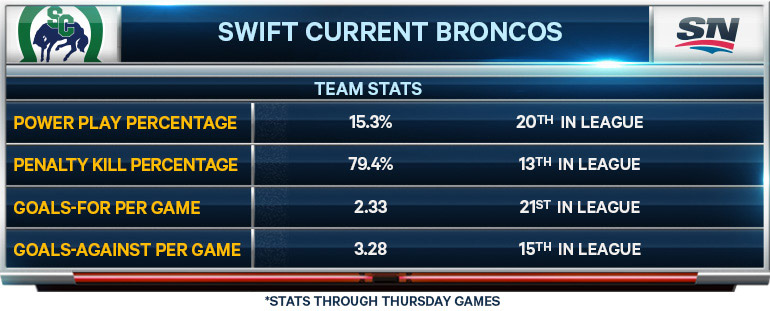 NHL Drafted/Signed Players
Glenn Gawdin, St. Louis, 116th (2015)
Gustav Olhaver, Colorado, 191st (2015)
NHL Central Scouting
Max Lajoie (A)
* A rating indicates a first-round candidate
Under The Radar
Despite having bounced around this season Lane Pederson is a skilled playmaker who should excel under the minutes he will play for the Broncos.