With the excitement of the Eastern Conference race, where four teams are in contention, somehow the defending WHL champs have flown under the radar. But perhaps we should be paying more attention to the Kelowna Rockets?
Kelowna has won four straight and has been in control of the Western Conference for the majority of the season. As good a story the league leading Lethbridge Hurricanes are, they're only three points better than the Rockets.
Kelowna being good probably isn't as big a story as others, but the Rockets seem poised to make another run at winning the WHL championship and a spot in the Memorial Cup this spring. The strength of the Rockets squad is down the middle. Their top three scorers, forwards Tyson Baillie, Dillon Dube and Nick Merkley, are having great seasons—each averaging a point-per-game and driving their team's conference-leading offence.
Coming into the season, there was some concern over the inexperience that Kelowna had on the back end. Gone were big names on the blueline in Madison Bowey and Josh Morrissey and in their place a much younger group. So far the youngsters have held their own and rookie Cal Foote has been a great find with 24 points and a plus-11 rating.
The Rockets aren't without their challengers however. The Victoria Royals, who continue to defy all pre-season prognostications, are nipping at their heels at three points behind. Prince George isn't much further back either, so the Rockets still have some work to do.
Prospect-stats.com has Kelowna at less than 50 percent possession with an Estimated Fenwick-close of 49.87 percent. They also average just under a shot more allowed than they are forcing. However, when you have the firepower up front they do, you can make up for that one shot with ease.
In net, Jackson Whistle has been injured and getting him back will be a huge boost for the club. He was listed on the weekly report as still being out for one more week. In the meantime, the team has relied on back-up Michael Herringer who has won five of his last six starts.
As we head into the stretch run of the regular season, don't forget about the defending WHL champs. We just could be looking at a repeat.
---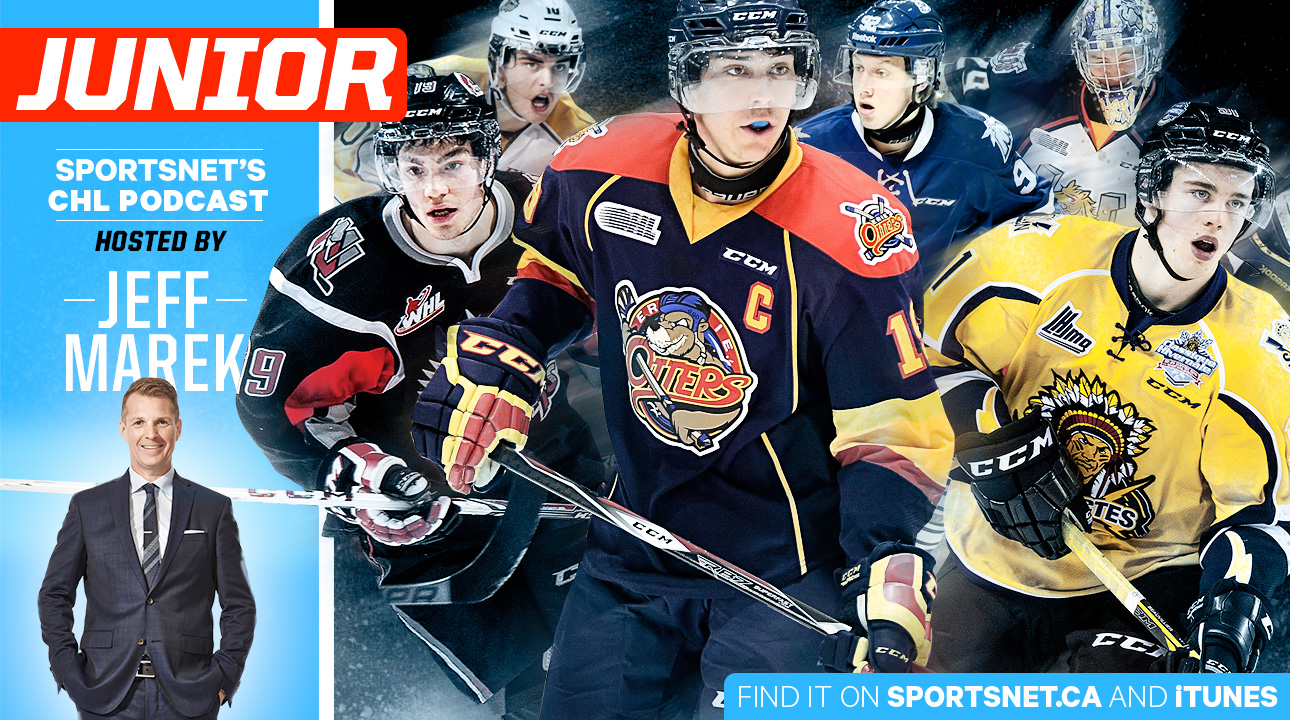 Jeff Marek hosts Sportsnet's weekly CHL podcast, a one-stop shop for news, analysis, opinion and interviews covering the WHL, OHL and QMJHL.
Listen now | iTunes | Podcatchers
---
Ronning replaces Benson
The frustrating season for Vancouver Giants Tyler Benson just got more frustrating. It was announced Monday afternoon that he won't play in this week's BMO-CHL Top Prospects game in front of his home fans. Benson is out with a lower-body injury and will be replaced by teammate Ty Ronning.
Benson missed Vancouver's first 10 games with a lower back injury and now has been out of the lineup since Dec. 30. He is still listed as week-to-week so it could be a while before he's back on the ice. It's been a tough year for Benson and his Giants who currently sit in last place in the Western Conference. Benson has appeared in only 28 games for Vancouver and has potted eight goals to go with 26 points.
Reliving the Trade Deadline
The buyers
The Red Deer Rebels were the default winners at the deadline by making the biggest moves. But the real assessment comes by how the pieces work together on the ice. So how have they done?
Jake DeBrusk was the biggest chip and in his 14 games with Red Deer he has five goals on 14 points. Adam Helewka has also produced, with 10 markers and 16 points in 11 games with the Rebels. Luke Philp, the other big transaction, has yet to suit up for Red Deer as he continues to nurse an injury suffered earlier in the year. Since acquiring DeBrusk the Rebels have gone 8-3-1-2.
Seattle was the other big player at the deadline, bringing in three players including goalie Landon Bow. He has been outstanding with a 6-2-0-0 record with the Thunderbirds, a 1.63 goals-against-average and three shutouts. Seattle is 6-3-0-0 since acquiring Bow from Swift Current.
In the mushy middle
Moose Jaw decided to hold on to Brayden Point—or set too high a price—and have held on to the third spot in the Eastern Division as a result. The Portland Winterhawks also kept their assets and they have leaped past Spokane for the third spot in the U.S. Division—and only have three fewer wins than first place Everett.
There is still plenty of time to see how these trades play out but so far it's safe to say both the buyers and non-sellers are happy with their decisions.
Don't sleep on the Wheaties
Like the Rockets in the West, the Brandon Wheat Kings have flown under the radar as well. That's mostly because the experts expected Brandon to run away with the Eastern Conference, and while they haven't done that, it's not like they're exactly slouches.
They're looking up at the red hot Lethbridge Hurricanes—who have won 10 straight—but Brandon just completed an impressive weekend of its own. The Wheat Kings beat Prince Albert on Friday, Saskatoon on Saturday and Regina on Sunday, outscoring the three teams by a combined 13-2 score. Goalie Jordan Papirny picked up two shutouts.
With Lethbridge, Red Deer and Brandon all playing great hockey, the Eastern Conference race and playoffs could end up being highly entertaining this year.
Player of the week
Jordan Papirny, G, Brandon Wheat Kings
Papirny has been on fire for Brandon of late. He made a combined 55 saves over the weekend and now has three shutouts in his last four starts. He has a 6-1 record over his last seven games and his five shutouts on the season have him tied for the second most in the WHL.