All 72 games have been played and it's time to look at the WHL's post season trek towards the Ed Chynoweth Cup which begins this Friday. To prepare you for the playoffs we break down each divisional bracket for you with a little help from our friends at WHLstats.ca. Up first, the B.C. Division, which had a bunch of surprises this season.
Victoria Royals (50-16-3-3, 1st place B.C. Div) vs. Spokane Chiefs (33-30-5-4, 2nd Wild Card)
Head to head 2-2
Power Play VIC 22.8 % (6th), SPO 17.8% (20th)
Penalty Kill VIC 84.2% (2nd), SPO 78.4 % (13th)
Est.FC VIC 55.05%, SPO 51.27%
PDO VIC 103.65, SPO 98.91
Key players
Victoria Alex Forsberg, LW (31-60-91), Tyler Soy, C (46-39-85), Joe Hicketts, D (8-53-61), Coleman Vollrath, G (2.40, .912)
Spokane Kailer Yamamoto, RW (19-52-71), Dominic Zwerger, LW (27-28-55), Jason Fram, D (12-34-46)
The Royals are the runaway surprise team of the league. Picked before the season to be a bubble playoff team, they not only streaked their way to the top spot in the B.C. Division but won the Western Conference and the Scotty Munro trophy as the WHL's top team.
Victoria enters the playoffs as hot as anyone, on a 13-0-1-0 streak. Head coach Dave Lowry used to feature a big, physical team, but this version of the Royals is loaded with speed. Forsberg, Soy and Brandon Phillips up front will cause the Spokane defence fits and in net Vollrath has been one of the top goalies all year long.
The Chiefs squeaked into the playoffs and are going to have their hands full. They have a lot of promising young players but are a year or two from being able to match a club like Victoria. Kailer Yamamoto can skate with the Royals, but Spokane has been too inconsistent all year to expect an upset here. Starting goalie Tyson Verhelst is listed week-to-week with an injury, which may cause trouble for the Chiefs as they try to hold off the top offensive club in the West.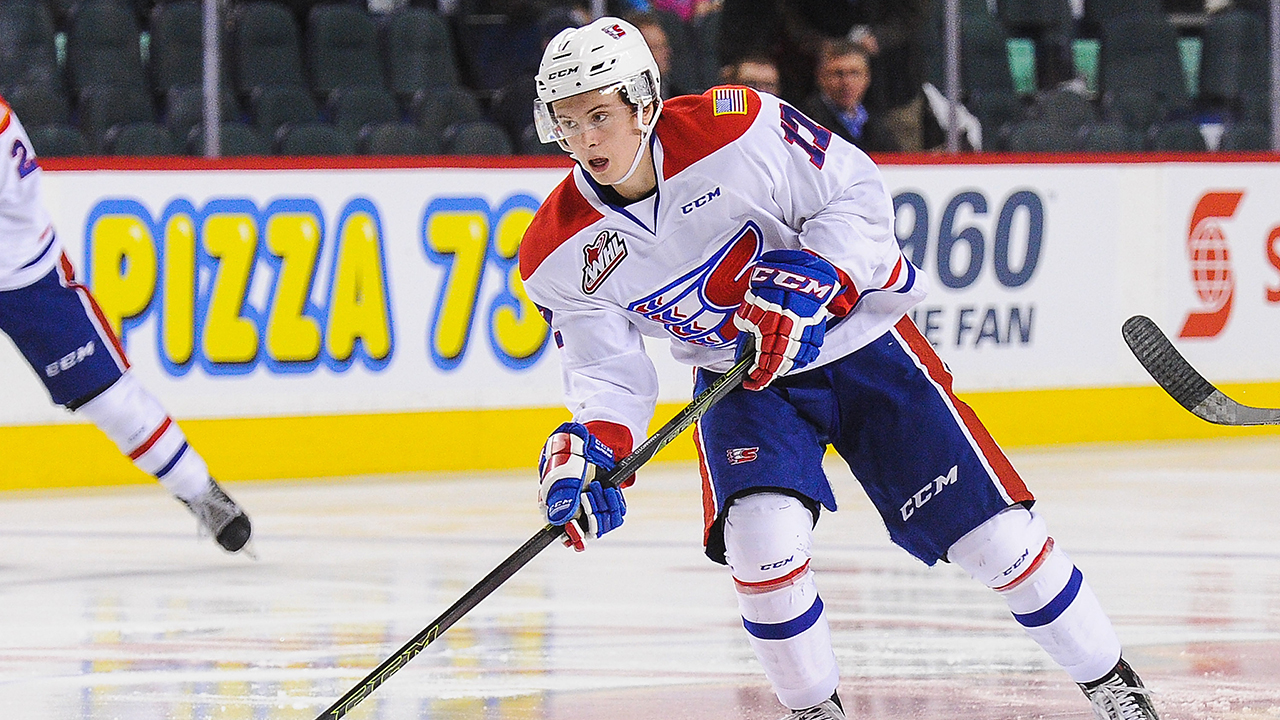 Yamamoto led the Chiefs with 71 points. (Derek Leung/Getty)
Prediction
There shouldn't be any fireworks in this one. The Royals will overwhelm the young Chiefs and sweep the series.
Kelowna Rockets (48-20-4-0, 2nd place B.C. Div) vs. Kamloops Blazers (38-25-5-4, 3rd place B.C. Div)
Head to head KEL 5-3-1-0
Power Play KEL 22.4 % (2nd), KAM 21.5% (12th)
Penalty Kill KEL 78.9% (10th), KAM 81.4 % (4th)
Est.FC KEL 50.49%, KAM 48.53%
PDO KEL 101.91, KAM 101.76
Key players
Kelowna Tyson Baillie, C (43-52-95), Dillon Dube, F (26-40-66), Justin Kirkland, LW (31-36-67)
Kamloops Connor Ingram, G (2.61, .922), Collin Shirley, LW (37-42-79), Matt Needham, C (23-39-62)
This series has the potential to be one of the more intriguing in the first round. The defending champion Rockets have been up and down down the stretch and Kamloops—winners of nine straight—beat them three times in March.
Kelowna is dealing with two major injuries that have hurt them. They lost goalie Jackson Whistle and then Nick Merkley was shut down for the season. Despite losing Merkley, they still have a ton of fire power up front with Baillie, Dube, Kirkland and Cole Linaker. Their young defence and goalie Michael Herringer are going to have to come up big to hold off a charging bunch of Blazers.

Baillie's 95 points led the Rockets and were good for seventh overall. (Marissa Baecker/Getty)
Kamloops started the season in horrible fashion, but head coach Don Hay got the ship righted and the Blazers have been tough in the second half. It all starts for them in net with Ingram who won 32 games. Like Kelowna, their defence can be leaky at times and we could be in for an entertaining, up-and-down affair here.
Kamloops has the goaltending advantage, but Kelowna is the better possession team and has more finish. This is a classic battle of strengths and if Ingram can steal a game or two, the Blazers could pull off the upset. Home ice will be key as the Rockets are one of the strongest clubs at home and Kamloops will have to win at least once in the Prospera Place to have a chance.
Prediction
This is one of the must-see series in the opening round This one is going the distance but in the end, Kelowna's experience and firepower will edge out the Blazers. Kelowna in seven.