The Central Division featured one of the more competitive races during the regular season—only one point separated first and second place. Will that lead to some exciting playoff action? Get your B.C. Division preview here. Now, with some help from WHLstats.ca, here is a breakdown of the Central's first-round series.
---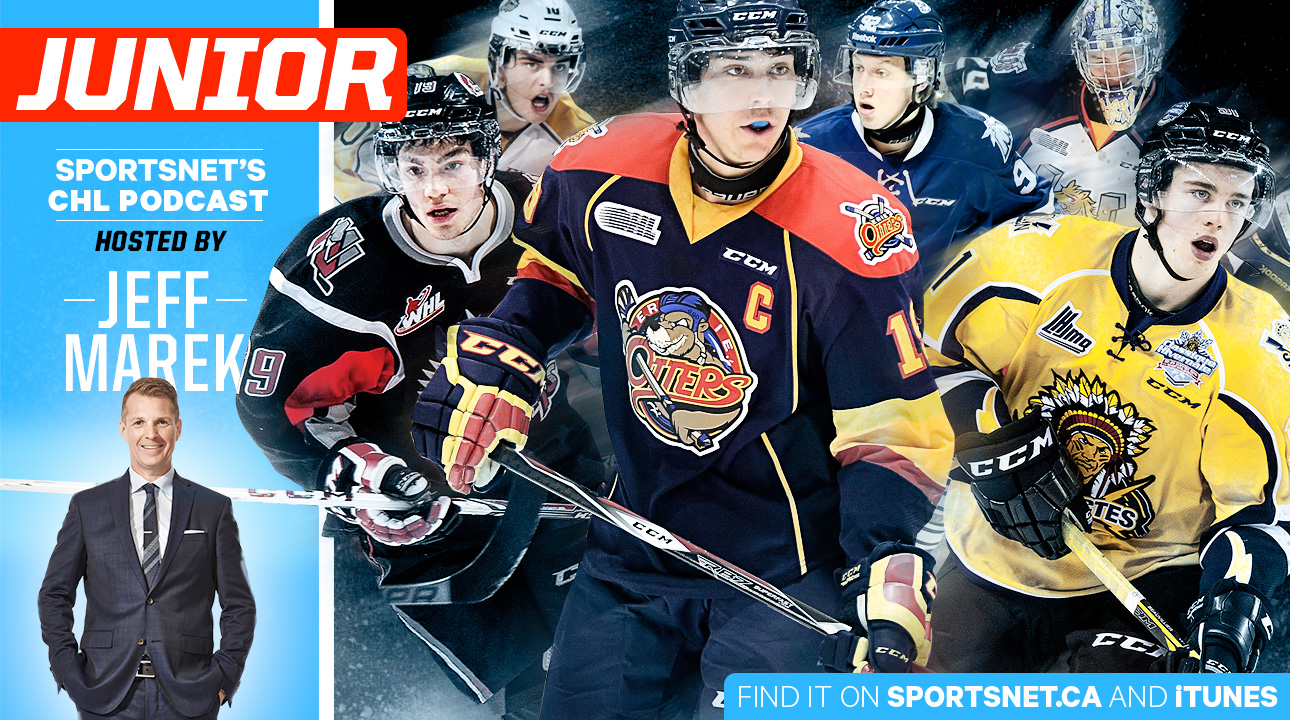 Jeff goes deep on the Dub playoffs with Sam Cosentino and Joey Kenward. Subscribe to the best CHL podcast going.
Listen now | iTunes | Podcatchers
---
Lethbridge Hurricanes (46-24-1-1, 1st place Central Div.)
Regina Pats (36-28-3-5, 2nd Wild Card)
Head to head Regina 3-1
Power Play LET 28.9 % (1st), REG 19% (16th)
Penalty Kill LET 79.9% (8th), REG 78.4 % (12th)
EstFC LET 50.5%, REG 49.4%
PDO LET 103.58, REG 100.05
Key Players
Lethbridge Bryaden Burke, LW (27-82-109), Tyler Wong, RW (43-46-89), Andrew Nielsen, D (18-52-70), Stuart Skinner, G (2.73 GAA, .920)
Regina Adam Brooks, C (38-82-120), Cole Sanford, RW (41-29-70)
The Hurricanes started the season as a feel good story: the team that had been down was competitive. They kept winning, however, and became an Eastern Conference power. They stubbed their toes thanks to some injuries in the second half but rebounded nicely to hold off Red Deer for the Central crown.
The Hurricanes can score with the best of them and are one of the Dub's deeper clubs. Along with the guys above they also can get scoring from the likes of Giorgio Estepan (30 goals), Egor Babenko (29 goals) and Cory Millette (34 goals). Skinner is a top goalie, which witch gives them an edge in this series.
The Pats have a strong top-six as well—highlighted by the league's top scorer in Brooks—to go with a solid supporting cast. They were one of the more penalized teams in the Eastern Conference and if they don't find more discipline will be in trouble with the Hurricanes' top ranked power play.
Regina is middle of the pack killing penalties and this series may come down to special teams. If the Pats stay out of the box they might have a chance to pull off the upset. They're also going to have to tighten up defensively—they have given up the most goals of any playoff team in the conference. That's trouble when going against an offensive-minded team like Lethbridge.
Prediction
Regina won't be a pushover here, but in the end won't be able to hang with the fire power on the other side. Lethbridge's power play will be the difference in this series. Hurricanes in five.
Red Deer Rebels (45-24-1-2, 2nd place Central Div.)
Calgary Hitmen (42-26-2-2, 3rd place Central Div.)
Head to head Calgary 4-2-2-1
Power Play RD 22.5 % (7th), CGY, 23.1% (5th)
Penalty Kill RD 77% (18th), CGY 81% (6th)
EstFC RD 53.82%, CGY 53.89%
PDO RD 101.11, CGY 99.04
Key players
Red Deer Ivan Nikolishin, LW (31-51-82), Adam Helewka, LW (42-32-74), Jake DeBrusk, F (21-44-65), Colton Bobyk, D (20-27-47)
Calgary Travis Sanheim, D (15-53-68), Jake Bean, D (24-40-64), Radel Fazleev, C (19-52-71)
In another interesting first-round tilt, the pressure is all on Brent Sutter and his Rebels. The MasterCard Memorial Cup hosts want to make a deep run in the playoffs and not risk being stuck waiting around until May to play again. They have a solid team with good high-end scoring and a formidable defence. The problem is that they are dealing with some injury issues.
Goalie Rylan Toth is still listed as out for up to three weeks and Monday afternoon we learned that Connor Bleackley will be out indefinitely after having surgery on his wrist. Backup goalie Trevor Martin has stepped in and played well in Toth's absence, but the margin for error shrinks in the post season. The Rebels probably have enough fire power to advance but they will need to get these guys back if they want to go further.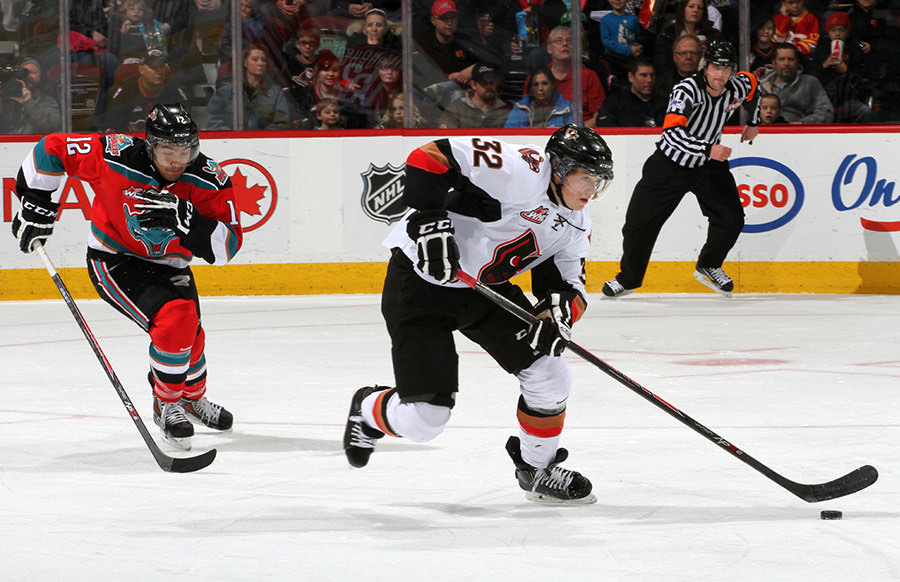 At just under 1.3, Sanheim was first among WHL blueliners in points per game this season. (Brad Watson/WHL)
The Hitmen have flown somewhat under the radar this season. They had some spurts during the first half that put them near the top of the standings, but retreated to third place in the Central Division. They're led by Sanheim and Bean, who generate a lot of offence from the blueline.
But it's not just those two. Fazleev, Jakob Stukel (36 goals) and Jackson Hauk have contributed nicely to the Hitmen's success. Calgary has seen five different goalies start games for them this season and none of them have a save percentage over .900. If the Hitmen want to pull off a victory here, Nik Amundrud or Cody Porter are going to have to step up.
Prediction
Despite some of the injury problems the Rebels are dealing with right now, they will end up being too much for Calgary to handle. Red Deer is the deeper team and the Hitmen don't have the goaltending to keep up. Rebels in five.