The U.S. Division was a jumbled mess for most of the season and it looked like any team could have won it before Seattle went on a tear to finish first. The division was so strange that the last place Tri City Americans actually had more wins than Portland and Spokane, but didn't make the playoffs.
Check out the Central and B.C. Divsion previews. Here is a breakdown of the first round in the U.S. with some help from our friends at WHLstats.ca.
---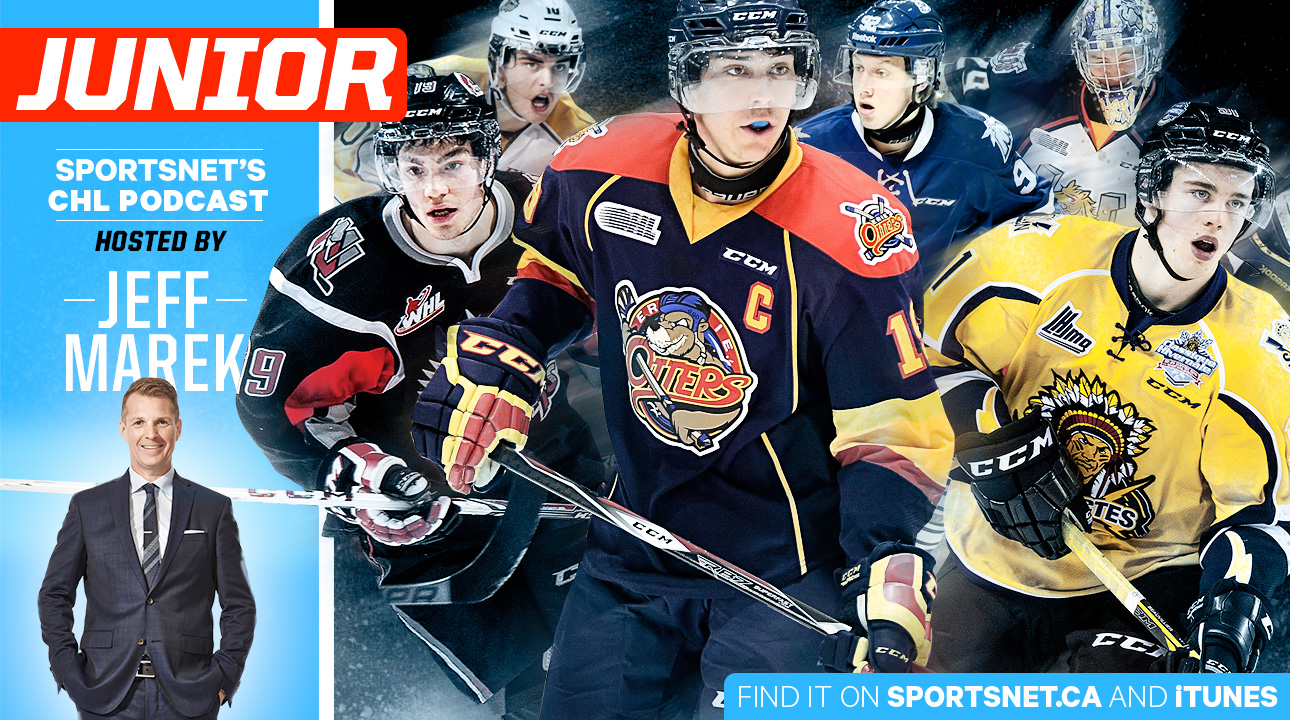 Jeff goes deep on the Dub playoffs with Sam Cosentino and Joey Kenward. Subscribe to the best CHL podcast going.
Listen now | iTunes | Podcatchers
---
Seattle Thunderbirds (45-23-4-0, 1st place U.S. Div.)
Prince George Cougars (36-31-3-2, 1st Wild Card)
Head to head 2-2
Power Play SEA 23.7% (3rd), PG 18.5% (17th)
Penalty Kill SEA 85.3% (1st), PG 82.1 % (3rd)
EstFC SEA 53.3%, PG 50.4%
PDO SEA 100.75, PG 99.91
Key Players
Seattle Mathew Barzal, C, (27-61-88), Ryan Gropp, LW (34-36-70), Ethan Bear, D (19-46-65), Landon Bow, G (2.49 GAA .923)
Prince George Chase Witala, LW (40-39-79), Jesse Gabrielle, LW (40-35-75), Jansen Harkins, C (24-33-57)
After struggling with inconsistency during the holidays and into January, the Thunderbirds caught fire and only have one regulation loss in their last 19 games. They stormed past Everett to win the U.S. Division going away and are one of the hottest clubs in the WHL.
Barzal is the straw that stirs them, but they've been getting contributions from the rest of their lineup as well. Don't sleep on second-line center Scott Eansor, who is one of the better two-way forwards in the league and has a knack for big playoff performances.
Seattle plays stingy defence backstopped by Bow, who has been sensational since joining Seattle at the trade deadline. In just 23 games with the Thunderbirds, he has five shutouts.
The Cougars were one of the better teams in the Western Conference over the first half of the season. They've struggled since the calendar flipped and slipped down to fourth in the B.C. Division.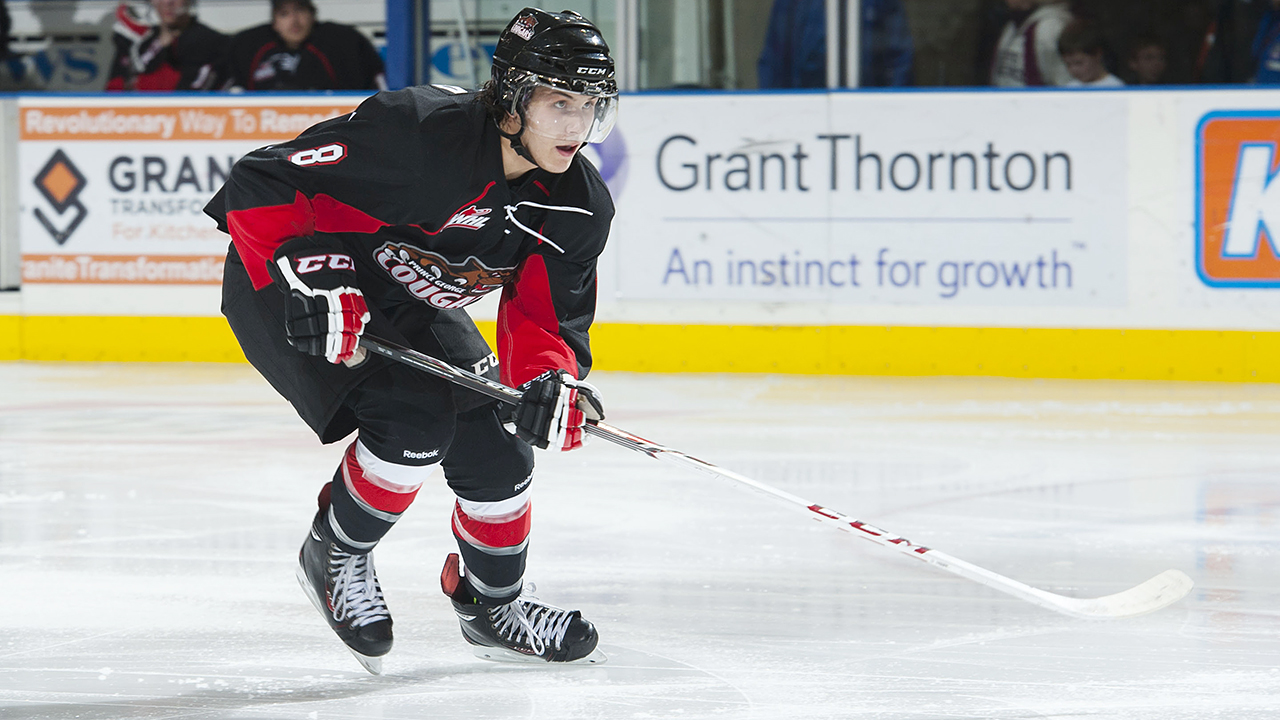 Witala averaged 0.915 primary points per game according to Prospect-Stats.com. (Marissa Baecker/Getty)
Prince George is a tough, physical team that led the WHL in penalty minutes. The Cougars get away with that kind of play by featuring one of the league's best penalty kills. An intriguing match-up against Seattle's third0ranked power play. Up front the Cougars are deep with Witala—who set the franchise record for career points (239)—and the sand paper of Gabrielle.
This could turn into a bruising series. Neither club is shy about finishing a check and travel could be be a factor if the series goes long as well as the two cities are a good 10-12 hour bus ride apart. Killer.
Prediction
Prince George will be no easy out, but in the end the Thunderbirds are playing too well right now and will win the special teams battle. Seattle in six.
Everett Silvertips (38-26-5-3, 2nd place U.S. Div)
Portland Winterhawks (34-31-6-1, 3rd place U.S. Div)
Head to head 5-5
Power Play EVT 17% (20th), POR 19.6% (14th)
Penalty Kill EVT 77.2% (16th), POR 79 % (9th)
EstFC EVT 53.7%, POR 46.75%
PDO EVT 99.62, POR 101.06
Key Players
Everett Carter Hart, G (2.14 GAA .918), Remi Laurencelle, C (28-30-58), Carson Stadnyk, RW (21-28-49), Noah Juulsen, D (7-21-28)
Portland Dominic Turgeon, C (36-34-70), Rihards Bukarts, LW (31-31-62), Alex Schoenborn, RW (27-30-57), Adin Hill, G (2.96 GAA .917)
Again, the two-three match-up in these brackets is the most intriguing. Here we have two teams that have vastly different styles and whichever can dictate play will will win.
Everett's head coach Kevin Constantine has his forces playing a disciplined defensive game that does not allow many scoring chances. They won't score many goals of their own either—they're the lowest scoring playoff team.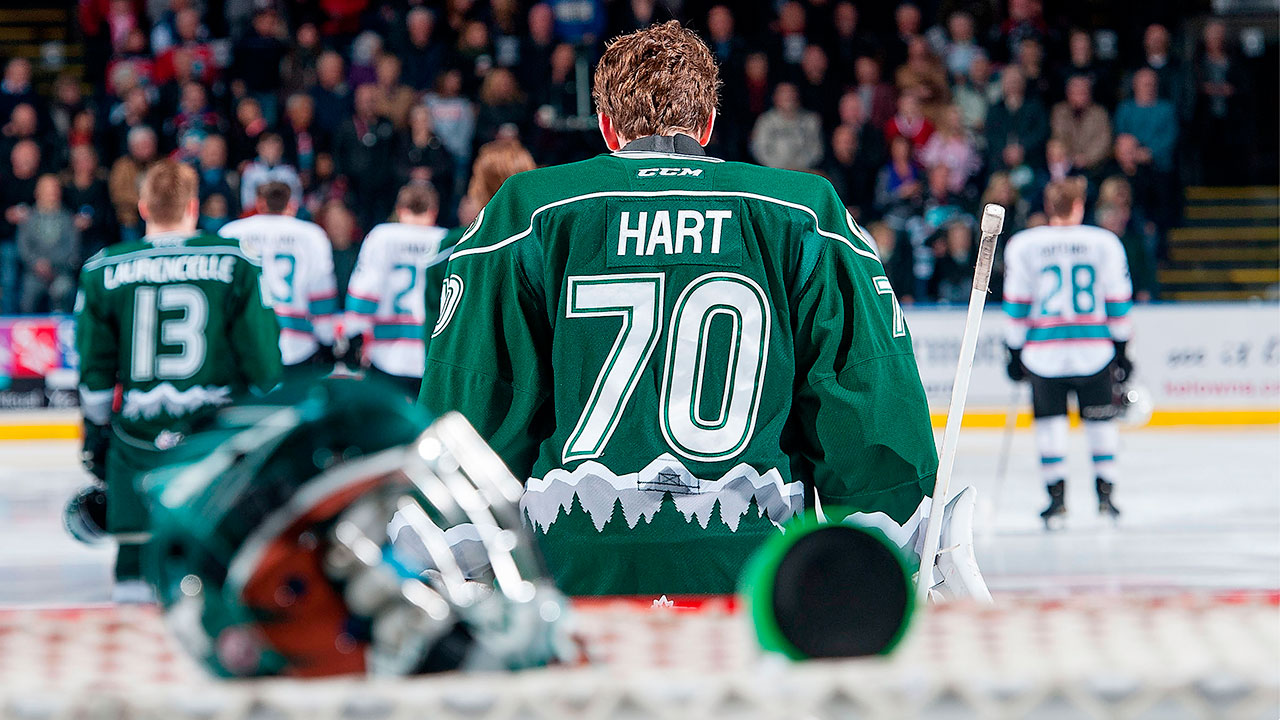 Carter Hart will need to be fully prepared for his Everett Silvertips to make a run. (Marissa Baecker/Getty)
Health may be a factor for the Silvertips after ending the season with some banged up players. Hart didn't play in the team's final four games and hasn't been skating in practice. If he can't go, the pressure will fall to back up Mario Petit.
The Winterhawks likes to open up the ice more than Everett and will regularly activate their defenceman to generate offence. They have been plagued by inconsistent play this season—one week they'll look like a top team and the next, not so much. Which Winterhawks squad will show up here, the one that beat Everett early in the season or the one that lost the last three head-to-head match ups?
The Winterhawks' top line is formidable and Turgeon and Bukarts are a dangerous combination. Hill is strong in net and has to earn his keep as the Winterhawks routinely give up a lot of shots.
If Hart is healthy, the Silvertips will be tough to beat. They will sit back and capitalize on any Portland mistakes. While they are not going to light the lamp a lot, Everett has shown it can score in a timely fashion and, when clicking, only need a couple of scores to win.
Prediction
This series is somewhat of a coin-flip. If the Silvertips are healthy and can force Portland to play their game, Everett will come out on top. If not, or if the Winterhawks get Everett into an open style, it will be Portland moving on. Everett in seven.