The spotlight centres on the southern end of Saskatchewan as the 2017-18 WHL season commences.
The Regina Pats are hosting the 100th Memorial Cup in their 100th year of existence. They're looking to become the fifth WHL team in the past six seasons to win the league title after reaching the final the previous year.
Standing in their way is their bitter rival 70 kilometres to the west. The Moose Jaw Warriors may be the favourites to win the Ed Chynoweth Cup. No team from Saskatchewan has done that since the 1993 Swift Current Broncos.
That said, the Land of the Living Skies doesn't dominate all the attention. The division south of the border is arguably stronger.
EAST DIVISION
Brandon Wheat Kings
Player to watch – Stelio Mattheos, C: The 2014 top bantam pick was drafted in the third round by Carolina in June. He'll have to take a big jump from his 61 points for Brandon to do damage.
Team outlook: So much depends on if Philadelphia returns second-overall pick Nolan Patrick. If yes, the Wheat Kings could be in contention in the East. If no, with a strong bantam crop ahead, look for a mid-season sell-off. Canadian world junior defenceman Kale Clague, a Los Angeles Kings prospect, is a nice trade chip, too.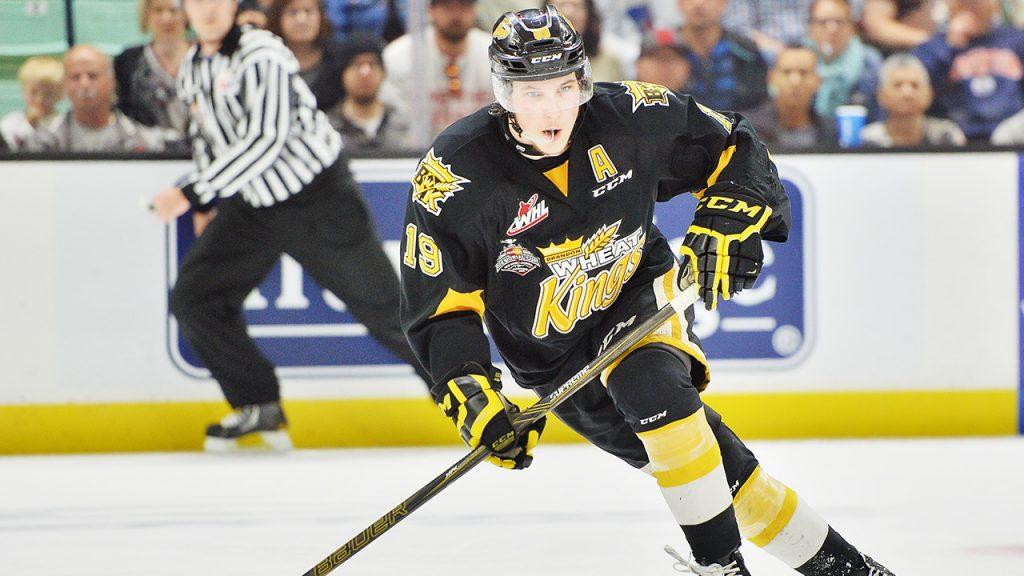 Moose Jaw Warriors
Player to watch – Brody Willms, G: The Warriors believe he's the man to replace former world junior summer camper Zach Sawchenko, who left the WHL early to attend the University of Alberta. Willms has never been a WHL starter. The pressure's on with expectations high.
Team outlook: The Warriors are the frontrunners to claim the division for the first time since 2012. They've got NHL prospects (Brett Howden, Josh Brook and Noah Gregor), a strong overage crew (Brayden Burke, Jayden Halbgewachs and Tanner Jeannot) and one of the best WHL prospects for the 2018 NHL Draft in blueliner Jett Woo. The wrist injury suffered by Brook at Montreal camp is a tough blow. He's out of action for eight-to-12 weeks.
Prince Albert Raiders
Player to watch – Ian Scott, G: It's hard to imagine where the last-place Raiders would have been without Scott. Only seven WHL goalies faced more shots and the then-17-year-old still managed a respectful (by junior hockey standards) .895 save percentage. The Toronto Maple Leafs draftee (110th overall) is likely the best puck stopper in the division.
Team outlook: They'll be hard-pressed to get out of the division basement, but they are sneaky good. The Raiders won 13 of their last 25 games, providing optimism they'll be more successful in 2017-18. In addition to Scott, Winnipeg Jets prospect Jordy Stallard will be counted on. He averaged more than a point-per-game after a trade from the Calgary Hitmen. Best-case scenario, the Raiders can claim a crossover Central playoff spot.
Regina Pats
Player to watch – Jake Leschyshyn, C: A promising sophomore campaign was derailed in February by a torn ACL. The 2017 Vegas second-rounder is skating, but probably won't start the season on time. He'll be counted on as the second-line centre behind reigning scoring champ Sam Steel, who the Pats hope returns from Anaheim sooner than later.
Team expectations: The Pats lost in the league final to Seattle and aspire to finish the job this season as Memorial Cup hosts. They'll be in tough as several departures – highlighted by captain Adam Brooks and blueliner Connor Hobbs – and the rise of Moose Jaw leaves them fighting an uphill battle. They'll look to augment their roster, but have already used a future first-round pick to acquire Josh Mahura (ANA) and Jeff de Wit in January.
Saskatoon Blades
Player to watch – Kirby Dach, C: WHL players are generally restricted to five games in their 15-year-old season. Injury problems allowed the Blades to get special accommodations to use Dach 19 times and he impressed with 10 points. At six foot three and 181 pounds, the 16-year-old is drawing comparisons to Ryan Getzlaf and could be a 2019 NHL Draft Lottery prize.
Team outlook: Is this the year the Blades finally make it back to the post-season? They haven't been there since hosting the Memorial Cup in 2013. New ownership took over after the tournament and, with the cupboards bare, progress has been slow. Under Dean Brockman – their third coach in four years – the Blades came five points short last season. Anything short of a wild-card berth will be a major disappointment.
Swift Current Broncos
Player to watch – Logan Flodell, G: The Broncos already had an overage goaltender in Taz Burman, but decided to improve that slot by acquiring Flodell from provincial rival Saskatoon two days before the start of the season. Flodell was the Blades' MVP in 2016-17. Keep an eye on draft-eligible winger Riley Stotts, too.
Team outlook: After taking the Pats to seven games in the second round, the Broncos are looking to take the next step. They return six defencemen – a plus with roster flux early on – as well as 51-goal scorer Tyler Steenbergen (ARI, 128th in 2017) and import Aleksi Heponiemi, the rookie scoring leader. They just got 20-year-old forward Glenn Gawdin back from NHL Calgary, where he was as a camp invitee.
[snippet ID = 3322139]
CENTRAL DIVISION
Calgary Hitmen
Player to watch – Jake Bean, D: Once passed over in the WHL bantam draft, Bean is arguably the league's best defenceman. The Carolina Hurricanes first-rounder averaged more than a point-per-game last season and cracked Canada's world junior blue line as an 18-year-old. He's the leader in Calgary.
Team outlook: The Hitmen have a fresh look with GM Jeff Chynoweth and coach Dallas Ferguson. They're looking to improve on an eighth-place showing last season – and should do so. Bean, 20-year-old centre Matteo Gennaro and left-winger Beck Malenstyn (WSH) are key cogs. Overage goalie Nick Schneider (CGY) is the X-factor.
Edmonton Oil Kings
Player to watch – Davis Koch, RW: He was Edmonton's leading scorer last season with 21 goals and 70 points – a 47-point improvement from 2015-16. Now in his 19-year-old campaign, the six-foot, 195-pound forward will be expected to increase his offensive totals yet again.
Team outlook: It wasn't long ago that the Oil Kings were a perennial powerhouse, reaching the league final each season from 2012 to 2014. Championships bookended the run. But since winning the Memorial Cup three years ago, the Oil Kings haven't won a playoff round and missed the dance entirely last season. Expect the same with a weak overage group and not much depth.
Kootenay Ice
Player to watch – Peyton Krebs, LW: The 2016 first-overall bantam pick enters his rookie campaign after recording six points in as many games during a brief trial run last season. He'll play a prominent role at the under-17 tournament in November. Krebs could be the star the Ice have lacked since Sam Reinhart graduated.
Team outlook: The Ice were once the WHL's model franchise, finishing above the .500 mark 16 straight times and establishing a record of 17 consecutive post-season appearances. However, they've won just a total of 26 games the past two seasons. Now under new ownership and with former NHL blueliner James Patrick behind the bench, there should be some improvement. The rebuild is still in its early stages, though.
Lethbridge Hurricanes
Player to watch – Calen Addison, D: The Hurricanes selected Addison in the first round (second overall) in the 2015 WHL bantam draft. An NHL team may also call his name in Round 1 next June. He's coming off a nine-goal, 33-point rookie campaign and won gold at the Ivan Hlinka tourney this summer.
Team outlook: The Hurricanes are likely the division favourites, especially after the return of overager Giorgio Estephan, and his 89 points, from Minnesota Wild camp. He and recent Pittsburgh Penguins signee Jordy Bellerive are the catalysts up front. But the biggest edge the Canes have is in net, where Edmonton Oilers pick Stuart Skinner is one of the league's best stoppers.
Medicine Hat Tigers
Player to watch – David Quenneville, D: The Tigers enter the season limping thanks to departures, injuries and illnesses. One person they don't have to worry about is Quenneville. The 19-year-old New York Islanders prospect cracked the 50-point threshold for the second straight season and should produce even more in 2017-18.
Team outlook: The defending Central Division champs will be hurt by the graduations of Chad Butcher and Steven Owre – two top-15 scorers – and a serious knee injury to Wild fourth-rounder Mason Shaw suffered at a prospect tourney. Shaw's expected to miss most of the season. Starting goalie Jordan Hollett, an Ottawa Senators prospect, was diagnosed with mononucleosis earlier this month, too. Still, the Tigers may have enough to withstand all the hardships and win another division crown.
Red Deer Rebels
Player to watch – Kristian Reichel, C: The son of former Calgary Flame and Toronto Maple Leaf Robert Reichel is a WHL rookie after being selected 27th overall in the import draft this summer. The 19-year-old had an impressive pre-season with four goals and an assist in only two games.
Team outlook: A year after hosting the Memorial Cup, the Rebels managed to not only make the playoffs, but didn't even need a wild-card spot. They might feel some of the residual effects from hosting the tourney now. The Rebels iced a veteran team in 2016-17, creating more holes in their lineup due to graduations. They should still be in the playoff mix.
[relatedlinks]
B.C. DIVISION
Kamloops Blazers
Player to watch – Jackson Shepard, LW: He recorded just three goals and 12 points, but impressed enough to crack Canada's Ivan Hlinka roster. It's rare for the five-foot-eight forward to be the biggest or most gifted player on the ice. What the draft-eligible Shepard lacks in size or skill he makes up for in sheer will.
Team outlook: The Blazers finished third in the division when the dust settled in March and are now without four of their top five scorers and Connor Ingram, their world junior goalie. The good news: they still have Washington pick Garrett Pilon up front and Vegas prospect Dylan Ferguson between the pipes. However, given their lack of firepower, it's hard to see how they don't regress a bit.
Kelowna Rockets
Player to watch – Kole Lind, RW: What can he do for an encore? Lind more than doubled his production in his sophomore season (87 points from 41), which nicely coincided with his draft year. The Vancouver Canucks chose Lind 33rd overall after he led Kelowna in scoring.
Team outlook: Lind, Dillon Dube (CGY), and the Foote brothers – Cal (TB) and Nolan (2019) – are just a few players who should help the Rockets withstand the departures of Nick Merkley (ARI), Calvin Thurkauf (CBJ), Rodney Southam, Reid Gardiner, and Michael Herringer. It's the latter, the starting goalie, who could be the hardest to replace. Untested 1998-born Brodan Salmond is the heir apparent. The leash may be short with the Rockets targeting top spot in the division.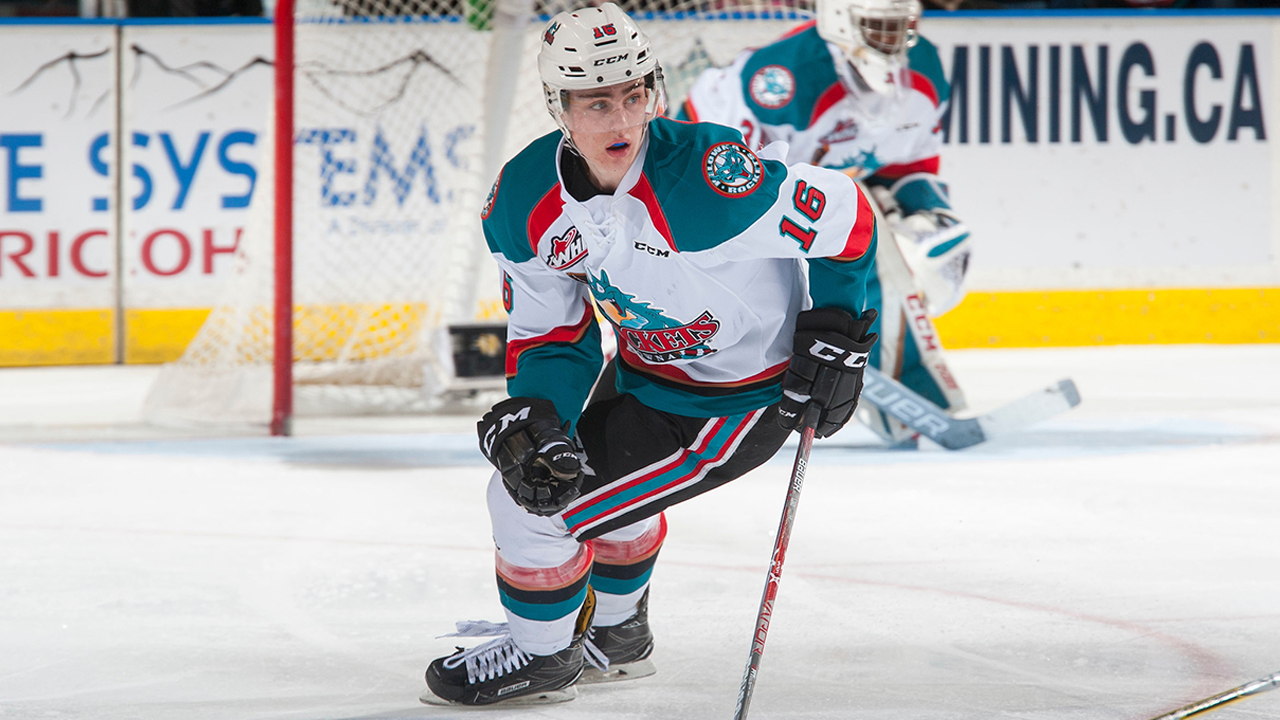 Prince George Cougars
Player to watch – Dennis Cholowski, D: The Detroit Red Wings signed their 2016 first-rounder in April and convinced him to jump to the Cougars from St. Cloud State. Cholowski is looking to rebound from an underwhelming campaign that saw him record a single goal and 12 points in 36 NCAA games.
Team outlook: The Cougars put all their chips in the middle last season, acquiring Buffalo Sabres prospect Brendan Guhle from Prince Albert and eventual New Jersey pick Nikita Popugaev from Moose Jaw. The result? A disappointing first-round loss to Portland. Now Guhle, Jansen Harkins (WPG), Jesse Gabrielle (BOS) and veteran goalies Ty Edmonds and Nick McBride are gone. The Cougars are in rough shape.
Vancouver Giants
Player to watch – Tyler Benson, LW: If Benson didn't have bad luck, he'd have no luck at all. The latest setback was a sports hernia problem in January, limiting him to 33 games (42 points) and keeping him out of Oilers rookie camp. The 19-year-old captain likely won't start the season on time.
Team outlook: Indications are Benson will be back before too long. The New York Rangers also just returned overager Ty Ronning to the Giants. Those two could join off-season acquisition Brad Morrison, another 20-year-old, on perhaps the best line in the league. That trio, combined with a strong performance from blueliner Dylan Plouffe, could propel the Giants back to the playoffs for the first time since 2014. The Giants have their fingers crossed for Benson's good health.
Giants' Hardy leaner, strong as an ox heading into season
September 22 2017
Victoria Royals
Player to watch – Matthew Phillips, C: He's only five foot seven and 155 pounds, but teams shouldn't be underestimating him anymore. The Calgary Flames sixth-rounder scored 50 goals last season (and had 90 points) and could surpass 60, especially if overager Tyler Soy returns from Anaheim camp.
Team outlook: On paper, the Royals should be battling with the Rockets for top spot in B.C. It helps that Griffen Outhouse is arguably the best goaltender among those from the division's five teams. What's interesting to watch, though, is how the departure of coach Dave Lowry – now an assistant with NHL Los Angeles – affects the crew on Vancouver Island. Lowry, a former world junior coach, was regarded as one of the WHL's best bench bosses.
U.S. DIVISION
Everett Silvertips
Player to watch – Carter Hart, G: Barring something unforeseen, Hart will be Canada's netminder at the world juniors in December and January. However, the Silvertips probably won't finish atop the U.S. Division. Goaltending generally isn't a strong suit around the league this year. Would the Tips be inclined to trade him for a big package before the deadline?
Team outlook: They're the division wild card. Hart's ability in net should help. But what isn't known yet is how Kevin Constantine's ouster changes the team's dynamic. Under Constantine, the staunchly defensive former NHL coach, the Silvertips were always among the WHL's stingiest. He was fired after last season with the team craving a new offensive philosophy. It may take some time to adjust.
Portland Winterhawks
Player to watch – Kieffer Bellows, LW: The son of former NHLer Brian Bellows left Boston University in the off-season to join the Winterhawks. Bellows endured a trying NCAA season with seven goals and 14 points in 34 games. Much more is expected from the Islanders first-rounder and American world junior forward.
Team outlook: In addition to bringing in Bellows, the Winterhawks are returning most of their best players from last season including Cody Glass (VGK), Skyler McKenzie (WPG) and Henri Jokiharju (CHI). They finished fourth in the division last year, their lowest spot since 2009. Census opinion is they'll be one of the top two teams in the U.S., perhaps even the best.
Seattle Thunderbirds
Player to watch – Carl Stankowski, G: He stepped in for the injured Rylan Toth in March and backstopped the Thunderbirds to their first WHL championship. The 17-year-old Stankowski will be the unquestioned No. 1 goalie once he returns from an injury, likely in October.
Team outlook: Here's a sample of the veteran players who've moved on to the pros: playoff MVP Mathew Barzal (NYI), defenceman of the year Ethan Bear (EDM), team scoring leader Ryan Gropp (NYR), and winger Keegan Kolesar (VGK). Oh, and coach Steve Konowalchuk is now an assistant in Anaheim. The T-Birds still have a veteran D-corps, led by overagers Turner Ottenbreit and Austin Strand. Expectations are much lower this year.
Spokane Chiefs
Player to watch – Ty Smith, D: The WHL's No. 1 pick in 2015 didn't disappoint in his rookie campaign, posting five goals and 32 points in 66 games. It's a down year for WHL-eligible NHL Draft prospects, but Smith is the best of the lot and should get into the top 10 next June.
Team outlook: Spokane missed the playoffs last year and swapped in veteran WHL coach Dan Lambert for Don Nachbaur, now an assistant with NHL Los Angeles. Lambert is preaching speed, which will be music to the ears of Smith, Edmonton first-rounder Kailer Yamamoto, and Los Angeles second-rounder Jaret Anderson-Dolan. Put it all together and Spokane is expected to be right in the thick of the U.S. Division quagmire.
Tri-City Americans
Player to watch – Michael Rasmussen, C: Before being selected ninth overall by Detroit in June, Rasmussen got flak from some pundits who didn't like that 15 of his 32 goals were scored on the power play. Yet, he still managed more than a point per game as a 17-year-old and will undoubtedly show improvement to quell the hate.
Team outlook: Word around the league is the Americans will challenge Portland, and perhaps even outdo them, for the top seed stateside. With Rasmussen, Calgary first-rounder Juuso Valimaki, Parker Wotherspoon (NYI), and leading scorer Morgan Geekie (CAR) among a standout set of returnees, the Americans are in good hands. Watch for draft-eligible centre Carson Focht take a big leap after recording just eight points a season ago.