When Shawinigan Cataractes forward Dennis Yan takes a shot, be afraid, be very afraid. He's lethal, as shown by 15 goals in 13 games. Some might even call him dangerous. Like the QMJHL, the only league in the CHL to track "dangerous" shots. Yan holds the league's highest shooting percentage at 36.6 and one of the top dangerous shot percentages—32 of his 41 shots (78 percent) have been deemed dangerous.
What constitutes a dangerous shot is not an exact science—it isn't defined on the "Q" website and the league did not comment, but: every goal is considered a dangerous shot, no matter where it emanates from, as are shots taken in the trapezoid formed between the goal posts and the faceoff dots.
However, there's a grey area from the faceoff dots to the edge of the circles. Looking at the play-by-play plotting of shots and goals in game summaries provided on the QMJHL website, there are inconsistencies in what's considered a dangerous shot.
But, using the data available, I calculated the dangerous shot percentage (DS%) for every player with more than 25 dangerous shots. The 54 who fit the criterion include most of the league's offensive stars, top scorers and best rookies. After calculating DS%, I averaged that total with shooting percentage to create a modified dangerous shot percentage (MDS%).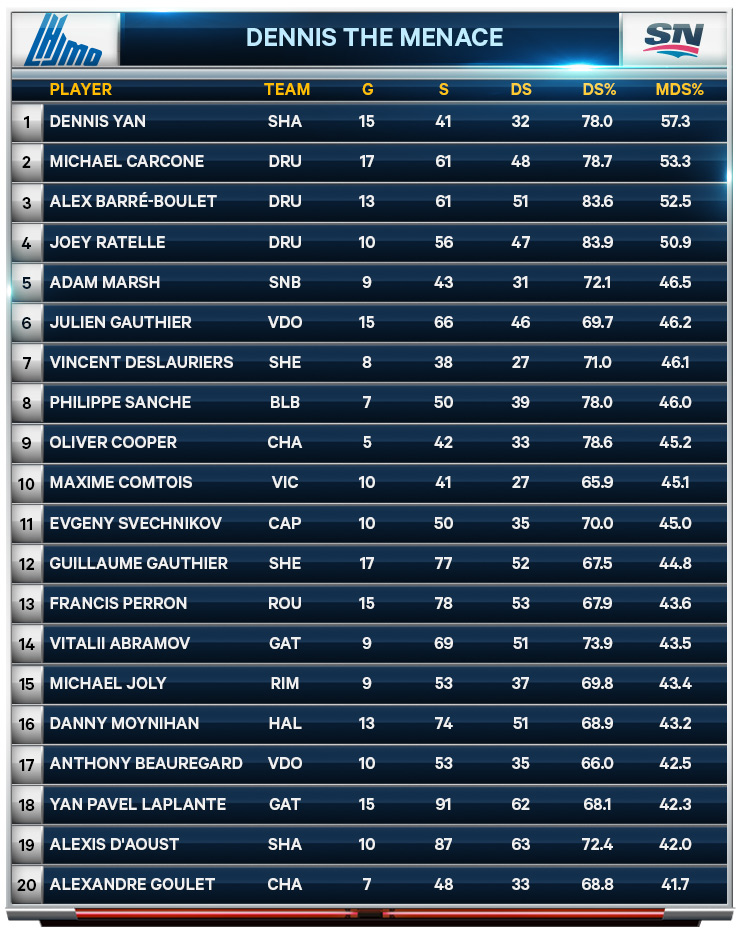 There are a number of interesting items that surface.
Looking at dangerous shots purely based on volume, it's easy to miss Yan, who ranks 30th. He's only played 13 games after starting the year at Tampa Bay Lighting training camp (he was drafted 64th overall in June) and he's averaging 3.1 shots per game. His league best MDS% of 57.3 shows he's taking a lot of dangerous shots and he's turning those shots into goals.
Yan's teammate Alexis D'Aoust leads the league in dangerous shots with 63, but is 19th in MDS% at 42 per cent. He has a high volume of shots with 87, but only 11.5 percent have found the back of the net and 63 of them have been dangerous. He'll be more of a force if he can start doing more with the shots he takes.
Charlottetown Islanders forward Oliver Cooper is an example of why MDS% indicates a player is a more dangerous shooter. Cooper has a 78.6 dangerous shot percentage, fourth in the league, but he's only managed five goals. His shooting percentage is 11.9, bumping his modified dangerous shot percentage to 45.3, sixth overall.
Reigning league MVP Connor Garland of the Moncton Wildcats, who isn't on the chart, is showing everyone that you don't have to be "dangerous" to actually be dangerous. He's once again in the hunt for the scoring title with 32 points, but the playmaker's MDS% is just 33.3 percent, 43rd overall. Last season it was 41.1 percent. Not a particularly high number, but a guy who wins the scoring title is obviously dangerous.
Then there's Halifax's Timo Meier, who should be one of the most lethal shooters in the CHL. Of players with more than 25 dangerous shots, he has the lowest MDS% at 23.8. The biggest issue for ninth-overall pick of the 2015 NHL Draft is he's not scoring. He has three goals in 11 games and a minuscule shooting percentage of 4.8. Last season he finished the year with 44 goals and a 13.9 shooting percentage.
Sherbrooke Phoenix forward Guillaume Gauthier is tied for the league lead in goals with 17 and his MDS% of 44.8 is good for 12th. He has a high shooting percentage (22.1) but is taking a lot of shots outside the DS zone, even though virtually all his goals have come from within the DS zone and a good chunk of them have been right in front of the net.
From a team perspective, you can see what MDS% means. The Drummondville Voltiguers have been an early season surprise, currently sitting in seventh place after finishing in 17th and out of the playoffs last season. A big reason has been the trio of Michael Carcone, Alex Barré-Bouletand Joey Ratelle, who sit second, third and fourth in MDS%.
It appears MDS% is an indicator of how dangerous a player is when they have a puck near the net. For the statistic to be stronger, a more concrete DS zone must be established. Additionally, having every goal considered a DS regardless of where it comes from bloats the category.
There appears to be a high correlation between DS% and shooting percentage. There's also a moderate positive correlation between dangerous shots and goals, meaning more dangerous shots should lead to more goals.