Hockey is always evolving and changes at the top levels of the game are often presaged by changes at lower levels. Once upon a time, the best of the smallish scoring forwards who lit the lamp with regularity in the junior ranks would struggle to find a job at the professional level. Over time, this has obviously shifted. Smaller, highly skilled CHL stars like Tyler Johnson, Jonathan Drouin and Patrick Kane have taken on prominent roles with their respective NHL clubs, and more are coming.
June's NHL Draft saw Mitch Marner (5-11, 161 lb.) added to the list of undersized forwards with elite skills taken high in the first round, and this summer's draft will also likely see the OHL's current leading scorer, 5-7, 161-lb. Alex DeBrincat, go early as well.
What is far more rare historically is seeing smaller, highly skilled defenders drafted in the top rounds. In 2009, current analytics darlings and top-four NHL D-men Ryan Ellis (Nashville Predators via the Windsor Spitfires) and Tyson Barrie (Colorado Avalanche via the Kelowna Rockets) went 11th- and 64th-overall in the NHL Draft; they both were listed at 5-10. Those two produced 89 and and 53 points from the blueline in their draft years, with Ellis's 89 good for seventh overall in OHL scoring and sixth in points per game, trailing only John Tavares (London Knights and Oshawa Generals) among draft-eligible OHLers.
Since, only six blueliners listed at 5-10 or shorter have been drafted in the first three rounds—and five of those have been in the past two years. But 2016 could be the year that trend spikes, as four of the top-rated CHL defenders are under six feet tall, highlighted by Samuel Girard of the Shawinigan Cataractes who is currently projected as a first rounder by some scouting outlets.
One of the more recent developments in prospect projection is the Prospect Cohort Success model developed by a collection of analysts who write for the NHL Nations Network. The model essentially estimates the probability of a given prospect being successful at the NHL level on the basis of a selection of comparable players from past drafts. Using past data on 2,400 CHL defenders who were draft eligible, the topic of size and defenders was analyzed specifically by Josh Weissbock (developer of CHLstats.com) to relay the relationship between height, offensive production and an NHL career spanning a minimum of 200 games.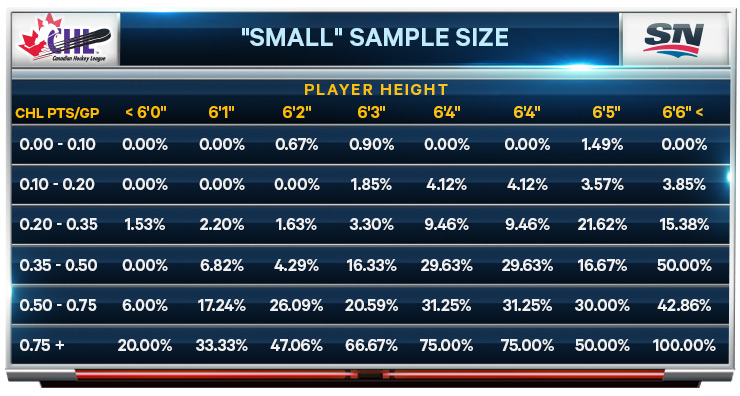 Not surprisingly, if you're tall defenceman who can score at the CHL level, you've had a good chance at an NHL career. And, as the chart shows, height has trumped offensive production to the point that 6-5 blueliners averaging 0.20-0.35 Pts/GP have typically gone on to longer NHL careers than D-men under six feet who've scored at an elite 0.75-plus Pts/GP.
Every year in August, a selection of the top Canadian under-18s competes for the Ivan Hlinka Memorial Cup. Canada has dominated this tournament in the 22 years of its existence, winning an astounding 19 times. The rosters are typically a sneak peek at the top prospects for the following draft—100 of the 110 members of team Canada since 2010 have been drafted with 45 going in the first round. Perhaps more impressive is 15 of the 25 Canadian defenders picked in the first round of the draft in that time frame have played in the tournament.
Bearing all of this in mind, it is particularly interesting to note that the average height of the Canadian blueline at the Hlinka tourney has been declining steadily.
From 2011 to 2015, that average has gone from nearly 6-2 to 5-10, largely thanks to the inclusion of the highly skilled Samuel Girard (Shawinigan Cataractes), Victor Mete (London Knights) and the shortest of the group, David Quennville (Medicine Hat Tigers), this past summer.
Quennville, listed at 5-8 by NHL Central Scouting, is the younger brother of Brandon Wheat Kings top forward John Quennville (30th in 2015 by New Jersey). He's also the nephew of New York Islanders top pair D-man Johnny Boychuk, and second cousin to Chicago Blackhawks head coach Joel Quennville. That's a lot of hockey pedigree for one prospect and it fits well with his upper-end mobility and offensive skill set. David's small stature didn't prevent him from being Medicine Hat's 10th-overall pick in the WHL Bantam Draft in 2013. So far this year he has eight points through 10 games with the Tigers (0.80 Pts/Gp).
Mete, who's not 5-10, is playing top-pair minutes for London alongside Finnish import and projected first-rounder Olli Juolevi. The Woodbridge, Ont., product went eighth overall in the 2014 OHL Priority Selection to the Owen Sound Attack, and was traded to London in exchange for six draft picks: three seconds, two thirds and a conditional sixth-rounder. Last season he was named to the OHL's second all-rookie team. Mete has eight points through London's first 12 games this season (0.67 Pts/Gp) and is among the leaders in ice time on a very deep Knights side that ranked fifth in the CHL Top 10 this past week. The depth of the Knights' lineup also likely portends of a lengthy playoff run in his future, which should give him every opportunity to impress as the draft approaches in June.
At 5-9 and 165 lb., Girard is the lightest of the trio and also the most highly touted. He was picked third overall in the QMJHL entry draft in 2014 after being the second-ranked prospect and top defenceman in the QMAAA in 2013-14. Following his excellent rookie campaign—43 points in 65 games—he now holds all of Shawinigan's scoring records for rookie blueliners. He was named the 2014-15 QMJHL defensive rookie of the year, and was a member of the QMJHL all-rookie team.
He's currently the highest-scoring blueliner in the QMJHL, ranks 13th overall in scoring and is second on Shawinigan in with 21 points through 15 games (1.40 Pts/Gp), helping propel them to No. 2 in the CHL rankings. He also has the honour of being the youngest prospect named to the QMJHL team for the Canada Russia Series being played in mid-November. Girard is represented by super agent Pat Brisson and has benefited from contact with former Brisson client and similarly undersized star Daniel Briere. As of this past September he was slotted as a late first-rounder for this year's draft by Future Considerations and HockeyProspect.com—although he only earned a "C" rating in NHL Central Scouting's September preliminary rankings (third to sixth round).
All three of these smaller blueliners have a solid chance of making the NHL in the future, and may yet announce a shift in the way hockey thinks about smaller skaters in its approach to the game. As speed, skill and the ability to process a faster game become the most sought after elements in the pros, it would make logical sense that any and all players with the appropriate skill set filter to the top of the heap.
These young men may just be the wave of a smaller future.