HELSINKI – It's rare that the world junior championship has much of an effect on the NHL Draft. The old line holds that this is a tournament for 19-year-olds. In this case the old line rings true most of the time. Just not this year.
Draft-eligible players have shown up at the under-20s over the years, including but not limited to the likes of Ovechkin, Crosby, Toews, Kane, Stamkos and Tavares. But never have so many draft-eligibles played roles so large as those who are here in Finland.
Take Matthew Tkachuk. Actually, a lot of teams would take him and most won't have a shot at him. The son and pretty much a reasonable facsimile of distinguished former NHL veteran Keith Tkachuk, the London Knights left winger has been skating on the first line of the American team that almost made it to the WJC final against the host Finns. History would show that few his age have been that high up in the mix with a contender. Certainly Toews and Stamkos weren't in their respective draft years. "Tkachuk has been quietly really solid," one NHL scouting director said. "Another year, he'd be the first thing scouts would be talking about, but here this year he's a name on the list."
---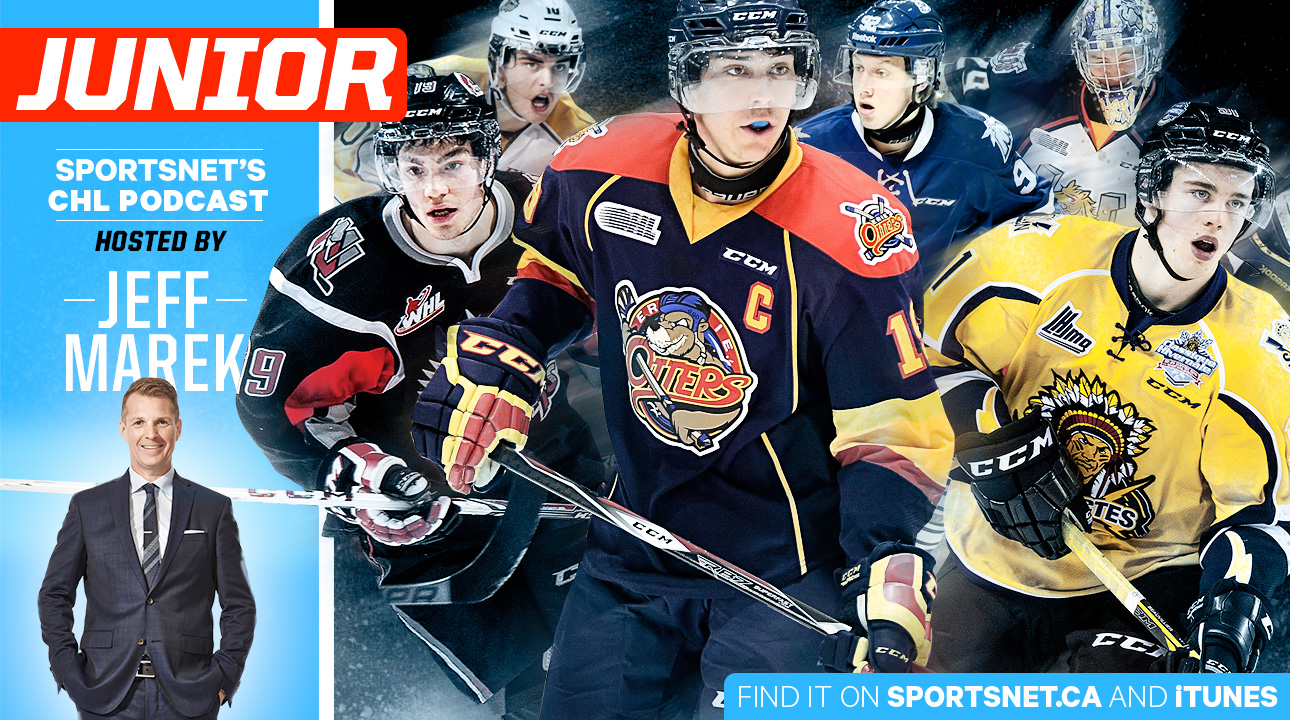 Jeff Marek hosts Sportsnet's weekly CHL podcast, a one-stop shop for news, analysis, opinion and interviews covering the WHL, OHL and QMJHL. Sam Cosentino, the CHL's top analyst/insider, joins Marek each week to discuss the latest from around the league, as do newsmakers from across the CHL. Couple that with NHLers remembering their days in junior hockey and regular updates on the latest risers and fallers for the NHL Draft, and there's really nowhere else fans need to go.
Listen now | iTunes | Podcatchers
---
As far as draft-eligible players go, Tkachuk has been over-shadowed by, as expected, his linemate Auston Matthews, the straw that stirs the American drink. As a 16-year-old in last year's tournament, Matthew wasn't just a presence—many scouts thought that he was equal to if not better than his teammate Jack Eichel, who has a good shot at winning the Calder Trophy this spring.
Tkachuk has been great with the Knights this season: 59 points in 29 games. And against the top juniors in the world here, he's put up two goals and six assists in six games. Still, Matthews throws him into total eclipse with seven goals in six games—and, if anything, the numbers only hint at the influence he has every shift he takes. You'd expect no less given that he's managed to thrive, when healthy, against pros in the Swiss league this season.
If it were these two American draft-eligibles (and Erie's Alex Debrincat, last year's CHL rookie of the year) who were starring here and more than keeping up with the 19-year-olds it would be strange enough. Fact is, the American draft-eligibles who will skate in the bronze-medal game against Sweden, have been outstripped by three young Finns, who are not only draft-eligible but '98 birthdays. (All three Americans are late '97s.)
Wingers Patrik Laine and Jesse Puljujarvi were players of interest to all: both big bodies, both owners of a complete set of skills, both superior skaters. Kasperi Kapanen, the Leafs' prospect, joked about them being brothers, but bookends is more like it. And they're the 17-year-olds who are the centerpieces to a team that is a game away from gold in a 19-year-old tournament.
"There's no picking between them, really," one scout said. "You've got Laine who's got flair and attitude and you've got Puljujarvi who is sort of the cold-blooded assassin, although he's got more attitude and flair than most. There's no conventional wisdom out there [about who would rank higher on team lists]. I know I haven't made up my mind and I think that's true for most of us."
What scouts seem to have determined at these two are the second and third best prospects in this year's draft pool."[Their play] here has shifted scouts' lists. They're looking like the nearest behind Matthews right now and I don't know that you could have said that a couple of weeks ago."
No, through the fall, most mock drafts have listed Sarnia defenceman Jacob Chychrun in the No. 2 slot. There will be a significant shuffle going forward. In fact, off this tournament, the erstwhile runner-up to Matthews in the prospect derby might not even be fourth on the final draft order.
Fair to say, NHL scouts saw Laine and Puljujarvi coming. They were clearly in the mix for the top five. But a name that is coming into play from farther back based on the first couple of months of the CHL season is Olli Juolevi, a Finnish defenceman who's has 23 points in 29 games with (yeah, again) the London Knights in this his OHL rookie season.
A few weeks back, before the under-20 teams were selected, I spoke to one Ontario-based scout, a bit of a contrarian by nature, but he was unequivocal about Juolevi and Chychrun. "Love the Finnish kid," the scout said. "He makes plays every shift. Chychrun has tools, obvious ability, but too often he's waiting for play to come to him."
What was his opinion in the minority previously seems to be approaching consensus. Chychrun was cut loose in the Canadian tryouts and Juolevi has shone. "I had Chychrun ahead of [Juolevi] but I've flipped them based on his play here," one scout said Sunday. [Juolevi] played what, 30 minutes against Canada [in the quarterfinal]. He didn't have such a big game against Sweden but still he's the Finns' best defenceman. Maybe the best in the tournament."
Okay, Matthews will be in the NHL next season, a sure thing. Laine, Puljujarvi and Juolevi have the goods to make the jump, but kids out of Finland usually opt for a more cautious approach and rarely step in with men at age 18. But that thinking might be outdated, just like the idea that the world juniors is a 19-year-old tournament.