ORCHARD PARK, N.Y. — Most players wore gloves under their gloves and pulled hoods over their heads. Dillon Dube had eye black smeared down both cheeks and said he was sporting three layers under his equipment. Carter Hart tried to pull a toque over his goalie mask, wore multiple pairs of socks, and said if he'd taken a shot off his foot his toes "probably would've broken off."
One way or another, the members of Canada's world juniors team found ways to bear the elements as they took the ice at New Era Field on Thursday afternoon for a brief skate in advance of Friday's clash with the Americans on the same outdoor surface.
After wins over Finland and Slovakia on back-to-back nights to open the tournament, Canada wouldn't have even skated Thursday if the next day's game was taking place in an arena. But with the likely Pool A decider being played in such an exceptional environment, head coach Dominique Ducharme wanted to give his team a chance to get as acclimated as possible to the wintry conditions that await them Friday.
Canada only spent about 30 minutes on the ice before returning to the warm confines of their dressing room. Just enough time to get a sense for how the ice felt, how the puck came off the boards, and how the sight lines looked in a football stadium.
"That's why we were here today," Ducharme said. "So the guys can feel the environment, feel the ice, see the difference. There's some different equipment to get used to. So, that's done. Tomorrow, we focus on 200 by 85. That's where our mindset's got to be."
Friday afternoon's forecast currently calls for a temperature of -8 C (-14 with the windchill) with a 60 per cent chance of flurries, which could make expansive play challenging. There's also the matter of the 40,000-plus fans who are expected to pack New Era Field and create an atmosphere the players have yet to experience in this tournament.
There are always nerves for young players at an intensely scrutinized tournament like this, especially when Canada plays the United States. And the circumstances of Friday's game can only amplify that pressure.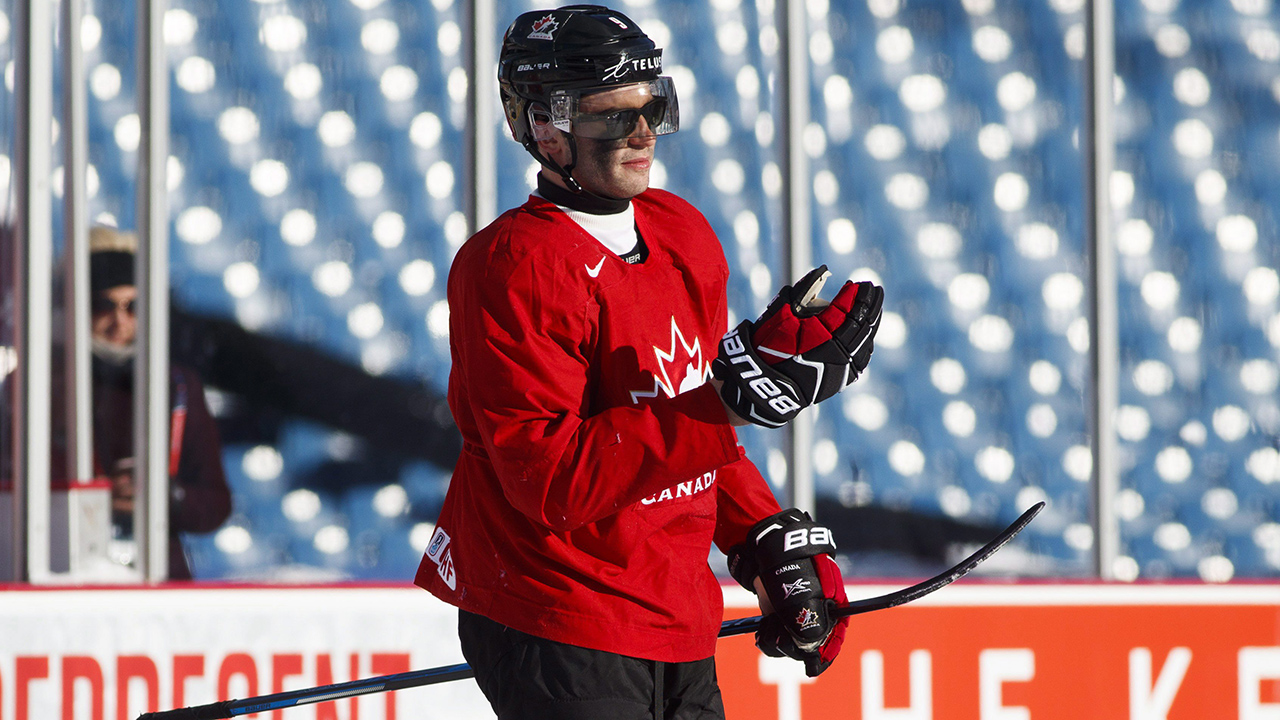 "Walking out there when we first got to the rink today, I got shivers. I've never really had that feeling before where I just got excitement. I didn't really know what to do with myself," said Dube, the Canadian captain. "I think we settled in today. Because I think just being in the outdoors brings more of an excitement than the people. Lots of guys last year played in front of the fans that we had. I think we're used to that. They won't be as on top of us. I think the most excitement was just being outdoors. That was a big jolt for us. So, I think we'll be calm tomorrow."
You can expect Canada to play a simpler, more contained game than it has to this point in the tournament, taking fewer chances and being extra mindful with the puck. There were a number of choppy areas on the ice Thursday, and while those will no doubt be smoothed over by game time Friday, the puck will still move differently on this surface than it has indoors. And the ice can only deteriorate as the periods pass by.
"As the game goes on, it gets harder. You've got to be pretty simple with the puck. A lot of things can happen on the outdoor rink," said defenceman Dante Fabbro. "With the condition of the ice — it's cold outside and there's going to be big chunks of ice coming out. I just think the simpler the better is definitely the way to go in these games."
Fabbro at least has some experience with a game like this, having played outdoors at Fenway Park last season with Boston University. He remembers skating back to the bench after his first shift and trying to get a drink but being thwarted because the nozzles on all the water bottles had frozen over.
"Yeah, it was pretty cold," Fabbro said. "I don't think there's any strategy to stay warm out there. … The first five minutes is freezing. I couldn't even feel my face. But after the first five it gets a lot better."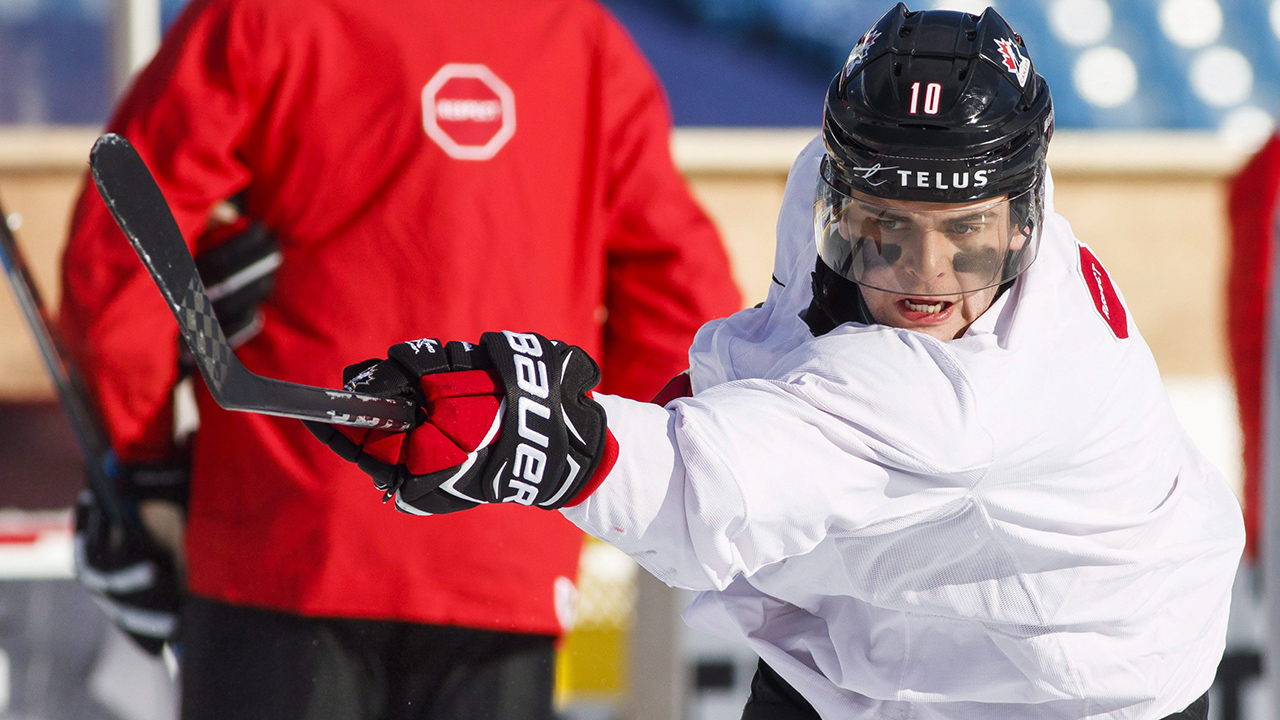 Back to full strength
Ducharme had his full complement of players out in the cold Thursday, including banged-up defencemen Jake Bean and Kale Clague.
Bean was severely winded after a scary crash into the end boards in the first period of Wednesday night's victory against Slovakia, although he was able to return later in the game. Clague didn't play at all against Slovakia after blocking a shot with his right foot during Tuesday's win over Finland and skating off gingerly.
Ducharme is hopeful both will be available for Friday's clash with the Americans. Asked if Clague was a question mark, the Canadian coach responded: "A confident question mark."
"Yeah, I'm good," Bean said. "I think it looked a little bit worse than what it is. But I'm feeling good. I felt good when I got back in the game last night and I'm feeling good today. … I got winded there. But once that wore off, I felt back to normal."
Fabbro, meanwhile, was on a minutes restriction Wednesday and didn't leave the bench in the third period. He was a last-minute addition to Team Canada after suffering a lower body injury blocking a shot earlier this month. But he logged a full practice Thursday and expects to play a more substantial role Friday against the U.S.
"I feel great. I talked to the training staff and I think it was probably best for me to take it easy today and see how the ice felt," Fabbro said. "And I felt great. Everything's doing well. The biggest part for me was just warming up and making sure I was completely ready to get on the ice. And I thought so. I went through the drills and it was all good."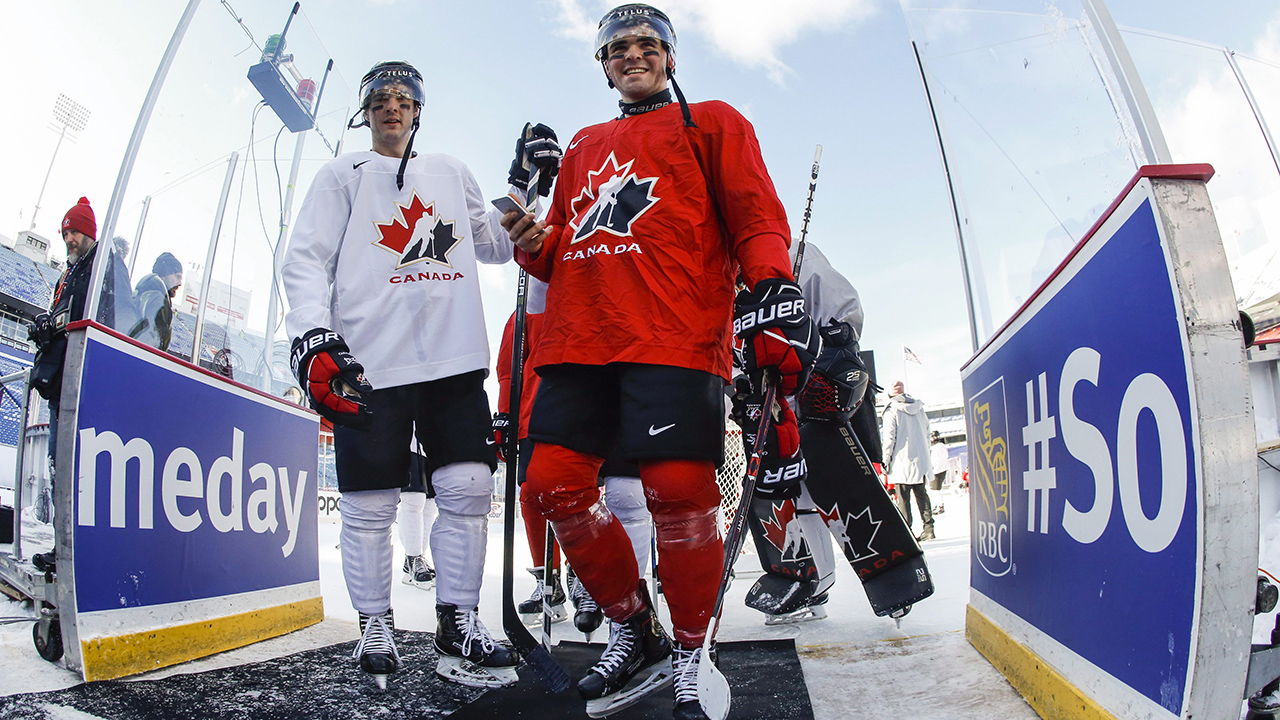 King of the table and changing the tune
Controversy at Team Canada's hotel this week, where some of the most heated competition of this tournament has occurred atop the plywood plane of a ping pong table.
Fiercely intense battles have been contested between Canadian teammates all week. Defencemen have challenged forwards. Linemates have turned foes. Asked who currently holds bragging rights on the table, defenceman Cale Makar didn't hesitate.
"I do," he said, confidently. "I've been taking over pretty much everybody right now."
But like all things, it depends who you ask. Makar's roommate, forward Jordan Kyrou, begs to differ.
"I don't know if that's true," Kyrou said when informed of Makar's boast. "That's a tough one. There's a couple good guys. Makar's pretty good. [Robert Thomas] is pretty good. I'm pretty good. Back at the hotel it gets pretty intense. We go at it."
As Kyrou tells it, Thomas and himself challenged Makar and fellow defenceman Jake Bean to a two-on-two battle earlier this week, and emerged victorious after a see-saw contest.
"We beat them," Kyrou said. "And they were up 2-0 against us. And we won four straight and came back — in a best of seven."
[relatedlinks]
There is also significant debate among the Canadian ranks with regards to the team's goal song and whether or not to change it.
Currently, DJ Otzi's "Hey Baby" has been played after each of Canada's 10 goals in this tournament. But there are those wearing red and white who would prefer not to hear it the next time a puck hits the back of the net.
"I mean, at first we thought it was a good idea. But after hearing it, it's like ahhh…," Kyrou said. "It's kinda iffy."
Kyrou refused to reveal who brought "Hey Baby" forward when the team was selecting its tune — "I don't want to embarrass him," he said — but did float last year's goal song, Wiz Khalifa's "We Dem Boyz," as a potential replacement.
"I'm not sure what else we're thinking of," Kyrou said, "but more of a pump-up song."
On the other side of the debate is Bean, the Canadian defenceman who feels that since DJ Otzi has gotten them this far, they should stay true to their roots.
"I don't think we can," Bean said when asked if his team would be switching its anthem. "Ten goals, two games. It's working. I don't think we have the right reasons to, yet."
Dube, the Canadian captain, surely has a big say in all team matters, particularly song selection. He sides with Bean on this contentious issue, and hung around with media at New Era Field for a few moments after his post-practice scrum to thoroughly state his case.
"I like it. I think the guys like it," Dube said, grinning. "I thought it was funny. Enjoy yourself after the goal. It kind of gets you loose. I think you get pumped up before, but right when you score you've got to relax a little bit and be happy about it."