BUFFALO, N.Y. — While this year's World Junior Hockey Championship has had its share of indelible moments, from the surprise success of the Czech Republic team to the wintry scenes of the tournament's first ever outdoor game, there's another image that is surely lasting in the minds of those watching from afar: empty seats.
It's been impossible to miss the vast expanses of blue plastic at KeyBank Center, the 19,200-seat arena the NHL's Buffalo Sabres call home, even during marquee games featuring the tournament's two top draws: Canada and the United States. For one reason or another, it seems many hockey fans in the Western New York and Southern Ontario region have decided to watch from home, with only three games at KeyBank Center drawing more than 8,000 fans.
According to a tally of the announced attendances for each game listed on the IIHF's tournament website, this year's event has drawn 172,079 spectators through 26 games, an average of 6,618 per game.
There are still four contests to be played, each of them among the tournament's marquee games: the semifinals, gold medal game and bronze medal game. Canada and the US will factor into at least three of those games, which should ensure those crowds will push the tournament attendance total over 200,000.
But even if those four games sell out, the final total will be lower than last year's tournament, which drew 257,882 fans in nearby Toronto and Montreal. In fact, total attendance is guaranteed to be the lowest for a tournament held in North America since 2005.
| Year | Host | Total attendance | Average per game |
| --- | --- | --- | --- |
| 2017 | Toronto and Montreal, Canada | 257,882 | 8,596 |
| 2016 | Helsinki, Finland | 215,226 | 7,174 |
| 2015 | Toronto and Montreal, Canada | 366,370 | 12,212 |
| 2014 | Malmo, Sweden | 144,268 | 4,654 |
| 2013 | Ufa, Russia | 110,175 | 3,554 |
| 2012 | Calgary and Edmonton, Canada | 455,342 | 14,688 |
| 2011 | Buffalo and Lewiston, USA | 329,687 | 10,635 |
| 2010 | Saskatoon and Regina, Canada | 301,944 | 9,740 |
| 2009 | Ottawa, Canada | 453,282 | 14,622 |
| 2008 | Pardubice and Liberec, Czech Republic | 103,179 | 3,328 |
| 2007 | Leksand and Mora, Sweden | 63,493 | 2,048 |
| 2006 | Vancouver and Kelowna, Canada | 325,138 | 10,488 |
| 2005 | Grand Forks and Thief River Falls, USA | 193,256 | 6,234 |
| 2004 | Helsinki and Hameenlinna, Finland | 116,556 | 3,760 |
| 2003 | Halifax and Sydney, Canada | 242,173 | 7,812 |
And attendance would be even lower if not for the 44,592 who watched Canada and the USA play the tournament's first-ever outdoor game last week at New Era Field. Without that big figure inflating the numbers, this event may have struggled to even cross the 200,000 threshold.
Asked about the low attendance Thursday afternoon, tournament organizers admitted their disappointment in the turnout, but directed focus towards the quality of competition rather than how many have witnessed it.
"We always want to put more fans in the seats. I don't think that's ever been a debate or a question," said Pat Kelleher, USA Hockey's executive director. "But we've had great hockey here. And I think that's been the big thing. For the people who've been in the building, they've seen the best players in the world. Players who will be in the NHL next year. So, I think for us, we're very excited at the quality of play, the level of play."
"Obviously, the ticket sales haven't been as robust as we would've hoped them to be," added Mike Gilbert, the chair of the tournament organizing committee. "But we don't judge the success and the failure of the tournament based on ticket sales. … I think we've seen the best hockey players in the world at 18, 19 years old competing. And the best four games are still to be played. So, we don't look at it based on tickets alone."
But why aren't fans turning up for this year's games? Especially considering the last time the tournament was played in Buffalo — in 2011 when the event was less centralized than it is this year — nearly 330,000 showed up.
Price point is always a factor. Costly ticket packages which included seats to multiple games didn't sell as well as tournament organizers would've liked, while single-game tickets ranged from $30 USD for nosebleeds to $140 for seats in the lower bowl. And, of course, that's not the only cost of attending a game. Parking near tournament venues generally goes for around $20, and in-arena refreshments aren't cheap, either.
Tournament fatigue may be another reason. This is the third time in the past four years the world juniors have been held in the same region, with 2015 and 2017's events occurring in Toronto and Montreal.
Weather may also be playing a role. Conditions in Buffalo have been downright miserable over the past two weeks, with temperatures plummeting as low as 20 degrees Celsius below freezing, not to mention the near-daily snowstorms. That's also made commuting rather hazardous, as anyone who has attempted to drive on the Queen Elizabeth Way over the past week can surely attest.
Of course, nearly 45,000 still showed up at New Era Field last week to watch an outdoor game through a full-on blizzard. So, maybe weather's not entirely to blame.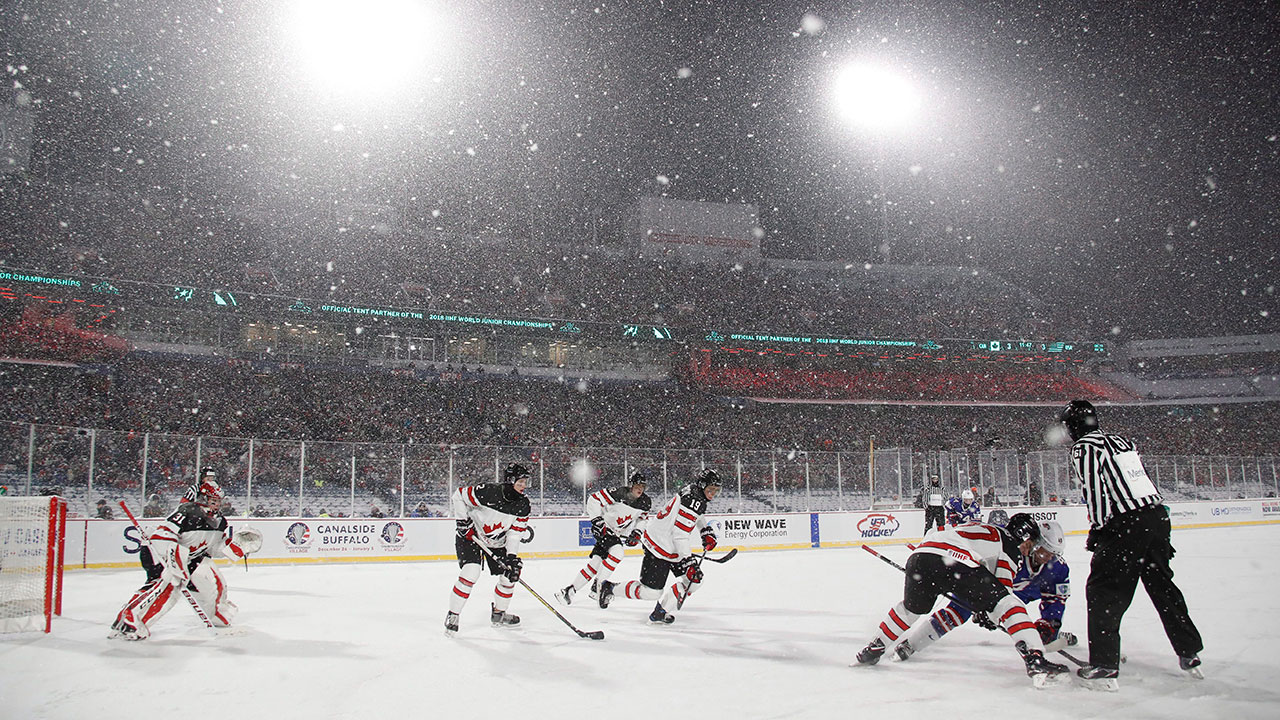 It's also important to remember it's 2018 and viewing habits are changing. This tournament is very well broadcasted, both north and south of the border, which makes it easy for fans to stay home and watch games from the comfort of their living rooms, or stream them on the go with mobile devices. And despite the theatrics this tournament reliably provides, it's still junior hockey. With the NHL season in full swing, there's only so much interest you can generate.
Asked about the attendance issues Thursday, IIHF representatives cited many of the above reasons for the disappointing turnout, and conceded it was likely time to move the tournament elsewhere when it's held in North America.
"You know, less is more," said IIHF President Rene Fasel when asked if tournament attendance was suffering due to it being played in the same region so frequently. "I think the answer is here, with the result of the numbers of spectators that we've had in Toronto and Montreal, and here. This is it. So, actually we tried. But it shows us that in the future we should be more careful and maybe go more west than in the east."
Fasel and Luc Tardiff, an IIHF Council member and the tournament chair, repeatedly cited Buffalo's adverse weather as a primary reason why so many fans stayed home.
"The weather was really bad, the traffic. A lot of car crashes almost everywhere," Tardiff said. "For sure that didn't help. But it was cold outside and warm inside, that's the most important thing. And the competition was good. I think that today, with a sunny day that's easy on the roads, we're going to have a good crowd for the two games."
Next year's event will take place in Vancouver and Victoria, British Columbia. Fasel said that Hockey Canada President Tom Renney told him during a recent conversation at the Spengler Cup that over 50 per cent of tickets are already sold for that event. Currently, those tickets are being sold in packages that range from $650 to $2,250.
"This is a signal, I think, that going back out west, the interest of the people there is different than here," Fasel said. "You get experience only when you make mistakes. So, this is one experience now."
[relatedlinks]