With Finland beating the United States in a thrilling gold medal game, another World Junior Hockey Championship has come to an end.
While it was a disappointing tournament for Canada and Sweden, Switzerland had an impressive showing and some 2019 NHL Draft prospects gave fans an early taste of what they can do.
Junior hockey expert Sam Cosentino has some final takeaways from the 2019 world juniors.
KK24
Kaapo Kakko fired a shot across the bow when he scored the gold medal winning goal against Jack Hughes and the United States. Making his case to be the first player selected in the 2019 draft, the Finnish 17-year-old had a great tournament, putting up two goals and five points.
He did all the things he does in being an effective pro in the Finnish Liiga. He's got size, thinks the game well, skates well, is an excellent puck protector and is a reliable winger. It's not often a double-underage player is leaned on in crucial situations, but Finnish bench boss Jussi Ahokas had no problem putting Kakko out there with less than two minutes left in the gold medal game. In fact, Kakko was used in plenty of high-leverage situations throughout the tournament.
[relatedlinks]
Van-Full
The Vancouver pipeline looks plentiful.
It was a golden opportunity for Canucks fans to get a sneak preview of defenceman Quinn Hughes, whom they will likely see wearing their jersey before season's end. Goalie Michael DiPietro, a third-rounder in 2017, was great, and he gave Canada a chance in every game he played.
The biggest surprise of the event for Vancouver was 2018 third-rounder Tyler Madden, whom U.S. head coach Mike Hastings made a point of mentioning how valuable he was after the Americans beat Russia in the semifinal.
Toni Utunen was the unsung hero for the Finns. If he didn't score the OT winner against Canada, the Finns don't even get into the gold medal game. A fifth-round pick in 2018, the defenceman was definitely played second fiddle to the three mentioned above.
Van-Full Part II
Without Canada being around for the medal round, Vancouver and Victoria should be commended for filling their respective buildings. The Save-On Centre in Victoria was abuzz all preliminary round long, especially when Kazakhstan played. Both semifinals and the two medal round games in Vancouver were supported spectacularly with over 12,000 in attendance for the Russia-Switzerland bronze medal game and a jam packed house for the USA-Finland gold medal final.
UPL Delivered
Lauded by one staffer as the best goalie in the OHL, Finland's Ukko-Pekka Luukkonen lead the event in minutes played, with a 1.80 goals-against average and .932 save percentage. He was also named to the media all-star team.
Of the 11 goals the Buffalo prospect allowed, five of them were scored on the power play. All of this after he was named the OHL goaltender of the month for December for his play with the Sudbury Wolves.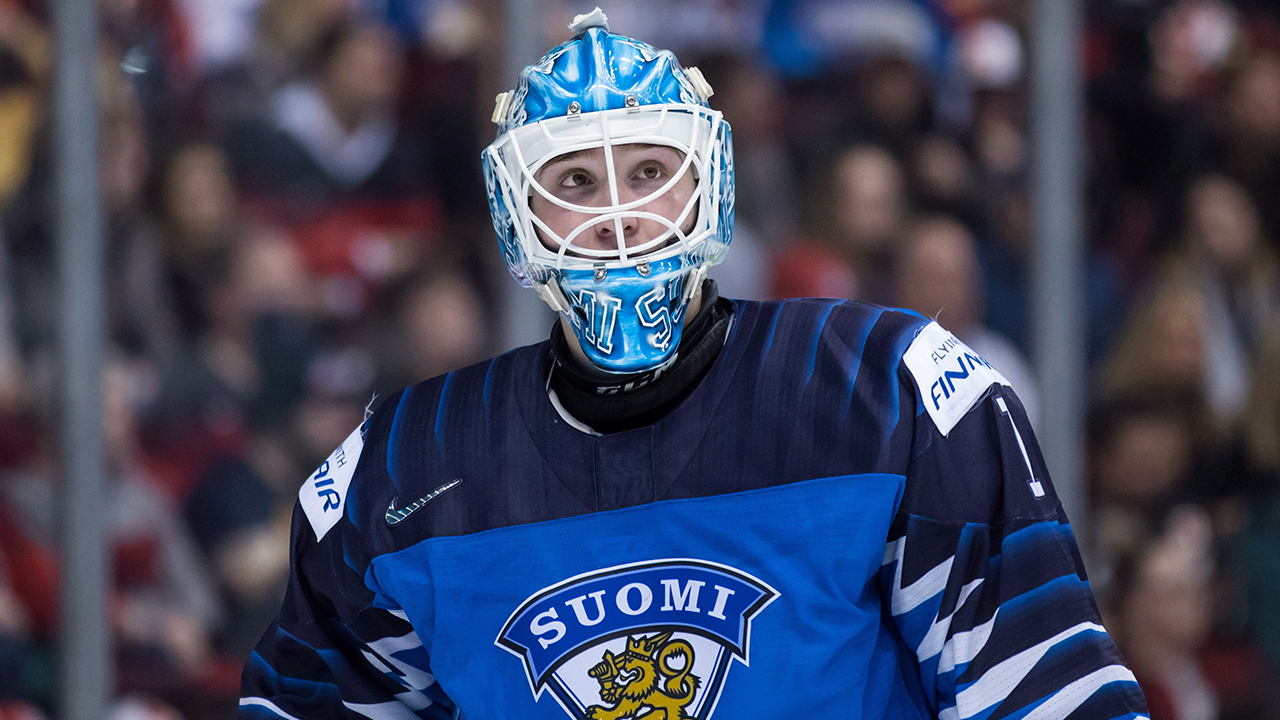 Finland goalie Ukko-Pekka Luukkonen looks on during a stoppage in play against the United States during the gold medal game. (Darryl Dyck/CP)
Most Underrated
Aleksi Heponiemi was the most underrated player in the entire tournament.
In the quarterfinals against Canada, the affable Heponiemi scored a goal and assisted on the game winner. He was so underrated there wasn't even one media request for him in the post-game.
The Florida prospect tied for the tournament lead with nine points. This after lighting it up for two years in the WHL with Swift Current, where he put up 204 points in 129 games, and won a league title with the Broncos last season.
More Panthers
Every scout or media person I spoke with over the course of the event was marvelling at the play of Florida first-rounder Grigori Denisenko on Team Russia. Not only was he a threat every time he had the puck, but he tied for the tournament lead with nine points, and was named the tournament's best forward and a media all-star.
Shouldering the Load
The Anaheim Ducks announced Team Canada captain Max Comtois was playing with a separated shoulder at the world juniors. Despite the injury, the 19-year-old played the last two games a lot more like he played in the NHL and a lot less like the guy who was criticized for embellishing calls during preliminary play.
No player should ever have to endure what he did after Canada's 2-1 overtime loss to Finland in the quarterfinals. Did the shoulder impact his missed penalty shot?
Talk To Me
Despite the big upset over Sweden, the Swiss were unable to come away with a medal, extending their drought to 22 years. But with a fourth-place finish, we can only hope we will once again be blessed with the candid, passionate, honest words of Swiss bench boss Christian Wohlwend next year.
J-Rob
Made and maintains a reputation for being a sniper in the OHL, but since moving to Niagara and definitely with Team USA, Jason Robertson has shown off his playmaking abilities.
In seven games for the Americans, the Dallas prospect had six assists and seven points. In eight games since his trade to Niagara, he has 14 assists.
His former coach in Kingston Kurtis Foster holds Robertson in the highest regard as one of, if not the best, players in the OHL.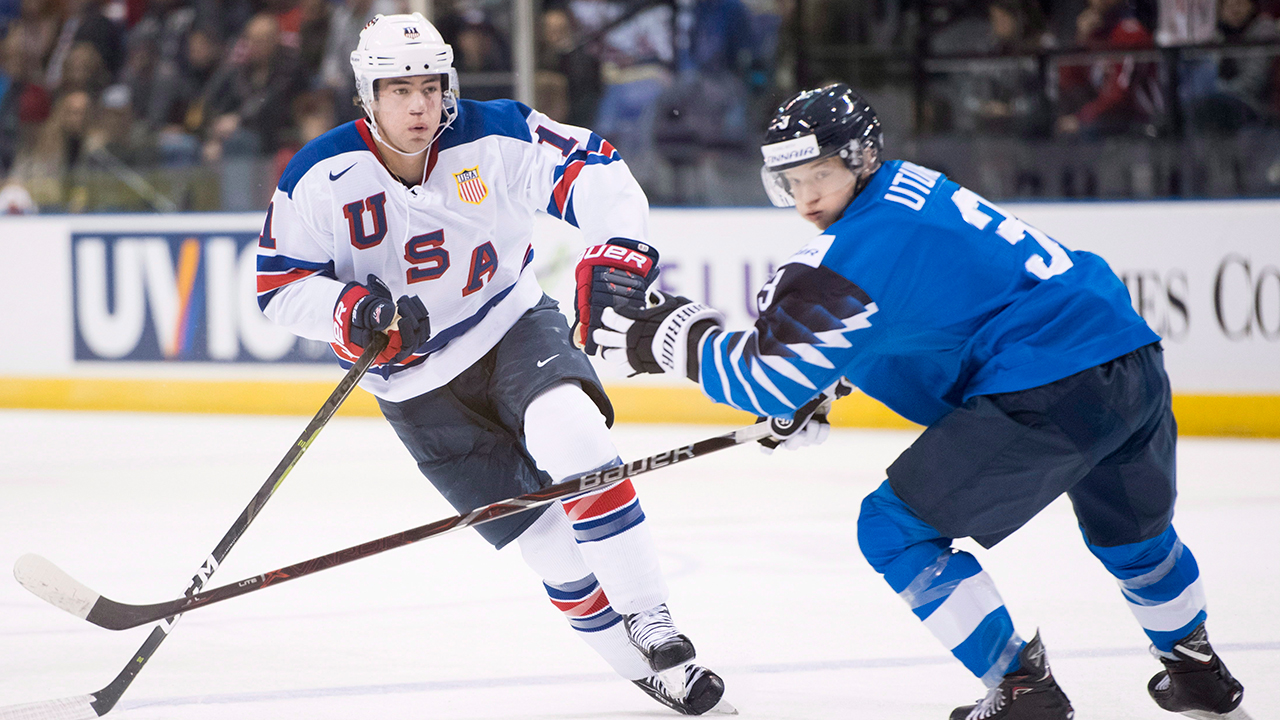 United States' Ryan Poehling (11) fights for control of the puck with Finland's Toni Utunen (3). (Jonathan Hayward/CP)
The Next Ones
It's not a stretch to say we were able to witness the play of the top two projected players in each of the next two NHL drafts. Hughes and Kakko will return to Vancouver in June and will likely go 1-2. But how about Alexis Lafreniere and Anton Lundell, who are already in a battle for projected top spot in 2020?
Habs Not, Hab Nots
No NHL team had a better tournament than Montreal. Ryan Poehling looks so much different in terms of size, strength and skill than he did a year ago for Team USA. He was named MVP, and top forward of the tournament while being named to the media all-star team.
Finland winger Jesse Ylonen opened the scoring in the gold medal game and was effective in putting up six points in the tournament.
Alexander Romanov of Russia was named top defenceman of the tournament. He played like his usual ornery self while leading all defencemen with eight points. Cayden Primeau took over the No. 1 job for the U.S. in goal, and while both Josh Brook and Nick Suzuki didn't elevate themselves above the crowd, there's plenty to like in both of their games.
Bowers for Norris
In losing Shane Bowers in the Matt Duchene trade, Pierre Dorion did well to replace one first rounder with another by adding Michigan's Josh Norris in the Erik Karlsson deal. Norris was 60 per cent in the faceoff circle, scored the game winner against the Czech Republic in the quarterfinals, assisted on two other game-winners and overall played a key role in the American's silver medal effort.
VP
Russia's Vasili Podkolzin was another top draft prospect that left a lasting impression on scouts. He had just three assists, but it was the details in his game that had scouts talking.
Not originally selected to Russia's roster, he played so well in the Junior-A Challenge that he turned a pre-tournament look into a roster spot. From there, he climbed Russia's lineup and earned the trust of head coach Valery Bragin, who rarely relies on youth.
Podkolzin combines high-end skill with grit and determination. He is a projected Top 10 pick in June.
Phil the Net
No surprise to those who watch the Quebec Remparts regularly, but Chicago prospect Philipp Kurashev lead the tournament with six goals for Team Switzerland. His release is impressive, but so too is how much he's able to get on his shots, which are also deadly accurate. Kurashev has scored 58 goals and produced at a point-per-game pace over 157 QMJHL games.
Russia captain Klim Kostin gestures to the crowd after receiving his bronze medal. (Darryl Dyck/CP)
Underrated Part II
San Jose sixth rounder Sasha Chmelevski was particularly effective in the medal round for Team USA. Overall he scored two powerplay markers, had a game-winner and in the semifinal and gold medal games was all over the ice, creating chance after chance.
He's not overly dynamic in any one area, but he is remarkably consistent. He looks like a steal of a pick for San Jose at 185th overall in 2017.
Back it Up
Nine of Sweden's 16 goals came from defenceman. And Columbus prospect Emil Bemstrom had four of the seven scored by Sweden's forwards.
KK14
We are quick to condemn those who act out of the ordinary, but just remember these kids are 19-years-old or younger, and they're that close to their dream, only to see it vanish in a matter of moments, sometimes even seconds.
I won't defend what Russia captain Klim Kostin did with his watch or what I suspected he said by reading his lips in the post-game of the semifinals. I'm also not a big fan of the plugging-of-the-ears celebration.
But he came back around though, applauding the Vancouver fans after receiving his bronze medal.