This story originally appeared in the Nov. 24, 2014 edition of Sportsnet magazine. It has been altered slightly to reflect recent events.
At any given moment, odds are Mathew Barzal is playing, practising or watching hockey. The only things that stand in the way are homework and sleep.
If he's playing or practising, it would be for the Seattle Thunderbirds of the Western Hockey League. If he's watching, it's not casual viewing so much as studying the game, breaking down every shift, making mental notes. "I can't get enough video, really," he says.
---
Click here for ticket information on the Subway SuperSeries
---
It might seem like he'll watch any game, but his viewing is hardly indiscriminate. He spends hours watching NHL action—it might be a live game on an HD screen at his billet's house or highlights of last night's game on his laptop. No matter the size of the screen, he pays special attention to Philadelphia's Claude Giroux, Detroit's Pavel Datsyuk and Chicago's Patrick Kane, three players after whom he tries to pattern his game.
If it's action elsewhere in the Dub, he tries to track what his former minor-hockey teammates from the Burnaby Winter Club are doing across the league. He also keeps tabs on friends he made when he played as an underager on the Canadian team with last year's under-18 squad, like his roommate Jake Virtanen of the Calgary Hitmen. Or those he skated with on the team that went to the Ivan Hlinka U18 tournament last summer, where he picked up seven points in five games on the way to the gold medal. Or he'll catch up on the latest games of other top prospects for the 2015 NHL Draft.
And, of course, Barzal downloads video from every game he plays with the Thunderbirds. That's priority viewing, video he watches over and over again. "I try to see what I can do better," he says. "You see things on video that you don't pick up on the ice."
Seattle coach Steve Konowalchuk likes to sit his players down to show them video as a teaching tool to complement work in practice. With Barzal it's all reruns. "He'll say, 'Yeah coach, I looked at that last night after the game before I went to bed,'" Konowalchuk says. "That's this generation of players—different than when I played. A lot of kids will go to school on it, Matt more than most."
Exactly where Barzal is on the learning curve is still to be determined. As a peewee and bantam at the Burnaby Winter Club, his talent was always measured against that of a kid who had come along a few seasons before him, Ryan Nugent-Hopkins, and many said Barzal had the edge over the BWC alum who was the first-overall pick in the 2011 NHL draft. Seattle selected Barzal with the first-overall pick in the WHL bantam draft in the spring of 2012, and the hype began immediately. In a midsummer national bantam-prospects all-star game, Yahoo ranked Barzal as the first star and gave the runner-up honours to Connor McDavid, who was going directly to the OHL's Erie Otters, with Hockey Canada granting him exceptional player status. It was heady stuff.
During training camp that fall, the Seattle media filed breathless reports about the 15-year-old Barzal tearing it up against established juniors four and five years older. Exceptional-status exemptions are few and far between, and 15-year-olds in the WHL need not apply—they've been sparingly handed out to OHL players to this point. So Barzal headed back to minor hockey, to the Vancouver North East Chiefs, and scored 103 points in just 34 games. When he signed on to join the Thunderbirds in the summer of 2013, the hype ratcheted up once more. "Super-prospect Mathew Barzal signed a contract to join the T-Birds for what is expected to be a remarkable major junior career," Seattle's ESPN radio affiliate announced on its website. Fans in the WHL drew comparisons between Barzal and another Seattle alum—Patrick Marleau, the No. 2 pick of the 1997 draft.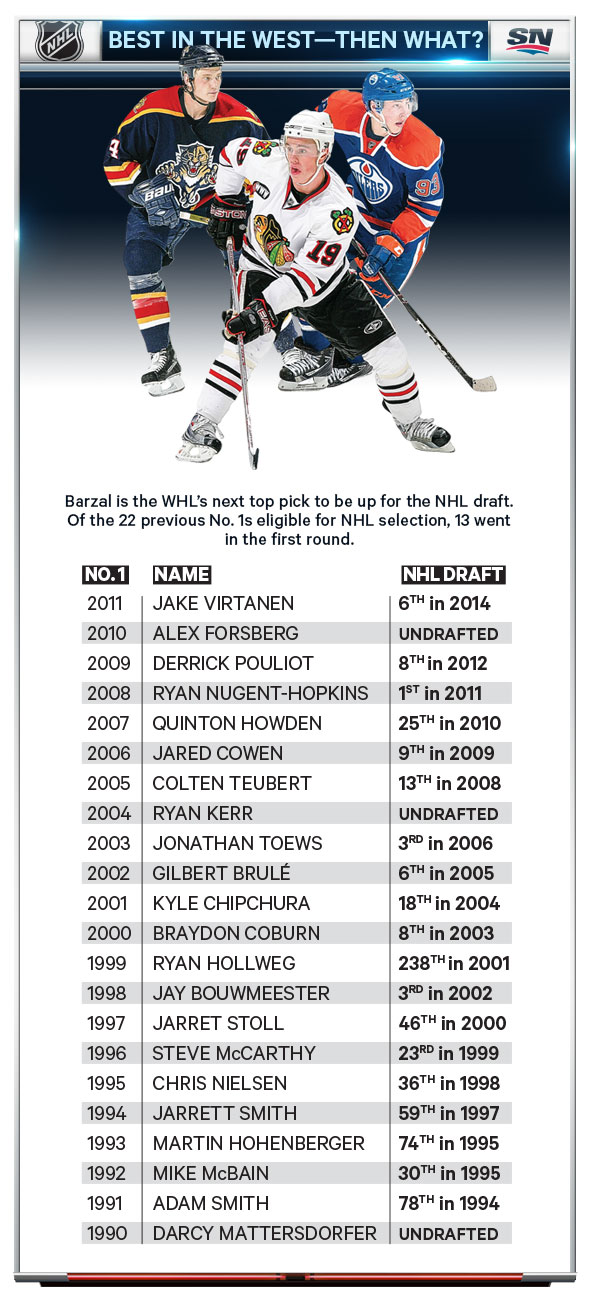 Barzal's rookie season with the Thunderbirds was a reality check. Not that it was bad, by any stretch: 14 goals and 40 assists in 59 regular-season games are solid numbers for a 16-year-old. Still, his trip through the Dub chilled the discussion about Barzal being the No. 3 pick in the draft behind McDavid and Jack Eichel. An elite prospect? A first-rounder? Yes and yes. A top 10? Well, scouts were noncommittal: maybe, should be, we'll see.
Barzal's stock ticked up at the world under-18s in Finland last spring. Kingston's Lawson Crouse, Ottawa's Travis Konecny and Barzal were the three '97 birthdays invited as underagers to play with the Canadian team. Barzal saw more ice time as the tournament went on, winding up with three goals, just one behind Konecny for the team lead. He played his strongest game in the semifinal—after Canada fell behind 3–0 to the Czechs, Barzal picked up a goal and an assist in a comeback that forced overtime. They lost in the OT period, coming away with a bronze medal.
And Barzal had more video to review.
"Everything happens so much faster at that level, with the players that you're playing against and with your teammates," he says. "You have to really anticipate things in a split second."
At the Ivan Hlinka tournament this past summer, Canada wound up not only winning its seventh consecutive Hlinka title but did so in dominant fashion, winning each of its five games by four goals or more. Barzal keyed the rout, tying London's Mitch Marner for the team lead in scoring.
Seattle GM Russ Farwell says Barzal benefited not only from the international play but also from the challenges of his rookie season in the Dub. "Mathew was a dominant player in his bantam year," Farwell says. "There are a lot of expectations that go with that . . . that you're just going to keep on dominating. For a 16-year-old coming into the league like Mathew did last season, there's a transition that you have to make. It's not easy, not even for the best players."
At the very moment you're reading this, it's likely that Barzal is watching video rather than practising or playing. He suffered a knee injury in early November, and recent news has him out until the New Year.
Seatte T-Birds C Mathew Barzal out until early January with cracked kneecap. Scouting for 2015 draft just got a little tougher.

— Damien Cox (@DamoSpin) November 17, 2014
Barzal had screw inserted into kneecap. Didn't injure it in game or practice; did so in Saskatoon goofing around bf practice with teammates.

— Damien Cox (@DamoSpin) November 17, 2014
Still, through the first two months of the WHL season, Barzal had maintained a 30-goal, 70-point pace on a Thunderbirds team that is among the league's youngest. If Seattle hopes to make the second round of the playoffs or go deeper, they'll need Barzal to raise his game even higher when he returns to the lineup. The comparisons to McDavid and Eichel have died down, but talk about the top 10 has heated back up.
Barzal says it's going to be difficult to only watch game action on the sidelines. "Video from this year was a lot better than last year's," he says. "That's all there's going to be for a while."