LOS ANGELES — There will never be another hotel lobby like the JW Marriott in downtown L.A. on All-Star weekend.
Forty-four of the best players right now and 100 of the greatest to ever play, mingling and meeting, laughing and shaking hands. Oh, if Gordie could've seen it.
A once-in-a-lifetime gathering, its importance not lost on a soul.
"Walking around the hotel and coming in and out of elevators and randomly seeing guys like, 'Holy crap!' I saw Fedorov today, Forsberg yesterday," Brent Burns said.
"Those are the things you take away when it's all said and done."
Here are 17 more awesome things about the 2017 All-Star Game we'll take away.
Carey Price just met Wayne Gretzky for the first time.

"What did you say to him?"

"Hi."#NHLAllStar

— luke fox (@lukefoxjukebox) January 28, 2017
1. Gretzky's triumphant return to coaching.
Wayne Gretzky didn't exactly have a pristine NHL coaching record (143-161-24 to be exact), but his all-star game record is a perfect 2-0.
"He came up to me and said, 'Hi, I'm Wayne Gretzky,' " said a giddy Sergei Bobrovsky. "Something unreal."
Subbing in for the absent John Tortorella and assisted by longtime Oilers teammate Paul Coffey, Gretzky's Metropolitan squad defeated the Pacific, last year's champs, 4-3 in the tournament's thrilling final game.
"Wayne Gretzky is the greatest player to ever play this game," Wayne Simmonds said after scoring the tournament-winner. "To get a chance to play for him was an honour."
How great of an all-star coach is Gretzky? So great, Taylor Hall said he didn't even need to make a pre-game speech.
"His presence is enough," Hall said. "You don't want to let a guy like that down."
2. Video review playing a pivotal role in the all-star game is so NHL.
Hey, when there's a million bucks at stake, you pull out all the stops.
The players were told in advance that borderline goal-scoring plays would get a second look. Sure enough, Ryan Kesler's would-be tying goal was challenged by Gretzky and revoked due to an offside.
"Obviously he's got a great hockey mind. He pulls that card, it's offside, and come back, we score two goals and we win the game," Simmonds said. "That was the game changer."
John Tavares said the Metro was laughing about it after the victory: "It made a big impact in the game."
3. Justin Bieber got mashed into the glass by Chris Pronger in a charity game…
…and Associate Press photographer Mark J. Terrill was right there to immortalize the moment, creating a viral smash. Even Brendan Shanahan chimed in.
4. Wayne Simmonds had one of the best days of his life.
Wayne Simmonds, All-Star MVP. How does that sound?
"Weird," said Simmonds, whose three-goal effort earned him a Honda Ridgeline. "They asked me how does being an all-star sound, and I said 'weird.' It's awesome."
Simmonds was traded away from the Kings when he was 22 but was welcomed back with open arms by L.A. fans.
"When you leave a place, you don't expect to come back and get all the cheers as I did today, but I must have did something right when I was here," Simmonds said. "I know I had a lot of die-hard fans here and I really appreciate those people.
"It was one of the best days of my life."
And he's paying the truck forward.
"I don't need it," Simmonds said. "Maybe I donate it, maybe I give it to a family member."
5. Vladimir Tarasenko got brutally, wonderfully honest.
Post-game scrums with the losing all-stars are awkward affairs if done straight-faced. Questions about disappointment or strategy or breaking down specific plays are all a bit silly when the result is mostly meaningless.
Vladimir Tarasenko knows this and couldn't muster the strength to pretend otherwise.
"I really can't talk about this game seriously," he said.
6. P.K. Subban was onstage with Snoop Dogg during a killer Saturday night party.
The Central Division captain ranked his hype man duties right up there among his lifetime highlights.
"I don't know many people who get a chance to be onstage with Snoop Dogg and do a couple songs with him," Subban said.
"I felt like a rapper for an hour and a half."
7. Crosby and Ovechkin are now "best friends."
Coach Gretzky smartly gave the people what they wanted, pairing lifelong rivals Sidney Crosby and Alex Ovechkin on the same line.
Ovechkin assisted on a Crosby goal, his first ever in an all-star game. And Sid returned the favour with this:
Ovechkin was asked if he and Crosby are friends now.
"Yeah, best friends. How I always said," Ovie replied. Beauty.
8. A flood of players joined the first-timers club.
Fifteen different skaters all scored their first all-star goal, including Crosby, Connor McDavid, and Auston Matthews.
9. Those Central Division gloves.
The Central Division wore sparkling white gloves, and they looked awesome with the purple sweaters.
"I like them. They're pretty cool," Patrick Kane said of the fashion made popular by mimes. "I'd never worn white gloves before, so it was fun."
10. All that talent on one sheet.
Sport may never see a better player introduction. Having each all-star skate out and hit mitts with the NHL 100 legends, all sweatered up, was a stroke of brilliance. The current players facing the myths during the anthems was an incredible visual.
"As you go down the line, you're wide-eyed seeing the amount of players standing there in their jerseys," Kane said.
Chills.
"Every single guy you're giving a fist bump to is an NHL legend," said Kyle Okposo. "Never going to do that again."
The most talent ever gathered on a single sheet of ice. #NHL100 #NHLAllStar pic.twitter.com/Af7FVpwC78

— NHL (@NHL) January 29, 2017
As an added touch, the all-stars skated to the NHL 100 and paired off for one giant, simultaneous puck drop.
Cute to see Jaromir Jagr drop the puck for Okposo.
"It's funny," the Sabres forward chuckled. "I still play against him four or five times a year."
11. Patrick Kane got humbled.
Always with a significant presence at major NHL events, the Blackhawks iced an entire 3-on-3 unit: Duncan Keith, Patrick Kane, and Jonathan Toews — plus Corey Crawford in net.
The three skaters were also named to the NHL 100.
Kane relished his chance to play with Denis Savard in the celebrity game and the two hours of conversations he had with the NHL 100 Friday night.
"Throughout the whole process, you wonder why you're even there. I remember sitting there with Duncs and saying, 'You feel out of place here?' He was saying the same thing," Kane said. "Having conversations with those guys and seeing how down-to-earth they are, how funny and witty they are, and how complimentary they are of your game… that's what I'll take from this."
12. Ilya Bryzgalov is employed.
13. Ryan McDonagh sacrificed his body.
Kick save, and a beauty.
"An unbelievable blocked shot," Bobrovsky commented.
Yes, the New York Rangers captain hopped in the crease and made a game-saving, million-dollar block with his leg.
"It doesn't happen too often in this sport, where you make a desperation block like that," McDonagh said. "Those plays are pretty rare, pretty lucky."
14. The players are getting feverish about the Olympics.
While the league's tone on 2018 Olympic participation is far from optimistic, it's great to hear stars speaking up on the topic and taking an impassioned stance.
In addition to Jonathan Toews, Brad Marchand delivered a good speech on the Games.
"We want to go, there's no question about it. It would be a big blow to guys to not be there. You want to represent your country anytime you can, and that's the highest level. Not only are we going to be let down, the fans will be let down. The Olympics just won't be the same without hockey. Every year, that's the biggest sport by far. That's the one everyone watches," Marchand said.
"It will be extremely disappointing if they make that decision. The Olympics are supposed to be the best in the world. How can you send anyone else to go?"
15. Auston Matthews made his mark among the greatest of peers.
Ovechkin asked the rookie if he could have one of his sticks, and Atlantic coach Michel Therrien tapped the teenager to take the opening draw against Crosby.
"I did it on purpose. We had the last change, and I saw Sid out there. I thought it was good for the NHL: Matthews against Crosby. It's a good experience for him," Therrien explained.
"He's gifted. He's the future of the NHL."
Matthews said Crosby had fun chirping him at the skills contest but was serious in the circle.
"He was cheating hard. Then he took the puck and started flying down the ice," Matthews said. "I looked at Marchy after that and said, 'These guys are going, so we gotta pick it up.' "
16. Cam Atkinson proved he deserved to be there in the first place.
High on my list of All-Star Game omissions, Cam Atkinson needed to cancel a fun trip to New York with his fiancee when he got the call to sub in for the injured Evgeni Malkin.
"I felt I played well enough to maybe get the nod, [but] you can't let it get to you. I'm here now, so it's pretty cool," Atkinson said.
The Blue Jacket looked fantastic, scoring thrice and picking up a pair of assists. A big reason why the Metro won the money.
"I got a wedding to pay for this summer, so this is definitely going to help out," he said.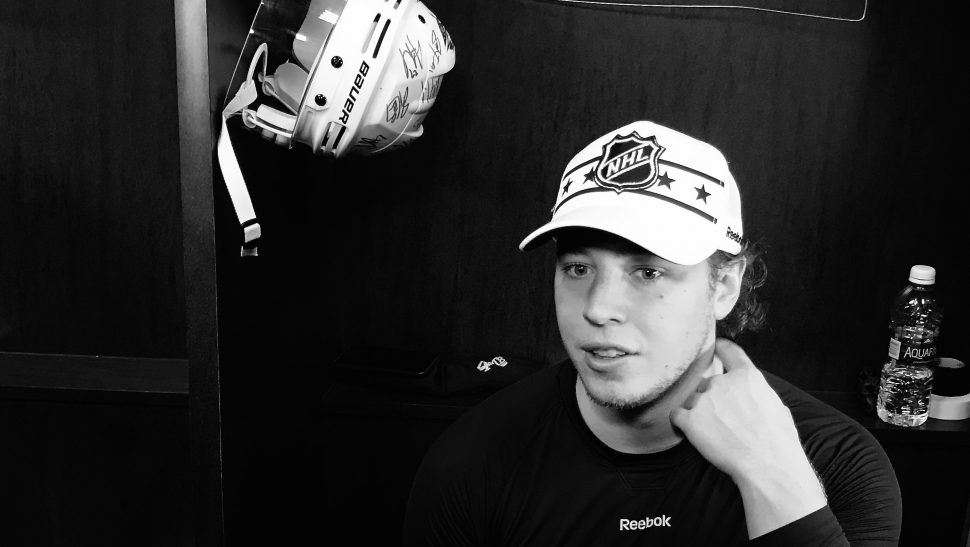 17. Brent Burns made a great case for Joe Thornton to be among the NHL 100.
Bothered by the omission of Joe Thornton from the NHL's 100 greatest, I asked Burns for his opinion.
He gave this answer::
Brent Burns on Joe Thornton not making the #NHL100 list. #NHLAllStar pic.twitter.com/sJ1r0TXedp

— Hockey Night Punjabi (@HkyNightPunjabi) January 28, 2017
Bonus Burns: Brent put his winnings from last year's All-Star Game toward a new RV.
"I was trying to keep it away from the lady, though. Trying to keep it away from the wife. Holy. I had her fooled. She thought it was $1,000, then somebody told her it was more and she got me," he said, cracking everyone up.
"I'm going to get in trouble for that."
Legendary Bobby Orr tugs a legendary beard. #NHLAllStar pic.twitter.com/40dHQGPVxU

— NHLPA (@NHLPA) January 29, 2017