Sean McIndoe (aka Down Goes Brown) will be contributing to sportsnet.ca on a regular basis. Follow him @DownGoesBrown
With Monday afternoon's trade deadline looming, hockey fans are expecting a whirlwind of deals over the next few days. The moves will range from minor to major, and if we're lucky we'll even get a few old-fashioned blockbusters thrown into the mix. And we'll devour them all, because NHL trades are always fun.
That's especially true when the trade involves your favourite team. So now, during what's left of the calm before the storm, it's a good time to prepare yourself for your team's pending moves. Every trade is different, but all fans go through a specific set of stages when they find out their team has struck a deal. You've been there before, and the chances are good that very soon, you'll be there again.
Here are the 20 stages of finding out that your favourite team has made a trade. If and when they get involved in the action, feel free to check them off as you go.
Stage 1: Hearing that your team may have made a deal
The first stage usually starts with a tweet or an on-air comment from an insider that they're "hearing something might be up."
Once you see your favourite team mentioned, it's time to go into shutdown mode. All work at the office grinds to a halt. Commuters pull over to the side of the road. It's perfectly acceptable to stand up in the middle of class and yell "SILENCE" at your teacher or professor. All the normal rules of etiquette and social order are suspended until the deal is announced.
Stage 2: Rampant speculation about what the trade might be
This is the fun part. In the brief period between hearing about a deal and knowing the full details, your imagination can run wild. Maybe it's a mega-blockbuster. Maybe it's the kind of move that puts the franchise on the road to a championship. Maybe all the guys you can't stand are being shipped out, and all your favourite players are on the way in. For a precious few moments, the possibilities are endless.
The point is, this is a time for wild conjecture and baseless speculation. Enjoy it. Revel in it. There's no need to pump the brakes.
Stage 3: Wondering if Connor McDavid will wear a different number on his new team
OK, maybe pump the brakes a little bit.
Stage 4: Finding out the details of the actual trade
It's never quite as big a deal as you hoped it would be. But still, a trade is a trade. Time to get to started on working through all the ramifications.
Stage 5: Immediately talking yourself into the biggest name your team just acquired
Instinct kicks in, and as a fan, your instinct is to believe. So yes, this is exactly the sort of player your team has needed. You only get so many opportunities to improve in this league, and you have to grab them when they come along. Besides, the change of scenery will probably give the new player a boost. Not like he needed one.
This is a great trade. You like this guy. You've always liked this guy.
Stage 6: Casually deleting years of tweets, blog comments and forum posts where you made fun of the new guy
No, really, when you said he was "an overpaid boat anchor who'll inevitably drag down any team dumb enough to employ him," you meant that in the good way.
Stage 7: Wondering about the new guy's stats
It's always fun to really dive into a new acquisition's numbers. How many career goals does he have? What about his plus-minus? What's his Corsi?
Stage 8: Through force of habit, accidentally looking for those stats on the redesigned NHL.com
Hmmm, looks like his career goals total is "404," his plus-minus is a page-loading icon spinning endlessly into the void, and his Corsi is a GIF of a wombat falling off of a unicycle. Cool. Very useful site.
Stage 9: The first nagging doubts about the player your team just added
He's definitely good, right? I mean, he's not perfect, but no player ever is. And maybe he didn't come cheap, but you have to give up something to get something. Besides, if your team hadn't stepped up and paid the price, somebody else would have.
So it's fine. Everything is fine.
Stage 10: Overrating any and all draft picks involved in the trade
When it comes to evaluating a newly completed trade, the rule of thumb is that all draft picks immediately assume the same value as the best player ever taken in that round.
That's just how it works. Did your team just give up a third-rounder? Say goodbye to Patrick Roy. Did they acquire a fourth? Enjoy Jari Kurri. Did the two teams exchange sixth-round picks? Brett Hull for Pavel Datsyuk?
Every draft pick acquired in a trade is an absolute sure thing, right up until draft day. After that, you'll never hear about any of them ever again.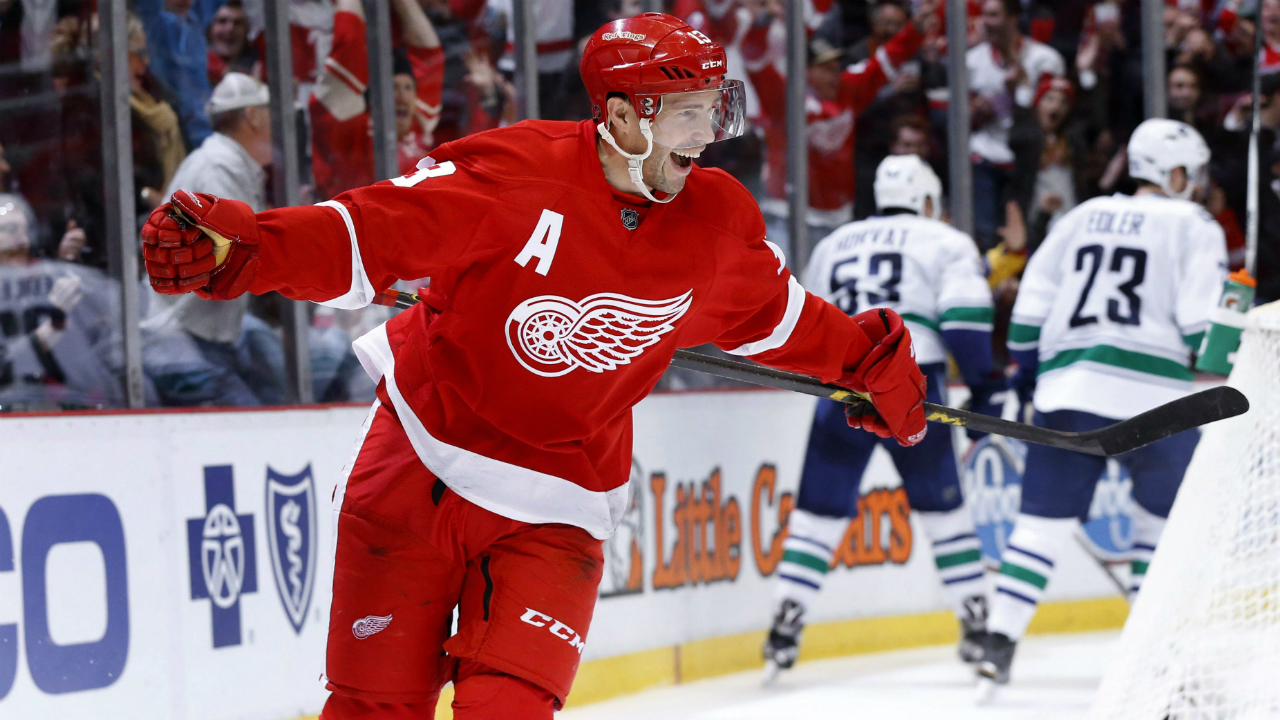 Pavel Datsyuk was drafted in the sixth round, so naturally you can freak out over any draft pick your team trades/acquires. (AP Photo/Paul Sancya)
Stage 11: Coming across the analytics chart
Eventually, somebody will post a chart that contains all of the player's key advanced metrics in one place. Will you read it? Yes. Will you understand it? No. Nobody ever does. But it still makes you vaguely uncomfortable. The red circle over in that corner is bigger than the blue one in that corner. Is that bad? It seems bad.
Stage 12: Worrying about the salary cap
In the modern NHL, no transaction can be evaluated without knowing the salary cap implications. Any completed trade is, at its essence, a straightforward exchange of assets, and the value of those assets can only be measured in relation to their costs.
A player's cap hit and term, along with any retained salary included in the transaction, is the key factor that will determine whether a team has received adequate…
Stage 13. Suddenly remembering that real fans don't care about that stuff
Gary Bettman said so, remember? When has Gary Bettman ever been wrong?
Stage 14: Starting to have serious doubts about this whole thing
On paper, I guess it's OK. But that cap hit is kind of ugly, and you never really know with picks and prospects. What about the impact on the dressing room? What kind of message does all this send to the organization's young players? And then there's the opportunity cost – what kind of deals are they leaving on the table because they made this one instead?
Is this really the best they could do? It can't be.
Stage 15: Running into a fellow fan who hasn't made it past Stage 5 yet
Literally running into him. As in, he greets you with "Did you hear about the deal? I think it's a really good…" and you immediately charge over and forearm him in the throat.
Stage 16: Admitting that the trade includes one player that you've never heard of
Every trade, no matter how big a blockbuster, has to have that one guy nobody has heard of. Call it the Roman Vopat Rule.
Still, the inclusion of this mystery player adds a certain element of fun. Who is this guy? Is he a prospect? A role player? A Sidd Finch-style unknown, ready to walk in and take the league by storm? He must be there for a reason. NHL GMs don't just include guys in trades for no reason.
This means something. It has to.
Stage 17: Realizing that the mystery guy was just a throw-in to balance out the 50-contract limit
Damn you, 50-contract limit. You complicate everything.
Note: if this trade involves the Maple Leafs, any throw-ins will stay on their old team even though they were just traded and everyone will somehow be OK with this and never mention it again.
Stage 18: Someone in the media "reports" the trade, even though it was already out there
This will make you irrationally angry, for reasons you're never quite sure of. It may also result in you screaming, "YEAH, THREE MINUTES AGO" at your screen.
Look, you're a little jumpy right now. Maybe the sixth coffee was a bad idea.
Stage 19: Unbridled panic
This is a disaster. Your team just got ripped off. They just screwed their salary cap for years to come, they added players who are either has-beens or never-weres, and they simultaneously managed to get worse both today and for years down the line. Life was so much better back before you found out about this deal.
Remember Stage 2? You miss Stage 2. At least back then you had hope. Now, there is no hope. There is only misery. Why do you ever cheer for this team? Fire them. Fire everybody.
Stage 20: Calmly reassuring yourself that your front office must know what they're doing
Stop. Take a breath. Relax.
Sure, this deal has plenty of unknowns. But there are always unknowns when it comes to a trade. Nobody can predict the future, and it's silly to try.
But you do know this: Your favourite team has a front office full of good hockey men, guys who've spent lifetimes learning the ins and outs of the game. You're just some fan. They're the experts. And if they think this deal was worth doing, there's really no rational reason not to believe in them.
They have a plan. All you need to do is trust in the plan. Everything will be OK.
(Note: Stage 20 may not apply to Vancouver Canucks fans.)