It's that time of year again. The Hockey Hall of Fame will announce its 2016 inductees Monday.
Last year saw Sergei Fedorov, Phil Housley, Nick Lidstrom, Chris Pronger and Angela Ruggiero named to the Hall, and it will be impossible to hit that high-water mark with those who are eligible this time around — perhaps making this year so interesting. Is it finally Eric Lindros's time?
Debate will rage with the announcement but why wait? Here are some candidates in the player category, men's and women's.
Eric Lindros and Paul Kariya
These two are paired here not just because of their prolific careers but for the spectre of head trauma that surrounded them both.
Particularly in Lindros's case is this dynamic important. The dominant and bruising forward who played his best hockey with the Philadelphia Flyers has been in the Hall of Fame conversation since he became eligible. What's different now is the concussion conversation has shifted dramatically year to year. While Lindros may have been criticized in years past for his checkered reputation – deserved or not – he may now be a more sympathetic vote for the Hall with more and more understanding of how head trauma affects players.
One of his disputes with the Flyers during his career was his decision to remove himself from play due to concussion concerns. Do the voters take this into consideration? Likely not, but history might look back more fondly on Lindros the more the hockey world learns about hits to the head and how they impacted perhaps the best NHL player of the mid-'90s.
He now publicly promotes concussion education and was elected to the Oshawa Sports Hall of Fame this past May.
Lindros tallied 865 points in 760 games, 600 of those between 1992 and 1999. Though he doesn't have a Stanley Cup ring, he has a Hart trophy and Olympic gold medal to his name as well as gold at the 1991 world junior championship.
Kariya is the next most notable superstar whose career was cut short by head injuries. He scored a remarkable 989 points in 989 games as a smaller player in an era when players like Lindros brought the collective height and weight of the NHL up a few notches. He scored 50 goals in 1995-96 with the Anaheim Mighty Ducks, finishing with 402 over his career. He won three gold medals with Canada internationally (including the 2002 Olympics), was named to the NHL all-star game seven times and won the Lady Byng twice.
Lindros and Kariya were also both victims of the infamous heavy hitting of New Jersey Devils defender Scott Stevens. In Kariya's case though, he got "off the floor and on the board" in this memorable Stanley Cup final goal from 2003.
Chris Osgood and Curtis Joseph
One has a Cup while the other doesn't. One played on one of the most dominant teams in a generation while the other predominantly played for underachievers.
Both goaltenders deal with stigmas but both are right on the cusp of the Hall. Osgood won the Cup twice as a starter with the Detroit Red Wings while Joseph has the fourth most wins of all time – the most for a goalie not already in the Hall. Osgood had six 30-win seasons (one each with the Islanders and Blues) and took home the William Jennings award twice for least goals against. Joseph had seven 30-win seasons but never even reached the Cup final nor did he win an individual award (though he was a Vezina finalist three times.) Joseph has a gold medal from the 2002 Olympics but lost the starter's job to Martin Brodeur.
Will Osgood's team success or Joseph's individual heroics be enough? Both could be left off the ballot yet again.
Watch this Joseph highlight from the 1997 playoffs. His save on the Dallas Stars in overtime of Game 7 led to the Edmonton Oilers' winner just seconds later. Take a look at the reaction of both Ken Hitchcock and Bob Gainey.
Dave Andreychuk and Theo Fleury
Andreychuk's prolific goal scoring is the best argument for inducting one of hockey's best net-front guys. Before Tomas Holmstrom and after Phil Esposito, Andreychuk's ability to stand in front of the net and collect goals in the roughest part of the ice was unparalleled. His 640 goals is 14th all time and he captained the 2004 Tampa Bay Lightning to a Stanley Cup victory. Remarkably, he is sixth all time in games played, though Jaromir Jagr is sure to pass him next season. He's first all time in power-play goals with 274.
Fleury is a tale of two careers: the notoriety and Cup success of his early years and the personal struggles near the end. He's 61st all time in points with 1088 in 1084 games with 67 game-winners and 11 OT goals. He won a Cup with the Calgary Flames and a gold medal with the 2002 Canadian Olympic team. Certainly, his personal struggles off the ice may influence his potential induction but, like Lindros, the hockey world is perhaps more receptive to hearing and sympathizing with Fleury now that his story is better understood. He also has a Canada Cup and world junior title to his name.
The women's game: Kim St. Pierre and Danielle Goyette
There are two potential spots for women to join the Hockey Hall of Fame each year and these two have both been leaders in the women's game for years.
Kim St. Pierre is one of Canada's most decorated goaltenders, winning gold at the Olympics in three straight tournaments (2002, 2006, 2010). She is Canada's all-time leader in international games played (83), wins (64), and shutouts (29).
Former Team Canada goaltender Sami Jo Small spoke with Sportsnet Sunday about both St. Pierre and Goyette. She said St. Pierre "pushed every goalie in [Canada] to be better," and was at her best "when it mattered most." While Small had to sit on the bench, watching St. Pierre play in 2006, it was worth it to watch "one of the best in the world."
St. Pierre retired in April of 2013.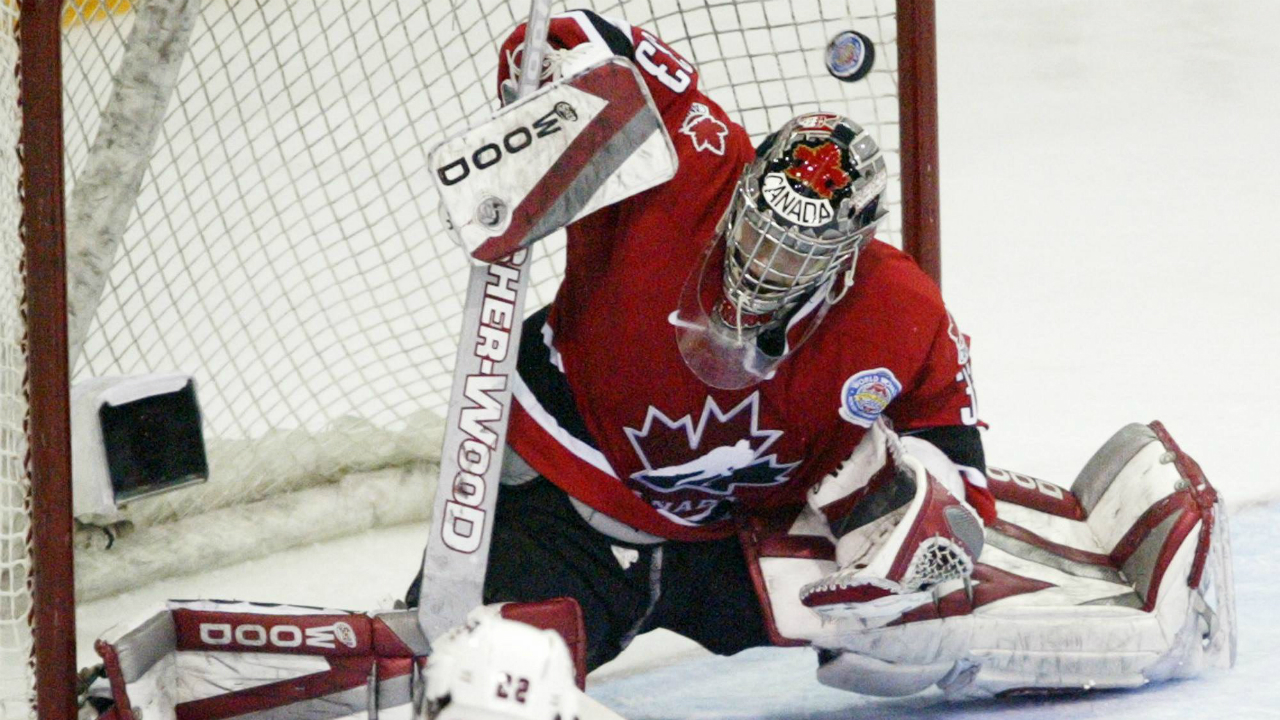 Canada goaltender Kim St. Pierre at the 2004 World Women's Ice Hockey Championship in Halifax, N.S. (CP PHOTO/Frank Gunn)
Danielle Goyette has an unbelievable 10 gold medals to her name, two in the Olympics (2002, 2006) and eight in the world championships. She also won a silver medal in the 1998 Olympics. The IIHF website calls her the "Gordie Howe of women's hockey" and notes that she had more points in her final world championship at age 41 (11) than she had 15 years earlier at age 26 (10).
When she retired in 2007, she was second all time in Olympic goal scoring (15). She was Canada's flag bearer at the 2006 Olympics in Turin.
"Danielle was the most efficient skater we have ever seen in the game," said Small, who called Goyette one of Canada's best leaders on the ice.
"You never really knew where she was on the ice," Small said – a high compliment from a goaltender.
Goyette is a member of the IIHF Hall of Fame as well as Canada's Sports Hall of Fame.