Only the sad-sack Colorado Avalanche have a better shot of landing the first-overall selection in the 2017 NHL Draft and the chance to select No. 1 prospect Nolan Patrick than the Vancouver Canucks.
Patrick, 18, held his spot atop NHL Central Scouting's prospect rankings and spoke to News 1130's Rick Dhaliwal this week about the notion of joining a Vancouver club that has increasingly — if gradually — embraced its status as a rebuilding team.
"That would be amazing to go there. If I get picked by Vancouver, it would be an honour to go there," the Brandon Wheat Kings forward told Dhaliwal.
"I am a two-way centreman. My hockey sense and vision are my best attributes, and I'm not afraid to get dirty."
The Canucks represent the best chance for a Canadian franchise to win the lottery for a third consecutive season.
But unlike Toronto's lucky victory in 2016 (Auston Matthews) and Edmonton's in 2015 (Connor McDavid), Patrick — who's been battling injuries this season — is neither a consensus No. 1 nor a generational player. Six-foot Swiss centre Nico Hischier, who exploded for 86 points in 57 games for the Halifax Mooseheads, has won over many a scout.
Still, NHL Draft Lottery night in Toronto (airing April 29 at 8 p.m. ET on CBC, NBC and TVA) will be chock full of anticipation. Here are the odds of all 15 clubs with a chance to win the No. 1 pick.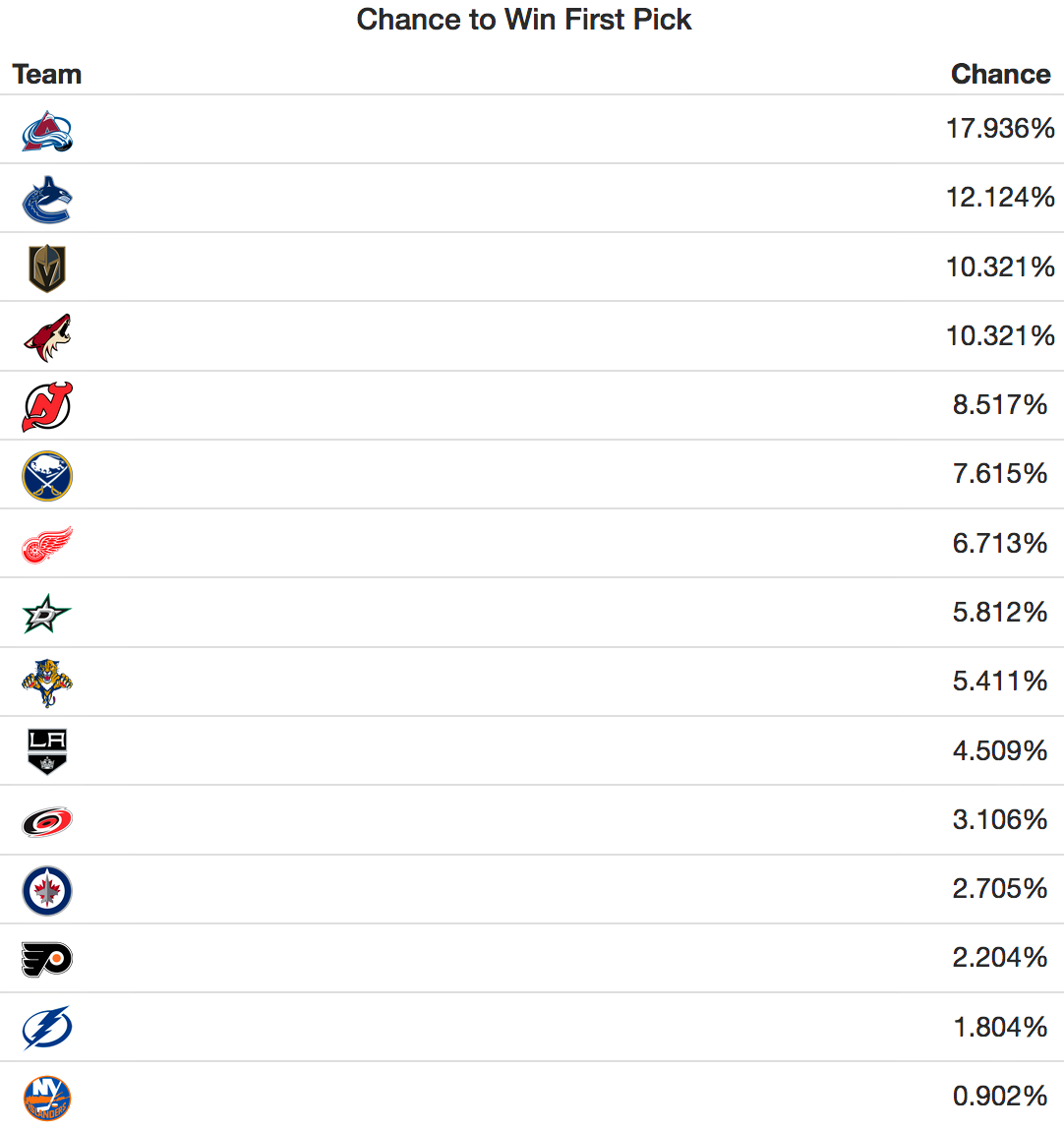 The Vegas Golden Knights introduce a significant wrinkle to the 2017 lottery, as they will be afforded the exact same odds as the team finishing the regular season in 28th place (Arizona). Vegas is guaranteed no lower than the sixth-overall selection.
To accommodate the addition of a 15th lottery team, the odds for all other participating clubs have been reduced proportionally from the odds utilized in last year's lottery.
Only the top three picks are up for grabs. The 12 clubs not selected in the lottery will be assigned NHL Draft selections four through 15, in inverse order of regular-season points.
Here's a look at the chances of the two Canadian teams with ping-pong balls in the hopper to land a top-three selection.
Vancouver saw your tank job, Arizona, and outdid you down the stretch. Draft-wise, the Canucks wrapped up their disappointing campaign in the best way possible: by losing eight consecutive games and plummeting their record to 30-43-9. Their 69 points gave them one less than the Coyotes and roughly a two per cent edge over Arizona and Vegas in the lottery.
Chance at No. 1: 12.1%
Chance at No. 2: 11.8%
Chance at No. 3: 11.3%
Worst possible draft position: 5th
Much like last season, Winnipeg's admirable display of end-of-season pride worsened its lottery odds. Of all the irrelevant teams skating out the string, the Jets were once again the best, winning their last seven straight and 10 of their last 12. This is good news if you believe karma is more powerful than math. And we all know how karma repaid Kevin Cheveldayoff last spring.
Chance at No. 1: 2.7%
Chance at No. 2: 2.9%
Chance at No. 3: 3.2%
Worst possible draft position: 15th
[relatedlinks]
The 2017 NHL draft lottery can be simulated here. (Warning: It's pretty addictive.)
Here is the complete breakdown of every non-playoff team's odds of either moving up or down when the lottery unfolds: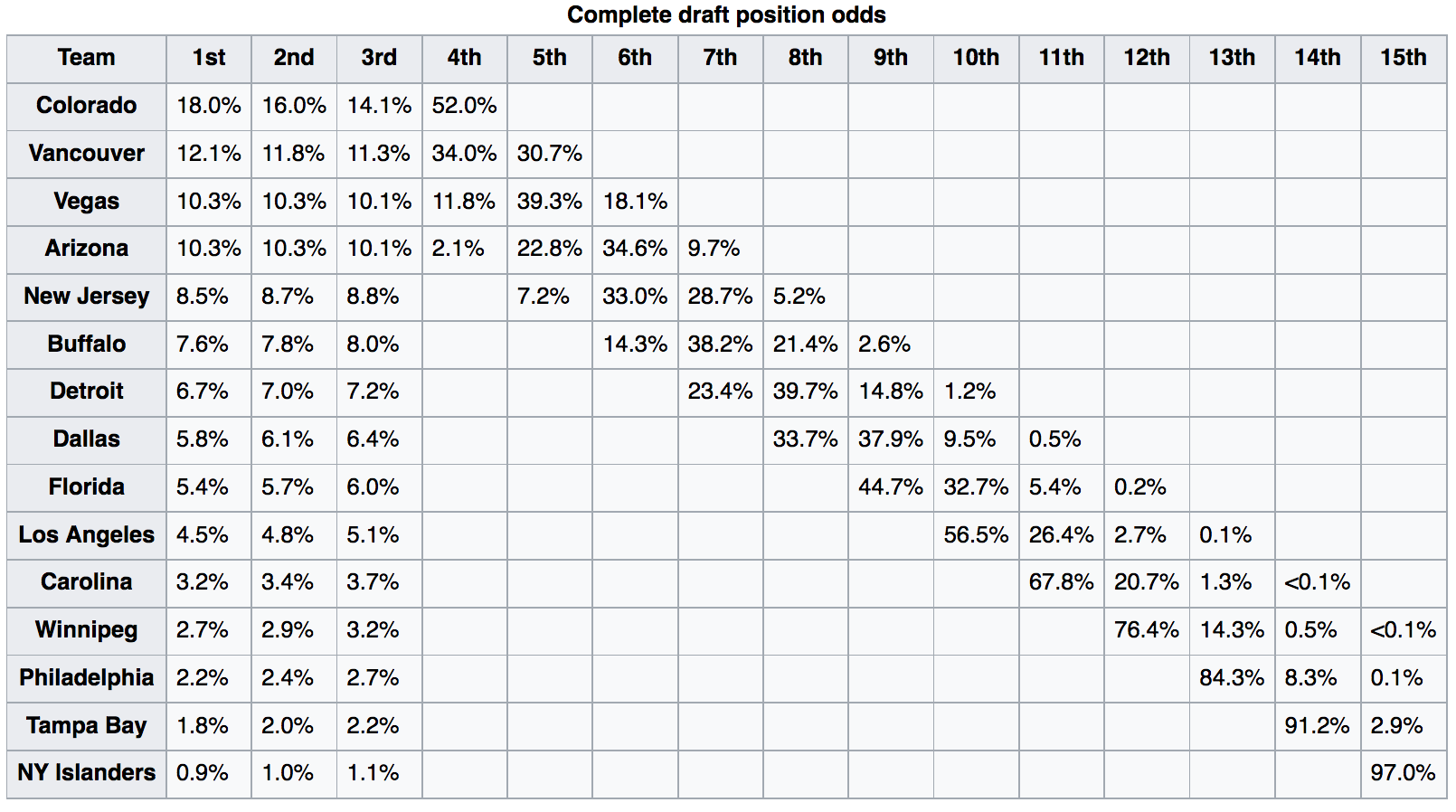 The 2017 NHL Draft will take place at Chicago's United Center in Chicago on June 23 and 24.