These two rivals last met in the 2014 Stanley Cup Playoffs, a conference final series that was defined by a controversial play and an injury to Montreal's MVP. Chris Kreider, a known crease-crasher, did just that in Game 1, injuring Carey Price who was forced out of the rest of the series. Montreal lost the opener 7-2 and went on to fall in six games. Had the Canadiens been able to play the whole series with Price, you have to wonder if the Habs could have pushed through to the Stanley Cup Final for the first time since 1993.
While Price and Henrik Lundqvist, two of the best goalies in the game today, will be the focal point of this series, the Rangers-Canadiens first round match up features more star power than that as both teams have Stanley Cup aspirations. If the Habs are eliminated, the P.K. Subban-Shea Weber trade will surely be scrutinized all over again, and they'll head into the summer desperately needing to address a lack of centre depth. If the Rangers are the ones to go, it'll mark their second consecutive first round exit and their blue line will be in need of upgrades this summer. Time is running out for them to win with Lundqvist.
Both of these teams have a lot to lose in this first round matchup of titans.
BROADCAST SCHEDULE
G1 Wed., April 12 New York Rangers @ Montreal, 7 p.m. ET CBC
G2 Fri., April 14 New York Rangers @ Montreal, 7 p.m. ET CBC
G3 Sun., April 16 Montreal @ New York Rangers, 7 p.m. ET / 4 p.m. PT SN
G4 Tues., April 18 Montreal @ New York Rangers, 7 p.m. ET CBC
G5* Thurs., April 20 New York Rangers @ Montreal, TBD
G6* Sat., April 22 Montreal @ New York Rangers, TBD
G7* Mon., April 24 New York Rangers @ Montreal, TBD
ADVANCED STATS:
Montreal: 52.54 5on5 CF% (3rd), .933 5on5 Sv% (4th), 7.50 5on5 Sh% (18th), 100.75 PDO (9th)
NY Rangers: 47.96 5on5 CF% (26th), .923 5on5 Sv% (17th), 8.82 5on5 Sh% (3rd), 101.13 PDO (6th)
TEAM STATS:
Montreal: 19.6 PP% (13th), 81.1 PK% (14th), 223 GF (15th), 198 GA (5th)
New York: 19.8 PP% (12th), 79.8 PK% (21st), 253 GF (4th), 216 GA (12th)
HEAD-TO-HEAD RECORD
Montreal: 3-0-0
NY Rangers: 0-2-1
[snippet id=3332601]
Montreal Canadiens Outlook: With a healthy Carey Price this season, the Canadiens got right back on track, although it did almost go off the rails again in January and February. The team lost 12 of its final 18 games under coach Michel Therrien, forcing GM Marc Bergevin to hire Claude Julien days after he was let go by rival Boston. From there, everything was right again as the Habs won 16-of-24 games under Julien. Shea Weber has been everything the Habs hoped, logging more than 25 minutes per game, bringing a highly physical game and an explosive shot that earned him 17 goals. Twelve of those came on the power play, to lead all NHL blue liners. The lack of quality depth at centre is their weakness, especially with Alex Galchenyuk moving back to the wing. The low-risk, high-reward signing of Alexander Radulov has paid off in a big way for the Habs, and Max Pacioretty continues to (somehow in the Montreal market) quietly produce as one of the league's most elite goal scorers. But the Habs have more bottom-six-type players than consistent producers up front, so if one of their top two lines goes cold, they could be in trouble even with Price.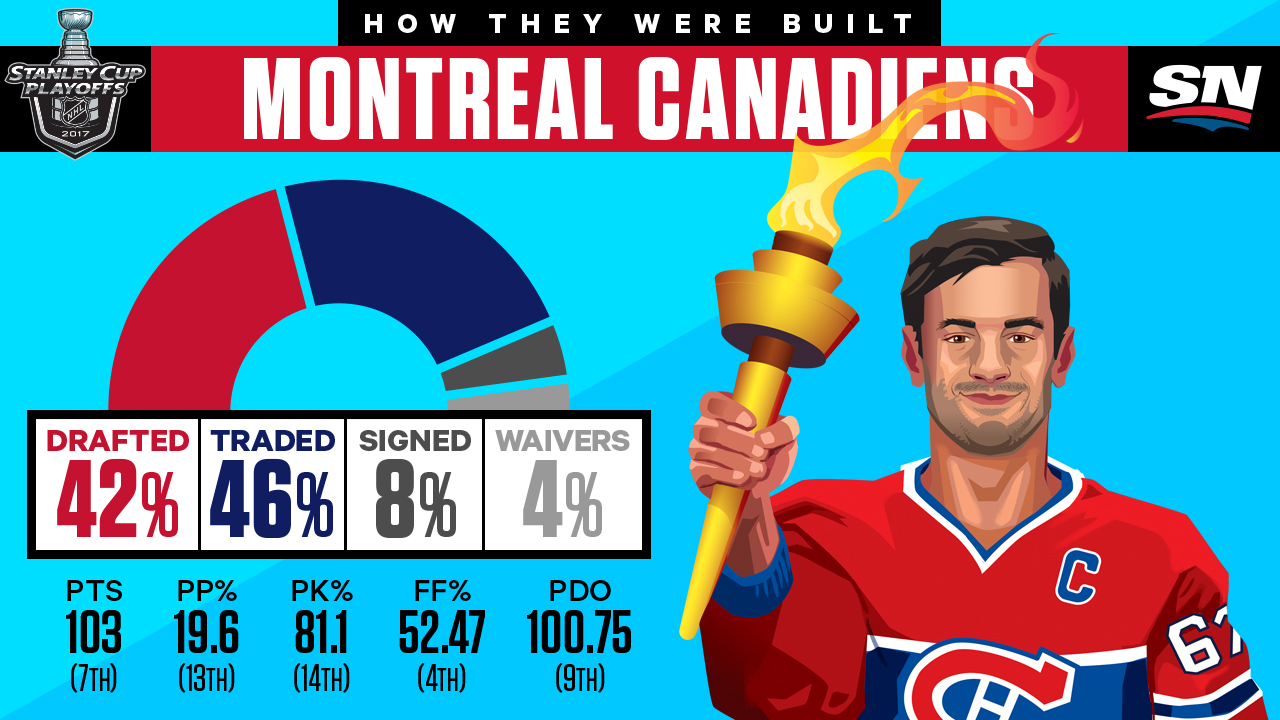 New York Rangers Outlook: Even though Lundqvist failed to post a save percentage of at least .920 for the first time since 2008-09, the Rangers were still a 100-plus-point team for the third season in a row. They average allowing more shots than they get by a slim margin, but are one of the highest-scoring teams in the league without a true star on offence. The Rangers had seven players reach the 40-point mark this season, the second-most in the league, and would have had another with a healthy Rick Nash (Brady Skjei was one point away from the mark). New York was knocked off pretty easily by a fast and deep Penguins team last season, but some of their younger players such as Chris Kreider, Kevin Hayes and J.T. Miller have improved and taken on a bigger role, making the Rangers more capable to deal with that kind of attack and throw a dangerous offence right back at you. You know Kreider will play tough around the net again — but this time the Habs have the deterrent that is Weber, which could make for an interesting dynamic.
Canadiens X-Factor: As Price goes, so go the Habs. In the last 2 1/2 months under Therrien as the Habs started to struggle, it could be traced back to the fact Price's save percentage was as low as .899 over that stretch. Under Julien, that number improved to .944 as Price recovered to a level that put him among the league leaders at his position, while the Habs recovered to finish as a top-five team.
Rangers X-Factor: The Rangers offence as a whole improved their goals per game output by roughly 0.3 this season over last, moving from the seventh-best offence last season to fourth-best this season. But we'll point out that New York's man advantage was just 1 for 16 in the first round a year ago, while the Penguins went 7 for 19. The Rangers' power play can not go cold like that again, especially since their penalty kill was one of 11 in the league to finish under 80 per cent in the regular season. Four of the past six Stanley Cup finalists converted on at least 20 per cent of their power plays in the post-season. You can't miss those opportunities and expect to win against tight competition.
TEAM LEADERS (G-A-PTS)
Montreal: Max Pacioretty (35-32-67), Alexander Radulov (18-36-54), Alex Galchenyuk (17-27-44)
NY Rangers: Mats Zuccarello (15-44-59), J.T. Miller (22-34-56), Derek Stepan (17-38-55)
[snippet id=3317575]
[relatedlinks]