We've said it before, but we'll say it again: This could finally be the Washington Capitals' year.
On paper, Washington is built to win now. All the pieces are in place, from Alex Ovechkin & Co., up front to defending Vezina Trophy winner Braden Holtby in the crease and a swift-skating group of defenders in between. (And just when we thought that blue line couldn't get any better, they added top UFA-to-be Kevin Shattenkirk at the trade deadline.)
While some heavyweight teams stumbled into the post-season after securing their spot, the Capitals have kept the heat on. If they can keep up that momentum through Round 1, watch out.
While no one is surprised to see Washington in the post-season, the Toronto Maple Leafs have been surprising the hockey world all season long. The rookie-filled club has been one of the most exciting teams to watch this year, and their nail-biting last-minute playoff push to clinch the East's final wild card spot was certainly no exception.
Aside from a post-season appearance in the lockout-shortened 2012-13 campaign (which, let's be honest, most Leafs fans would rather forget anyway), the Leafs haven't been in the playoffs since their second-round exit in 2004. Now, Toronto has finally cracked open its window of opportunity with a fresh, high-energy style of hockey that marks the start of a brighter future for the team.
Here's a closer look at this David vs. Goliath matchup.
BROADCAST SCHEDULE
G1 Thurs., April 13 Toronto @ Washington, 7 p.m. ET CBC
G2 Sat., April 15 Toronto @ Washington, 7 p.m. ET CBC
G3 Mon., April 17 Washington @ Toronto, 7 p.m. ET CBC
G4 Wed., April 19 Washington @ Toronto, 7 p.m. ET CBC
G5* Fri., April 21 Toronto @ Washington, TBD
G6* Sun., April 23 Washington @ Toronto, TBD
G7* Tues., April 25 Toronto @ Washington, TBD
ADVANCED STATS:
Washington: 51.69 5on5 CF% (4th), .937 5on5 Sv% (1st), 9.34 5on5 Sh% (1st), 103.0 PDO (1st)
Toronto: 50.32 5on5 CF% (14th), .923 5on5 Sv% (19th), 8.33 5on5 Sh% (7th), 100.4 PDO (11th)
TEAM STATS:
Washington: 23.3 PP% (3rd), 84.1 PK% (6th), 261 GF (3rd), 175 GA (1st)
Toronto: 24.2 PP% (2nd), 82.3 PK% (9th), 248 GF (5th), 231 GA (22nd)
HEAD-TO-HEAD RECORD
Washington: 2-1-0
Toronto: 1-1-1
[snippet id=3332601]
Capitals' Outlook: Once again, Washington is back on top of the league heading into the post-season as a favourite to win it all. While they found themselves in unfamiliar territory (read: fourth place) in the tough Metropolitan Division midway through the campaign, the Capitals quickly rose to the top with a red-hot month of January in which they won 12-of-15 contests and built up a comfortable league lead before becoming the first team to clinch a playoff spot.
The big question for the repeat Presidents' Trophy winners now will be whether the dominance displayed through 82 games will show up 16 more times and result in the franchise's first-ever Stanley Cup.
While key pieces such as Ovechkin, Nicklas Backstrom, Holtby, and Marcus Johansson are among those locked in for a few more years, several important support players could soon be on their way out. Karl Alzner, T.J. Oshie, Justin Williams and Shattenkirk will be UFAs on July 1, while RFAs-to-be Evgeny Kuznetsov, Dmitry Orlov and Andre Burakovsky could force management to make some tough decisions this summer.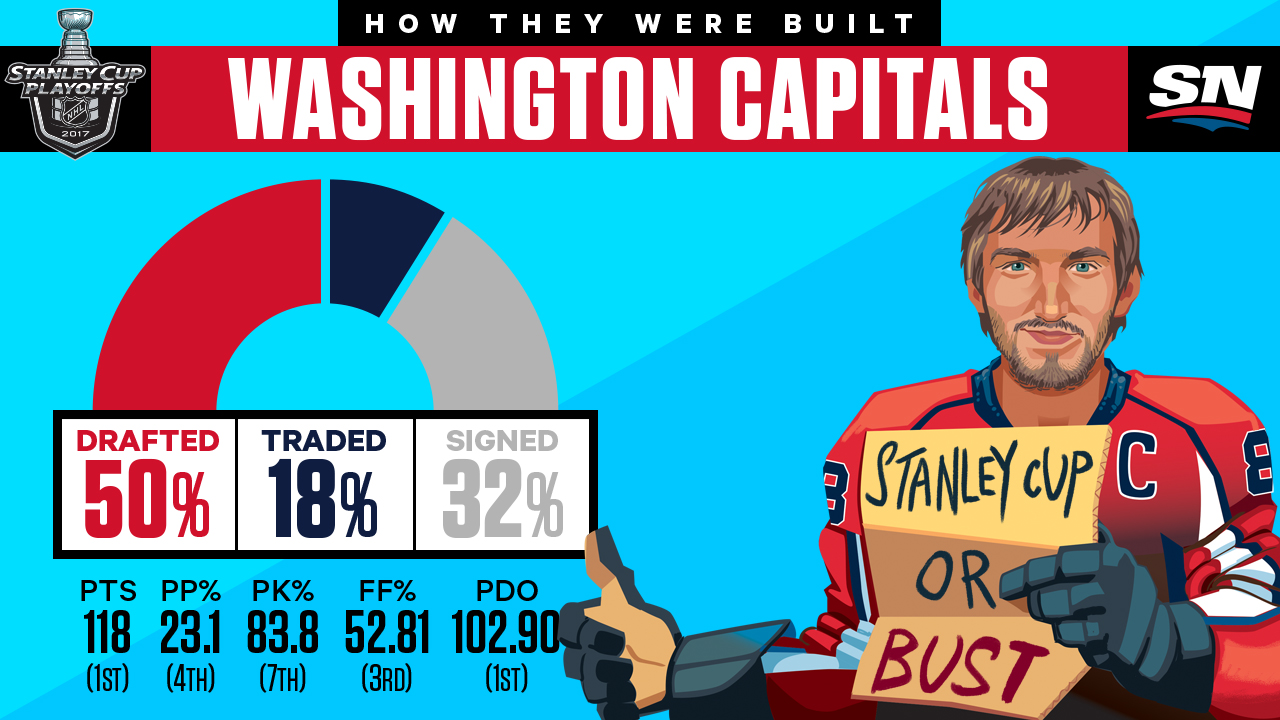 Maple Leafs' Outlook: The Maple Leafs clinched a playoff spot in thrilling fashion, which was pretty much on par with how the young club's regular season played out. From Auston Matthews' historic four-goal NHL debut and Mitch Marner's rookie assists record to William Nylander's impressive point streaks and the sheer speed of Zach Hyman, the story in Toronto has been all about the rookies.
While no one doubted the talent of this team, most in the hockey world were surprised by just how quickly this young group was able to mesh together into a cohesive unit under head coach Mike Babcock. Toronto has been complemented by veterans Tyler Bozak, James van Riemsdyk, Nazem Kadri and, most recently, Brian Boyle.
Capitals' X-Factor: Washington is known for its high-octane offence, but it's their defence that could prove to be the biggest difference here. Washington bolstered its already-strong blue line with the acquisition of Shattenkirk just ahead of this year's trade deadline, and it didn't take the 28-year-old long to find his place on the team's second pairing. His ability to quarterback a power play makes him an important part of the unit—especially if top rearguard John Carlson misses any more time with injury. Reliable depth players such as Nate Schmidt have become a luxury for the Capitals. Schmidt was pushed out of the regular lineup with the addition of Shattenkirk, but has played a recurring role as he seamlessly fills in for suspensions and injuries. Defensive depth can go a long way, and the Capitals look like they're ready for anything.
And if the puck gets past this capable crew of defenders, there's Holtby. The 27-year-old put together another impressive campaign this season, leading the league in wins (42) and shutouts (nine) while helping Washington to an NHL-best team goals-against average of 2.16.
Maple Leafs' X-Factor: Truthfully, you could point to just about any position and find a difference-maker on this young club. While the story all season has centred around the rookies, the team simply wouldn't be in the post-season without Frederik Andersen in net.
Like the rest of the roster, there were some growing pains here, with Andersen struggling at the start of the season and thus exposing the team's shallow pool at the position. But after settling in and finding his confidence, the Danish netminder was able to embrace his role as a true No. 1 and be a steady presence in Toronto. In 66 starts this year, Andersen holds a 33-16-14 record with a 2.67 GAA and .918 save percentage.
The Leafs have had some injury scares in net, most recently with Andersen leaving Saturday's playoff-clinching game against the Penguins. And while backup Curtis McElhinney backstopped the team to victory under pressure, it's Andersen — and his health — that could make or break this series. After sitting out the Maple Leafs' final game on Sunday, Andersen will be ready for the playoffs, according to Babcock.
TEAM LEADERS (G-A-PTS)
Washington: Nicklas Backstrom (23-63-86), Alex Ovechkin (33-36-69), Evgeny Kuznetsov (19-40-59)
Toronto: Auston Matthews (40-29-69), James van Riemsdyk (29-33-62), Mitch Marner (19-42-61)
[snippet id=3317575]