The City of Champions will have its first post-season run in 11 years and Edmonton is ready to rock 'n' roll.
Led by Art Ross Trophy winner Connor McDavid, the Oilers return to the post-season as an interesting possibility. Yes, they are a very young team, but amazing seasons from McDavid, Leon Draisaitl and Cam Talbot has Edmonton thinking that this could be a lengthly playoff run.
The Oilers will have a stiff test to open the Stanley Cup Playoffs as they face the runner-up from last season in San Jose. The Sharks struggled in March but rebounded to win three of their last four games. Injuries to star players Joe Thornton and Logan Couture leave a vulnerable middle of the ice.
But don't forget that San Jose still has a lot of its core from last season, including star defenceman Brent Burns.
Edmonton has won the last two games against the Sharks but this will be tight.
Here's a closer look at the matchup.
BROADCAST SCHEDULE
G1 Wed., April 12 San Jose @ Edmonton, 7 p.m. PT SN
G2 Fri., April 14 San Jose @ Edmonton, 7:30 p.m. PT SN
G3 Sun., April 16 Edmonton @ San Jose, 6 p.m. PT SN
G4 Tues., April 18 Edmonton @ San Jose, 7 p.m. PT SN
G5* Thurs., April 20 San Jose @ Edmonton, TBD
G6* Sat., April 22 Edmonton @ San Jose, TBD
G7* Mon., April 24 San Jose @ Edmonton, TBD
ADVANCED STATS:
Edmonton: 49.85 5on5 CF% (18th), .927 5on5 Sv% (8th), 8.29 5on5 Sh% (9th), 101.00 PDO (7th)
San Jose: 51.13 5on5 CF% (8th), .925 5on5 Sv% (14th), 8.00 5on5 Sh% (12th), 100.45 PDO (14th)
TEAM STATS:
Edmonton: 22.9 PP% (5th), 80.7 PK% (17th), 243 GF (8th), 207 GA (8th)
San Jose: 16.7 PP% (25th), 80.7 PK% (17th), 219 GF (19th), 200 GA (5th)
HEAD-TO-HEAD RECORD:
Edmonton: 3-1-1
San Jose: 2-3-0
[snippet id=3332601]
Edmonton Oilers Outlook: The last time the Oilers were in a playoff game the Stanley Cup was on the line, Craig MacTavish was the coach, Chris Pronger was their best player and many of the current Oilers were in elementary school. So ya, it's been a while, which should mean incredible energy at Rogers Place.
When the Oilers, led by Hart Trophy frontrunner McDavid, start quickly they're tough to deal with. Todd McLellan's group is 27-8-4 when they score first and led the league in wins over Western Conference opponents. Also, no team did better against Pacific Division teams.
Oilers fans are ecstatic their team is back in the post-season but for the players this can't be a case of "we're just happy to be here." Will this young team be overwhelmed by the situation, or can they carry the amazing momentum they've had since mid-March into the playoffs?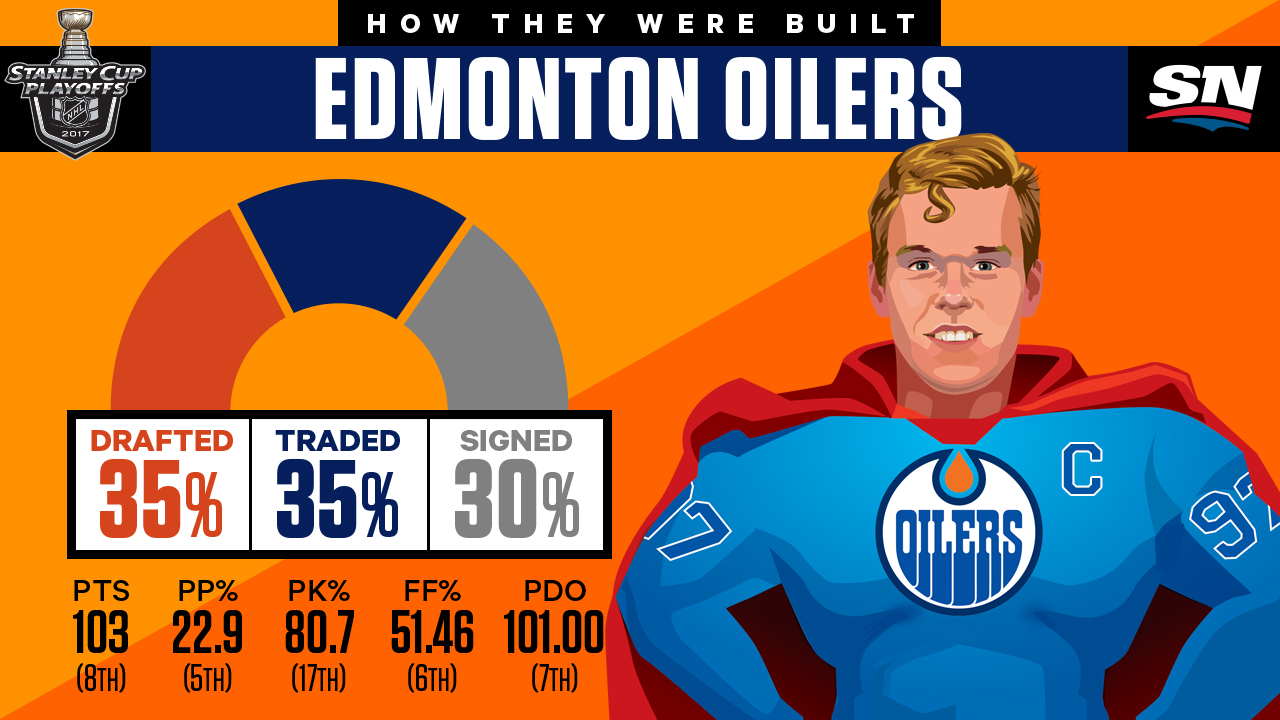 San Jose Sharks Outlook: A couple months ago the Sharks were considered one of the frontrunners to reach the Stanley Cup Final, but Peter DeBoer's team is limping into the post-season. They've only been able to string together a winning streak longer than two games once since January and two of their most important players, Thornton and Couture, are dealing with injuries. Thornton a knee issue and Couture is still recovering after taking a puck to the face on March 25.
The Sharks also don't have a particularly strong road record either, so falling to third in the Pacific really hurts their chances of making a deep run.
In years past, the Sharks have finished higher in the standings yet underachieved in the playoffs. Maybe this is the year they become overachievers. Momentum is clearly not on their side.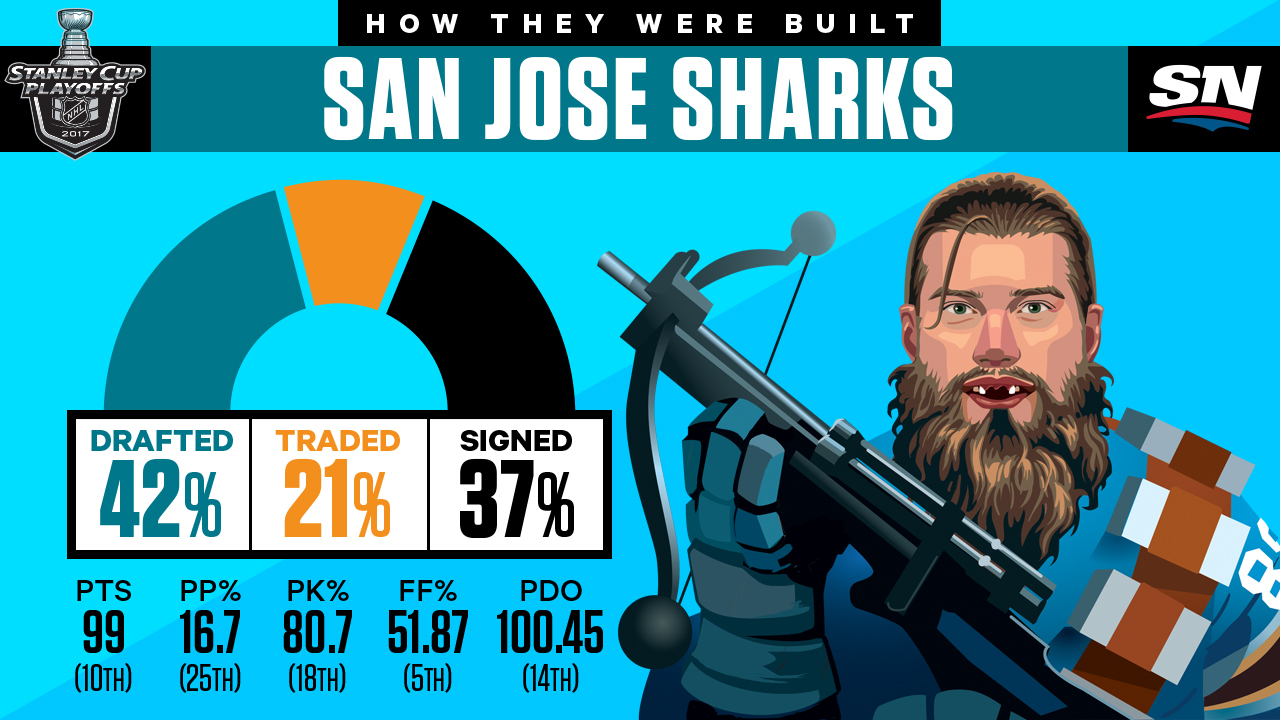 Oilers X-Factor: When Peter Chiarelli traded Taylor Hall to the Devils for Adam Larsson, it left many people scratching their heads asking, "Wait, that's all they got!?" The deal, at least after one season, turned out to be a massive success. Oscar Klefbom might put up the points and lead the way on the PP, but Larsson is the most important piece on the blue line.
Sharks X-Factor: San Jose had the worst power-play unit of any playoff team, converting on a mere 16.7 per cent of their opportunities. With so much firepower up front and a player like Burns quarterbacking the action from the blue line a number like 16.7 per cent is embarrassing. Their penalty killing is in the middle of the pack at 80.7 per cent. If the Sharks can't get their special teams going they won't last too long.
TEAM LEADERS (G-A-PTS)
Edmonton: Connor McDavid (30-70-100), Leon Draisaitl (29-48-77), Jordan Eberle (20-31-51)
San Jose: Brent Burns (29-47-76), Joe Pavelski (29-39-68), Logan Couture (25-27-52)
[snippet id=3317575]