The Pittsburgh Penguins set off on their path to defend the Stanley Cup against the upstart Columbus Blue Jackets, a team that went on a 16-game winning streak earlier this season for the second-longest run in league history.
All eyes will be on Sidney Crosby and Brandon Dubinsky, two players who have a history together. Dubinsky is probably the best player in the league at getting under Crosby's skin and even fought him in 2015. He's also cross-checked him in the neck for a one-game suspension, which happened a few months after the fight, and has called him a "baby" during an intermission interview before. The two have played 11 games against each other in the playoffs and Crosby hasn't yet scored a goal.
While that rivalry will be on display, there's a lot more to like about this series. Sergei Bobrovsky had an incredible season that has him in the Vezina Trophy conversation and should even earn him some Hart Trophy love. At the other end, Matt Murray stood out among all rookies at his position, after leading the Penguins to the Cup a year ago. But the Jackets come in to the series a little cold, losing six of their last seven games — and the only win was with a skeleton roster in Game 82. Meanwhile, the Penguins will be without oft-injured star Kris Letang, which leaves them with a severely depleted blue line. To make up for that, Pittsburgh will throw the league's most potent offence at Columbus.
The Pens hold home-ice advantage, but all indications are this will be a close, hard-fought series.
BROADCAST SCHEDULE
G1 Wed., April 12 Columbus @ Pittsburgh, 7:30 p.m. ET SN 360
G2 Fri., April 14 Columbus @ Pittsburgh, 7 p.m. ET SN
G3 Sun., April 16 Pittsburgh @ Columbus, 6 p.m. ET SN 360
G4 Tues., April 18 Pittsburgh @ Columbus, 7:30 p.m. ET SN 360
G5* Thurs., April 20 Columbus @ Pittsburgh, TBD
G6* Sun., April 23 Pittsburgh @ Columbus, TBD
G7* Tues., April 25 Columbus @ Pittsburgh, TBD
ADVANCED STATS:
Pittsburgh: 50.11 5on5 CF% (16th), .927 5on5 Sv% (9th), 8.6 5on5 Sh% (5th), 101.28 PDO (5th)
Columbus: 50.4 5on5 CF% (13th), .930 5on5 Sv% (2nd), 8.17 5on5 Sh% (11th), 101.46 PDO (3rd)
TEAM STATS:
Pittsburgh: 23.1 PP% (3rd), 79.8 PK% (20th), 278 GF (1st), 229 GA (17th)
Columbus: 19.9 PP% (12th), 82.5 PK% (9th), 247 GF (6th), 193 GA (2nd)
HEAD-TO-HEAD RECORD
Pittsburgh: 2-1-1
Columbus: 2-1-1
Play the Sportsnet Fantasy Playoffs Pool for your chance to win $5,000 cash if you are crowned the champ! It's FREE and easy to play.
Pittsburgh Penguins Outlook: The bad news for the Penguins is they'll be without Letang for their playoff run, however long it lasts. The good news is they've been without him since late-February and finished the season 13-7-3 anyway. Justin Schultz, a failed project in Edmonton, has emerged as a key cog in Pittsburgh and finished in the top 10 among all NHL blueliners in scoring. When there were questions around Pittsburgh's blue line last playoff season, Brian Dumoulin and Trevor Daley also showed they were up to the task. The Penguins finished the regular season as the NHL's highest-scoring team with the third-best power play, so offence shouldn't be hard to come by. And should an injury befall Murray, the team still has veteran Marc-Andre Fleury as a safety net.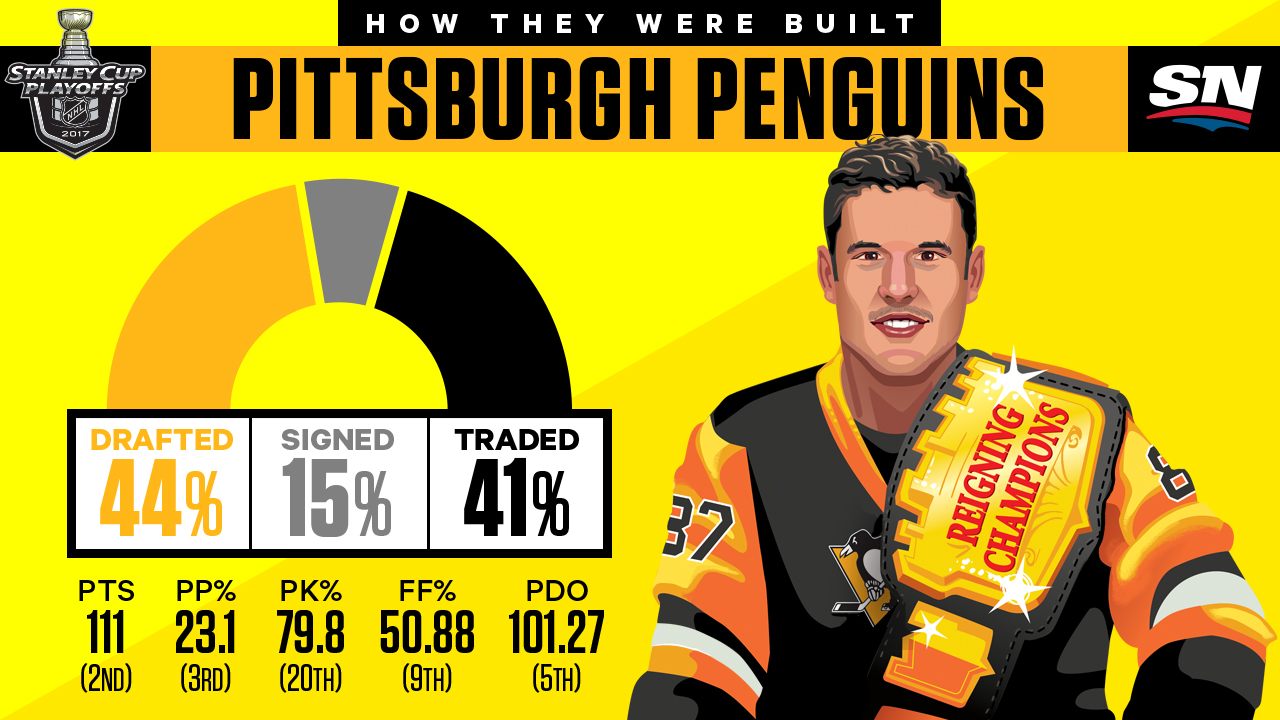 Columbus Blue Jackets Outlook: Columbus finished top six in the NHL in both goals for and against — the only other team to do that this year were the Washington Capitals and no one doubts their contender status. But while the Jackets averaged more than three goals per game over the full season, they scored 50 in their last 22 games for a 2.27 average and won just 11 of those games. Top scorers Alexander Wennberg (seven points in last 20 games), Cam Atkinson (nine in last 20), and Brandon Saad (10 in last 20) all finished off rather cool. Bobrovsky remained impressive, though, and in the end, he'll likely determine how long the Blue Jackets last in just the franchise's third playoff appearance.
Penguins X-Factor: It has to be Crosby. Dubinsky will likely be draped all over him, especially when the Blue Jackets are at home in Games 3, 4 and 6 if necessary. While he hasn't scored a playoff goal against a team with Dubinsky on it yet, that's one of those things that seems bound to change. Crosby, last year's Conn Smythe winner, is in the Hart Trophy discussion again and is the engine that drives this team.
Blue Jackets X-Factor: Bobrovsky has the power to carry the Blue Jackets for a few rounds, or sink them in Round 1. The last time Bobrovsky was in the playoffs he was coming off a season in which he posted a .923 save percentage and was one of the top five goalies in the NHL — then proceeded to go 2-4 with a .908 save percentage and 3.17 GAA. In his career, Bobrovsky is 2-6 with a 3.50 GAA and .890 save percentage in the post-season so he can make a statement against the defending champs.
TEAM LEADERS (G-A-PTS)
Pittsburgh: Sidney Crosby (44-45-89), Evgeni Malkin (33-39-72), Phil Kessel (23-47-70)
Columbus: Cam Atkinson (35-27-62), Alexander Wennberg (13-46-59), Brandon Saad (24-29-53)
Stanley Cup Playoffs on Sportsnet NOW
Ready for playoff hockey? Stream every single game of the 2017 Stanley Cup Playoffs with Sportsnet NOW.