The Ottawa Senators and Boston Bruins have never met in the Stanley Cup Playoffs, but this still feels like a bit of a rivalry.
Zdeno Chara will finally get a crack at the team that chose Wade Redden over him in a playoff setting as he nears the end of his career. Boston gets back to the post-season for the first time since 2014, but it didn't always look like it would get here, having to fire long-time coach Claude Julien to get the kick in the butt needed to turn the season around. At the time of Julien's dismissal, the Bruins were one of the strongest possession teams in the league and their low shooting percentage suggested a rebound was on the way. Under Bruce Cassidy, Boston finished 18-8-1 and indeed started scoring more goals to secure third place in the Atlantic and a more favourable matchup against the Senators.
Ottawa, meanwhile, is one of the more confounding teams this year. Among all playoff teams they have: the second-lowest corsi percentage, the fewest goals scored, second-worst power play and penalty-kill percentages, and are the only qualifying team to have a negative goal differential (minus-2). Yet, they got here without their starting goalie Craig Anderson, who was away with his wife Nicholle for a large chunk of the season as she battled cancer. Ottawa is the team everyone wanted to match up against in Round 1, but it can bite and, especially with Anderson back, could have more up its sleeves with which to shock us.
BROADCAST SCHEDULE
G1 Wed., April 12 Boston @ Ottawa, 7 p.m. ET SN
G2 Sat., April 15 Boston @ Ottawa, 3 p.m. ET SN
G3 Mon., April 17 Ottawa @ Boston, 7 p.m. ET SN
G4 Wed., April 19 Ottawa @ Boston, 7:30 p.m. ET SN
G5* Fri., April 21 Boston @ Ottawa, TBD TBD
G6* Sun., April 23 Ottawa @ Boston, TBD TBD
G7* Wed., April 26 Boston @ Ottawa, TBD TBD
ADVANCED STATS:
Ottawa: 48.43 5on5 CF% (22nd), .927 5on5 Sv% (7th), 7.02 5on5 Sh% (22nd), 99.74 PDO (18th)
Boston: 54.7 5on5 CF% (2nd), .914 5on5 Sv% (28th), 6.77 5on5 Sh% (24th), 98.12 PDO (29th)
TEAM STATS:
Ottawa: 17.0 PP% (23rd), 79.7 PK% (22nd), 206 GF (22nd), 210 GA (10th)
Boston: 21.7 PP% (7th), 85.7 PK% (1st), 232 GF (13th), 209 GA (9th)
HEAD-TO-HEAD RECORD
Ottawa: 4-0-0
Boston: 0-3-1
[snippet id=3332601]
Senators Outlook: Despite all the injuries they've had to deal with lately, the Senators appear to have righted the ship in the past week. Beating Original Six teams Detroit, New York and Boston back-to-back-to-back secured them home ice in the opening round and they did it their way, too. They were able to win those games by either blanking their opponents or holding them to one goal. No playoff team scored fewer goals than the Sens did this season but on the flip side only a handful of teams allowed fewer goals against.
Ottawa is comfortable in close, low-scoring games–frequently winning when they register only two goals–and it's not simply due to strong goaltending from Anderson and backup Mike Condon. They play strong team defence, which bodes well for them in the playoffs.
Bruins Outlook: The Bruins had a few surprises up their sleeves this year. Just a couple of months ago, a playoff run in Boston didn't look so likely. On the outside looking in and down on confidence in early February, general manager Don Sweeney made the bold decision to fire Julien and replace him with Cassidy as interim coach. Now, with a new bench boss and a recent string of wins thanks in large part to a dynamic Brad Marchand, a consistent Patrice Bergeron and a rock-solid Tuukka Rask down the stretch, the Bruins have proven they belong in the playoffs once again.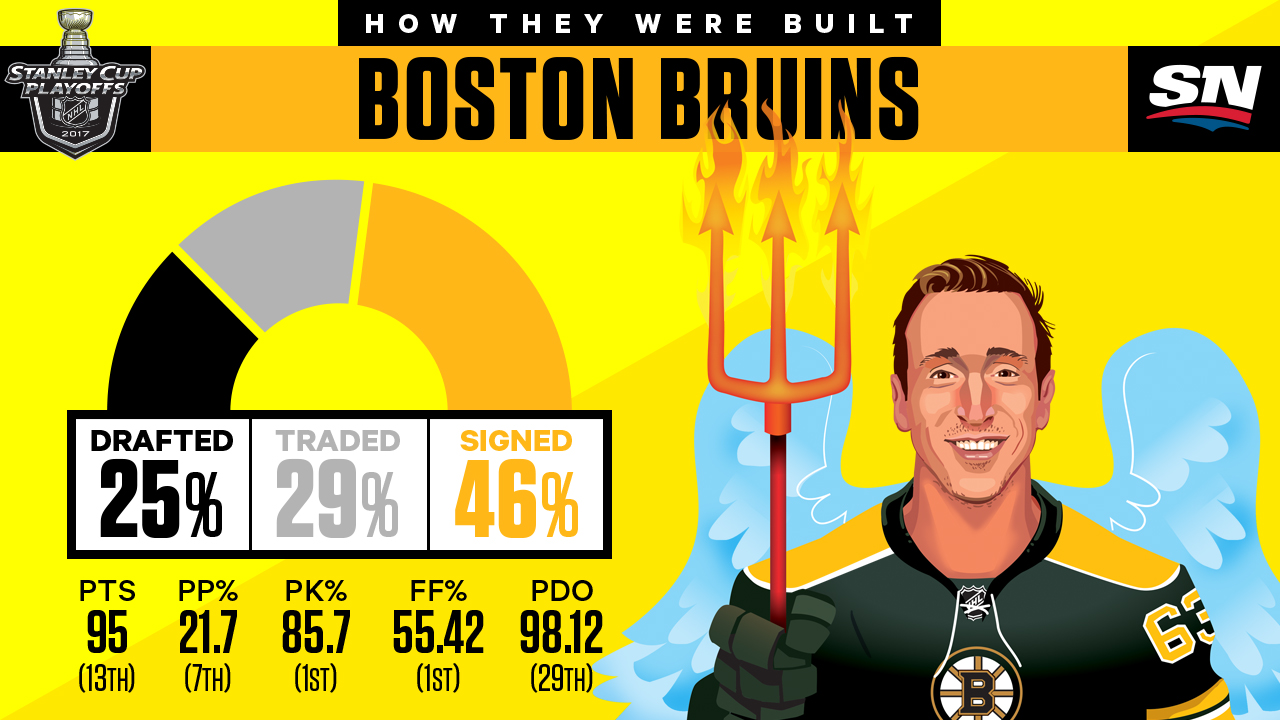 Senators X-Factor: Kyle Turris is one of the more under-appreciated centres in the Eastern Conference. He isn't held in as high regard as other No. 1 centres, but he registered a career high in goals this season and is solid in the faceoff circle. How Turris does against opposing top centres could determine how far the Sens go.
Bruins X-Factor: The Bruins signed Marchand to a huge eight-year extension in September, and he has been rewarding them ever since. The gritty winger has transformed his game far beyond just his former role as an agitator, and he's proven himself to be a scoring threat every time he's on the ice. Marchand put together an impressive career-best season with 39 goals and 85 points, all while still being able to get under the skin of his opponents. The repeat offender has a tendency to get himself into trouble, though, and any slip-ups during the playoffs could spell trouble in Boston.
TEAM LEADERS (G-A-PTS)
Ottawa: Erik Karlsson (17-54-71), Mike Hoffman (26-35-61), Kyle Turris (27-28-55)
Boston: Brad Marchand (39-46-85), David Pastrnak (34-36-70), David Krejci (23-31-54)
[snippet id=3317575]
[relatedlinks]