The third- and fourth-best teams in the tough Central Division knocked off the two 100-plus-point Central teams in Round 1. Both opening round series were upsets, but for different reasons.
Although the Blackhawks were the popular pick to come out of the Chicago-Nashville series, even those picking the favourite were expecting it to be close — most thought of it as a coin flip. So while it's not a shocker that the Predators knocked off the Hawks, it was surprising to see them blow through the Windy City with such ease.
The Blues, a seller at the trade deadline when they moved pending UFA Kevin Shattenkirk to the Capitals, got through the Wild in another short five-game series because Jake Allen was a brick wall standing against Minnesota's onslaught. The Blues, clearly, were the inferior team in Round 1 and got through solely because of the play from their 26-year-old netminder. "They weren't the better team, but they won four games," Wild head coach Bruce Boudreau said.
Here's how these two teams match up in their second-round series.
BROADCAST SCHEDULE
Game 1 — Nashville at St. Louis: Wednesday, Apr. 26 at 8 p.m. on CBC
Game 2 — Nashville at St. Louis: Friday, Apr. 28 at 8 p.m. on CBC
Game 3 — St. Louis at Nashville: Sunday, Apr. 30 at 3 p.m. on Sportsnet
Game 4 — St. Louis at Nashville: Tuesday, May 2 at 9:30 p.m. on Sportsnet
Game 5* — Nashville at St. Louis: Friday, May 5, TBD
Game 6* — St. Louis at Nashville: Sunday, May 7, TBD
Game 7* — Nashville at St. Louis: Tuesday, May 9, TBD
ADVANCED STATS (regular season):
Nashville: 51.38 5on5 CF% (fifth), .926 5on5 Sv% (10th), 7.96 5on5 Sh% (13th), 100.5 PDO (12th)
St. Louis: 50.29 5on5 CF% (15th), .923 5on5 Sv% (18th), 8.32 5on5 Sh% (eighth), 100.64 PDO (10th)
TEAM STATS (regular season):
Nashville: 18.9 PP% (16th), 80.9 PK% (15th), 238 GF (ninth), 220 GA (15th)
St. Louis: 21.3 PP% (eighth), 84.7 PK% (fourth), 230 GF (14th), 216 GA (13th)
HEAD-TO-HEAD RECORD:
Nashville: 3-2-0
St. Louis: 2-3-0
Round 1 Strengths for Nashville: The Predators' defence had a standout series, stifling the Blackhawks and limiting their scoring chances. Among the top four d-men, P.K. Subban is 27, while Ryan Ellis, Roman Josi and Mattias Ekholm are all 26. That puts them in the sweet spot of being veterans who're still young enough to have fresh legs at this time of year — each averaged more than 25 minutes of ice time in Round 1.
Round 1 Strengths for St. Louis: The Blues averaged being outshot by nearly 10 per game by Minnesota in the opening round and were buoyed to a series victory by Jake Allen. The 26-year-old, who struggled through most of the season before finishing strong, was far and away the Blues' most important player in Round 1, posting a .966 save percentage and and 1.17 GAA. Both of those totals are second to only Nashville's Rinne in these playoffs, so goaltending will be a focus of this series.
Round 1 Weakness for Nashville: When you humiliate the No. 1 seed in the manner the Predators did the Blackhawks, it's tough to find a weakness. The team displayed balanced scoring, with five players collecting two goals and only four failing to collect at least one point. The key for this bunch will be to find a way to maintain momentum despite the lengthy downtime between the end of Round 1 and the start of Round 2.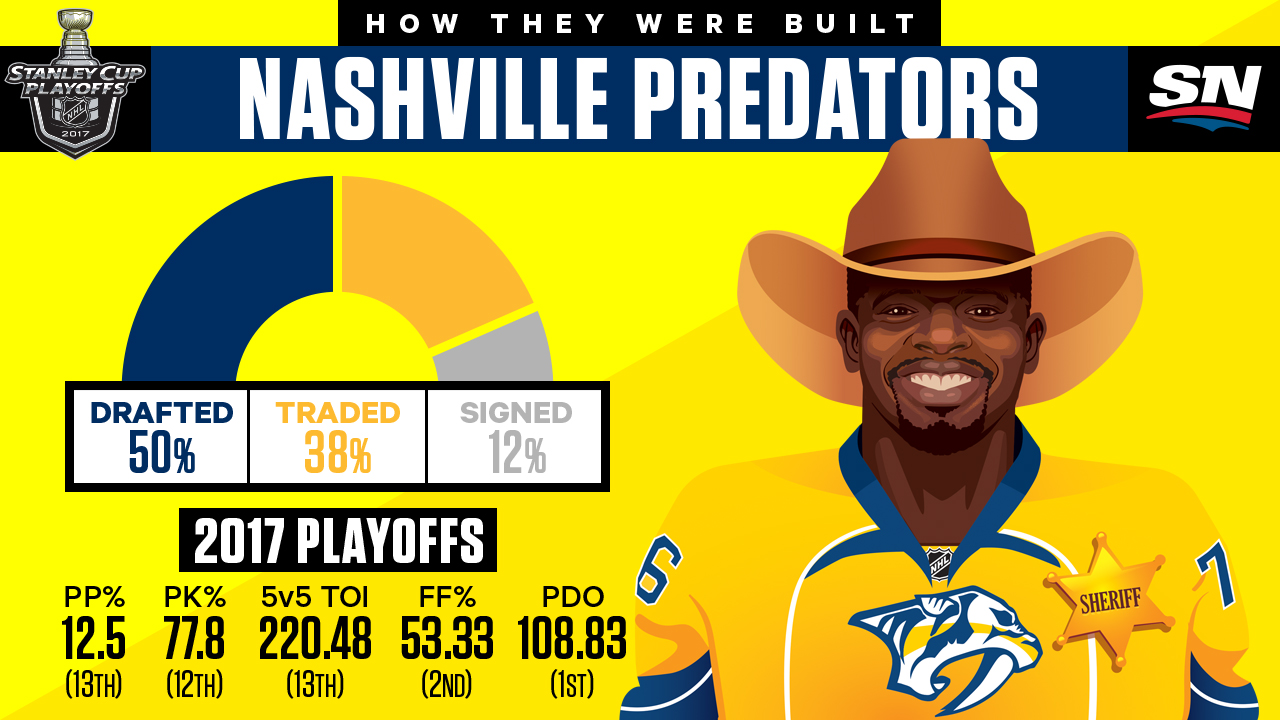 Round 1 Weakness for St. Louis: The Blues had trouble generating offence in the opening round, averaging just 26.8 shots per game and finishing with a terrible 38.78 CF% at 5-on-5, both marks lowest among all playoff teams. While St. Louis did convert seven 5-on-5 goals, they could help themselves greatly by improving their power play, which they scored just twice on for a 6.7 per cent conversion rate.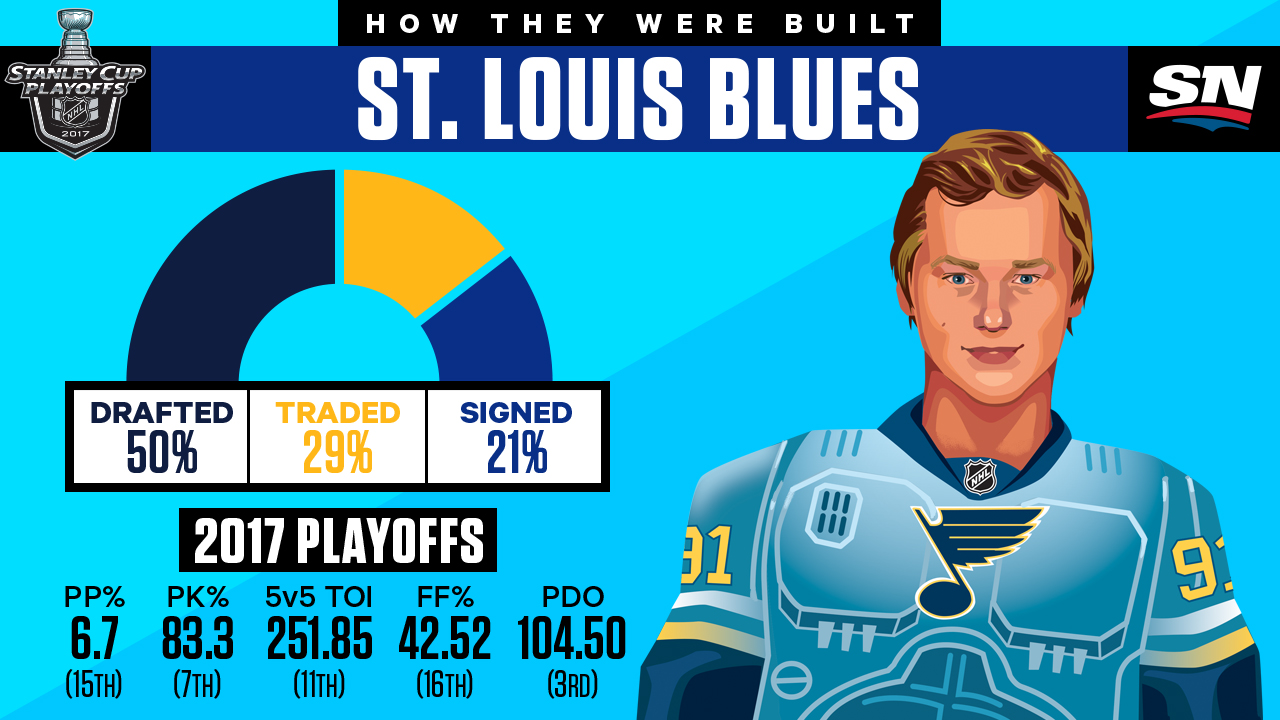 Predators' X-Factor: You've seen the story play out countless times: Team rides red-hot goaltender all the way to Stanley Cup glory. The Preds may find themselves in that scenario with Pekka Rinne, who posted two shutouts in the first-round series against the mighty Blackhawks and allowed just three goals. He posted a 0.70 goals-against average and .976 save percentage over the four-game sweep and the way he's playing right now has to strike fear into any opponent.
Blues' X-Factor: There are a couple offensive weapons who need to wake up for St. Louis in Round 2. Vladimir Tarasenko, the 39-goal man who led the team in scoring by a wide margin with 75 points, was held to just one goal against the Wild despite playing north of 20 minutes a game and leading the way with 21 shots on goal. And Vladimir Sobotka, who returned from spending the past three years in the KHL at the very end of the regular season, was an important contributor in Round 1, including a nice assist on the series-clinching goal. With four points in six games since returning, Sobotka needs to keep it up, while Tarasenko is bound to start seeing his chances pay off.
PLAYOFF TEAM LEADERS (G-A-PTS)
Nashville: Ryan Johansen (1-5-6), Filip Forsberg (2-3-5), Viktor Arvidsson (2-2-4)
St. Louis: Jaden Schwartz (2-3-5), Alexander Steen (2-2-4), Vladimir Sobotka (1-2-3)