Trying to figure out this year's draft has been a next to impossible task. While there is great certainty as to the first two players and their destinations, things really start to get interesting with the third pick.
You could make a case for any one of a half dozen players to be taken by Chicago. Bowen Byram is the best defenceman available, but Chicago has depth in young defencemen. Alex Turcotte has ties to Chicago and has been lauded for playing a two-way game with a bit of bite. Then there's the WHL duo of big right shot centres Kirby Dach and Dylan Cozens.
But hang on, how about the all-around play of Vasily Podkolzin? Is his two-year KHL contractual obligation too big a hurdle? And last but not least, the gifted playmaker Trevor Zegras. Those are the things that have been bandied about in Chicago's pre-draft meetings. A few of the teams picking behind the Blackhawks have had similar conversations. Colorado and L.A. both have multiple first round picks, so does that impact their strategy?
Overall, this draft class presents a wide variety of options to NHL teams. There is high-end talent at centre, starting with the USNTDP trio of Jack Hughes, Turcotte and Zegras. Then there's the WHL trio of Dach, Cozens and Peyton Krebs. If you want scoring from the wing, look no further than Cole Caufield or Matthew Boldy.
The class of defencemen rounded out nicely in the second half. Byram separated himself from the pack. Philip Broberg re-emerged at the U18 worlds. The European trio of Victor Soderstrom, Ville Heinola snd Tobias Bjornfot present similar, safe, on-ice packages. Then there's a few high-octane offensive defencemen in Cam York and Thomas Harley. A new German sensation, Moritz Seider, has entered the fray in the middle of Round 1.
And finally, there's a couple of wildcards other than Podkolzin. Where does Hamilton's Arthur Kaliyev end up? How about Halifax's Raphael Lavoie? USNTDP's Spencer Knight throws a goaltender into the mix, so how will his presence impact the top half of the first round?
One final note on this draft. In all my conversations, I haven't seen such a wide variety of players eligible to go between 22 and 60. Usually, it's safe to say that between picks 25 and 40 you have a certain degree of variance. That variance is exponentially different for the 2019 draft class. Because of this anomaly, we may see trade-back scenarios present themselves towards the end of the first round.
In the meantime, here's how we predict the first round will shake down.
[snippet ID=3322139]
1. NEW JERSEY DEVILS
Jack Hughes, C, USNTDP: Family connection to Ray Shero not withstanding, Hughes is the most dynamic player this draft class has to offer. He's an elite skater with sixth-sense vision and makes those around him better.
2. NY RANGERS
Kaapo Kakko, RW, TPS (Liiga): Great consolation prize at No. 2 with the player who is most NHL-ready. Kakko's Liiga numbers for first-year draft eligibles compare favourably to the likes of Mikko Rantanen, Aleksander Barkov and Patrik Laine.
3. CHICAGO BLACKHAWKS
Trevor Zegras, C, USNTDP: This pick has been rumoured to go a number of ways, and the latest name to gain traction is Zegras. A well above average playmaking centre, Zegras comes to the table with confidence and swagger.
4. COLORADO AVALANCHE
Bowen Byram, D, Vancouver Giants: Hands down the best defenceman available. Byram led all CHL bluliners with 26 goals in the regular season and he led the entire league with 26 playoff points. His game is multifaceted and he can drive play from the back-end.
5. L.A. KINGS
Kirby Dach, C, Saskatoon Blades: This is a package that doesn't come along often. A player with size, skating ability and excellent vision who will benefit by shooting more and taking it to the net consistently.
6. DETROIT RED WINGS
Alex Turcotte, C, USNTDP: A well-rounded player who missed some time due to injuries this season. When healthy and at his best, Turcotte displays the best two-way game of anyone in the draft class. NHL connections are a nice bonus.
7. BUFFALO SABRES
Cole Caufield, RW, USNTDP: The best pure sniper available will have a great mentor in Jeff Skinner. Caufield is anxious to prove he belongs in the conversation with Alex DeBrincat. Isn't seen at the rink without a smile on his face.
[snippet id=3816507]
8. EDMONTON OILERS
Philip Broberg, D, AIK (Allsvenskan, Sweden): Fascinating year where he entered the Hlinka-Gretzky Tournament as a nobody, then left as a top 10 pick. Went into relative anonymity, but then made the world juniors. Got sick, but rebounded with a world-class performance at the U18 worlds to bring him back to top 10 prominence.
9. ANAHEIM DUCKS
Dylan Cozens, C, Lethbridge Hurricanes (WHL): Seems to have slipped slightly, but the overall body of work is impressive. A 6-foot-3 right shot with blazing speed, Cozens could make this pick look genius down the road.
10. VANCOUVER CANUCKS
Peyton Krebs, C, Kootenay Ice (WHL): Battled several elements during the season and is now challenged with recovering from an Achilles tendon issue he hurt while training. The injury is not enough to slow the roll and keep this character player out of the top 10.
11. PHILADELPHIA FLYERS
Vasily Podkolzin, RW, Neva St. Petersburg (VHL, Russia): With the Hlinka-Gretzky performance in his pocket, he excelled at the World Junior A Challenge to the point where he couldn't be denied a spot on the world junior team. He was trusted with all the difficult responsibilities by a Russian coach (Valery Bragin) who rarely leans on his younger players at the WJC. There are no holes in Podkolzin's game. But, there is "the contract." He's signed to a KHL deal for another two seasons.
12. MINNESOTA WILD
Matthew Boldy, LW, USNTDP: Boldy has great hands for a big man (6-foot-2, 192 pounds). He can score goals, but does equally as good a job preventing them. Scouts will always lean towards a skill package that comes in bigger sizes.
13. FLORIDA PANTHERS
Spencer Knight, G, USNTDP: Taking a goalie this high is a major league gamble, but Knight looks to be the once-in-a-decade Luongo/Fleury/Price/Vasilevskiy.
14. ARIZONA COYOTES
Arthur Kaliyev, RW, Hamilton Bulldogs (OHL): A team that appreciates the numbers will point to the list of first-year draft eligibles who scored 50 or more goals in the OHL. That list includes Steven Stamkos, John Tavares, Jeff Skinner and DeBrincat. Kaliyev totalled 51 goals and 102 points in 67 games for the Hamilton Bulldogs.
15. MONTREAL CANADIENS
Moritz Seider, D, Mannheim (DEL): Amazing ability to adjust his game depending on the competition. Against men, he displays a safer, more efficient style. Within his peer group, he's a leader and a producer. Seider's stock elevated through both the physical testing and interview processes at the Draft Combine.
16. COLORADO AVALANCHE
Philip Tomasino, RW, Niagara IceDogs (OHL): With Knight gone and a defenceman taken earlier in the first round, the Avs add a highly skilled forward to the mix. Tomasino is an excellent skater who proved his versatility by playing mostly on the wing. The hallmark to his game is his ability to produce at even strength.
17. VEGAS GOLDEN KNIGHTS
Cam York, D, USNTDP: The void left by the departure of Erik Brannstrom is filled here with a similar player. York can break the puck out, play first-unit PP and do it all without sacrificing solid defensive play.
18. DALLAS STARS
Ryan Suzuki, C, Barrie Colts (OHL): Another great skater with elusive edge work, Suzuki can control the pace of play with his smarts and distribution abilities. He gets into trouble by not shooting enough or getting to the middle of the ice often enough.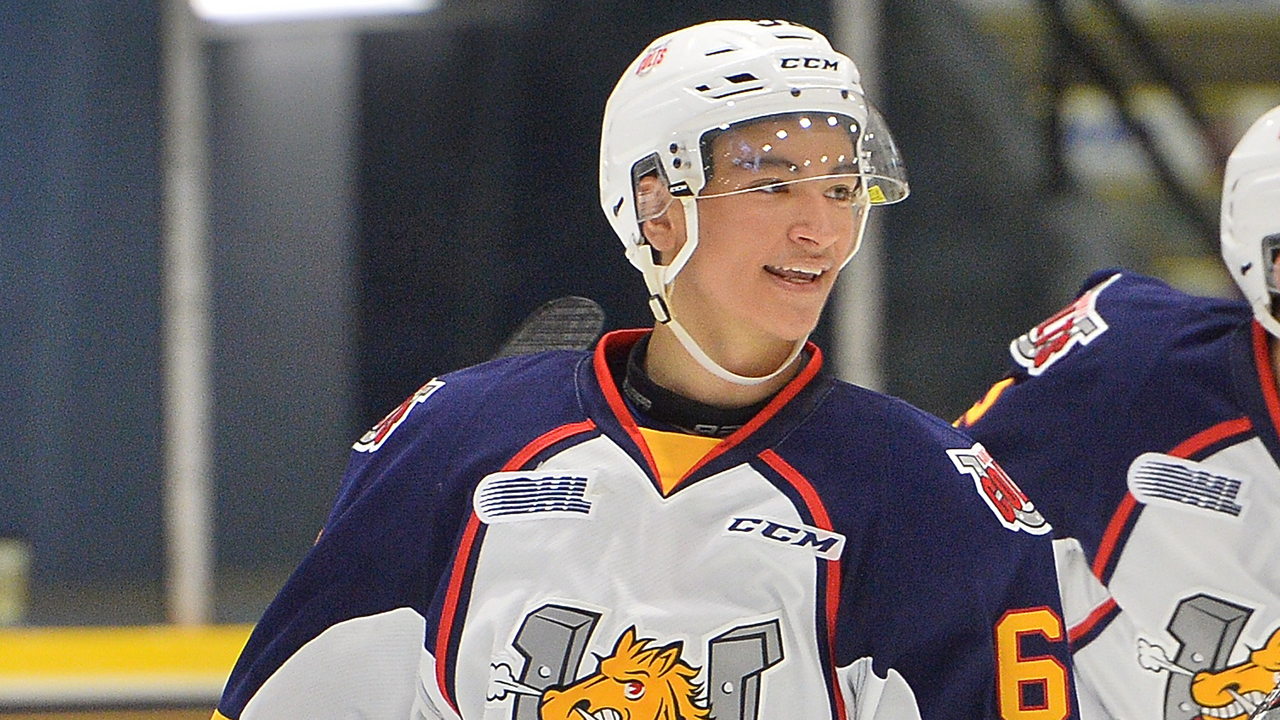 19. OTTAWA SENATORS
Alex Newhook, C, Victoria Grizzlies (BCHL): Two amazing years in Tier II capped with a standout performance at the U18 worlds has solidified his place inside the top 20. A player who's so loaded with character that a team may jump to pursue him earlier.
20. WINNIPEG JETS
Victor Soderstrom, D, Brynas (SHL, Sweden): Right shot defenceman who exhibits a safe, all-around game. Being a younger, smaller player (6-foot, 183 pounds) who played most of his games against men, he focused on a more sound defensive game. Loaded with leadership qualities.
21. PITTSBURGH PENGUINS
Raphael Lavoie, C/RW Halifax Mooseheads (QMJHL): There comes a point where a team will look to address either an organizational need, or stick to its guns by taking the best player available. On his best nights, Lavoie can take over a game, but the pick does come with some trepidation.
22. L.A. KINGS
Thomas Harley, D, Mississauga Steelheads (OHL): Took the opportunity to play an offensive game to heart in Mississauga. There are some deficiencies defensively, but a big man (6-foot-3, 192 pounds) who can skate and shows a knack for producing offence is hard to find.
23. NY ISLANDERS
Ville Heinola, D, Lukko (Liiga): An all-around defender who adjusted quickly to playing top-four minutes in a difficult league, some of which were on his off-side. Heinola is quick to process his options, yet executes with patience and poise.
24. NASHVILLE PREDATORS
Matthew Robertson, D, Edmonton Oil Kings (WHL): The Preds have a knack for drafting defencemen, and Robertson is an interesting pick in that he's still trying to establish his identity as a player. If there's an organization who can help him figure it out, it's Nashville.
25. WASHINGTON CAPITALS
Brett Leason, RW, Prince Albert Raiders (WHL): Despite being 20 years old, Leason still has a high ceiling because of a lack of hockey-specific training. There's more to his game than just point producing. He uses awareness and a good stick to disrupt the breakout, strip pucks in neutral ice and will block shots in the d-zone.
26. CALGARY FLAMES
Connor McMichael, C, London Knights (OHL): Future goal scoring is addressed with a player who can do it in a multitude of ways. A return to the London Knights developmental program is a nice insurance policy for a player who showed some inconsistency.
27. TAMPA BAY LIGHTNING
Samuel Poulin, RW, Sherbrooke Phoenix (QMJHL): A tireless worker who may not possess the high-end offensive ability to play on a top line, but will play a pro-style game with a big engine. A great post-season run with Sherbrooke helped him to maintain his position as a first-round pick.
28. CAROLINA HURRICANES
Simon Holmstrom, RW, HV71 (SuperElit, Sweden Junior): The promise not to take a defenceman ends up well. Plagued by injuries, it was tough to get consistent viewings until the U18 worlds. His play there reminded scouts why he was so highly thought of at the start of the scouting season. If there's no carryover from the injuries, this pick has home-run potential.
29. ANAHEIM DUCKS
Lassi Thomson, D, Kelowna Rockets (WHL): The scouting world is not happy with his decision to return home to play pro next season as opposed to playing on a Memorial Cup team. In any event, the key elements to his game include blazing speed, especially exiting from behind his own goal, and a bomb of a shot. Will play with bite when required.
30. BOSTON BRUINS
John Beecher, C, USNTDP: Is a lock to play because he doesn't have to score in order to be effective. A speed-burner, who can be an effective PK player at the next level. The offensive ceiling may not be high, but there are too many things in his game to not like him as a player.
31. BUFFALO SABRES
Bobby Brink, RW, Sioux City (USHL): The debate rages between size and skating ability versus hockey sense and finish for the 5-foot-8, 165-pounder. Numbers are numbers, though, and his are unparalleled at his age in the USHL.
[relatedlinks]