I want to be small enough to fit inside Rob Suggitt's suitcase.
The Edmonton resident is about to embark on a hockey superfan's dream vacation, and rack up an enviable amount of airmiles and hotel points in the process.
Thirty NHL games in 30 different cities over 30 consecutive nights.
"I'm probably most looking forward to seeing the Boston Bruins play on March 17th," Suggitt writes on his blog. "I finish my trip… in Toronto, for a Leafs-Canadiens game on Saturday April 11th. It's the final game of the regular season, and it's on Hockey Night in Canada."
Even better? It's all for charity.
Suggitt, who has been sitting on this idea for 12 years, first got the notion to see every home team back-to-back-to-back-to-back-to-back… after watching the Oilers in the 2003 Heritage Classic.
But it wasn't until a business relationship with Make-A-Wish Canada sparked the notion of turning his voyage into a fundraiser that his plan started to take shape.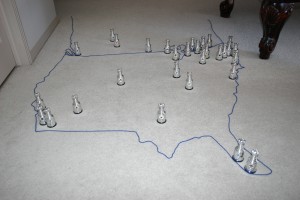 Suggitt, who is funding the trip himself, is looking to raise $30,000 ($1,000 per NHL city) for the foundation.
"I'm very fortunate to be able to take this trip, and I've been very fortunate with the health of my children, who are now young adults," Suggitt said in a press release. "To think that some children can only dream of good health, it would be awesome to help them achieve the kind of wishes Make-A-Wish grants to children with life-threatening medical conditions."
Suggitt's enviable (albeit jet-laggy) voyage begins Friday, when he'll take in the New York Islanders-Ottawa Senators game at Nassau Coliseum.
All told, the fan will travel roughly 38,000 kilometres, cross the border eight times, hop on 27 flights, take one train, and make two trips by automobile
You can donate to Make-A-Wish here, view a map of Suggitt's itinerary here, and plan your own accordingly.