Adam Oates knows there are coaches, executives and entire organizations unhappy with him.
Mike Yeo openly questioned Oates' relationship with Zach Parise and Ryan Suter days after being fired as coach of the Minnesota Wild. And, as The New York Post's Larry Brooks reported Sunday, the influence of Oates (and other skills coaches) was discussed two weeks ago at the GM meetings.
Let's get the conflicts out of the way. First, Oates is an occasional member of Sportsnet's hockey coverage. Second, we get along very well. His knowledge of the game is incredible; he's an outstanding resource, able to explain things in ways even addle-minded reporters can understand. In an occasionally tense phone call Monday, Oates didn't like all of the questions or accusations, but defended his reputation and addressed concerns about his growing role in skills development.
Accusation number one: he is trying to sneak back into a head coaching job by bonding with star players. His response to that one is simple, "I presume my coaching days are over."
"I understand that is an issue because I was a coach," he said. "I'm not planning on coaching anymore. I enjoy working with players on their skills, making them better."
"Initially, I didn't like what Mike (Yeo) said. I don't think it's accurate, and not fair to me or Zach, a player I've known for years. (Oates coached him in New Jersey.) I am never-ending in terms of trying to make him a better player. In hindsight, and I've thought about this a lot, I realize he's been let go and is upset. I got let go and was upset. I get it."
That took us to accusation number two: one GM apparently told compatriots he would not acquire an Oates disciple. Reason? He is "poisoning" the relationship between teams and players by telling them how they should be used. When I asked this question, he was so angry, he didn't let me finish.
"Not a chance, not a chance, not a chance," he repeated.
"That's the first thing we talk about with the players, we are not going to talk about your system or how you play. We are going to talk about your game. We are going to talk about improving your skills. If you're a face-off man and can't win a draw, what's the problem? If you need to get the puck off the boards faster, what's the problem? That's what I can help with."
Oates says he has around 16 clients, including Parise, Steven Stamkos, Mark Scheifele and Teddy Purcell. During the season, he sends clips of their play with ideas on how to improve. He spent a few days at Detroit practices in December, and said an agent reached out to him last week about working with several of his clients this summer. But, what he really wants to grow is a hockey version of Peyton Manning's Passing Academy. In June, the recently retired footballer holds an all-encompassing four-day event for quarterbacks, running backs, receivers and tight ends.
"Once we go through one summer of it, there will be no big deal," Oates says.
One of the problems for teams that don't like this is his clients believe he helps. Not every coach can understand how a star thinks and processes the game. Oates, a hall-of-famer with 1,420 career points, can.
He sees himself as no different than another skills guru, Darryl Belfry, who joined Toronto last summer. Or Gary Roberts, who created an off-season fitness empire.
Oates is blunt and supremely confident in his beliefs. That rubs people the wrong way. But, if he can provide an edge players see, they're going to continue to use him. You can't ignore it. The simplest fix is better communication between him and the teams.
One GM, who described himself as "neutral" on this issue, said part of the problem could be Oates's power-play expertise. He coached both Parise and Stamkos earlier in their careers, and could have a bias where they should play with the man advantage.
"Steve Yzerman did ask me, 'What are (Stamkos and I) working on?'" Oates said, declining to reveal specifics. "He's the only one so far. I could have done a better job of communicating with GMs and next time I will do that. I have no intention other than improving their players."
"Some drills don't work for 30 guys, they need a private plan. I wouldn't tell just anyone what I'm doing with a player, but I would tell a GM."
30 THOUGHTS
1. One other player Oates may work with is Peter Mueller, who is pursuing an NHL comeback for next season. Mueller, who played 297 games with Phoenix, Colorado and Florida, spent the last three years in Europe after concussions derailed his North American career. "He's been haunted by that injury," agent Darryl Wolski said Monday. "When we first mentioned his name, the response was, 'Doesn't he have concussion issues?'" Wolski says that's no longer the case. How much interest is there? "The word I'd use is there's a curiosity about him. It might take time, but we'll be patient and see how it plays out." Mueller will be 28 in two weeks, a prime age to give it a shot.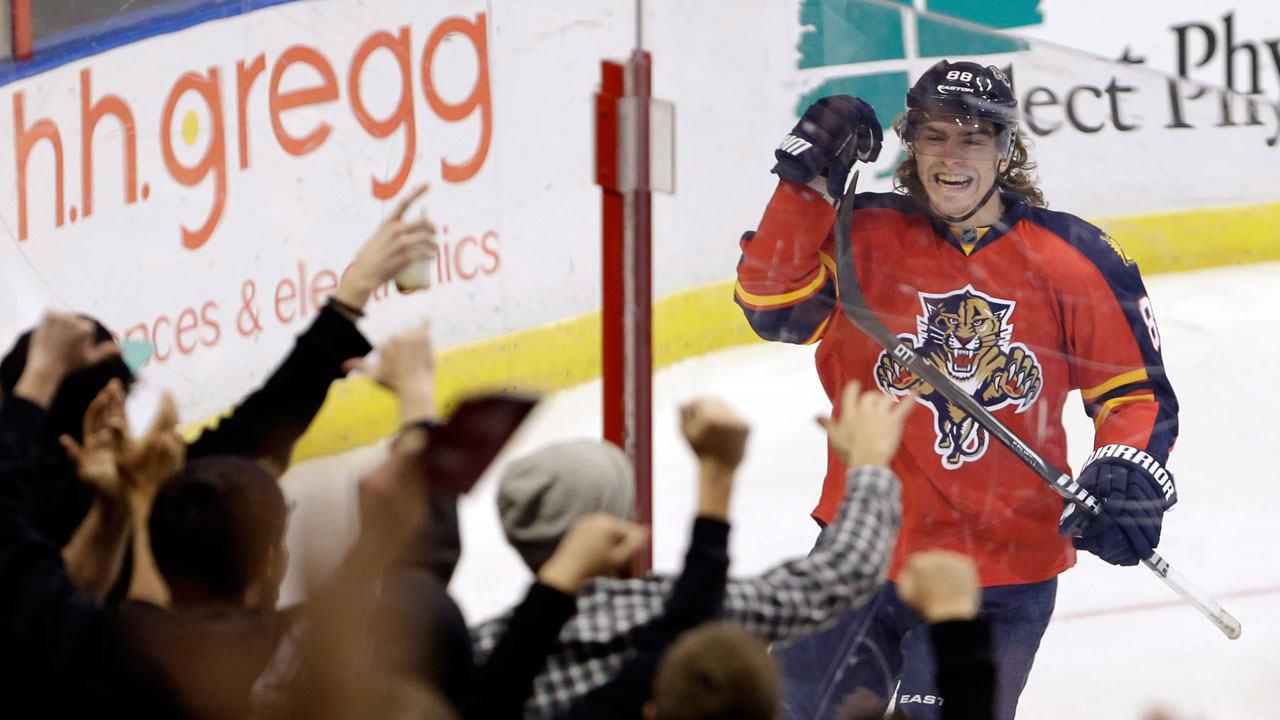 Former NHLer Peter Mueller is attempting an NHL comeback. (Wilfredo Lee/AP)
2. The American Hockey League is considering a similar fighting quota to the Ontario Hockey League's, potentially for next season. Commissioner Dave Andrews declined to comment, but he did ask some NHL teams for feedback on the possibility. The objective is not to eliminate fighting, but to impact players the league sees as "one-dimensional." A couple years ago, the AHL dropped the number of fighting majors necessary for ejection from a game from three, down to two. From what I understand, the new measures would target those who accumulate fighting majors during the season.
3. Let's fill in in some blanks with Nail Yakupov. The key to this is understanding that even though agent Igor Larionov was given permission to talk to other teams, Edmonton still must agree to any trade. My info at the time indicated a gap between what these teams were willing to offer and what GM Peter Chiarelli wanted. That's, obviously, a sticking point. I do think at least one club made a push, but it sounds like they ran out of time at the deadline. Like Justin Schultz, everyone here needs a change of scenery. Mark Spector wrote a good piece about the draft backstory on Yakupov. The story I've always heard is Yakupov spent some time with the Katz family a night or two beforehand, which won over the owner.
4. Very quietly, there was a belief last week that the Nashville Predators were going to get their man, that Harvard's Jimmy Vesey was going to sign with them. Now, the reason is clearer: as GM David Poile indicated Monday, the club was told Vesey was coming to town. Things changed, and now the Hobey Baker Award finalist plans to become a free agent on Aug. 15.
Poile said everything took an abrupt turn last Wednesday, and a requested meeting with Vesey, his father and family advisor/agent Peter Fish never happened. Hearing that, the most common reaction was, "Fish was worried the Predators would change Vesey's mind." It's a big blow, because the club is shy a top-six forward for a playoff run. Nashville said it will not trade Vesey's rights, although if you think you're going to get him, would you give up anything to obtain them? Because he was not a first-round pick, the Predators do not get compensation.
It's now about the Boston Bruins (closest to his home) and the Toronto Maple Leafs. One exec offered to bet a steak dinner on it. He took the Maple Leafs and gave me the field. It's well-known the organization hired his father as a scout and drafted his brother. If they do get him, will Nashville pursue tampering charges? Toronto was fined in 2009 for tampering with the Sedins, but then-coach Ron Wilson made the offending comments on radio. Despite an industry-wide understanding of what the club is doing, there are no public statements of interest. Current Maple Leafs GM Lou Lamoriello pursued a similar charge against St. Louis for a 1994 offer sheet to Scott Stevens. Five years later, the Blues were fined $1.4M and ordered to give up a first-rounder as punishment. According to Lamoriello (through The New York Times) the NHL found paperwork of an offer sheet that preceded the end of Stevens' contract with the Devils.
5. Vesey's first NHL contract is an easy one, no matter who signs him. That's CBA-mandated. Wait for the second one. Will there will be howls of protest, saying it was agreed to as a condition of signing? Again, very difficult to prove.
6. Boston's biggest draw in the hunt for Vesey may be his friendship with draftee Matt Grzelcyk. A defenceman and captain at Boston University, Grzelcyk was taken 85th overall in 2012, almost 100 spots higher than his Central Scouting ranking. It's believed he is loyal to the Bruins for taking that leap, but, like Vesey, he can also be a free agent Aug. 15. If they want to do it, there is a clear road to playing together — at home.
7. Speaking of Boston, I mentioned last week their rumoured interest in Brandon Tanev, younger brother of Chris. One source expressed surprise, particularly if the Bruins do plan on making a run at Vesey and keeping Grzelcyk. It's nothing against Tanev, he said, but a matter of contracts. Boston has two other collegians to deal with, both of whom are already their property. They are closing in on signing Yale's Rob O'Gara, another one with an Aug. 15 deadline. And, they are to be working on tying down Sean Kuraly, acquired in the Martin Jones trade.
8. Back in 2000, Mike Van Ryn, a New Jersey draft pick, left the University of Michigan for the OHL's Sarnia Sting. At the time, teams held the rights to NCAA players until the draft after they left school. But Van Ryn argued he should be a free agent sooner under the rules for CHL players. He won, and signed with St. Louis. The NHL closed this loophole in the 2005 CBA, stating a college player's rights stay with the team that drafted him until Aug. 15 the year his class graduates from college. But, if you wish to be patient, like a Kevin Hayes or a Vesey, you're going to go free anyway. In the late hours of the 2013 lockout, the NHL pushed a change for European players, that clubs who drafted them could keep their rights for four years, up from the previous two. But can anyone see a situation where teams are allowed to keep players longer?
9. The status of Calgary's Mark Jankowski is different because the Providence College forward was a first-rounder. If no deal is reached, the Flames get a compensatory pick, which would be 51st overall. (The formula is simple: 30 spots later than where a player was originally selected.) The issue in Jankowski's case is bonuses. The club and the agent (Wade Arnott) are arm-wrestling over them.
10. I'm working the Ottawa Senators vs. Winnipeg Jets game on Wednesday night. Was hoping to see some Kyle Connor, but doesn't sound like that's going to happen. Bummer. By the way, it's believed the Los Angeles Kings would have taken Connor if they hadn't traded their pick to Boston in the Milan Lucic deal. Certainly, the rest of the NHL is disappointed they missed out.
11. Pittsburgh adds blue-line depth with Ethan Prow, who led all NCAA defenders in scoring. It's an area they've been looking to address. They pursued Swedish free-agent Linus Hultstrom, but he chose the Florida Panthers. On a larger scale, I think the Penguins also dipped their toe in the Dion Phaneuf pool at some point, but there was no way to make the salary work.
12. Prow will join AHL Wilkes-Barre/Scranton Penguins on a tryout for the remainder of this year, as his professional contract kicks in for 2016-17 season. Columbus looks like it's doing the same for Zach Werenski. We're seeing a few of those, and expansion protection is a huge reason. Teams aren't just concerned about the possibility of a draft in June 2017. What if Las Vegas (or Quebec City, or Seattle, or China) gets a new team for 2018-19? A player like Prow would be protected for that draft, because he did not "burn" a year of his deal this spring. If the NHL does decide to expand for 2017-18, don't be surprised if we see some potential contract extensions kept hidden until after that draft, especially for those closing in on unrestricted free agency. What's better for both club and player? Being exposed as a potential unrestricted free agent, or being exposed with an extension? If you're happy where you are, the answer is definitely the former. Don't get taken, then sign your new deal.
13. A couple of astute Tweeters pointed out Toronto's William Nylander is already a second-year pro, having played last season for MoDo in the Swedish Hockey League. In theory, that would force the Maple Leafs to protect him next June. However, I've heard there is a provision that players who play professionally while still having junior eligibility will not have those seasons count towards their expansion status. That avoids headaches for whoever drafts Patrik Laine, Auston Matthews and Jesse Puljujarvi, too.
14. One junior executive half-jokingly called me "un-Canadian" for not pumping up CHL free agents as much as NCAA ones. It's different for them, because there are more late bloomers among college kids, who have several seasons after their draft years to improve. The CHL guys usually have just one season after draft eligibility. New Jersey's Joseph Blandisi is a good example of someone who made a late charge. Three who were being scouted already signed: Dryden Hunt (Florida), Jordan Maletta (Columbus) and Jon Martin (San Jose). Medicine Hat's Ty Stanton got a tryout with AHL Toronto.
15. The best feedback I received was for WHL players. There just didn't seem to be as much conversation about OHL or QMJHL guys. So, in order to keep my Canadian citizenship, here are some names to watch out for:
– A couple of sources indicated they thought Lethbridge's Justin Gutierrez was nearing an NHL offer before suffering a concussion. He's a big centre and had 49 points in 46 games.
– Red Deer hosts the Memorial Cup, which could be a late-season showcase for Luke Philp. Philp, who has attended summer camps in Toronto and Philadelphia, missed three months with a broken ankle.
– St. Louis had Brandon defenceman Macoy Erkamps in one of its camps. Erkamps became the Wheat Kings' captain one year after being traded there, which did not go unnoticed.
– There are also three players who must be signed by June 1, or they go back into the draft. New Jersey has Edmonton Oil Kings centre Brandon Baddock and Kamloops defenceman Ryan Rehill, who played a key role in a Blazers' turnaround. The Blues have to decide on Kootenay winger Jaedon Descheneau. He ranks third behind Sam Reinhart and Jarret Stoll on the Ice's all-time scoring list. But, he suffered a shoulder injury that ended his season after just four periods.
16. At some point, you can expect LA to divest itself of Nikolai Prokhorkin, a talented Russian forward who decided to go back overseas. He was part of the aborted Teddy Purcell trade and it would surprise no one if the Oilers doubled back. But I think there's other NHL interest, too.
17. Quote of week came from an exec who heard Arizona GM Don Maloney told fans he would not trade Oliver Ekman-Larsson for the right to draft Auston Matthews. "Okay, but would he trade Ekman-Larsson, Domi and first for Matthews?" I thought that was pretty funny. The problem with trading him, is that not only do you have a mammoth-sized hole on your blue line, but good luck at replacing it for $5.5M over the next three years. It's one of the NHL's best-value contracts.
18. Spoke to Vincent Lecavalier last Friday, but he politely declined to address a question we're all wondering: Is there any chance he changes his mind about retirement? He spoke about that when he first signed, and didn't want to go back there. He's reborn in Los Angeles, scoring twice in Monday's loss to San Jose. "The way they play here is very different than the way I've ever played or been asked to play," Lecavalier said. "No blowing the zone. No separating yourself. Everyone stays close for support, moving together. It's a good fit for me." Did you have any questions for the Kings when they were trading for you? "No, not really. I was just excited for a new opportunity. They were the ones who had questions for me. Was I on-board with what they were trying to do? I told them I was. We spoke about 10 minutes before the trade happened." I don't think Los Angeles could afford it if Lecavalier changed his mind, even with Philadelphia keeping half his salary.
19. Is there anyone on the Kings who is a much better player than Lecavalier realizes? "Anze Kopitar for sure. You know how good he is, but seeing him in-person, he's even better than you think. Jake Muzzin and Alec Martinez. They are really good defencemen, but don't get much recognition." Does he watch the Flyers at all? "They're always on when we play late, because (Luke Schenn) wants to see how Brayden is doing," he laughed.
20. Expect Team Canada to start pursuing players for the world championships. First priority will be to those on the World Cup "watch list," which is why, as John Shannon reported Saturday, Taylor Hall should be one of the first announced. (Connor McDavid, too, but he's playing for the Team North America in September.) P.K. Subban told intrepid Montreal correspondent Eric Engels he'd like to go, too. I mentioned this to another player, who pointed out that he and his teammates noticed the defenceman wore a knee brace for a few games prior to his neck injury. Interesting. Let's see if that prevents Subban from attending.
21. Detroit and Montreal play Tuesday night. The Red Wings had 37 scoring chances in their last meeting two weeks ago (Montreal had 13.) Our tracking company, sportlogiq, says there have been only five games this year where a team had 37 or more. Detroit's 43 vs. Colorado on Feb. 12 is the highest recorded total in 2015-16. The Avalanche won that game, 3-2 in a shootout.
22. Hard year for Matt Carle, who has been a healthy scratch in almost one-quarter of Tampa Bay's games. Anton Stralman's leg injury brings new life. It's awful for Stralman, but as Raptors head coach Darrell Walker used to say, "One man's injury is another man's opportunity." Carle was playing 16:14 a night beforehand, then followed with 18:42 against Florida and 21:54 versus Toronto. Almost 11 minutes of that was shorthanded. Carle averaged fewer than 90 seconds a game in that scenario before Stralman was hurt. Carle will be proud because younger brother David, who had to give up his own hockey career because of the same heart condition that killed Alexei Cherepanov, is an assistant coach at NCAA Denver. The Pioneers are in the Frozen Four.
23. One NHLer on Chicago: "You wonder if all those extra games will ever catch up to them. It's more than a full season now." Going back to the beginning of the 2009-10 season. Keith Yandle has played more games than anyone else, 534. Brent Seabrook is 10th, Niklas Hjalmarsson 33rd, Duncan Keith 37th, Jonathan Toews 73rd, Patrick Kane 80th and Marian Hossa 143rd. Now, add in the playoffs. Seabrook moves to first, at 618. Hjalmarsson is second, Keith third, Toews seventh, Kane ninth and Hossa 37th. Those are six of the eight players with 95 or more post-season games during that time. The others are Mike Richards and Patrick Sharp. With Chicago's depth weakened due to cap issues, Western opponents are hoping (praying?) that this might finally catch up to them.
24. When Zdeno Chara came through Toronto last week, I asked him to compare his flex to the 130 Shea Weber used in the hardest shot competition at the all-star break. He said he couldn't, because his company (Warrior) goes the opposite way, meaning the lower the number, the stiffer the shaft. He gave me a chance to try and flex it. Of course, I failed miserably.
25. He won't get a ton of support in a loaded Calder race, but Carolina's Jaccob Slavin is coming on strong. He's led the Hurricanes in ice-time for 13 straight games, with his average hitting 25 minutes per night over the last month. I had a chance to talk to Carolina's director of amateur scouting, Tony MacDonald, about some of the club's recent decisions, and he told a great story about Slavin, taken 120th overall in 2012. "I'm going to give (amateur scout) Bert Marshall a lot of credit. Bert really liked him, having seen him the most. He wasn't pounding the table, but he was beseeching me in strong fashion…'Why don't we take this guy right here?' There were not a lot of other guys we were excited about. Since Bert felt so strongly, it made it easy to take him." Give him a raise.
26. The Hurricanes are getting a lot of credit for their 2015 draft. Noah Hanifin was a no-brainer at No. 4. Second-rounder Sebastian Aho (35th) and Nicolas Roy (96th) are also trending in the right direction. "We'd been following him (Aho) since the 2013 Ivan Hlinka tournament. He played three games as an underage in the Finnish league, and even in the (2015) world juniors, where he had zero points, he captured our imagination." How? "You could see the hockey sense, competitive drive, his extra gear to create separation. We were looking at a defenceman and a forward. The boss (GM Ron Francis) expressed desire for a forward, but would've allowed a defensive pick had we wanted to."
It's believed the Hurricanes also liked Travis Dermott, who went one spot earlier to Toronto. But they probably would have taken Aho anyway. Always better to do what the boss wants, right? "Right," MacDonald laughed. He was just in Cape Breton watching Roy, playing for Chicoutimi in the QMJHL playoffs. Roy did not report to Cape Breton despite being drafted there and the reaction is generally hostile. "We were concerned about him…they booed him every time he touched puck. We get it, even though he felt he had legit educational concerns. They targeted him, worked him, gave him a shot after whistle. You expect it in that situation. He handled it well, didn't allow it to affect his game." Roy had 48 goals in 63 games. "He felt he should have gone higher in the draft," MacDonald said. "He's got something to prove."
27. Aho played briefly in Finland with Aleksi Saarela, acquired in the Eric Staal trade. Did that factor in getting him? "No. He wasn't considered to be their top prospect, but of the people made available, he was the one we liked best. That choice made the most sense for us."
28. Martin St. Louis on the similarities between himself and Mats Zuccarello: "When I first started, I used a very long stick, too. He was more of a pass-first guy and probably a bit better defensively than I was when I was young. Very similar game. Hard-nosed game." Zuccarello has said how much St. Louls helped him. "I told him at one point, 'People know how tough you are, you don't need to keep proving it.' It's too tiring. You'll get hurt and won't have energy when you need the puck. It wears you down. Don't waste all that energy. Pick your spots better and you'll have juice in the tank." Second piece of advice: "Believe in yourself. I know you always feel you have to prove yourself to other people, because you're not a high draft pick. But, you have to stop putting everyone else on a pedestal because you were not supposed to be here. That doesn't mean you don't stop being respectful of others, just don't disrespect yourself." So, when did St. Louis stop disrespecting himself? "Once I got a chance on the top two lines in Tampa." Was he ever comfortable that he'd made it? "I don't think that ever happened."
29. St. Louis spends a lot of time coaching his sons. Does he miss the NHL? "I don't miss the pressure I put on myself. It was time." 
30. Please check out the Go Fund Me page for the family of referee Butch Mousseau. Mousseau died last week after falling on his head while skating during a pre-game warmup. I didn't know him personally, but the tributes from those who did are very moving.