Generally, when North American hockey fans consider Russian free agents, they think about the potential returns of Ilya Kovalchuk or Alexander Radulov. Those are the biggest names we know.
Roman Rotenberg wants to talk about Artemi Panarin.
"We are very proud of his success," Rotenberg said by phone from Russia. "This is a young man who was never drafted. I saw how hard he worked over here. On the ice, off the ice. Now, he is in Chicago, on the number one line in the NHL…His contract was up and he had a choice. He stayed until he was ready. He didn't have to play in a lower league or a different league."
Rotenberg, 34, is one of the powerful young faces in the country's hierarchy. His hockey responsibilities include a vice-presidency of the Russian Ice Hockey Federation and vice-president of 2015 KHL champion St. Petersburg. His father, Boris, is a close confidant of Russian President Vladimir Putin. I'd reached out a few times, most recently regarding expansion into China, and we connected on Sunday.
When the KHL was founded in 2008, there was a ton of debate about how much of a rival to the NHL it would be. It didn't turn out to be as much of a fight as expected. The decline of the ruble really hurt, although Rotenberg points out "what is happening with oil prices is a global issue, not just a Russian problem."
The two leagues respect each other's contracts, and, asked how the current relationship is with the NHL, Rotenberg offered few complaints. He talked more about ideas for future development of the game (China, for example) but he's also trying different things in his backyard.
Russia was extremely disappointed by its 2014 home ice Sochi showing, as a 3-1 quarterfinal loss to Finland eradicated any chance at a gold medal.
The Olympics went best-on-best in 1998. The Russians have a silver medal from the first event and a bronze in 2002. Since then, they've been fourth, sixth and fifth. They won the World Championships in 2012 and 2014, but were blown out by Canada 6-1 in last year's final.
Those results aren't good enough. What's worse is opponents believe Russia's predictable coaching — don't worry about matchups, roll your four lines, etc. — is a major reason why.
"That's what we are talking about," Rotenberg said. "In Russia, for a long time, the coach was God. He'd do everything, made the decisions by himself…When we lost, it was, 'Who do we blame?' Sometimes, we won because of our great players. In North America, in Finland (where the Rotenberg family owns the Jokerit franchise), there are more people involved. We are trying new things. From the six-to-nine age group, to nine-to-12, to the junior level, under-20, But the final exam will be the Olympics in South Korea."
North American scouts with knowledge of Russia do see some changes in St. Petersburg. An improved scouting presence, for example. As one of the wealthy organizations, it can go out and buy the best players, but newer emphasis on development is noted. Sergei Zubov, who had a magnificent NHL career, is an assistant coach there, and was recently added to the same position with the National Team.
On other clubs, though, adaptation is slow. It's a mindset that's not easy to change. (Guarantee you this: North American coaches hope it doesn't. They feel their Russian counterparts beat themselves.)
Which brings us back to Panarin. He didn't mention any specific names, but Rotenberg made it clear he'd like to keep many of Russia's good, young pros as together as possible until South Korea 2018. He wants to see their potential Olympians up close and at home, not overseas — especially if they are not going to be in the NHL. His sales pitch is, "Look what Panarin did. Got ready here, went there and was successful."
He's probably not talking about Nikita Zaitsev, a 24-year-old defenceman who has told teams he intends to sign with Toronto. But, one NHL scout suggested he could be talking about 22-year-old Nikita Soshnikov, who left a team in Moscow for AHL Toronto. The free-agent signing has 15 goals in 38 games for the Marlies.
After I spoke to Rotenberg, I found a report from Sport-Express's Igor Eronko indicating St. Petersburg wants to sign two of its good young players to extensions. They are 20-year-old Pavel Buchnevich (taken 75th in 2013 by the Rangers) and 19-year-old Alexander Dergachyov (74th by Los Angeles last June).
Rotenberg said the KHL wants to keep Kovalchuk and Radulov, "because they are the stars of the league. Our fans want to see them." But he was much more passionate discussing the younger men. He wants them at home, too.
30 Thoughts
1. We'll start with a few more notes from the conversation with Rotenberg.
On Beijing, where the KHL will expand to next season: "It started with a meeting between the President of Russia and the President of China. In getting the 2022 Winter Olympic Games, they wanted to build their hockey program like they have in figure skating and tennis. They have the MasterCard Center, an 18,000-seat arena that hosted the (2008) Olympic basketball tournament. There will be a KHL team, a team in the Chinese league and a youth academy. There are one billion, 300 million people in China. There are 2,000 registered hockey players. This is an important opportunity for hockey, to build rinks and develop more players."
He says there haven't been many conversations with the NHL about its future interests in this country. It's been reported the KHL will consider expansion to South Korea, but Rotenberg was non-committal. "What is the limit as to how many teams we can have?"
2. Does he think the NHL will send its players to PyeongChang for the 2018 Winter Olympics?
"We have spoken to (IIHF President) Rene Fasel, (NHL Deputy Commissioner) Bill Daly and (NHLPA Executive Director) Donald Fehr. We don't have an answer yet from them, which I understand."
What is your opinion? "My opinion? Yes. The opportunities in China are too important. It will be very difficult to go to China if not in South Korea."
The Russian players made it very clear they were going to Sochi even if the NHL/NHLPA did not reach an agreement. Should we expect the same thinking this time? "I don't think they would have a legal position to do so…If the NHLPA does not approve them to go, they can't get a transfer card to play from the IIHF. Maybe some individuals…or players in lower leagues could (try). But, I don't think they would have a legal position."
3. Rotenberg said the current relationship with the NHL "is good," but admitted he was disappointed to hear reports Toronto made Panarin an offer last December.
"That is not very nice, we are supposed to respect each other's contracts." Will he make any kind of complaint? "No. It is over now, he is playing in Chicago…that was a long time ago. There is no point."
Kovalchuk has one more season on his KHL deal, while Radulov is free this summer. As mentioned earlier, he would like to keep both, although he made an interesting comment that for Kovalchuk, "There are certain expectations of how you are expected to perform." As for Radulov, will an NHL team be willing to offer him more than one year?
4. One final detail: Slava Voynov's KHL commitment runs through the 2018 Olympics. Weren't many sorry to see him go. Will anyone try to bring him back? Voynov will be 28 then.
5. At the risk of being bludgeoned by a bagpipe, I'm going to disagree with colleague Glenn Healy that the offer to Steven Stamkos (an AAV of $8.5M) is "embarrassing."
It's the same thing as a player's agents asking for $14M, a negotiating point. The most important question is what Tampa Bay's "real number" is. How much are they willing to move beyond this position? If you're starting at $8.5M, you're saying — to me — you are willing to go into the 9s, maybe 9.5, but want to avoid the 10s.
Los Angeles wanted to avoid the 10s with Anze Kopitar and ended up there. Let's see where it goes.
6. While it's safe to assume the Lightning offered a full eight-year max, it's possible Steve Yzerman also offered a shorter term.
In theory, that allows Stamkos another opportunity to cash in during his prime. Maybe the cap is higher, too. I'd be surprised if that's the choice, but it should be noted.
7. Seeing a lot of comparisons between Jonathan Drouin and Derick Brassard, mostly because both asked for trades and both share the same agent, Allan Walsh. But I see Drouin as more similar to Kyle Turris.
Turris was 22 when he refused to return to Arizona — two years older than Drouin is now — and took huge heat for that choice. To his credit, he ate it, then delivered upon arrival in Ottawa.
Whenever Drouin goes, that's the path he'll have to follow. I did ask a few sources if they believed there was any chance Drouin and the Lightning could kiss and make up. All answers point to, "No freaking way."
8. So, who is driving this bus? Walsh is taking the bullets, which is what agents are expected to do for their three per cent. But, there is no doubt this is Drouin's wish.
It is believed he wanted to do this at the end of last season and was convinced to hang on. He was not willing to wait any longer this time around. This is much edgier than, say, Travis Hamonic and the Islanders. When things came out with Hamonic, his agent Kevin Epp clammed up like he was being probed for his bank-card PIN number.
This doesn't have anything to do with Drouin/Walsh, as their relationship is strong, but, out of curiosity, I asked around in the past couple of weeks about situations where an agent and client don't see eye-to-eye. I was told that, in the last couple of seasons, a player and his father told an agent to go to a team and demand more playing time. That idea was rejected. The agent was fired. (Before you ask, the source wasn't giving up the names.)
9. Not a lot new on the Drouin watch. Originally, there was a lot of talk about Robby Fabbri (I'm guilty of this one), but I don't think that's the case anymore. St. Louis continues to have interest, although Fabbri's inclusion seems unlikely. They like him and he's fit in nicely. Also heard Detroit snooped around, but it's hard to see a trade match.
10. Marc Bergevin got a lot of credit this week for throwing himself in front of Michel Therrien and the Canadiens like a human shield.
I liked how he did that, especially since he's got a ton of security with his recent contract extension. Take the heat when you can. But, I also liked how St. Louis GM Doug Armstrong accepted responsibility for the Blues only playing with five defencemen in Detroit. A roster move was not made in time, affecting the lineup. There've been cases where GMs blamed an assistant or capologist for that. Armstrong didn't.
11. Bergevin told a couple of potential pursuers that Alex Galchenyuk was not available. The Canadiens don't have many forwards with his potential of size and speed.
Despite that, it sure sounds like if Galchenyuk was a golfer, he'd be "on the clock." I don't think, however, this patience is limitless. If his inconsistency continues, there's going to be a point where Bergevin listens, maybe as soon as the draft.
As for other moves, the bet here is Bergevin waits to see how Carey Price feels.
12. For much of their fall down the Atlantic Division and Eastern Conference, the Canadiens continued to outshoot their opponents. But, those attempts moved farther away from the net.
Sportlogiq data indicates 49 per cent of goals scored league-wide come from the "inner slot," directly in front of the net. Before Dec. 2, 13.7 per cent of Montreal's shots came from that area. From that date until last Saturday, the total dropped to 12.2 per cent. And, in the five-game losing streak that ended in Toronto, it slid further to 10.7. Got to get there.
13. Considering the Blackhawks just re-worked coach Joel Quenneville's contract (and deservedly so), is anyone surprised the team announced a three-year extension for GM Stan Bowman Tuesday morning? Quenneville had one more season to go when the change was made. Bowman has two.
14. Unwanted week for Winnipeg, which scored three goals in three losses.
The Jets play their final pre-break game 10 points out of a playoff berth. It's believed they are going to make a serious run at signing Dustin Byfuglien, and there are additional reports talks broke off with captain Andrew Ladd. The difficulty in reporting this stuff is things can change. If it doesn't work with the former, the Jets may circle back to the latter.
There's time. But as I write this Tuesday morning, the best feeling I get is there's a better chance of Ladd going than Byfuglien. I've written before Winnipeg's hesitated going beyond three years with Byfuglien. Are we talking five? Six? Are they willing to go that far? With Ladd, it sounds like there's a dollar figure the Jets won't cross. My guess is it's $6M, but that's a guess.
15. We've touched on the Claude Lemieux/Ritch Winter legal battle, and the effect it could have on Anaheim. For the record, two of the Ducks' key restricted free agents — Frederik Andersen and Hampus Lindholm — are now officially represented by Lemieux.
16. Nazem Kadri was pleasantly surprised by Toronto GM Lou Lamoriello's comments about his play.
Kadri didn't want to offer much about his own vision of the future, simply saying he hadn't talked contract with the club and "didn't want to think about it once the season began." Time to concentrate.
17. One source predicted Aleksander Barkov's extension would come in at six years and around $37M. He was bang-on with term, and very close with the dollars (it ended up being $35.4M).
Barkov's new deal starts next year at $4.25M, moving to $5.25M, $6.25M, $6.9M, $4.75M and, finally, $7.75M. There is a no-move clause when he is first eligible in 2020-21 and a 12-team no trade in the sixth and last year of this contract.
I still wonder if Jaromir Jagr will show up at All-Star, take selfies, kiss babies, wave to the crowd and be allowed to rest for the game. If that's the case, the league should pick Barkov to replace him. Give this young man some pub. He's a terrific player on a rising team.
18. Important showcases coming up for draft-eligibles. Thursday night, there's the CHL Top Prospects Game (a Sportsnet extravaganza) in Vancouver. Then, scouts will descend on Finland for a couple of junior tournaments.
Neither Patrik Laine nor Jesse Puljujarvi are expected to play in those, but they should be available for Finnish League games while everyone is there. Expect high attendance. And, from Scandinavia, it's not a long trip to watch Auston Matthews.
19. Funny Fact of the Week: Ron Francis is known as "Fort Knox Francis." You can't get anything out of him.
20. About 30 years ago, I watched an interview with then-Blue Jays manager Bobby Cox. The team was moving from expansion patsy to American League East contender. For the first time, they were going to finish .500 for a season.
People were so excited, and Cox snapped. He basically said, "What has .500 ever won?" It stuck with me.
I was reminded of that interview while talking with Hurricanes coach Bill Peters. Asked if he expected the Hurricanes to be where they are, he replied, "Well, where are we?" I can see why he and Mike Babcock get along pretty well. Similar outlooks. Many of us view them as a team that's amazingly in the race. Peters is like, "That's nice, but we've got a long way to go."
21. Carolina's strength is on the blue-line, with much offensive potential among the veterans (Justin Faulk, Ron Hainsey, John-Michael Liles) and rookies (Noah Hanifin, Brett Pesce, Jaccob Slavin). They've got a long rope.
"They've got the green light to go," Peters says. All the time? "All the time." Peters explained that it's the forwards' responsibility to watch for holes. They'll get benched for coverage mistakes more than the blue-liners will. It's particularly obvious on the power play.
We did a comparison during their game in Toronto last week. With the man advantage, 18 per cent of the team's shot attempts from the slot came from defencemen. Toronto's total was 7 per cent.
22. Pesce's got a good sense of humour. Asked about leaving NCAA New Hampshire with one year of eligibility remaining, he said the Hurricanes convinced him he would get some NHL games, although no one expected this much this quickly.
Did someone make you promise to finish your degree? "My mother," he said with a smile. "We've got a strong academic family. My older brother works on Wall St." So, he's contributing to the decline of the world economy? "Yes," he laughed.
What was Pesce's welcome-to-the-NHL moment? "Probably playing San Jose and watching Joe Thornton control the puck on the power play. I was thinking, 'Wow, I grew up watching him do that.'"
23. One opposing GM made a good point about Hurricanes. If they do let both Eric Staal and Cam Ward walk, how will they reach the salary floor?
Carolina is around $11M above the baseline with $25-$30M coming off the payroll. None of their young core need extensions yet. It's an interesting question, because you want that flexibility.
They'll have all summer to figure it out, and plenty of options to "help" others needing financial freedom.
24. Management and coaches may disagree, but Ottawa is fun to watch. They create a ton of chances, and give up plenty, too.
Among goalies with 30 starts, only Braden Holtby (3.42 goals per game) gets more "run support" than Craig Anderson (3.03). Unfortunately, Anderson has the highest goals against in that group (2.80), with Ryan Miller second (2.73).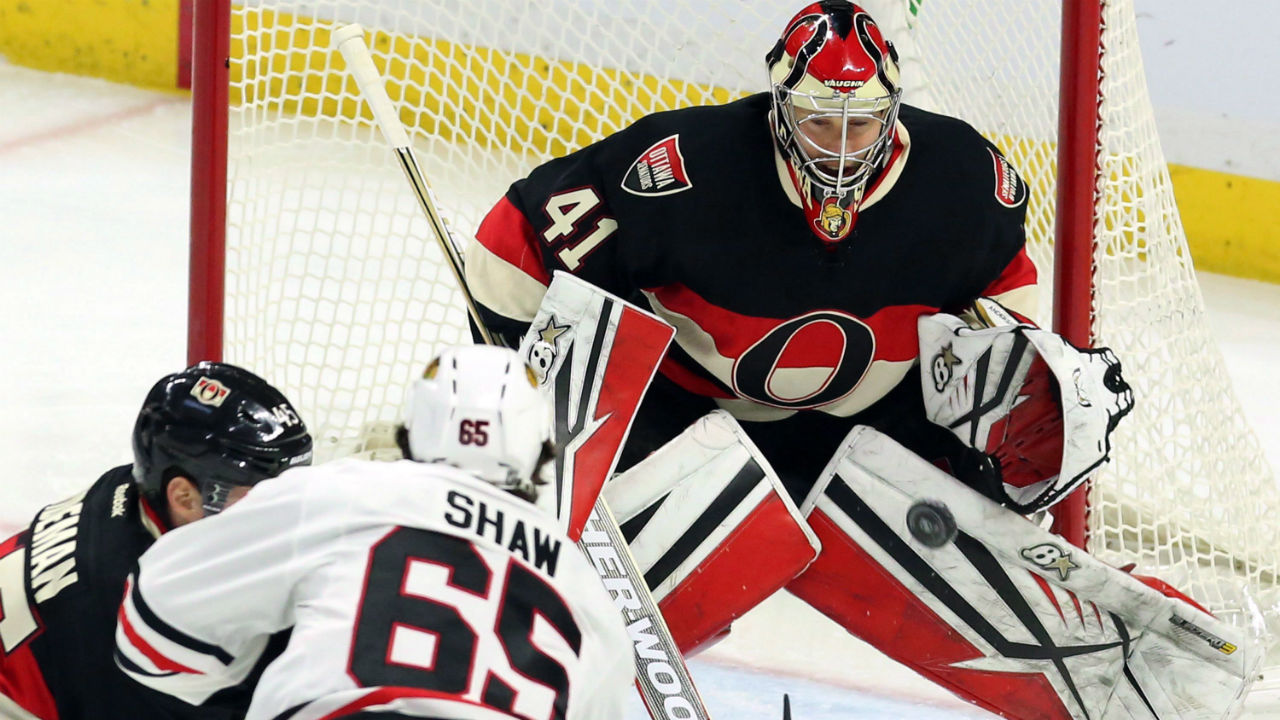 "We're worth the price of admission, aren't we?" Bobby Ryan laughed Monday. "It's both a blessing and a curse. You have a stellar goalie, and you're asking too much. When you have that kind of confidence in him, it gives you too much confidence in what you can do. Then you hit a dry spell, and every mistake is more magnified." He said the Senators were more diligent in shutting out the Rangers 3-0 on Sunday. They still gave up 35 shots, but I counted only 10 scoring chances, which is an improvement.
We were joking about it, but Ryan admits the fight against "entertainment" is underway. "You aren't going to win games in February, March — and later — that way."
25. Ryan has 42 points in 48 games. He's 26th in goals, 23rd in assists and 17th in points. After a nightmare finish to 2014-15, he's rediscovered his offensive ability. What's different?
"I feel more confident with the puck, but this is a big time for me because it's about the time I started to struggle (a year ago)." When did you start to feel better? "Probably the first time I weaved through the neutral zone and didn't lose the puck. It was so bad I was dumping it, hoping to get to it back. I've had to re-brand myself, do what I can do…play with the puck along the wall, as opposed to having no confidence and getting rid of it."
Ryan actually came out of the All-Star break reasonably well a season ago. He had 16 points in 16 games. It went off a cliff starting March 8, with just seven points in his last 25 games, including playoffs. Three of them came in one game. Hopefully for him, the newfound confidence prevents a repeat.
26. Finally, both he and Blake Wheeler publicly critiqued their team's play in the last two weeks. Ryan did it after a bad loss to the Islanders, and I was curious about the psychology.
Do you walk off the ice and say, "I'm going to do this tonight?" How much do you consider the idea? "Not as much as you might think," he replied. "The thought process is that we've heard the message from the coach, maybe if you read it or hear it from a teammate, you think differently, you come in (for the next game) ready to work. I made sure I wasn't naming names, so we can all look in the mirror, including myself. It was nothing I wouldn't have said in the room."
Ryan thinks what really helped was the Senators had an off-day followed by an afternoon game, so it didn't linger.
Do you sit there and say, "Okay, I did this, now I better deliver?" "I did," he answered. "It was a constant worry. You're hoping your legs are okay, it's not one of those games the puck doesn't follow your stick. If you go out on a limb, you better back it up." He scored the opening — and winning — goal.
27. Teammate Erik Karlsson leads the NHL with 17 30-minute games this season. Ryan Suter is second with 12, Drew Doughty third with 10.
Since the NHL began publicly noting per-game time on ice, Brian Leetch has the most 30-minute games in one year, with 38 in 2000-01. Ryan Suter had 37 in 2013-14.
With 32 games to go, Karlsson's going to give these guys a run. Against the Islanders, the second game of a back-to-back, he played 32:45. The next-highest Ottawa defender? Patrick Wiercioch, at 19:48. Marc Methot was not in the lineup.
28. In our late game Saturday night, Predators coach Peter Laviolette briefly benched Ryan Johansen after a bad penalty against Edmonton.
Johansen has nine points in eight games with Nashville, and a couple of opponents said he's building nice chemistry with James Neal. His skill is undeniable, but, if he ever shows more of his power, that will unlock his full potential.
His third game with his new team was against Chicago, and look what happens to him when Marian Hossa knocks him off the puck. He never gets back into the play, leading to a 2-0 Andrew Shaw goal in a 3-2 Blackhawk victory.
Shortly before being benched in Alberta, he takes an indirect route to the puck, allowing the Oilers to clear the zone. Those are the kinds of plays Columbus complained about. If he wants to prove the Blue Jackets wrong, he's got to eliminate those outcomes.
29. Damien Cox reported last weekend that, of the NHL's 55 offside goal reviews so far, 22 were found to be a violation, cancelling the score.
At the Board of Governors in December, there was surprise at how many had already been overturned. But there was also an understanding this is a super-fast call with razor-thin margins. Nobody was ripping the linesmen. However, as we reach 40 per cent turnover, coaches worry any close play will be blown dead, because no one wants to be embarrassed.
Very curious to see what happens at the next GM meetings.
30. So, we've seen Bobby Ryan and Cam Atkinson "win" puppies for fans in the last two days. Funny and heart-warming, but time for fans to up the ante.
Tonight, let's see, "If Erik Karlsson plays 40 minutes, I get Super Bowl tickets." Or, "If Brent Burns shaves, I get to ride on the Space Shuttle."