Nathan Lieuwen has a good memory.
"We played back-to-back (AHL) games on Friday and Saturday," he said with a laugh, "then I got the call on Sunday. Jhonas Enroth got hurt and I had to go in. I was lucky to be warmed up from the previous two days. You're nervous, but then you remember hockey is hockey."
Drafted 167th by Buffalo in 2011, Lieuwen played for the Rochester Americans during most of the 2013-14 season. He made 38 saves on Friday, March 14, 2014, but lost in overtime to Toronto. He followed with 31 more the next day in Binghamton, another one-goal defeat. But any frustration at back-to-back 2-1 losses eroded when he was told to get to Buffalo on Sunday for his NHL debut.
With the Sabres down 2-0 late in the second, Enroth went down and Lieuwen went in. He stopped all 10 shots he faced.
"I was thrilled," he said. "Things were going as well as they could. I was not a highly touted prospect. I wasn't drafted the first time I was eligible. I was working my way into getting noticed."
"All you want to do as young player is make it in the NHL. It was surreal."
Lieuwen played seven games, getting his first win on April 1, a shootout victory against New Jersey. His final appearance came five days later. As the minutes ticked away in a three-goal defeat, Philadelphia's Jay Rosehill skated through the crease, making contact with Lieuwen's head.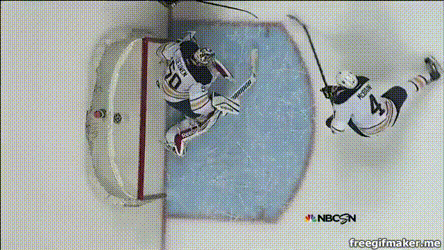 "I was on the left post, kind of down and he cut into the middle. As soon as the impact happened, my vision changed. It was noticeable…scared me instantly, because my vision was different."
Lieuwen suffered a concussion, but the consequences were not similar to most we know.
"I'm very fortunate that I'm not experiencing headaches or dizziness. But I had serious deficiencies with my eyesight. There's a long and a short story. The short one is that you're reaching for a bar you can never get to. I just made the NHL, and I wanted to get back. It's all you are focused on."
He said the Sabres "were good" about sending him to a top eye rehab specialist in New York City. Eventually, he started seeing Dan Bos, a physiotherapist in Abbotsford, B.C., who has helped many NHLers. Both would get on him track, but only for short bursts.
"For a while, it would be okay. The next season, I didn't feel bad, came into camp and started decent. Then my sight would fall off tracking the puck from side-to-side. But I kept making that push. Nothing could stop me from continuing to try. If there's even a one per cent chance I could get healthy and get back to the NHL, I was going to try."
He spent two more years in Rochester. This past season, he joined the Avalanche organization, playing 12 games at ECHL Colorado and two with AHL San Antonio. But, earlier this week, at age 25, he informed his family and friends that it's time. He is retiring from pro hockey.
"I was the one on the ice, and I knew I couldn't be the goalie I could be. It tore at me every day. Things just got so bad, day after day asking my eyes to do something they couldn't do. There is no point hitting my head against the wall."
There is good news. The best thing about our conversation is that Lieuwen sounds great. Wife Breanne welcomed Wesley Brian Lieuwen to the world on April 7. Nathan is very excited to be a father. Between his family, his support network and his faith, he feels he is in a healthy spot to make the transition to the next phase in his life. Others aren't as fortunate, and that's something he wants both the NHL and NHLPA to recognize.
He hopes to continue in the game, likely as a goalie coach, but also suggesting the possibility of being a shooting coach. "I have a good analytical mind for hockey. There are things I know about goalies that could help players trying to score on them."
Those who have treated him are optimistic his sight will improve. At one point, a doctor asked Lieuwen if it was possible to switch positions. The pathways through the brain/eyes to see the puck are simpler for a skater.
"The doctors feel not tracking 200 pucks a day will be helpful. I look forward to seeing if that is true," he laughed.
These have been tremendous playoffs. Broadcasting them is a privilege. The Western Conference Final was fantastic, a hard, throwback series between Anaheim and Nashville. The only thing I didn't like was both teams clobbered the other's goalies. They've got to be protected. The position is too valuable.
Lieuwen doesn't blame Rosehill, but does want the NHL to take better care of its netminders.
"If you can take that space, you're going to. (Rosehill) is trying to score, you can't get upset at a guy trying to score. But no one expects to get hit so deep in the crease. You feel protected when you are deep, so you relax and are vulnerable."
"Right now, the rule is that if the puck goes in, and then someone hits you, it's a goal. As a goalie, I can't protect myself in that situation. You know you're going to get hit, but you can't do anything about it."
"If my retirement could change anything, I'd like it to be that."
30 THOUGHTS
1. The Kyle Dubas story with Colorado and Toronto is…strange. It's a certainty that we were late to the story, that the window to hire him already closed before the Avalanche's interest was reported. Remember, these two organizations worked together in 2013 to facilitate Masai Ujiri's move from the Denver Nuggets to the Toronto Raptors. So, there is a history of co-operation between them. When we reached out to Colorado to let them know of the report, more than one person said I was wrong only to have other sources push back with the opposite information.
I don't think anyone in the Avalanche organization was lying; those are honest people. I don't think they knew, which makes you wonder exactly what Kroenke Sports had in mind. Without a full picture, the best guess is that someone wanted Dubas and targeted him specifically (the Maple Leafs would not comment). But it does sound like he had a very legitimate chance to get the job, only to have Toronto change its mind. That's a bit of a surprise, since conventional wisdom is Mark Hunter surpassed him on the Lou Lamoriello succession list, whenever that will be.
The answers rest with Brendan Shanahan, who hired Dubas and remains a big fan. It's also possible Colorado asked the NHL to intercede, but the league decided it was Toronto's choice to make. This is one of those situations where we're going to find the full truth somewhere down the road. Probably with multiple bottles of wine involved.
2. It has been hard to pinpoint Dubas's future in Toronto. There have been rumours he would not be back next season, as his contract is up. I guess we'll know on June 30, but one source suggested he has quietly signed an extension.
3. The Avalanche still have some interesting on-ice decisions to make. Matt Duchene's future remains a topic, but there are at least two others to keep an eye on. The team is expected to hire Jussi Parkkila as its goaltending coach. He'd be the first Finn to hold that job, and he's the target because of a long history with Semyon Varlamov (and Sergei Bobrovsky).
The key here is that it will be a full-time position, which hasn't always been the case in Colorado. It's proof of a deep investment in Varlamov, as the Avalanche have said he will be protected in the expansion draft. I can't see them wanting to lose Calvin Pickard for nothing, especially after he took Henrik Lundqvist to a shootout in the world championship gold-medal game. He's got a one-year contract at $1 million, before arbitration rights. That's great value and someone's going to want it. It's also great for Vegas to leverage if they choose. Pickard gained some fans overseas.
4. A couple of execs who were in France and Germany admitted they were disappointed by Tyson Barrie's off-ice injury. They wanted to see him. Defencemen have value. As one said, "He's available, but it's got to be a legitimate hockey trade."
5. Finally on the Avalanche, word is they are looking for power-play expertise on their coaching staff. They were 30th overall last season, at 12.6 per cent. Vancouver was 29th at 14.1.
6. No post-elimination injury revelation sent bigger shockwaves than Anaheim's. When GM Bob Murray revealed torn labrums will knock out Hampus Lindholm four to five months and Sami Vatanen potentially longer because his is "worse," the number one question coming from other teams was some variation of, "How much longer is 'worse?'"
With the expectation that Cam Fowler is working towards an extension, the Ducks have decisions to make. (Very) Informal polling among Murray's peers indicates most don't think it will be Lindholm. "A stop sign goes up whenever you ask about him," one said.
They have real potential to hit a home run with this deal, but if you need one of Anaheim's defencemen to help you make the playoffs next year, are you willing to wait a month into the season for him? What if it's two, or three?
7. Murray's patterns are very interesting. He made two important deals with Vancouver (Kevin Bieksa and Ryan Kesler) and one with Edmonton (Patrick Maroon), but if you really look at his major trades, he prefers to go to the Eastern Conference. Bobby Ryan went to Ottawa, Kyle Palmieri to New Jersey, James Wisniewski to Carolina, Carl Hagelin to Pittsburgh, Frederik Andersen to Toronto. He's done two deals with Jim Rutherford. I counted four with Marc Bergevin and three in the last calendar year with Lamoriello.
I can't see him keeping one of these defenders west, unless he covets the third-overall pick from Dallas. I've heard the Ducks like Sam Bennett a lot, but would they really want to do this deal with Calgary?
[relatedlinks]
8. The speculation is wild in Toronto, especially since Lamoriello and Mike Babcock went to Nashville to see these teams in-person. I cannot imagine the Maple Leafs wanting to trade Connor Brown. He has turned into a terrific player. But you know who else loves him? Dave Nonis. Nonis swore Brown would make it, and he was right. Where does Nonis work now?
9. Anaheim took a lot of questions about the end of the window following the defeat to the Predators, but I'm not so sure. Even if they trade, say, Vatanen, they are still loaded on the blue line. Josh Manson and Brandon Montour looked really good. Shea Theodore isn't far away. They draft and develop very well. Their AHL team also made the second round of the playoffs. (Only St. Louis and Washington could say the same, although the Chicago Wolves and the Blues went through a nasty divorce afterward.)
But I thought the real key was Ryan Getzlaf. He had an oddly quiet last two years, but was an incredible force the final 50 games. His passing, in particular, was brilliant. If he stays at that level, you can't close the shutters.
10. Stars GM Jim Nill went public, laying the groundwork for a potential trade of that third-overall selection. He's looking for a defenceman who makes a difference. The Ducks can do that. Columbus and Minnesota could too. Winnipeg could if it wished to part with Jacob Trouba, but I think the Jets are going for it, and that doesn't make sense.
11. What are the Blue Jackets looking for? "A sniper in the key moments," GM Jarmo Kekalainen said Friday. "You're always looking for a No. 1 centre. Collectively we score enough, we've got firepower through all four lines. Cam Atkinson is our best scorer, but we need to finish with a better percentage. We're going to look internally and externally."
That led to an interesting conversation about shooting percentages, regression and how much he pays attention to it. The short answer: a lot.
"You know if someone is shooting 30 per cent, it's hard to sustain that. We know that if a player had an unusually low number, there is a chance the next year he comes out of it. We go through an exercise where we predict how many goals we think we are going to score as a team next year. We look at every player."
He is hopeful last season's third-overall choice, Pierre-Luc Dubois, can help. "I watched him pretty much every game. He is getting better and has a good chance to be here." He's also excited about Keegan Kolesar, who had 31 points in 19 playoff games for WHL champion Seattle. But he may not be ready for the NHL next season.
12. Kekalainen did not initially mention Oliver Bjorkstrand, two years removed from a 63-goal season in WHL Portland. He has 10 goals in 38 NHL games.
"We haven't forgotten, but this has to be the best summer he's ever had. Well, the next couple have to be. We need him to be more explosive. He's definitely a sniper, one of those guys I was talking about. He's a big-moment player, and he showed that when he won the Calder Cup (in 2016). He scored important goals, including the deciding goal in the final game."
13. He is confident about where his team is. "We are not thinking short-term. Our window is not just open now. We are only cracking the window." So what's it going to take to add external help?
It's no secret Columbus is deep on defence, especially after the coaches showed enough faith in 20-year-old Gabriel Carlsson to dress him for all five playoff games. (They are still hopeful 21-year-old Vladislav Gavrikov comes over from the KHL, but that is far from certain.) Ryan Murray's name is out there, but the GM refused to discuss him specifically.
"Every good offensive team starts from the defence to move up the ice. We will not easily give up that strength. It affects how many goals we score."
14. Kekalainen, who is pretty blunt, had some great lines. I asked about the Blue Jackets' cap situation. "I have zero concerns. Every year people are so concerned about our cap. Last year they thought we'd have serious problems. We didn't. I expect zero problems next year."
While Brandon Dubinsky went with an epic Twitter troll job of announcing how much he wants Nashville to win the Stanley Cup, Kekalainen has good reason to pull for the Predators. Brother Janne scouts for them. When I made the mistake of saying Janne was a major reason Nashville drafted Pekka Rinne, Jarmo corrected me. "My brother is THE reason they took him."
15. Edmonton's Peter Chiarelli made it quite clear priorities 1) and 1a) are Connor McDavid and Leon Draisaitl before any other business gets done. Draisaitl needs a new contract; McDavid is eligible for an extension on July 1.
We've all assumed the Oilers will give their captain eight years at eleventy-billion dollars if necessary, but allow me to paint an alternate scenario. What if McDavid opts for the Sidney Crosby–Patrick Kane–Evgeni Malkin–Steven Stamkos–Jonathan Toews route? All five of those players took five-year terms on their second contracts, opening the door for another massive deal around age 25-27. Crosby's second contract totalled $43.5 million, and his third is $104.4 million. (That one is 12 years, which can't be done now. The others are eight, which does fit.) Malkin also did $43.5, then $76 million. Kane and Toews copied each other, from $31.5 million to $84 million. Stamkos went from $37.5 million to $68 million. We'll see what McDavid wants, but don't be shocked if this is the template.
16. There were some Mike Smith rumblings last week. I think there is interest. The Coyotes can ask him for a list of eight teams he won't go to. But he was their best player last year and you have to give young guys something to believe in. I'm not sure they have any desire to move him.
17. Winnipeg's Connor Hellebuyck is making some off-season changes. He will spend time this summer with Adam Francilia, who has a lot of experience working with goalies. Francilia could be loosely defined as a personal trainer, but prefers "sports performance coach" because he also deals with nutrition and mental health. His first NHL client was Andrew Ladd, when Ladd was 14. That was 17 years ago, and they've worked together since. In the past few years, his group included Laurent Brossoit, Devan Dubnyk, Troy Grosenick, Eddie Lack, James Reimer and Justin Schultz.
Every August, Francilia and agent Ray Petkau put together a special goaltending clinic in Kelowna, titled NET360. (Dubnyk is not a Petkau client. Hellebuyck, Lack and Reimer are.) Hellebuyck usually stays in Michigan during the summer, but will spend time in Western Canada, including attendance at that clinic.
18. Francilia is proud of his work with Grosenick, who went from dangerously close to being out of San Jose to the AHL's top goaltender in 2016-17. He sees some similarity between the two. What will he work on? Among other things, core training specific to goalies.
"Posture and setup. There are postural considerations for a goalie, such as counter-rotating away from saves. Let me give you an example. With Devan Dubnyk, when he was leaning on the right post and needed to make a right-to-left push, his lanky, long body was working against him. He was unable to understand how to use his core. You go to push left, but half your body is going the wrong way."
It sounds confusing, but do this: Put your right side up against a wall in your house. Then push off. How many of you are leaning into the wall before doing it? That slows your move left.
"Goaltending is an unnatural position," Francilia continued. "We are not created to be goaltenders, which is why so many have hip issues. We have to completely re-program their brains not to counter-rotate. Teach the brain to think differently, teach (Hellebuyck) to recruit his left oblique muscle to stabilize and offset the counter-rotation. That helps his upper body stay with the puck. That split-second difference is everything."
I'm a Hellebuyck fan, so I'm curious about this, an attempt to enhance in the off-season the work the Jets do with him during the year. He had a tough year, but giving up on him is ridiculous.
19. Petkau is trying to find work for two other clients, Ben Scrivens and David Booth. Both played in the KHL last season. Scrivens is looking for a backup or No. 3 job, the opportunity to come in training camp and show he can help. Booth is the same, wants a shot somewhere.
20. Final stat on Erik Karlsson: Pittsburgh scored to make it 2-1 in Game 7 after 51:44 of play. To that point, Karlsson was on the ice for 22:15 — a full game for most. The Senators tied it 2:57 later. He was on the ice for 2:34 of that. The game lasted 33:25 after the 2-1 goal. Ottawa's captain played more than half of it, over 17 minutes. He had a superb playoffs. What also stood out was how the rest of the team accepted the roles around him.
21. Curious to see how Ottawa's ride affects Marc Crawford's future. He strikes me as a sneakily strong contender for Florida. Long history with Dale Tallon. The Panthers are working to stabilize themselves after a hard 2016-17, but one candidate said what happened last year made him a little unsure. That wouldn't bother Crawford. He's seen everything, and craves another shot.
22. As heartbreaking as their defeat was, the Senators' finished on a fantastic note when Nicholle Anderson tweeted she was cancer-free less than 48 hours after the season. Craig Anderson, who just turned 36, has one year remaining on his contract, and, after an emotional season, deserves plenty of time to decompress.
Around him, the organization will have to figure out its depth in goal. Mike Condon, who saved the season when Anderson needed time, is an unrestricted free agent. Don't think there was much conversation during the playoffs (nor should there be), but it sounds like there is a significant gap.
23. Another Swedish defender who really opened eyes is Mattias Ekholm. He doesn't get a ton of attention around Ryan Ellis, Roman Josi and P.K. Subban. But now that the spotlight is really on Nashville, we've all seen how great he is.
"It's tough to stand out in front of those guys," he said by phone earlier this week. "That was the case when Shea Weber was here, too. It was a good thing for me. Maybe I did not get credit for a good night, but if I had an off night, there was no bad publicity."
Does he feel different with more attention? "Not really. I have super-high expectations, but I'm really ready for that now. If I play (bleep) or I play well, I can handle what comes with it." Not much (bleep) play from Ekholm.
24. I didn't realize Ekholm wasn't taken his first draft year because of injuries. "My second year, a couple of teams called beforehand, but there was no major interest. I had no expectations."
He was on vacation with friends when Predators' scout Lucas Bergman called to say he'd been selected 102nd overall in 2009. He had a reputation for being more offensive than defensive, but became conservative when he got to North America.
"I don't think anyone wants to sit on the bench," he said. "I've always worked hard to play how I'm asked." Now, he's found the perfect balance.
25. This is going to be something in Nashville. I love going there and All-Star Weekend in 2016 was electric. Ekholm referred to the atmosphere at their games as "incredible." Maybe I'm a bit of a sourpuss in my old age, but I'm tired of the "golly-gee-whiz look at hockey in Tennessee" story.
Yes, this is the greatest on-ice season in franchise history, but, as an NHL market, Nashville solidified itself years ago.
26. Steve Ott is going to do a great job in St. Louis. Thought Craig Berube would be there, too. Makes me wonder if someone (Buffalo?) is giving him a job interview, and the Blues are waiting.
27. NHL commissioner Gary Bettman holds his Stanley Cup State of the Union before Game 1. Expect him to announce Washington's outdoor game at the U.S. Naval Academy. I'm excited for this. West Point and the Air Force Academy are on the agenda, just not for next season.
28. The NHL and NHLPA released their calendar of critical dates and information for the spring/summer business period. The average league salary for 2016-17 was $3,012,785, up 4.55 per cent from 2015-16 ($2,881,758). If a team wants to walk away from a salary arbitration decision, the threshold is $4,084,219.
Fans love their offer-sheet compensation figures even though we get so few of them. Here they are:
| Average annual value | Compensation |
| --- | --- |
| $1,295,571 or below | Nothing |
| Over $1,295,571-$1,962,986 | Third-round pick |
| Over $1,962,986-$3,925,975 | Second-round pick |
| Over $3,925,975-$5,888,960 | First and third-round picks |
| Over $5,888,960-$7,851,948 | First, second and third-round picks |
| Over $7,851,948-$9,814,935 | Two firsts, second and third-round picks |
| Over $9,814,935 | Four first-round picks |
29. Ken Hitchcock and Barry Trotz are new members of the competition committee, representing the coaches. Excellent choices. No details yet on when the group will meet.
30. In April 1994, The FAN590's News and Sports Director took a chance on a 23-year-old writer struggling to find full-time work. You need someone to open the door for you. Scott Metcalfe is still going, honoured Friday with a Lifetime Achievement Award from the Radio-Television Digital News Association.
Scott was a great boss. He pulled me into his office one time and played a voice report I'd filed on a Raptors game. "You sound tired," he told me. "I know you work a lot and you work hard." Then he tapped the microphone. "But when this is on, you have to sound alert. You have to be on your game. Because if you aren't, we'll have to find someone who can."
Never forgot that message.