Here is the biggest challenge for those who want to streamline goalie equipment: just when you think you've found solutions, technology finds another way to improve netminders.
With the NHL focussed on tightening pants, sweaters and chest protectors, the New York Rangers' Henrik Lundqvist and Vancouver Canucks' Ryan Miller are among the first to experiment with goalie skates that feature no thick cowling around the toes and bottom.
What's the difference? Look at these two photos: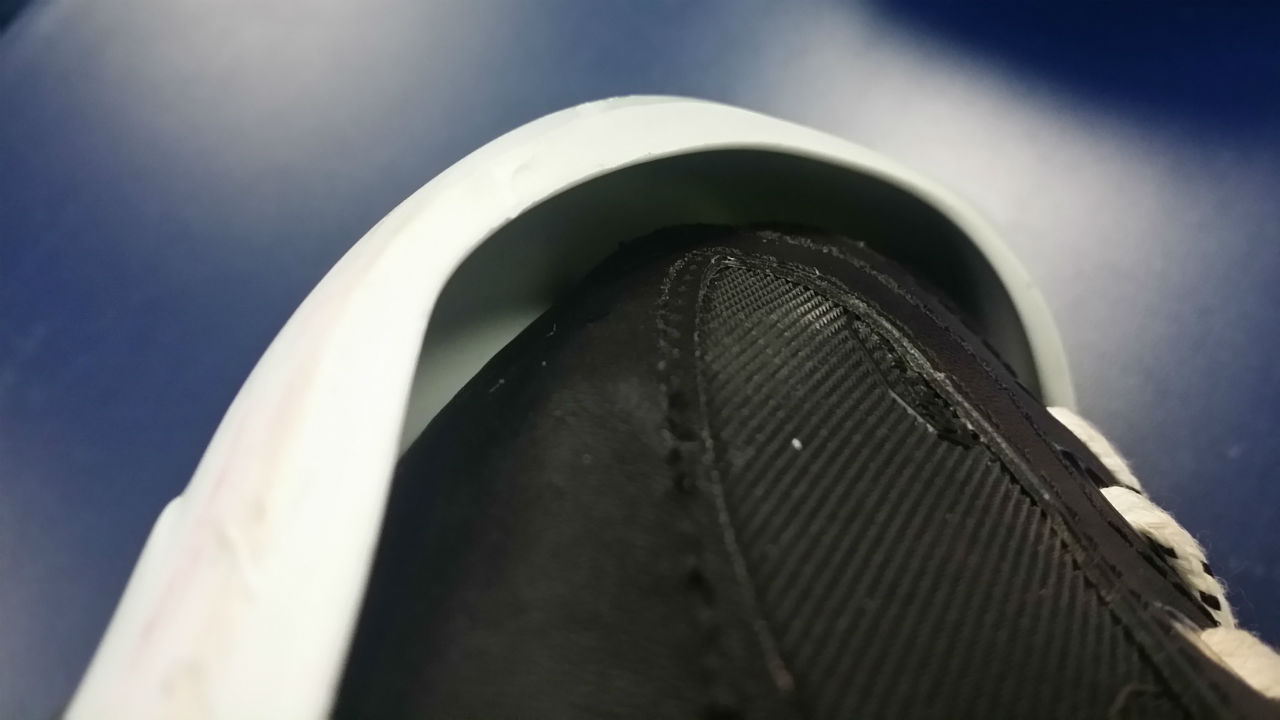 Both reveal a tiny space between the skate and the plastic. That affects goalies in two ways: First, your leg push is less effective because the opening creates resistance. Second, imagine yourself in the butterfly position. The lower you drop your knee, the better the chance the cowling hits the ice, forcing your blade to slip on its side. It's much harder to move that way.
It improves what NHL.com's Kevin Woodley (the goalie reporting guru) calls "the attack angle for lateral pushes. You don't have to hold your knees as high."
Three years ago, the Calgary Flames' Danny Taylor earned a recall when Miikka Kiprusoff was injured. At the time, his AHL save percentage was .930 and his goals against below 2.00. There was just one problem: the NHL wouldn't let him use his steel blades. They were taller than what the league would allow. Woodley compared them to wearing "high-heeled shoes."
But his peers noticed. They saw the advantage and wondered if there was a legal method of duplicating it. Around the same time, custom-made boots were becoming more popular with skaters (Dustin Byfuglien) and goalies (Jonas Hiller) alike.
Two companies stepped up. One is Bauer, which features Lundqvist. New Jersey's Cory Schneider is another client, and he tried the new skates for one period Sunday night in Vancouver. But he wasn't comfortable and switched back to the regular pair after 20 minutes.
The Bauer skate is a two-piece, featuring a reinforced toe cap and a blade riveted to the boot. The other company is VH, founded by former Canadian speed skater Scott Van Horne. (Based in Winnipeg, it worked with Byfuglien on the custom pair.)
VH took this made-to-fit boot and turned it into a one-piece skate with carbon fibre instead of a cowling. According to Jorg Achenbach, the company's pro services representative, the model was in design for more than a year, and goalies began using it last May. Miller and Curtis McElhinney of the Columbus Blue Jackets are the only two NHL goalies wearing it right now.
But almost 20 others are using this boot with their regular cowling. It's an interim step, but what the custom fit does is eliminate any of the gaps pictured above. The skate is tight to the plastic, and that makes a difference.
"Carey Price told us the push was instantaneous," Achenbach said Monday. "He saw improvement in how fast he could get across the crease. He also said he could get to the puck quicker behind the net."
Price and his backup, Michael Condon, are expected to get a pair they can use without the cowling in the near future. Apparently, Sergei Bobrovsky, Braden Holtby and Jonathan Quick are among those considering the change, too.
It's legal. But it shows you how quickly technology changes the game.
30 THOUGHTS
1. One more note on goalie equipment, everyone's favourite topic.
Schneider, active in the current proposals as a member of the Competition Committee, will be asked to help modify whatever equipment needs modification. According to a couple of sources, both Devan Dubnyk and Braden Holtby have shown interest in participating. The NHL and NHLPA are looking for goalies of all sizes, represented by different companies. Some retired netminders will be considered. The hope is for manufacturers to have prototypes by All-Star Weekend (at the latest) to try.
2. Nick Kypreos reported last week that, at the next GM meetings, the group will discuss if players should be held to the same standards with their skates as they are with their sticks. It sounds crazy, but the more you think about it, the more you see some scary near-slices on-ice. At the very least, the league wants the thought in the players' heads: can this be controlled a little more?
3. As the split between former partners Claude Lemieux and Ritch Winter goes through the legal process, Lemieux has been granted interim agent status with the NHL. He now officially represents Hampus Lindholm. Will that change anything in regards to the Anaheim Ducks' negotiations with the talented defender?
4. A lot of the trade attention now is on the New York Islanders with Travis Hamonic, but watch out for the Montreal Canadiens. It's tough sometimes to tell with Marc Bergevin, because he's one of the more active GMs in the league (according to his compatriots). He makes a lot of calls, often seeing what's out there as much as anything.
I can't say when it will happen, but there is certainly a feeling he's going to add. They know their best window under the cap is before the summer of 2018, when Carey Price needs a new contract. It wouldn't be a surprise if he's looking at upgrades both at forward and on defence.
5. As for what Montreal might give up: at some point, the Jarred Tinordi situation has to end. Bergevin was asking for two seconds last summer, but it's probably less now. Lars Eller's name usually surfaces, but that's a little unfair, because you're not certain if it's old info or new.
The Dallas Stars had interest before acquiring Jason Spezza. I'd be curious to see if the Arizona Coyotes look at him. He's locked in for two more seasons, you're always looking for strong bodies in the west, he's got someone he knows there in Mikkel Boedker (who shares the same agent, Jarrett Bousquet). It's not the easiest deal to make now because the Coyotes keep a tight budget.
It's a funny complaint when you think about it, but one exec pointed out they don't have many bad contracts they are aching to get rid of. In a weird way, it makes it harder to trade with Arizona.
6. Heard there was a team kicking tires on the Edmonton Oilers' Nikita Nikitin. Not sure of the timeline, might have been awhile ago (training camp), but it sounds like that club was the Chicago Blackhawks. My guess is the Blackhawks were willing to consider it if the Oilers took someone with longer term. Nikitin is in the final year of his contract. (I assumed Trevor Daley, because his name is out there, but was told that is 100 per cent wrong.)
7. One thing about the Islanders: It's not unusual for an organization to bury a player who asks for a trade. New York had the chance and didn't. Probably why Travis Hamonic says he'll play the full season if necessary.
8. So, where are we? GM Garth Snow's history is he's not afraid to think differently, avoid conventional wisdom. He's in a tough spot, because he's got a player who wants out, but Hamonic is an important part of a team that wants to win — and has a chance to win.
"I think 29 teams called Snow last week," one GM joked. Many were told they are not a fit. I don't think Calgary and Edmonton (who both want him) can pull this off without a third team.
Damien Cox reported the Islanders asked for T.J. Brodie, a non-starter for the Flames. I'd be real curious to see if they'd counter with Dougie Hamilton, but word is that's not what Snow likes. I'll get back to the Oilers in a minute. The Colorado Avalanche want in on this, but I'm also not sure what their match is. This is purely a spitball, but remember they were in on Hamilton. If this deal needs multiple pieces, does that work?
9. The Minnesota Wild have defencemen and, as I wrote last week, will eventually trade one. But they want a forward in return. The Islanders have to be careful, because Frans Nielsen and Kyle Okposo are unrestricted. They need bodies up-front this year and next. So, I'm not sure that's a fit, either. This brings me back to the Oilers. There have been several reports that Edmonton is not willing to part with Darnell Nurse. The thing I wonder there is, if Snow is looking to replace Hamonic with equal value, why is he looking at Nurse? Nurse will be a very good player, but that's not a similar fit in 2015. You have to think there's something else in that offer… a forward with term, perhaps? That solves a future problem, and if the Islanders do trade a pending UFA, maybe a defender comes in return. God only knows.
10. All of this brings us to… the Winnipeg Jets. It's the most logical fit. Hamonic wants to be there, which is such a bonus for the Jets. But if it was so easy, it would be done already. The right side of the defence, on paper, is so strong with Byfuglien, Tyler Myers and Jacob Trouba. Byfuglien is unrestricted. Trouba is restricted, but that's going to be a hard negotiation.
I'm one who believes the Islanders' ask is for the 21-year-old defender. Hamonic's salary — locked in for four more years — allows you to do some things. If GM Kevin Cheveldayoff thinks he's going to lose Byfuglien, does he want Myers/Trouba or Hamonic/Myers? I'm betting it's the former. But what if he loses Byfuglien and gets into a stalemate with Trouba? Tough call. The hometown thing ratchets the pressure, too. And…
11. That's why I think the Jets recently went back to Byfuglien to talk. Agent Ben Hankinson sent a text message declining comment, and I've got a better chance of getting something from DB Cooper than Cheveldayoff. Term is going to be big here. I can see the Jets wanting three years. But no way the player agrees.
12. There is at least one other team I think can do it straight-up: Anaheim. But it doesn't seem a likely want for Hamonic, does it?
13. Reading the "meaty" blogs of The Minneapolis Star-Tribune's Michael Russo, you learn observers are down on Wild defender Jonas Brodin. Some of that is the Ryan Suter effect, as he's no longer paired with the Team USA mainstay. Some of that is switching to the left side, which should be a strength because that's the way he shoots. But, Dion Phaneuf and Brad Stuart are both lefties who don't like the strong side. Maybe Brodin's another.
Besides, as one coach said last year when the Toronto Maple Leafs promised to keep Phaneuf there, you really have to commit to it. That's not just 20 games.
14. The sportlogiq data and eye test both indicate it. Philadelphia Flyers coach Dave Hakstol confirms it. The Flyers are the exact reverse of the team they were in 2014-15.
Last season, they tended to dump the puck out of their zone and carry it into the offensive zone. In 2015-16, only three teams carry it out of the defensive more than Philly. And only five play chip-and-chase on offence more than they do.
Let's look at the their end first.
"You ask your players to manage and take care of the puck," Hakstol said last weekend. "We work to outnumber teams. If they have one forechecker, let's have two men back. If they have two forecheckers, let's have three. Teams are so good at covering the wall. We have to create the bump pass or the pop out."
They generally do this well.
15. The other end is a problem, though, and Hakstol didn't hide from it.
"We have to improve our ratio (of carry-ins to dump-ins). It's not good enough."
What is the perfect ratio?
"Changes on a game-to-game basis. Some teams let you go outside with speed. L.A. doesn't let you do anything."
No one is impacted more by all of this than Jakub Voracek. Two numbers were obvious going into last Saturday's game in Ottawa: fewer offensive-zone starts and his shooting percentage cratered. Here's the deeper data: last year he carried the puck into the offensive zone four times for every chip. Now he's at 1.9/1. That's a significant drop. Finally, 90 per cent of NHL forwards attempted a higher percentage of shots from the slot.
16. So, how to fix?
"We need more of a mentality of getting bodies and pucks to the blue paint," Hakstol said. He referred to "building trust" — that if someone gets there, a teammate is going to get it to them in position to do some damage. At the same time, he's not going to tell a Voracek or a Claude Giroux to be simple.
"They have more leeway. I don't want Voracek to get away from pulling up and finding a guy. Those guys can do a lot of damage on the rush, they're good in tight spaces. Tenacious. They've got some snot and balls to them."
17. Did Hakstol talk to Voracek about his struggles? "Yes."
Is it any different talking to an NCAA player than an $8M NHLer?
"It doesn't matter how old someone is or how experienced he is," the coach replied. "You have to have a point. Make it simple and give it to him."
18. As you read this, no team does a better job of preventing shots than the Carolina Hurricanes. The team allows 25.4/game, the best in the NHL. The concern is where they shoot from. Going into last Friday's game against Toronto, just 10.3 per cent of their shots were from the slot in front of the net (according to Sportslogiq). The league average is 12. What hurts even more is Carolina's perimeter percentages were all above average — too many from the points or the wings. Hard to score from out there, got to get greasier.
19. It's interesting to watch Carolina in goal with two markedly different styles. From the time he won the Conn Smythe Trophy in leading the Hurricanes to the 2006 Stanley Cup, Cam Ward's always been about the flow of the play in front of him. He's aggressive, then backs-in.
Newly-acquired Eddie Lack is a different animal. In Vancouver, coach Roland Melanson prefers deep. Here, counterpart David Marcoux wants Lack out further, saying in one team broadcast they like the idea of making saves with knees on the white ice. I was curious about that, because Lack has admitted his skating gets him into trouble sometimes and he prefers to set early. Watching a bit more of his work, you can see he's asked to get deeper as the play gets closer to him. On the rush, or in the neutral zone, they want him out.
"Be six-foot-five, not five-foot-10," as one coach (not in Carolina) explained. It also seems they are asking him not to set or go down as early as he used to. "I would assume that's because they are worried shooters can pick that apart," the above coach said.
20. It's another very odd complaint to make, but I do wonder if the Hurricanes' ability to prevent shots is a factor here. Kari Lehtonen's gone through that in both Atlanta and Dallas, struggling on less-busy nights. When making changes, you want reps. Lack's not getting that, partially because he's been struggling, partially because he's not seeing enough of them. But what's the solution?
"Sorry guys, don't check anyone."
21. The Boston Bruins' David Krejci is back where we expect him: top 10 in scoring, a problem for his opponents.
How long did it take before he felt 100 per cent after last season?
"Who ever feels 100 per cent?" he smiled when asked Monday. "I actually felt pretty good the last few games (of 2014-15), but the season was over."
He started rehab after just a 10-day summer rest, although he changed his workouts and hired a new trainer.
"In addition to what the Bruins asked me to do, I wanted to have someone with me every day."
This year?
"I feel good and my confidence is good. (Coach Claude Julien) is putting me in situations where I can see he trusts me. We have a good relationship. We've been together a long time, he believes in me and he knows how to push my buttons."
How much has he pushed them this year?
"Not yet," Krejci laughed. "Hasn't needed to."
22. I do think the Bruins appreciated it when Krejci apologized both in the media and privately to teammates for taking what he admitted was a "stupid" penalty that led to the winning goal in a 4-2 loss to Montreal on Nov. 7. It came two days after another one the Bruins hated, Brad Marchand's roughing minor against the Washington Capitals. That was awful, leading to a five-on-three. John Carlson scored to make it 3-1 in what became a 4-1 Capitals victory. As the team turns over, it is expecting these two to lead.
Krejci has zero penalty minutes since. Marchand has 12, but does have five goals and an assist in his last five games. The Bruins are 5-2 since the Montreal loss.
23. A lot of us were curious to see how the relationship between Julien and new GM Don Sweeney would develop. It didn't look like things got off to a great start, but in asking a few coaches around the league, the impression is the two have worked hard to build their relationship. Sweeney bristled a bit when we spoke last weekend, because he thinks that was overblown.
"It was a feeling out process… New position, new relationship," he said. "We are heading together in the right direction. Claude signed his extension with Peter (Chiarelli). I didn't want to make any comments because it was the right thing to do. People said I didn't like his structure. Not true. I love that about Claude, that he does not deviate from (that). How he demands accountability from his core. We have not changed our defensive structure. We are a bit more aggressive at times. But how you manage that, how you incorporate changing bodies you are not familiar with."
That's what Sweeney said they had to discuss, and he says he's got no issues.
24. After the Detroit Red Wings lost Landon Ferraro to Boston, I looked through the roster. Barring a trade, it looks like they had two waiver choices: Ferraro or Teemu Pulkkinen. Not surprised the Red Wings chose to keep Pulkkinen — it fits their modus operandi. And Ferraro might be a better fit for the Bruins, anyway.
25. Interesting that Patrick Roy made it clear Semyon Varlamov had to be better — and the Avalanche needed him to be better — when the goalie returned from injury. Not doubting Varlamov's absence, but there was certainly a feeling in addition to getting healthy that he needed practice time to get back his confidence. Beating Winnipeg was a nice start.
26. There's some confusion over the longest points streak by an American-born player. Patrick Kane currently is at 16 games, and credit went to recent Hall-of-Fame inductee Phil Housley for the record. He went 19 in a row with a point, but that is not recognized by the NHL because he missed two games during that run. So the official record is 18, held by both Phil Kessel (2008-09) and Ed Olczyk (1989-90). So, if someone high in the rink starts throwing things to stop Kane, he's probably in Chicago's broadcast booth.
27. So, what will each team's new five-day break between Jan. 1 and Feb. 28, 2017 do to the schedule?
Not as much as you'd think.
One team was told it means an extra game or two in October and November. Many of the American teams prefer back-loaded schedules to avoid football, so the density is greater as the calendar passes. A cursory look at things shows teams play approximately three games a week at the start of the year, four per week as we move into March and April. That will even out a bit. One Canadian team worried it would get stuffed with more early season home dates, but was told that wouldn't be the case — things would be shared equally. (There is a US-based Governor who always gets angry when I bring up the desire to avoid football. I'm not making fun of you, I'm just pointing it out.)
28. Now that the major 2016 World Cup of Hockey plans are done, expect the NHL to really start focusing on the 100th anniversary season. It's also the 50th anniversary of the 1967 expansion, so a number of teams are going to want special games. There's no timeline for announcements, but word is at least three Canadian teams requested outdoor games. It's no secret Toronto is going for the Winter Classic, likely Jan. 1, 2017, a Sunday. There was some suggestion it might be on the Monday instead but I have no idea if that's true. If you check your NHL history, there are clues to what Montreal and the Ottawa Senators want. It makes sense for the Canadiens around Nov. 26, 2017 — exactly 100 years after the creation of the league at the city's Windsor Hotel. Meanwhile, Ottawa played its first game on Dec. 19, 1917 against Montreal, which is a natural benchmark.
29. No one's talking about any of this now, as the league goes through its preparation. The Maple Leafs would play at BMO Field. The Ottawa Citizen reported Parliament Hill was unlikely, but my guess is the Senators would still love to do it. Montreal? Not sure. Maybe a pop-up stadium, similar to what they've done with U2. Another key question will be revenue. How large can capacity be? The way this works is the NHL buys the game from the home team. It's expensive to maintain the rink, and the numbers rise the more games you do. (That's why we're not seeing six per season anymore.) So, you have to buy out the Canadiens, Maple Leafs and Senators, knowing Toronto, in particular, is a high buyout with a smallish outdoor stadium. So, what's that price point going to be?
30. Last week in this space, we mentioned Kevin Gassien, who suffers from Parkinson's Disease. Gassien would like to create a ball hockey tournament next summer to benefit the Parkinson's Society of Central and Northern Ontario, and the Michael J. Fox Foundation. He did not give me his contact information, but he did provide it to NHL Vice-President Frank Brown. Gassien's email address is: autographnut@msn.com. His Twitter handle is @kevgas1970.
31. We moved into our current home five years ago. Our neighbours to the west are an older couple, Murray and Millie Jacobs. They are great people. As the weather improved each spring, they'd sit on their front porch, Murray's radio tuned to the Toronto Blue Jays. He loved talking about them. (He also loved it when Bob McCown trashed any of my opinions.)
One year, on Remembrance Day, he returned home from a memorial service wearing a military uniform and some impressive-looking medals. He didn't like to talk about it, but he joined the army at age 20 in 1941 and served until the end of World War II. Initially, he was refused for prejudicial reasons, but he demanded to go.
Murray Jacobs died last week at age 94. At the funeral, one of his daughters read a letter dated April 1945 from a fellow fighter. It thanked him for having the courage to tend to wounded soldiers after a battle with the German army, when many of his compatriots were unsure if it was safe. Murray was a titan of a man. All the best to his family, which includes son Howard Jacobs, Madison Square Garden's Executive Vice-President for tickets, clubs and corporate hospitality.