Thommie Bergman had to be tough, coming from Sweden as a free agent with Detroit in 1972 — well before Swedes were accepted NHL players. Repeatedly challenged, his rookie-year fight card leads with single-season penalty-minute record holder Dave "The Hammer" Schultz. Fearsome '70s wild man Steve Durbano and Bobby Clarke, leader of the Broad Street Bullies, followed.
Now, as a scout for the Toronto Maple Leafs, he fights to get the players he wants.
"He's a tough dude, a stubborn person," laughs his son, Lucas, who followed his father into the business. "He told me, 'Don't be afraid. If you believe in someone, say it.'"
Lucas Bergman was a teenager when his father brought him to the world championships in the early-90s. Then, his father worked for Anaheim. There, he met Paul Fenton, who worked with his dad.
"I remember talking to him about players," says Lucas, smiling at the memory of unfiltered conversation. "When you're that age, you just say what you think."
"He would argue," Fenton, now Nashville's assistant GM, said last week. "But he was respectful about it. I was impressed."
Like his father, he played defence, getting to major junior. A professional career was not to be, so Lucas worked as a house painter in Sweden. He jokes that the recent birth of his second son, Holger (joining older brother Melker), gives reason to put those old skills to use.
Fenton moved from California to Tennessee. He remembered those conversations with Bergman. The offer: scout for the Predators. That was 2001.
"We've been together a long time," Bergman says. "We're a small group, a tight group. We can be honest with each other. Paul and Jeff (Kealty, the team's chief amateur scout), they really include everybody."
[relatedlinks]
I wanted to meet Bergman, because it's clear the Predators trust him. They've selected at least one Swede in 11 of the last 12 drafts, the lone exception being 2015. Those choices feature some later-round upper-deck home runs. Everyone passed on Viktor Arvidsson twice before Nashville took him 112th in 2014. Everyone passed on Mattias Ekholm once before Nashville took him 102nd in 2009.
"Patric Hornqvist did it," Bergman says of the winger who went dead last — 230th overall — in 2005. "Everyone talks about what a bad skater he was. He had a knee injury that year, which made him look worse. But he was all-battle 100 per cent of the time. He worked; he had the drive. His warmup…some guys don't take it seriously, he always shot it right through the net. His success helped our organization believe more in Swedes."
(Interestingly, that's the second time we've heard of a Nashville pick being influenced by warmup. Pekka Rinne was a backup when Janne Kekalainen — then a part-time scout — had former assistant GM Ray Shero watch him during a Finnish league pre-game. Kids, take them seriously.)
Has Lucas ever worried his father would steal one of his picks, knowing they coveted the same player?
"It happened with Carl Hagelin," he answered. "I knew my father liked him, too. We both lost. The Rangers took him six picks before we could."
30 THOUGHTS
1. Bill Belichick gives a terrific answer when asked about stealing Tom Brady in the sixth round. He basically says, "If we're so smart, why didn't we take him earlier?" Philadelphia's Ron Hextall has a similar philosophy.
I asked Fenton, Nashville's assistant GM, if he ever thinks the same about players they've uncovered. "All the time," he replied. Is there an answer? "What you learn is everyone develops differently. Some guys are more ready at 19 than others."
There is a parallel with Fenton's own career. A rising tide floats all boats and that's certainly the case at this Stanley Cup Final. Pittsburgh already lost Jason Botterill to Buffalo, where Rick Tocchet is expected to interview once this is over. Bill Guerin's time will come. Predators assistant Phil Housley remains a candidate for the coaching jobs in Western New York. Fenton spoke with the Sabres, too. By his count, it is the sixth time he has been interviewed for a GM position.
When we discussed his future, Fenton played it very careful. "I've been accused of being too forceful with what I've said in the past. That's my fault."
2. Fenton's 411-game NHL career ended in 1991-92 after stops in Hartford, Manhattan, Los Angeles, Winnipeg, Toronto, Calgary and San Jose. UMass-Amherst was in the process of reviving its NCAA program. He was a finalist for the coaching job, but lost out to Joe Mallen. Jack Ferreira, the Sharks' first GM, was beginning another startup, this one in Anaheim. He hired Fenton, who rose up the ranks before going to Tennessee as the Predators began play. He's played a major role in the organization's rise.
"You can't be afraid of saying yes or no. There are guys who feel comfortable making a decision and guys who are afraid to make it. You can't be afraid to take a risk." How many times have there been big fights at the draft table over who to take? He shakes his head. "That happens less than you think. We make a list. (Jeff Kealty) is very thorough. We have a plan and we stick to it."
What are some of his best decisions? He names three first-round choices who stand the test of time: Ryan Suter (2003), Alexander Radulov (2004) and Ryan Ellis (2009). All faced internal debate.
He's got a lot of responsibility in Nashville. So, what is Fenton's future? "This is the place I want to be. We're two wins from a Stanley Cup. But if I had to go someplace else, I think anyone would want the opportunity." Has he discussed a succession plan with current boss David Poile? "Out of respect to him, that's not something I'd discuss publicly."
3. Bob Boughner swooped in and snared the Florida job with an outstanding interview. It's a great landing spot for him, because the Panthers have a chance to be good right away.
There were reports out of China and the United Kingdom that the takeover of Southampton FC by Chinese investors Lander Sports Development is back on. In theory, that could free up chairman Ralph Krueger to re-insert himself into the Buffalo coaching picture, but, in practice, it appears extremely unlikely. It remains a drawn-out process, and the timeline doesn't fit with what the Sabres need to do. That leaves Housley as a serious contender, with Tocchet lurking. Another Pittsburgh assistant, Jacques Martin, is potentially in the mix. Craig Berube interviewed, as did Washington assistant Todd Reirden. So there are options.
4. New York Rangers associate coach Scott Arniel also interviewed with both Buffalo and Florida.
5. There are a lot of ties to Lindy Ruff in New York. Arniel played with him from 1986-89. Assistant GM Jim Schoenfeld was a teammate from 1979-81. Chris Drury, who just added the AHL Hartford GM title to his portfolio, was coached by Ruff from 2003-07. With those connections, it's not a surprise to hear rumblings that Ruff was contacted by the Rangers about joining Alain Vigneault's staff. I'm not sure where this stands right now, but it sounds like it was with the idea of making the group stronger, not forcing Vigneault to look over his shoulder.
6. Watch New Jersey in the lead-up to the draft. There is a growing suspicion the Devils feel their greatest need is on the blue line, and there are some good ones they like (Miro Heiskanen? Cale Makar?). Anyway, would GM Ray Shero take one of them at the top, or would he move down just a little bit, adding something else, if he knew he could still get what he wanted? Vancouver could use a centre, for example. The compensatory pick from Columbus for hiring John Tortorella (55th overall) is something they dangled to see if it could help them move, but so far, no dice.
7. I do think Chicago will try to make a splash at home by moving up in the draft.
Also, in addition to Ulf Samuelsson, Chicago may bring University of Wisconsin associate coach Don Granato to its NHL bench.
8. Monday at 5 p.m. ET is the deadline for teams to ask players to waive no-move clauses for the purposes of the expansion draft (A response is not due until Friday). There are a couple of interesting situations seeping out. Neither team is commenting, but it sure sounds like Columbus and Vegas are working on something.
In the last 30 Thoughts, Blue Jackets GM Jarmo Kekalainen indicated little concern with potential cap problems. Can't pin it down 100 per cent, but there is at least a possibility the two clubs are discussing David Clarkson. Whatever the case, Columbus has the 24th pick and some young forwards at the AHL level who might be part of this. Like I said, I can't pin it down. But there's something up. Any trades Vegas makes are not to be official until June 21.
9. At his season-ending media conference, Ottawa GM Pierre Dorion said the Senators "would discuss internally" the possibility of asking Dion Phaneuf to waive his no-move, adding, "If ever we were to go that direction, I think I should let Dion know first."
Dorion isn't commenting, but word is Phaneuf was indeed asked to waive. That would allow Ottawa to protect Cody Ceci, Erik Karlsson and Marc Methot. I think the Senators have been asked a lot about Ceci over the past year, but they wisely held on. We'll see what Phaneuf decides. I think Ottawa is sensitive to this one, because they feel Phaneuf has been a terrific teammate since he got there.
10. Another interesting one I heard was Florida asking Keith Yandle to waive. That one raised eyebrows at the combine, because if Vegas wanted to take him and flip him, I think there would be a ton of interest, especially if the Golden Knights were willing to keep a little bit of his salary. But would he be willing to waive a year after signing? His call.
11. Nick Kypreos has said for a while now that Vegas's Pittsburgh pick will be Marc-Andre Fleury. Not convinced, however, that's where he stays. A flip candidate.
12. Cam Fowler prediction: he re-signs in Anaheim for something around eight years and a $6.5 million average. When he slipped to 12th in the 2010 draft, one of the reasons was that he didn't interview well. He admitted at the time he was uncomfortable with the process. As an awkward 19-year-old myself, I was sympathetic. Have always wanted to see him do well to overcome that, and he's earned it.
13. Don't think the Ducks are in on Evander Kane. I'd heard that, and have seen it reported, but the Intel suggests otherwise. As half the league swoops around Sami Vatanen, the Ducks are conscious of cap concerns. I'm not sure they wish to take a ton of salary back. Certainly, from a purely hockey point of view, a Vatanen-Jonathan Drouin deal makes sense, but not sure the Ducks can fit a new deal for the talented forward. They've got lots of options, tough.
14. If Tampa Bay can't swing a Vatanen deal, do they look to one of Minnesota's defencemen? The Wild have expansion draft concerns. Either Jonas Brodin or Matt Dumba could make sense for the Lightning. Drouin would be an intriguing piece there, too.
15. In contract talks, a player and his agent should always come in high and see where it goes. You never negotiate against yourself. Sounds like the opening ask from the Carey Price camp followed that rule. We'll see where it goes.
16. There's been a lot of fire around Sam Bennett (some of it my fault), but one exec indicated Calgary told them, "We're not interested in plugging one hole by opening another." So, if it happens, it's going to be expensive.
17. One defenceman, on the difference between the regular season and the playoffs: "In the playoffs, everyone hits. Even the first-liners. They don't in the regular season."
18. Penguins coach Mike Sullivan on rumours Evgeni Malkin asked for Phil Kessel to be removed from his line in Game 4: "Don't believe everything you read."
19. Interesting: David Poile said he had a good phone conversation with Glen Sather between Games 2 and 3 of the Final.
"He told me we were doing things right and still in it," the Nashville GM said. "When you're down, your belief gets shaken a bit. It's good to be reminded that you're doing the right things."
20. One thing I've learned from a few teams is that they like it when players are hockey fans. It indicates a passion for the game. Kelly Hrudey once said that Wayne Gretzky would ask teammates who their next five games were against, just to see who was up on things and who wasn't.
At Stanley Cup media day, I was asking Viktor Arvidsson about having the second-biggest points increase from 2015-16 to 2016-17. "I didn't realize that," he said. Do you know who was first? He thought for a moment. "Got to be (Connor) McDavid," he replied. He's right. Fun exchange.
21. Washington's Braden Holtby has a terrific grading system for the goals he gives up. He goes by "could've had," "should've had," and "no freaking chance." I asked Pittsburgh's Matt Murray if he has something similar.
"No," he laughed. "I think I should have every one." Sidney Crosby, who overheard the conversation, added, "I could have told you that. You wouldn't have had to waste a question."
22. Predators coach Peter Laviolette with an interesting tactic involving the Matt Irwin/Yannick Weber defensive pair. In Games 1 and 2, they were on the ice for just 13 faceoffs combined. In Games 3 and 4, it was 70. That was, by far, the biggest split among Nashville's three duos. Without last change, he preferred to change Irwin/Weber on the fly, once he saw who Sullivan had out there. The number was higher in Game 5, although Ryan Ellis's injury factored into that.
23. Asked about Frederick Gaudreau, Laviolette said the forward's three-goal Final outburst reminded him of a player named John Spoltore. That brought back memories. I was in my last year at Western in 1992-93 when Spoltore showed up with Wilfrid Laurier in Canadian University hockey. He was small, but extremely talented, coming off a 131-point season for OHL North Bay. You could see how good he was.
Never drafted, he was churning out big numbers for the ECHL Louisiana IceGators in 1998-99, when Laviolette's AHL Providence Bruins lost second-leading scorer Andre Savage to injury at the start of the playoffs. Spoltore got the call and lit up the score sheet, with six goals and six assists in 11 games. Savage returned, and Spoltore went out of the lineup, although he stayed with the club as Providence won its first-ever AHL crown.
"I think that's remarkable, that Peter remembered John and mentioned his name," Spoltore's mother, Noni Campbell, said by phone on Friday. "It's very special. I know for Johnny that Calder Cup was the highlight of his career. Being part of the celebrations at the end…he was very proud of that."
Spoltore played everywhere from San Diego to Germany, retiring in 2007. Sadly, in March 2010, he was diagnosed with brain cancer, and died one month later. Included in this piece are photos of his beautiful monument at Parkview Cemetery in Kitchener-Waterloo. On one side are his career statistics, on the other the slogan "Play on Johnny!"
The jersey is from the IceGators. His mother raved about his time in Louisiana. "They played in the Cajun Dome, and had to turn it from a basketball arena into a hockey one. So the first two months were on the road. I remember the 'Rules of the Game' being at the front of the program. But the fans were great. They packed 11,000 people in there to watch the games. The people there thought these guys were gods. I remember going down there and watching an event where the players were being auctioned off. There were 10 female teachers as a group offering $100 apiece to buy him for lunch, but the price went to $1,400. It was so much fun for us, to see how those kids were regarded."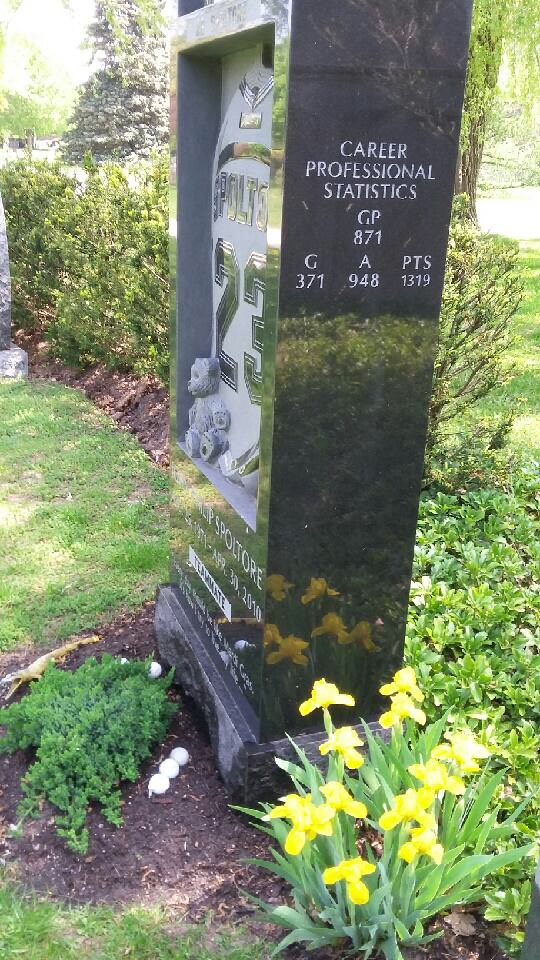 Spoltore was posthumously inducted to the ECHL Hall of Fame in 2014, an event his daughter Kendall attended. Every year on his birthday (Aug. 25), the family hosts a golf tournament in his honour, with the proceeds going to Kendall's post-secondary education. There is also a website that includes a video of Spoltore being interviewed in Louisiana, saying how every day should be like Mardi Gras…that's how I live my life.
Laviolette couldn't have known all this, but it meant a lot of Noni Campbell that he remembered. She is very appreciative.
24. Top prospect Casey Mittelstadt had a difficult combine, doing one bench press and zero pull-ups during the fitness testing. Denis Gauthier, who played 554 NHL games and is now an RDS analyst, coached at QMJHL Drummondville when Gaudreau was traded there from Shawinigan. Gauthier loves Gaudreau, adding, at the time, Gaudreau could barely do one pull-up. But he was committed to improving and look at him now. No reason Mittelstadt can't follow the same path.
25. It is a very difficult time for the NHLPA. You're familiar with the concerns about player escrow, but the loss of Olympic participation (and the realization it did not get negotiated into the CBA this time around) have really blown the doors off the building. As has been reported, agents Kurt Overhardt, Anton Thun and Ritch Winter have been particularly vocal, although more are weighing in on both sides of the discussion. It's getting nasty.
A couple of the agents I spoke to this week made it clear that their clients are most concerned for business reasons, since the cap is flattening. Those players feel strongly another CBA fight is a waste of time; that "growing the game" should be, by far, the No. 1 priority for both the NHL and NHLPA. There is definitely a movement to have Chris Chelios installed as ombudsman, and if you remember his Hall of Fame speech, you know he's passionate about player causes.
The ombudsman position is tricky, it caused a lot of friction between Paul Kelly and Eric Lindros when both served in the union. But some agents say they'd prefer the NHLPA's executive board create a "subcommittee of the board" to consult on an ongoing basis with the executive director (Don Fehr), as per the organization's constitution. They think their clients would be better served by that apparatus. Whatever the case, changes are coming.
26. Did anyone notice the International Olympic Committee reportedly offered Los Angeles a higher slice of the profits if it agreed to host the 2028 Summer Olympics, ceding 2024 to Paris? I'm betting the NHL and its owners did. The whole thing is just so frustrating.
27. Sounds like former broadcast partner Glenn Healy is ready for an increased role at the NHL Alumni Association. With Wayne Gretzky active as a league ambassador, Healy is pretty excited about what can be done with and for that group. It's a great role for Glenn, something he's very passionate about.
28. The league is very careful to keep everything about Seattle at arms' length — publicly — but it's hard to believe it isn't well-versed about everything that's going on. The Oak View Group, handing the remodelling of Key Arena, is also trying to solve the Islanders' arena issues. If that gets done, they'll certainly be in the NHL's good graces. Seattle is like that high school crush who repeatedly rejects you, eventually you're wary. But underestimate Tim Leiweke at your peril.
29. The NHL has ruled I cannot split my Conn Smythe vote between Marc-Andre Fleury and Matt Murray. Back to the drawing board.
30. One of the fun things at the Stanley Cup Final is the game-winning goal pool. Thirty-six people put $20 in apiece. You stick your hand into a cup, pick a name, and if that player scores the winner, you get $720. I've played four times and my guys have been: Evgeni Malkin, Patric Hornqvist, Sidney Crosby and Phil Kessel. Result: not even anywhere close to a victory.