Awards time…with a twist.
There's a concern too many of us releasing our ballots right after the season destroys any suspense, so I can't reveal my entire ballot until after the June ceremony. I have votes for six of the trophies. Hart, Norris, Calder, Selke, Lady Byng and Masterton. So, here goes.
As always: not voting for your favourite player or organization absolutely means I hate them…and you.
STANLEY CUP PLAYOFFS: | Broadcast Schedule
Rogers GameCentre LIVE | Stanley Cup Playoffs Fantasy Hockey
New Sportsnet app: iTunes | Google Play
HART TROPHY
This is the one that will be revealed, because I've said it on-air since December. Can't remember the last time the voting was so wide-open, with at least seven candidates acceptable choices for victory — including Sidney Crosby, Devan Dubnyk, Ryan Getzlaf, Rick Nash, Alexander Ovechkin and John Tavares.
In a season where defence dominated and the scoring leader had the lowest points per game in almost 70 years, a goaltender deserves to win. There are some people who can't get past this, saying a goalie is just like a starting pitcher in baseball. The more you look at it, the more you realize how useless that comparison is.
There were 10 pitchers who tied for the Major League lead with 34 starts in 2014. That's 21 per cent of a team's games. David Price led everyone with 248.1 innings pitched. He played for both Tampa Bay and Detroit, but that would be approximately 17 per cent of one club's innings.
By comparison, Carey Price started 66 of Montreal's 82 games, just under 81 per cent. He played 3,976:33, almost 2,300 minutes more than Tavares, who led all forwards. Comparing goalies to starting pitchers is like comparing doctors and dry cleaners. No relevance.
Price led the NHL in wins, save percentage and goals-against average. The reason the Canadiens have no captain? He's the captain.
He's also the Hart Trophy winner in my book.
NORRIS TROPHY
Not on the ballot, but considered: TJ Brodie, Dustin Byfuglien, John Carlson, Mark Giordano, Duncan Keith, Niklas Kronwall, Kris Letang, Ryan Suter. That's good news for Suter, because I voted for him the last two years.
On the ballot: Roman Josi and Shea Weber. They were the best defensive pair in the NHL. They both deserved to be in the top five.
The vote went to: Drew Doughty, Erik Karlsson or PK Subban. This blog is overflowing with baseball analogies, but let's reference another one. In 1987, Andre Dawson won the National League MVP Award despite his Chicago Cubs finishing last in the division. Asked about it, the great manager Whitey Herzog said something along the lines of, "They'd be even worse without him." So, I'm not one to see a team missing the playoffs and think its players should be disqualified for winning awards. We expect greatness from the Kings, and Doughty was the one who reached that level, doing it on an unexpectedly thin blueline.
Doughty had a better season beginning-to-end than Karlsson, but Ottawa's captain was otherworldly in the Senators' amazing comeback. No, he doesn't kill penalties, and that does stick in my craw a bit. However, if you think Karlsson is purely a power play creation, only Doughty played more at even-strength in 2014-15 than he did. Andrew Hammond and Mark Stone got many of the headlines (and deservedly so), but everything Ottawa creates in transition goes through him when he's out there.
He also played a huge role behind the scenes getting Marc Methot signed. How much better do things look long-term with Methot there?
Subban bristled when media types (including me) questioned if his contentious arbitration hearing would affect the long-term relationship between him and the organization. No matter what anyone says publicly, the Canadiens were unsure about the $72 million contract Subban signed last summer. He delivered to the maximum, responding with his best NHL season. He's so much better than he was when he won the Norris in 2013 — a statement he agreed with in a conversation last weekend.
Subban played huge minutes when the Montreal defence was at its most injured and led all defencemen with 39 even-strength points. The Canadiens were 20th in goals, but fifth in five-on-five scoring ratio. Look at your past seven Stanley Cup champions. Only the 2012 Kings were not up there in that stat. Subban is a huge part of that for Montreal.
CALDER TROPHY
This one was brutal. Hammond is too old to be eligible, so don't scream that he's not here.
Not on the ballot but considered: Kevin Hayes, Bo Horvat, John Klingberg, Anders Lee, Adam Lowry, Victor Rask. Horvat deserves a lot more consideration than he's received, but it's a strong class. Klingberg's numbers are good, but everyone else in this category played more, and I've established in the past that Games Played matters in my vote. It's a hard league.
On the ballot: Filip Forsberg, Mike Hoffman. Forsberg got caught by Johnny Gaudreau and Stone in the scoring race, which hurt his chances to win. He's going to be a cornerstone in Nashville for years. Twenty-six of Hoffman's 27 goals were at even-strength. That's Corey Perry/Ryan Getzlaf territory.
The vote went to: Aaron Ekblad, Johnny Gaudreau or Mark Stone. Can't decide if Ekblad is going to be shafted because Gaudreau and Stone had huge finishes, or if he'll win because Gaudreau and Stone split votes. I do feel his outstanding season is being forgotten. He's two years younger than Gaudreau and three younger than Stone, at a position where it is harder to hide. Using hockey-reference's player index, I checked how many 18-year-old defencemen (on Feb. 1) played in 81 games, scored 12 goals and totalled 39 points.
The answer is no one. (Myers was close, but one year older.)
Gaudreau and Stone are also very deserving. Some mocked Gaudreau's NHL chances, as sources say he's not the biggest guy in the world. But he's very competitive and a critical part of Calgary's best line. In a Hockey Night in Canada interview last weekend, Flames coach Bob Hartley referred to their 4-3 win in Los Angeles on Dec. 22 as the biggest victory of the season. They had lost seven in a row entering that one. Down 3-0, Gaudreau scored a natural hat trick, the final two 1:13 apart. The third tied the game with 59 seconds remaining in regulation, and Giordano won it in overtime.
No rookie forward played more than Gaudreau's 17:43 per game.
Stone is like Karlsson, totally off the radar in January before exploding into our consciousness. He led all rookies in even-strength points with 50, and led the league in even-strength points after Jan. 1. The Senators won 21 games from Feb. 18 until the end of the season. Stone scored the winner in five of them.
The last rookies with 50 even-strength points? Sidney Crosby and Alexander Ovechkin.
SELKE TROPHY
Not on the ballot but considered: Nicklas Backstrom, Pavel Datsyuk, Getzlaf, Horvat, Sean Monahan, Ryan O'Reilly, Ondrej Palat, Tomas Plekanec.
On the ballot: David Backes, Marian Hossa, Anze Kopitar.
The vote went to: Patrice Bergeron or Jonathan Toews. One of the stats I like to watch can be found on behindthenet.ca. Not only does that site track the percentage of offensive zone starts a player gets, it also tracks the percentage of offensive zone finishes a player ends up with. Bergeron's totals are very good. He starts in the opponents' end just 45 per cent of the time, and finishes there 51 per cent of the time. That tells you he gets the puck out of his zone and down the ice.
He is also the best face-off man in the NHL, 60 per cent. Bergeron took 73 more than anyone else in the league.
Toews was five spots behind Bergeron on the face-off leaderboard and didn't start in the defensive zone nearly as much. Part of that is Chicago as a team doesn't start in its defensive end too often. That is Marcus Kruger territory, he's practically chained to the bench when the puck is 175 feet from Corey Crawford.
The six players who skated with Toews the most were Niklas Hjalmarsson, Hossa, Keith, Johnny Oduya, Brandon Saad and Brent Seabrook. Every single one of them was on the ice for more goals than their opponents with Toews. Every single one saw their percentage go down without him, and only Hjalmarsson stayed above 50 per cent.
LADY BYNG
Not on the ballot but considered: Jonas Brodin, Logan Couture, Datsyuk, Patrick Kane, Matt Moulson, Frans Nielsen, Jason Pominville, Saad, Chris Tanev.
On the ballot: Jiri Hudler, Kopitar, O'Reilly and Radim Vrbata. Hudler led the NHL in even-strength points, with 60. Vrbata was last summer's best free-agent signing, and his performance deserves greater notice.
The vote went to: Sean Monahan.
Okay I lied, I'm revealing two winners. And I'm going to admit a bias. It was going to take a lot for me not to vote Monahan, because I felt he deserved more recognition than a fantastic parody Twitter account. Gaudreau and Jiri Hudler get the headlines, but he was the conscience.
One of the reasons Calgary signed Matt Stajan to a contract extension was the organization didn't want to throw Monahan to the Western Conference wolves without protection. Injuries allowed only four Flames forwards to play 70 games — Gaudreau, Hudler, Monahan and Lance Bouma. That threw more responsibility on the 20-year-old, and he delivered.
The six opponents he faced most were Patrick Marleau, Couture, Dwight King, Perry, Jeff Carter and Joe Thornton. King may not be a scorer, but none of those guys are easy to play against. Monahan took a lot of defensive responsibility on a team that was outshot. Twelve penalty minutes all year is impressive.
30 THOUGHTS
1. The Masterton ballot requests three names, not five. It's always difficult, because there are so many good options. My selections were Brian Elliott, who got my vote the moment he left his vacation to go to the All-Star Game. This year's event was a punchline, because people were avoiding it like the plague. He did the event a real solid. I also chose Andrew Hammond (for obvious reasons) and Marc Staal (also obvious reasons).
2. Subban had an interesting observation about Karlsson, and some film-watching bears it out. The Canadiens prefer their defencemen not to rush the puck, because their forwards have to wait instead of attacking with speed. Subban gets a little more slack than others, but there's no doubt he's more conservative than he used to be. Ottawa is different. Karlsson is so fast and always has the green light. You can see how Senators' forwards are always looking to make sure there's coverage, but the temptation is to go with him since you know he'll create something.
3. Finally on Subban: In the words of one exec, "Weber and Josi are the best defensive pair in the league. Subban and (Andrei) Markov were second." Martin McGuire, Montreal's French radio play-by-play voice, was trying to get Markov to say how impressive it was he played 81 games this year. In typical stoic fashion, Markov blew it off, basically saying, "Lots of guys played 82, so what's to get excited about?"
4. Things are going to change quickly over the next couple of weeks, as the draft lottery determines some futures and other teams lose in the playoffs. Buffalo knows it is getting one of the two centres, but what about Arizona? What does it mean for the Coyotes if they fall to third? Will it change the futures of Don Maloney, Dave Tippett or Shane Doan? At three, you're getting a good player, but not as impactful as Connor McDavid or Jack Eichel. The Coyotes go under the radar, but the more research you do into their season, the more you realize how deep this year's results were felt by Tippett and Doan. (GMs like Maloney take a longer view than coaches and players.)
5. If you drop to three, your rebuild is a little bit longer, the excitement for next season a little bit less. Arizona needs a lot of help and may be less inclined to add it without one of them. (There's also the matter of Scottsdale's Auston Matthews in the 2016 Draft, but the changing rules make it a harder bet.) Tippett's contract is complex, and without actually seeing it, it's difficult to know exactly what's there. According to a couple of sources, he has an out for a move (not relevant) and an out for an ownership change (which is relevant, although I've been told the language is not as clear-cut as you'd think). There would be demand for his services, and word among his peers is Tippett would rather free the Coyotes from his $2 million-per-year contract than go through that again.
6. Doan admitted his frustration, too, and there is varying opinion into how much he wanted to get traded at the deadline. There is some skepticism, because he's flirted with leaving before and never pulled the cord. If McDavid or Eichel is in the desert next fall, no doubt they'll want Doan with him. If not? He's got control over his destination.
7. Now that the season is over Sean Burke will look for a new team. Toronto will be a pursuer, although not for the GM position. Burke has a history with Lou Lamoriello, so there is some curiosity to see if the Devils are interested in adding anyone. If Arizona does not get one of the top two picks, could that affect Maloney's future? If so, does that mean Burke stays? Don't know if there is a franchise with more on the line at the lottery than the Coyotes.
8. There is some talk New Jersey, which has some good, young defencemen, will test the market on Eric Gelinas to try and add a youthful forward. What helps is Adam Larsson, who had just one goal and four points in 18 games before Christmas (and was a healthy scratch many nights), had two goals and 20 points in 46 games afterwards. Assistant coaches there are not allowed to talk, but video sure makes it look like Larsson's stick changed following Adam Oates' hiring.
9. The clear message from Brendan Shanahan's Monday media conference was Toronto is willing to be unconventional to get the right people. If the Maple Leafs want you, they'll find a spot and make it work. Rob Blake was the first choice, but he's said several times it is not a fit. Shanahan remains the final decision-maker, but it's clear Mark Hunter has big clout (Shanahan said Hunter made the decision to clean house in the scouting department) and so do Kyle Dubas and Brandon Pridham. The question becomes, who fits, because they are either willing or know the people involved? One theory would be someone like George McPhee, who can fill Dave Nonis' position as a more experienced NHL person working the phones.
10. Then, there are some guys known for their scouting backgrounds who have connections to this group. The obvious first example is LA's Vice-President of Hockey Operations Mike Futa, who is from Toronto. His previous job as GM of OHL Owen Sound brought him into contact with both Hunter and Dubas, who was then an agent. (He supposedly knows Sean Burke well, too, although I can't confirm that.) Couldn't imagine it would be too difficult for them to get along. Another would be Nashville assistant GM Paul Fenton, who's done a very good job there. It turns out Fenton and Hunter played together (and depending on the accuracy of the internet, may have been linemates) for a brief time with the Calgary Flames. In an organization now stressing drafting and development, those two have a strong history of it.
11. No confirmation, but other teams would be surprised if Toronto did not at least try to interview both Julien BriseBois and Pat Verbeek from Tampa. No doubt there will be more. Verbeek played with both Shanahan (in New Jersey) and Hunter (in Hartford). As you can imagine, there were a lot of names tossed around yesterday, including a few suggestions Hunter will eventually take the job himself. But someone's going to have to do all the interviews, and he probably doesn't want that fun. Finally, a few Ontario-based scouts say they still hear Dale Hunter's name for some role. I only include it because Shanahan's respect for the family is obvious.
12. Shanahan made it very clear he wants players who look like they enjoy playing in Toronto. One player who seems to have changed his mind on that is James Reimer. A year ago, he made a private trade request. This time, he made it sound like no such ask is coming. "I like this place," he said Monday. "I'm not a 'grass is greener' person." Last week in Columbus, Reimer had a strong quote about his performance. "I still believe in my talents, no matter what other people's perceptions are or how numbers may look on the surface."
13. Joffrey Lupul, who quit Twitter Monday night, said he will be changing his summer workout routine in an attempt to stay healthier. "I'm at the point where building strength is very easy," he said, adding it is time to concentrate "more on flexibility and injury prevention." Last note on Toronto: expect the Maple Leafs to re-open talks soon with both Jonathan Bernier and Nazem Kadri. Word is the team hopes to keep them, but you never know until you sit down and chat.
14. Word on potential San Jose changes could come down at any time, but a few sources indicate one of Doug Wilson's suggestions is creating another layer between him and the coaching staff. He becomes President with a GM in the middle or something like that. If Todd McLellan is let go, he'll be a hot commodity. So would Peter Chiarelli and Claude Julien if out in Boston. Should that happen, Cam Neely is expected to have a greater role, with Don Sweeney alongside him. At some point, Ray Shero is going to become a factor in all of this.
15. No team is more disappointed about its season ending than Columbus. You always wonder how seriously to weigh games a team wins when its season is essentially over, but GM Jarmo Kekalainen bristled at that when I brought it up last week. "We beat Detroit, Vancouver, Anaheim, Chicago, St. Louis, the Islanders and Pittsburgh," he said. "Maybe we're not battling for position, but they are. They wanted the points." There are lots of stats about the Blue Jackets' brutal injury totals, but I like this one best: they had a six-game losing streak, a seven-game losing streak and a nine-game losing streak. Despite that, even when you factor in overtime/shootout losses, they were above .500 (42-35-5). That's pretty, pretty, pretty good. (Say this in your Larry David voice.)
16. Now, what will Kekalainen do? They have so many centres Artem Anisimov finished the season as a winger. Marko Dano and Alexander Wennberg are ready for full-time duty, and a couple more are getting close. He was looking for defencemen at one point. Whatever he wants to do, the Blue Jackets have excess.
17. One player, in complementing the two rookies, had a great line about Wennberg and Dano. "(Wennberg) doesn't want to keep the puck, while (Dano) doesn't want to give it up," he laughed. Todd Richards said he'd like the former to shoot more, because he's got a great shot. Dano made a beautiful pass that led to a Scott Hartnell goal against Toronto, but admitted he's learning to pick his spots. "You can't make a play all the time," he said.
18. It doesn't always happen, but credit to the Oilers and Nail Yakupov's agents (Ian Pulver/Igor Larionov) for getting a quiet, quick deal done right after the season. No delays, no distractions as he tries to build career momentum. Alex Killorn and Brayden Schenn were the contract comparables. GM Craig MacTavish said there are also conversations going on with Derek Roy about an extension, although I think the Oilers have a limit they're not willing to break.
19. MacTavish also said last weekend he told Jordan Eberle, Taylor Hall and Ryan Nugent-Hopkins not to listen to rumours — none of them are getting traded. (I don't know if he specifically said that to Yakupov, but you can add him to the list.) "I've seen players like them traded too early," the GM said. "You want to support them…create loyalty, not a mercenary attitude."
20. Nugent-Hopkins, after leading most of the way, ended up second behind John Tavares in ice-time per game among forwards. Why is scoring down? Tavares' total was 20:40. If you go back to 1997-98, the earliest season available on NHL.com, that number would have placed him 28th in the league, 4:17 behind leader Theo Fleury.
21. Boston University free agent goalie Matt O'Connor begins meeting with NHL teams this weekend. According to one source, he is to begin with Ottawa, where he will attend Sunday's Game 3 against Montreal. Edmonton and Vancouver are to follow. The Under-18s may affect scheduled visits.
---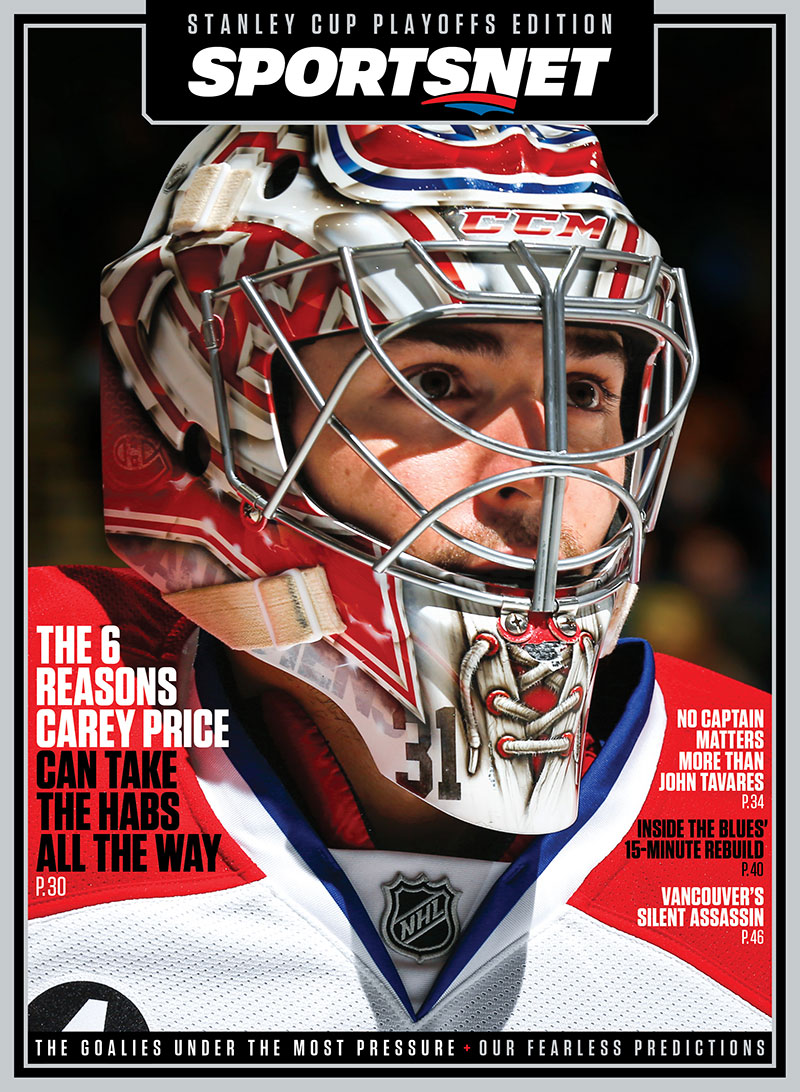 Sportsnet Magazine Stanley Cup Playoffs
Edition: The six reasons why Carey Price can take the Montreal Canadiens all the way. Download it right now on your iOS or Android device, free to Sportsnet ONE subscribers.
---
22. Dallas GM Jim Nill is — like many teams — still hoping to nail down a strong defender who worries about his own end first. He admits that such a move is more likely in a trade than free agency, but is mindful of so much change in such a short time. "We've done a lot over two years," he said Saturday. "We need to let that settle in." Nill also threw cold water on the idea of a buyout for Kari Lehtonen. "You can say he's part of the problem, but I also see him as part of the solution."
23. Nill invited Tyler Seguin to the World Championship even though Seguin missed the last game of the season for being late to practice the day before. It was the third such incident in Dallas, following Erik Cole and Cody Eakin. "We've got a pretty young group; little things start to add up," he said. "It's about being a pro and being accountable." Any concern about Seguin? "No concern," Nill replied. "I reminded him he is living under a microscope. Rules are rules."
24. Another team looking for a defenceman is Carolina, which traded Tim Gleason and Andrej Sekera. Sekera played with Justin Faulk, so ideally, it will be someone who can play there. "Justin makes it pretty easy," GM Ron Francis said last weekend. "He had an outstanding year. It doesn't seem to matter who he is playing with." Francis is confident he's got some good, young blueliners coming, too.
25. Like Shanahan, who joked in his media conference that winning the McDavid lottery would solve some problems, Francis laughed and made the same observation in our conversation. Carolina was third in shots against, fourth in penalty killing and 12th in shots for, but 27th in goals. Eric Staal was the only Hurricane to crack 20 goals and 50 points. Francis thinks two of his young players, Elias Lindholm and Victor Rask, will help and is hopeful Brock McGinn can score at this level. McGinn had 43 goals at OHL Guelph in 2013-14, and 14 in 70 games in his first year as a pro at AHL Charlotte. Jeff Skinner shot the lowest percentage of his career (7.7), so they hope that's a fluke.
26. There's no escaping the Eric Staal questions. He's heading into the final season of his contract, and there are teams hopeful he is willing to move into a situation that is closer to contending. Francis says he's got no indication of that, but it will be a topic as we get closer to the draft.
27. The Kings believe fatigue and their horrible luck in the shootout/overtime is as much a reason for missing the playoffs as anything else, but their cap situation makes it impossible to bring everyone back. Slava Voynov's uncertainty means they will probably try to re-sign Sekera and maybe they take one more shot at Justin Williams, too. But there's also the matter of Tyler Toffoli, who probably gets a trip to the Worlds. Whatever the case, someone who did heavy lifting through two titles is going to be moving on.
28. There are no upsets in these playoffs. The difference between the Rangers and Penguins, numbers one and eight in the East, was 15 points. The split for the Ducks and Flames in the West was 12. Even the 1995 and 2013 lockout seasons weren't that close. In 2010-11, the difference in the East was 14 and in 2007-08, it was 10. But never were both conferences so tight. The joke about the late NFL Commissioner Pete Rozelle was he wanted every team at 8-8. The NHL is getting close.
29. Regular readers know the playoff stat I monitor: teams more than four points out of the playoffs on Nov. 1 face a serious fight to get in. This year, clubs that far away on that date were Edmonton, Arizona, Buffalo and Carolina. They went 0-4 (with one serious tank case, and another that became one). Since 2003-04, that's now only five clubs out of 44 to make it.
30. It was April 1986, and the Toronto Maple Leafs were in one of those cheesy Norris Division playoff runs. They swept Chicago in the first round and were tied 2-2 with the Blues. Game 5 was in St. Louis and Toronto led 3-0 in the second period. Greg Paslawski and Ric Nattress cut it to 3-2, before Bernie Federko tied it midway through the third. It was Mark Reeds who won it at 7:11 of overtime, much to the chagrin of some Maple Leafs fans I grew up with. They got angrier after Toronto lost in Game 7, because they felt that should have been a victory. He forever became known as Mark (Bleeping) Reeds. When he coached Owen Sound to the Memorial Cup Final 20 years later, I got a call: "I turn on my television and it's Mark (Bleeping) Reeds," a buddy said. When he got a job with the Senators, yes it was, "Oh, so they hired Mark (Bleeping) Reeds?" I told him the story once and he laughed; that was a great memory for him and he was glad someone had a connection to it. Very sorry to hear news of his passing, 55 is way too soon.