Before we get to all the trade stuff, something more uplifting to begin:
Jeremy Smith doesn't tweet too often, so it's not stalking to say I ended up wandering back more than three years on his timeline. This is what I found from Dec. 22, 2013.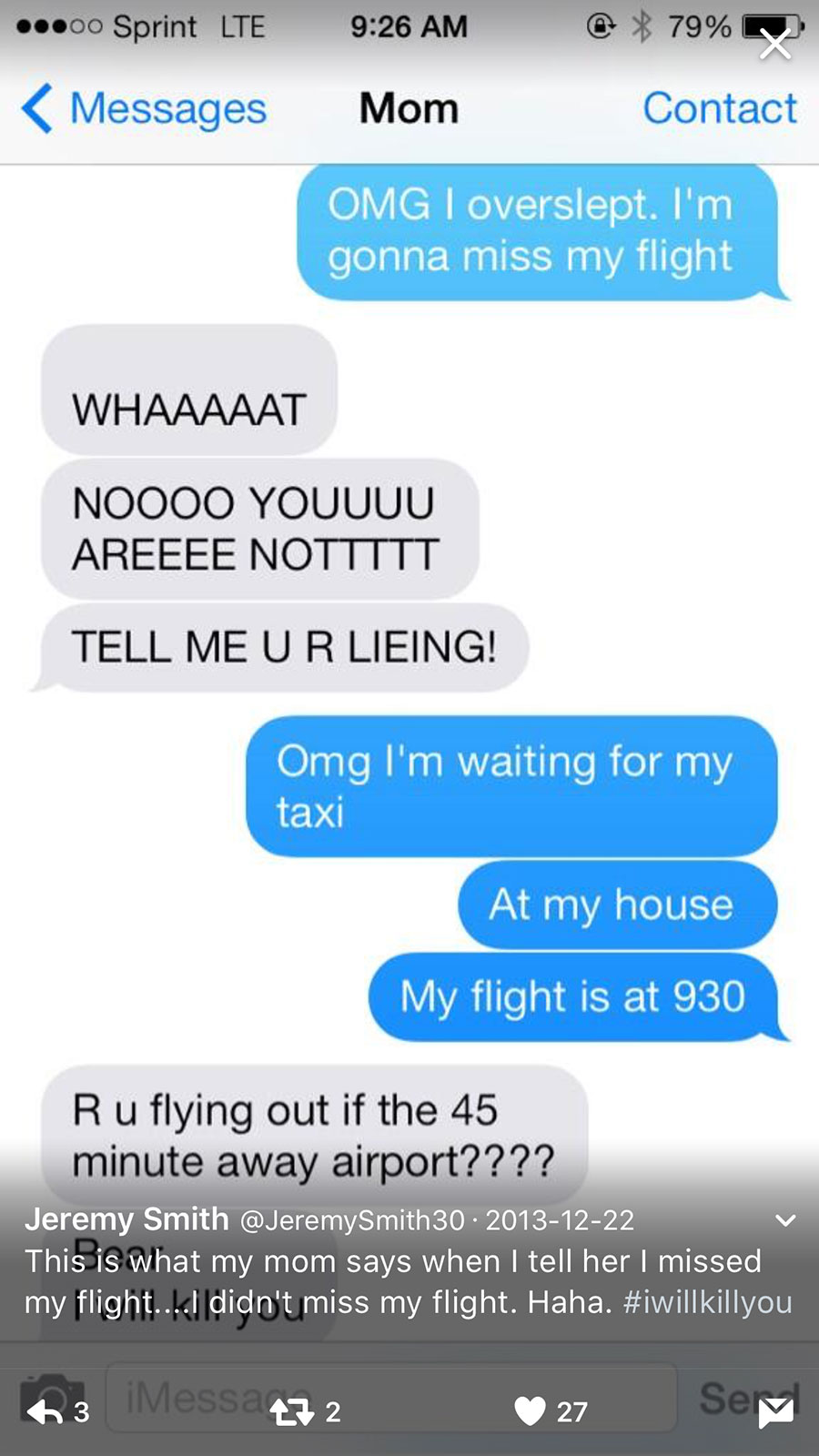 The Colorado goalie started laughing. "I'm pretty sure I know what that is," he said, "but I'd better go back and check."
"Yes…My mother (Helen) loves us unconditionally, me and my two brothers. That was my flight home for Christmas break. She cherishes that one thing, tells us, 'Don't ever miss your flight (on Christmas).' We like to have a little fun with her, because she will believe anything you say. I figured I'd say I missed my flight because I overslept. She called me right away. I couldn't hold it. I told her, 'Just joking, I'm at the gate.' She said don't ever do that again."
Helen Smith (and husband Keith) have been there every step of the way during their son's hockey odyssey from OHL Plymouth to the Avalanche. Jeremy Smith was drafted 54th overall in 2007 by Nashville, but didn't make his NHL debut until Valentine's Day 2017 in New Jersey. The Smiths were there to see it, but the Avalanche lost 3-2 to the Devils.
In between were stops in Cincinnati, Milwaukee, Springfield, Providence, Iowa and San Antonio.
Last Saturday, Smith won his first NHL game, 5-3 over Buffalo. His parents couldn't be there, but they watched and he knew they were as emotional as he was.
"It's humbling," he said. "I can't believe it took this long."
As the clock ticked towards zero that night in Denver, Smith was reaching down to play the puck. He wasn't sure the game was actually over but looked up to see teammates coming to celebrate with him.
"What an unbelievable feeling."
[relatedlinks]
Smith wants you to understand one thing: he's loved almost every second of this journey.
"My first year as a pro in Cincinnati, we won (the ECHL Kelly Cup). That was the greatest," he said. "Everywhere I've gone, it's all been good. Great teammates. Great places. All the guys you've met throughout the journey.
"Yes, there are times when you wonder what is going to happen. Being a free agent is scary. Will there be an offer? Does someone want you, believe in you? But there's always been a team. My goal never wavered. I never doubted myself. I learned how to be better, kept an open mind, accepted criticism, made sure I was coachable. It doesn't matter how, you can always be better."
Among American-born goalies, only Mike McKenna has more AHL wins than Smith. McKenna was moved at the NHL trade deadline to the Tampa organization and shows no sign of slowing down. Neither does Smith, who says someone is going to have to drag him off the ice.
There are too many good times. For example, he believes his first pro shutout was at Johnstown, the franchise that was the inspiration for Slap Shot.
"Guys are heckling you, yelling at you, pouring beer on you, and you're just trying to get to the ice," he laughs. "Old barn, no goal lights, when the puck goes in, someone is waving a towel. You're thinking, 'This is pro hockey?' Your jersey smells like beer, fighting fans to get back to locker room. After the game you hop on the bus for an eight-hour ride and a cold meal.
"But you love it."
1. One year ago, Trevor Linden was a frustrated man. The Canucks' president of hockey operations saw his organization come under tremendous heat for trade deadline inactivity. This year? "Very different," he said Wednesday. "Much better feeling." He admitted the last couple of weeks were strange for him. "We are undergoing a significant transformation. I remember being in the dressing room when Alex Burrows walked in for his first regular-season game." The best thing you can have is volume. Not all of your picks/prospects are going to work out. But the more you stockpile, the more of a chance you have.
Adding Jonathan Dahlen and Nikolay Goldobin to your pool is never a negative. Linden was in the meeting earlier this week when the Canucks laid out their plans to Daniel Sedin and Henrik Sedin. "I didn't expect anything different from them than what happened. We talk to them regularly throughout the year. They are such good people. I think they understand where we are and where we are going to." The Sedins are eligible for an extension July 1, but Linden said that did not come up. "They have told us they will decide year-to-year. Everyone knows we want them here as long as they want to play."
2. Did the Canucks — at their recent organizational meetings in Pittsburgh — ever consider trading Alexander Edler and/or Chris Tanev? "Those were great conversations," Linden answered. "We considered all our options, looked at everything we could, put everything on the table. At the end of the day, with the youth we have on our defence, we decided we must have people who can steady the ship. We placed a high priority on that. Don't put players into situations they are not ready for." That's a reason they are considering keeping Ryan Miller. They want the best possible goaltending behind them.
3. Linden added no one should expect Vancouver to be a significant player in free agency. "Loui (Eriksson) was a unique opportunity. His relationship with Daniel and Henrik…through the Olympics in 2010 he knew and liked the city. I don't think that's the way build this team now. We're more in the market for 'bridge' support, shorter term."
4. Finally on Vancouver, their biggest victory this year may come from internal growth — the likes of Sven Baertschi, Markus Granlund, Bo Horvat, Ben Hutton and Troy Stecher. But when asked if there was someone who has come furthest, he didn't hesitate. "The guy who has surprised me the most is (Nikita) Tryamkin. Fitness, nutrition…he decided to totally buy in. I didn't think I would see it this quickly. You have to credit our strength and conditioning staff, our veterans…He made an impressive commitment."
5. Not sure what Edmonton was trying to pursue in moving Andrew Ference's expiring contract, but it sounds very intriguing. What made things more difficult is that it wasn't insured, so an acquiring team had to be willing to spend the cash. I do think they took a look at Jaroslav Halak, and it's possible they talked a Halak/Mark Fayne trade with the Islanders. (Both have one year remaining.) There were probably other parts to that deal, but, whatever the case, it obviously didn't happen.
6. Detroit had a lot of activity on Riley Sheahan, maybe about 10 teams. The Red Wings pulled him back, deciding to try to figure out themselves what has happened this year. It's a fair question: if so many others see value, what are we missing? It's been a nightmare for Sheahan, 0 goals in 59 games. He's had a lot of different wingers, been moved out of the middle himself. But, big centres aren't easy to replace. Sometimes the best thing to do is fix your own problems, hope to reap the benefits later. That's the plan with Sheahan.
7. Thought Los Angeles took a look at Thomas Vanek, but that was disputed. The Islanders did, but ultimately chose not to pursue. Florida outwaited the market. The Panthers were Detroit's best option.
8. When Arizona received three potentially high draft picks for Martin Hanzal and Ryan White, Colorado dug in, even more determined to hold strong on its high price for Matt Duchene and Gabriel Landeskog. It's tough to tell at this time if anyone even came close, but the Avalanche certainly did not budge. It's probably the right decision. The market for both players will be higher after the season, especially when a team or two (or more) falls short and some owner gets impatient. The Ryan O'Reilly trade looms large over the Avalanche. That one did not work out, and the organization is determined not to get a better return.
9. If Duchene was eligible for an extension and the Carolina Hurricanes believed they could get it done, my best guess is he'd be there. But the Hurricanes weren't paying the price for a two-year gamble.
10. The next move in this saga might be Duchene's. He looks tired, worn down by the constant questions and speculation. It wouldn't be a stunner if he asks the Avalanche to move him after the season. The Islanders were among the biggest pursuers. New York's been circling all year, but could never make a match. The Canadiens were out when they decided Mikhail Sergachev wasn't going to be a part of it. GM Marc Bergevin turned to his next objective, adding some beef. I don't know if they'll win the Stanley Cup, but if they took jobs with Louis Jean and Renaud Lavoie at TVA, they could certainly win the broadcasting fight scene in Anchorman.
11. Boston added Drew Stafford right at the deadline. They were in on Radim Vrbata, and, at one point, some of the other teams in that bidding thought the Bruins would get him. Sounds like they also took a look at Dmitry Kulikov, but could not work out something with Buffalo.
12. Speaking of Buffalo, I think Nashville was one of the clubs that took a look at Evander Kane. Don't think it went very far.
13. Sabres GM Tim Murray quickly shot down any idea that Alexander Nylander would be available. The 2016 first-rounder has struggled at AHL Rochester. Word from a couple of team execs recently scouting in Sweden was that Nylander's disappointment reached home. But it's way too soon to give up on him and Murray knows that.
14. One of the more interesting rumblings was that Boston had a couple of feelers on Matt Beleskey. It hasn't worked between them, but he's not without value. The contract (three years to go, $11M in cash) is tricky, way too complex for an in-season move. It will require creativity (and taking back money), but the opportunity could be there in the spring. One possibility: his former club Anaheim. But that likely depends on the Ducks' post-season performance.
15. Beleskey and Boston will be in the same boat as Marian Gaborik and Los Angeles. The Kings have checked Gaborik's value, but it's very hard with four years and slightly less than $16 million in cash remaining. There were rumours L.A. might put him on waivers prior to the deadline. After all of this, he'll probably score some huge goal for the Kings late in the season.
16. John Shannon was probably the only person on the planet who predicted Vrbata wouldn't go anywhere. According to a couple of the bidders, Arizona GM John Chayka set a bar (likely a second-round pick) and wasn't trading Vrbata unless someone agreed to it. Why? At some point, you've got to keep people. The Coyotes like Vrbata and he clearly likes them. But, trading him away — again — was going to be the end. How many times can you break up and get back together? He's happy there and doesn't come at an outrageous price. When no one was willing to pay that price (and the Vanek trade indicates the market), Arizona was fine with holding.
17. Dallas GM Jim Nill scored points with his fraternity by being upfront about Patrick Sharp's injury. Not surprisingly, there were several teams ready to make serious pitches, including Ottawa before it acquired Alex Burrows. Nill told Dallas-area reporters by saying "you can't trade an injured player," but, as one of his brethren replied, "No, you can't. But some have tried. And others have succeeded." Sharp chose to play through it because he wanted to try and help the Stars get back in the playoff race. What I'm more curious about is that he will have the surgery instead of competing for the Cup. That's a sign he intends to play next season.
18. One reason Ron Hextall was willing to take a chance on Valtteri Filppula? Five-on-five. All seven of Filppula's goals and 27 of his 34 points are at even strength. Only Nikita Kucherov (39 points) and Victor Hedman (29) were higher among Tampa Bay players. Filppula's total would put him two behind Jakub Voracek for the Philadelphia lead. The Flyers have 89 goals at five-on-five this season, third worst in the NHL. Opponents have 126, which is fifth most. More than half of Claude Giroux's and Brayden Schenn's numbers have come on the power play.
19. Toronto was not on Filppula's list of approved teams to be moved to. He could block 13. So Tampa would have needed extra permission to send him there. Veterans see Colin Greening, Brooks Laich and Milan Michalek in the AHL, so they believe it could happen to them too. Going into the last year of his contract, Filppula had to be aware of that. Toronto was linked to another Tampa player — Jason Garrison — and Buffalo's Cody Franson, but there was nothing at the end.
20. Lightning GM Steve Yzerman called Los Angeles "the only taker" for Ben Bishop. Calgary was involved to some degree, but the Kings were ready when Yzerman needed his final answer. Bishop has said he thought he was going to Alberta last summer, and it's believed the Flames were preparing a six-year offer in the $36M range. But that crumbled at the end, and, well, I've gotten in enough fights the last three weeks.
According to a couple of scouts, the Lightning took a worthy gamble on one player they received in return — OHL defenceman Erik Cernak of the Erie Otters. A right-shot defender, Cernak was considered a good prospect when he arrived from Slovakia and selected 43rd in the 2015 draft. He has struggled since making the North American transformation, but isn't the first European to do it. Question is, can he figure it out? The raw ability is there.
21. Filppula's move gives Yzerman more flexibility, but doesn't fix what he considers a major need — a right-shot defenceman. Whatever he was planning to move for Kevin Shattenkirk is still in his holster.
22. How on earth did St. Louis and Washington end up with all those conditions on the Shattenkirk trade? "(Blues GM) Doug Armstrong made it very clear he wanted to be protected in a few different ways," Capitals counterpart Brian MacLellan answered. "He wanted to be protected if we re-signed him and he wanted to be protected if we traded his rights. That's why." What were you thinking about as the two teams worked on it? "I was worried it was going to fall through," he laughed. "You can't relax. It's intense. The league went through every scenario. It was incredible how many scenarios they thought of."
23. MacLellan said talks started Sunday and got serious Monday. There were multiple reports Pittsburgh was also swirling around Shattenkirk, but he said Washington ignored those. "We didn't know who was in. We made the decision to trade for him not because of what might happen externally, but what's best for our team." Their most serious internal discussions were how the rest of the roster would be affected. "If we get Shattenkirk, how are we going to manage our guys? Some players lose minutes, some lose power-play time, some won't play as many games. You have to get guys to buy in to make worth it our time." Going for the Stanley Cup, doesn't that make guys buy in? "You hope so, but you never know."
24. Even with Shattenkirk, the GM knows the Metropolitan playoffs are going to be brutal. Whatever the Vegas odds, Pittsburgh is going to want its shot against the Capitals. They feel they can beat Washington. Does MacLellan recognize that? "Oh, for sure. That's going to be the battle, getting out of there. No matter who looks good on paper, there are so many little things that can go wrong. Goaltending, health…we're aware of it. Sometimes it's a small margin that causes teams to lose. In getting Shattenkirk, we hope we've increased the margin for victory a little bit."
25. One NHL alumnus who wants to see the Capitals win? Tiger Williams. At an event last month, Williams said he's cheering for Washington, "because I want to see (Alex) Ovechkin win. And, I'm from the West, so I want Barry Trotz to win, too."
26. The Rangers, sitting in a position of power with Shattenkirk, are not believed to have offered more than a second-round pick and B- or C-level prospect for him. It will be interesting to see where this goes in June/July. Both sides may need to bend to make it work, but if they want it to happen, there's certainly a will.
27. Finally on Shattenkirk, someday I'm going to find out what the St. Louis/San Jose trade was before Doug Wilson decided to hold on to the ninth pick of the 2015 draft and take Timo Meier.
28. Calgary inquired on Marc-Andre Fleury a few weeks ago, but I don't think it was anywhere near close. For one thing, getting him to go there might take an off-season trip, because it's somewhere he's unfamiliar with. Second, I don't see the match on an in-season trade. I take Jim Rutherford at face value when he says his preference was to keep Fleury as Matt Murray injury insurance. Like Duchene and Landeskog, the market may be larger after the season. Fleury may also be willing to expand his list of potential destinations since he just wants to play.
29. Not surprised Calgary is sitting out Curtis Lazar the first game he is eligible to play for the Flames. Also don't think it's a guarantee Lazar's arrival means Sam Bennett moves to wing. There is an option to try some things, but you don't disrupt a surging team as you rebuild Lazar's confidence.
30. Kelly Hrudey went on a passionate rant Wednesday about how much he hates the trade deadline — and the coverage of it — because it's so nerve-wracking for players. One player sent a text praying he was not part of a certain deal because he dreaded leaving a great situation. It came out of nowhere and he was clearly shaken. The good news is he wasn't moved. But it is an excellent reminder of what Kelly was talking about.