Next week at the GM meetings, the assembled minds will (once again) discuss the possibility of video replay review on goaltender interference.
There are several concerns with the idea. The NHL is always worried about games going longer. When the commissioner saw people leaving Madison Square Garden during the dry scrape, it was gone faster than a Kardashian marriage. There is always debate about who should oversee the review.
There is this beautiful control centre in Toronto that is now being copied by MLB and the NBA. Shouldn't it be there? But others worry about the officials having a better feel on-site, and don't want an "eye in the sky" deciding everything.
And there's the age-old question: how many types of plays are going to be eligible for review?
If they don't mind, a suggestion. A compromise.
A couple of years ago, the league gave the officials permission to huddle as a group before making a final on-ice ruling about disputed goals or plays. It was a smart idea. Last week, there were two critical examples on crucial games for the teams involved.
On March 3, Calgary visited Philadelphia. The Flyers were six points behind Boston for the final playoff spot in the East. The Flames were tied with Los Angeles and San Jose for the third in the Pacific with 70 points. Down 2-1 early in the third, Philly appeared to tie when the puck hit Nick Schultz and bounced in.
But he collided with Karri Ramo and the officials conferred. It was a lengthy meeting, almost 10 minutes, before they correctly ruled no goal due to incidental contact. The Flyers would tie the game before losing in overtime.
Four days later, the reeling Sharks hosted Vancouver. They were out of playoff position, four points behind the Canucks. Leading 2-1 in the second period, San Jose had the man advantage when Henrik Sedin put his hand on the puck following a face-off. He didn't technically "bat it," an automatic penalty off a draw, but he sure did cover it.
Again, the officials huddled. Somehow, Sedin came up with a legal argument so good that, Sunday night, he should be starring with Julianna Margulies on The Good Wife. No penalty. The Sharks blew the 2-0 lead on their own, but it was a huge moment in a playoff-damaging 3-2 loss.
What if there was some kind of tablet in the penalty box the group could use in their on-ice meetings? Could it be programmed to show the various replay angles so that the NHL doesn't have to expand review, it could simply enhance the officials' ability to decide on plays they are already allowed to discuss?
During Flames/Flyers, instead of huddling for 10 minutes and going by memory, they could grab the tablet and see what happened. During Canucks/Sharks, same deal. They are also allowed to chat about pucks over the glass and high sticks. Decisions in all of these situations can be improved/clarified.
If you don't want full-out replay reviews, this intermediate step alleviates problems.
---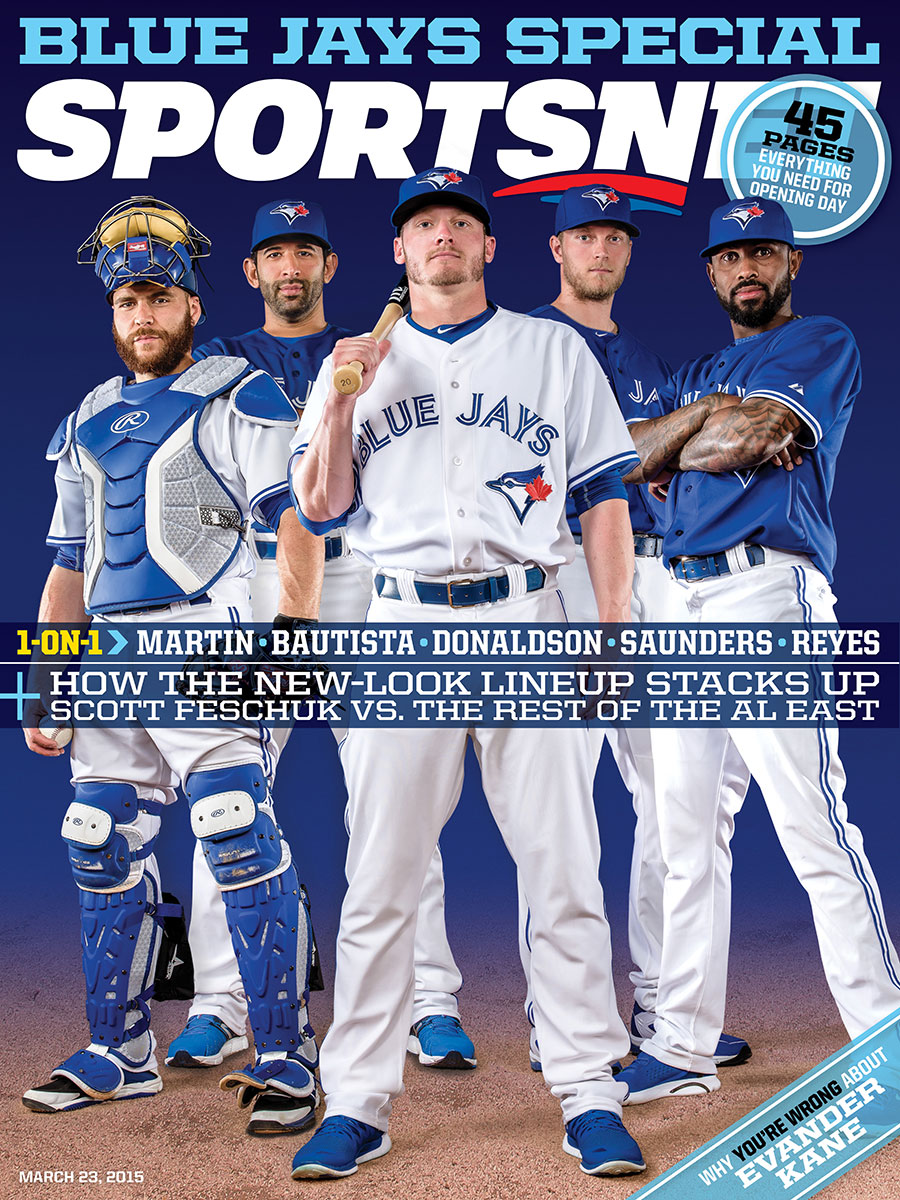 Sportsnet Magazine's Toronto
Blue Jays Special: From the heart of the order to the bottom of the bullpen, we've got this team covered in our preview issue. Download it right now on your iOS
or Android device, free to Sportsnet ONE subscribers.
---
30 Thoughts
1. Very impressive off-ice victory for the New York Islanders getting Johnny Boychuk to sign. Five years ago, Dan Hamhuis, Paul Martin and Zbynek Michalek all took less money than the Islanders offered. Last summer, Jarome Iginla and Benoit Pouliot took one less year.
Getting Boychuk and Nick Leddy locked-in signifies a major change and they did it without completely blowing their salary structure. Their top three defenders—Boychuk, Leddy and Travis Hamonic—are signed until 2020 at a combined cap hit of just under $15.5M.
2. Before the season, you would've been hard-pressed to find a GM predicting Boychuk foregoing free agency to commit anywhere.
According to a couple of sources, the Islanders hoped to get it done at around a $5.8M AAV, but once they came up to $6M, it was good to go. Boychuk left money on the table, but likes his role and the team.
As Bob McCown once told me, "Don't (bleep) with happy." As for those who criticize signing a 31-year-old to a seven-year contract, understand Boychuk was getting that from somebody. Will it help that he played only five NHL games by age 25? Does that mean he's got more mileage?
3. Toronto wants to keep Nazem Kadri rather than trade him, but, after the Maple Leafs increased their self-imposed suspension, one of the questions being asked was, "If they did want to trade him, did they just damage his value?" After a little bit of investigation, the answer appears to be no.
Past teammates and coaches, and even opponents, respect his ability and his compete level. That's the highest compliment he gets: his fearlessness and willingness to stand up against anyone at any time. However, whatever worries the Maple Leafs away from the rink, it's not a secret to the rest of the NHL. That's why his value hasn't dropped; because the teams I queried have the same concerns. Brendan Shanahan must know that, too.
4. One exec made an interesting point about Kadri. Three coaches who've had short-term success with him are available: Peter DeBoer and Dale Hunter (OHL) and Dallas Eakins (AHL). I've written before about my belief that Toronto will talk with Hunter after the season, but it would surprise people who know him much better than I do if he took the job.
5. By the way, DeBoer's eldest son, Jack, is turning into a good player. The 15-year-old had 62 points in his first 30 games for the New Jersey Colonial Bantam Majors.
6. There was at least one Western Conference team wondering if Vladimir Sobotka would magically show up in the St. Louis Blues lineup during the playoffs, a la Alexander Radulov for Nashville in 2012.
The answer is no. GM Doug Armstrong said last weekend Sobotka—who is Czech—wants to play at the world championships, which are being held May 1-17 in Prague and Ostrava.
Even if Sobotka wanted to come back, there is still the matter of solving a difficult negotiation. He owes St. Louis another season, although a three-year deal somewhere above $3M per season likely solves everything. But there's no guarantee the Blues are willing to do that.
7. The Blues enter Friday tied atop the NHL with 91 points. One of the biggest questions about them is: Do they recognize how good they are?
"That's a team," a Western Conference player said, "that needs to win a round to believe it. If they do, look out."
Those from outside, including Paul Stastny (who came from an up-and-down Colorado organization) and Steve Ott (whose previous clubs hadn't reached the playoffs since 2008) know it. But do the mainstays? Their last three playoff defeats are to Los Angeles (twice) and Chicago. Those are great teams, but it's hard still to feel good about yourself when you lose.
8. As the younger Blues grow into greater roles, some of the veterans will go into the post-season more rested than normal.
Barret Jackman, at 33, is playing 16:50 a game, the fewest minutes of his career. Same with 29-year-old Paul Stastny, at 17:23. Jay Bouwmeester, now 31, is at 22:54, lowest since his rookie season. David Backes, 30, and TJ Oshie, 28, haven't seen less ice-time since 2010, although the latter's drop is relatively small. Alex Steen is the exception among thirty-somethings.
Stastny said Joel Quenneville always did a good job of resting bodies near the playoffs, and St. Louis hopes this works as well. Kevin Shattenkirk's injury gives him a break, but they miss his ability to single-handedly clear the puck. "If we win a draw and it goes to him, it's out of our zone," another player said.
9. St. Louis was one of the teams that looked at Toronto's Roman Polak at the deadline, with Tampa Bay and Washington believed to be among the other suitors.
Armstrong refused to discuss names, but it's not a secret the Maple Leafs (and others) coveted two of their young defencemen—Petteri Lindbohm and Joel Edmundson, who plays for AHL Chicago. The Blues considered that price too high to pay.
10. One final note on Toronto: After the deadline, there were a couple suggestions that the Maple Leafs and Kings revisited last year's Joffrey Lupul talks, but those rumblings were shot down.
11. Last week, a few tweeters asked why the Capitals would not be so interested in a potential Patrick Sharp deal if the price was Joel Ward and a first-rounder. Some speculated Barry Trotz's history with Ward killed that idea. That's probably a factor, but my guess is this: One of the things Washington is trying to do is build a team that can defeat two different styles of opponents.
You need to play a speed game and a heavy game. We know they can play fast, but Ward is an important piece when they flex their muscle. According to some Eastern opponents, the Capitals do play tougher than they get credit for.
12. That's also one of the reasons GM Brian MacLellan looked at Polak, then traded for Tim Gleason.
The Islanders' fourth line—Casey Cizikas, Cal Clutterbuck and Matt Martin—is a dangerous animal, bad news for someone like Mike Green. MacLellan wanted to get a bigger body next to Green, to help him deal with what Don Cherry called the best fourth line in the NHL, if necessary.
13. The Coyotes are now working with Dawn Braid, the power-skating instructor who helped John Tavares reach new heights. She met with GM Don Maloney when the team traveled through Toronto. Never a bad idea when you have so many young players.
14. Speaking of Tavares, the Hart vote this year is going to be something. Sidney Crosby, Ryan Getzlaf, Rick Nash, Alex Ovechkin, Carey Price, Tavares… good luck with this one. Don't know if it's ever been this wide-open.
Alain Vigneault revealed an interesting story about Nash in the past few days, that Mike Babcock "jokingly" asked if he would mind getting Canada ready for the Olympics by using Nash as a penalty killer.
Ken Hitchcock used him in that role in Columbus and Babcock wanted to do it again in Sochi. The Rangers were trying it here and there, but gave it a harder run. The trade-off? Nash lost power-play time, although he's up 20 seconds per game this year. He was excellent in the 2-1 victory over the Islanders Tuesday. Among the NHL's 30-goal men, no one has fewer power-play goals than Nash (5).
15. The Columbus Dispatch's Aaron Portzline did a good piece this week on University of Minnesota defenceman Mike Reilly.
The Blue Jackets drafted him 98th overall in 2011. The question was never skill, but size, and he's grown into a promising young player. As Portzline reported, Reilly is expected to turn pro this year, meaning the clock starts on Columbus's window to sign him or watch him hit the market as an unrestricted free agent. (Same thing Chicago went through last year with Kevin Hayes, who chose the Rangers.)
I freely admit to having zero insight on Reilly's thought process, but the Jackets' biggest concern is probably his ties to other teams. The GM who drafted him is in Edmonton and Tyler Wright, who handled his post-draft development, is in Detroit. But here's the topper: His father, Michael, is a limited partner for the Minnesota Wild. It's not an easy spot for the Blue Jackets.
16. Sounds like Boston turned down at least one trade offer that focused on 19-year-old Danton Heinen from the University of Denver. Heinen, who is from British Columbia, was taken 116th last June. He had a strong rookie season for the Pioneers, leading the team with 28 goals and 42 points.
17. One other Bruins NCAA note. Was wondering about the possibility of Malcolm Subban being dealt, because teams demand goaltending depth throughout the organization even if there is a dominant number one like Tuukka Rask.
One of my college hockey spies suggested it is due to the growth of Zane McIntyre, who backstops No. 1 North Dakota. His development gives Boston options. He was drafted as Zane Gothberg in 2010, but legally changed his surname to his mother's maiden name last summer. It was to honour his maternal grandmother, who recently passed away. Good Twitter name, too—@ZanoInsano_29.
18. So, what did Calgary captain Mark Giordano tell his teammates after he went down for the season?
"He really didn't say much of anything," defence partner TJ Brodie said Thursday. That's kind of surprising, no? "Not really," Brodie answered. "We know how hard he works. We know how much it meant to him to be in the race. That's more important than anything he could say."
The Flames are 4-1-1 since Giordano went down.
19. Brodie said there were two personal adjustments once Deryk Engelland became his new partner—moving back to the left side and jumping into the play.
The first is obvious, even though it is his strong side, the second a little less so. Brodie explained how he and Giordano both liked to jump into the rush, so they became very good at reading when the other was going to make the charge. Engelland plays more conservatively, making Brodie's reads different.
20. Other coaches say it's not a surprise the Flames are not an analytics darling, since they try to hit the long-pass home run more than any other team in the league.
When it works, it's spectacular, but when it doesn't, it's either an icing, or you're letting the opponent regroup with the puck. Either way, it's not a formula for out-shooting people.
Brodie says a major reason Calgary's got so many comebacks is because the coaches demand a mentality "where we would play our style no matter what the situation," and the players bought in. He adds that, despite their youth, they don't panic.
21. Brodie is quiet, doesn't like to talk about himself. He laughed when asked if he bought something special for anyone when he signed his contract extension earlier this year. "I guess I'm lucky that no one in my family would expect anything like that. Maybe after the season."
22. How much has Michel Therrien changed in a decade? Ten years ago, he never would have joked about a tweet from an agent demanding a client play, as Allan Walsh did with Pierre-Alexandre Parenteau. Therrien would have driven to Los Angeles looking for a throwdown.
Walsh, normally very talkative, declined an interview request on Thursday. No doubt there was some conversation here, and, when Parenteau was re-inserted, Therrien sensibly put him on a scoring line rather than somewhere the player didn't have a chance to be effective.
23. Senators coach Dave Cameron barked at reporters wondering why Andrew Hammond did not start Tuesday's 3-1 loss to Boston, saying, "This job will be available eventually, just apply for it."
With 20/20 hindsight and a deeper look at Hammond's history, my guess is the goalie was exhausted.
He made eight starts in 16 days. If you look at his career, when was the last time he did that? I'm going to guess never. (I found eight games in 18 days at the start of this AHL season and eight in 21 twice last season.) These were his first in the NHL, at a much higher pace than he's used to. Cameron doesn't feel the need to justify or explain, but it's a possibility.
24. Hammond's a great story, and, as one source said, neither the Senators nor agent Dan Plante want to "pollute" it by bringing contract negotiations into things. His deal is up after the year, but there's time.
25. One NHL coach on Erik Karlsson: "You better have two layers of defence ready for him, because he's going to get past the first one."
26. After Thursday's 3-2 defeat of Winnipeg, Florida has five points in six games with Dan Ellis in goal. He became the number one option after the wild night of injuries March 3 to Roberto Luongo and Al Montoya. AHL San Antonio was on its month-long road trip for the massive San Antonio Stock Show & Rodeo.
"I started getting texts from my mom and from random friends," Ellis laughed. "So I grabbed my iPad and watched the end of the game."
He could tell by watching Montoya that he was probably going to get a call.
27. Ellis is up to 39 pro appearances this season, his most since 2010-11 when he had 44 for Tampa Bay and Anaheim. He needed that.
"You're hopeful you're going to make it back, but you don't always get second chances," Ellis said. "I'm enjoying playing games again. When you're only playing three or four games, it's not as fun… It's not always how you want to script it, but being down there has given me more years on my career. It's like a pitcher, sometimes you lose your command, so you go to the minors to find yourself again. I enjoyed it, but I'm hoping for an opportunity, because I feel good enough to play."
28. Ellis said the added workload allowed him to tinker with his style and return to his roots.
"Sometimes you get away from what got you here in first place." What's that? "I'm more aggressive, not so deep. I've (also) worked on better pushes and head movements."
29. Ryan Kesler took a puck to the head during Monday's warmup in Vancouver. He went for stitches, then came back to play the game. Kesler was not wearing a helmet. It is incomprehensible how this is still allowed to happen, especially now that we are seeing concussion lawsuits.
30. Greatest sight in the NHL this week: Matt Stajan with three goals and four points in three games since he and wife Katie welcomed their son, Elliot.
The Stajans lost their first child, Emerson, in March 2014, so this was as positive a time as the family could have. Fantastic to see.