Since the NHL went to 30 teams, we've seen two teams finish top-nine in goals for — and dead last in goals against. They were the 2000-01 Maple Leafs and 2011-12 Lightning.
Entering last weekend's games, this year's Ottawa Senators were on-track to make it number three.
No one's blaming Craig Anderson. He plays behind a high-risk, high-reward group that's fun to watch, but stressful to coach. The Senators were seeking blue-line help, especially as their faith in Jared Cowen and Patrick Wiercioch evaporated.
Enter Dion Phaneuf. In an absolute stunner of a deal, the Toronto captain was the cornerstone of a nine-player trade between the Maple Leafs and Senators. He is scheduled to pair with Cody Ceci for his first game, which will be in Detroit on Wednesday night.
That's the first adjustment. Phaneuf, a left-hand shot, prefers to play the right side. He loves the one-timers in the offensive zone. But Ceci, a growing talent, is there. That will push Phaneuf to his strong side, and, even though he may disagree, many coaches, executives and scouts have maintained it will improve his performance.
It will be easier for him to pivot, to get the puck out of his zone, to avoid turnovers. He may be uncomfortable in the beginning, but it is 100 per cent the best thing for his game. He's going to be a better player as part of a top four with Ceci, Erik Karlsson and Marc Methot.
The fact Ottawa wasn't on his "don't send me there" list is a good sign for the Senators. He didn't need to be convinced.
There were at least two occasions last season where the Maple Leafs moved towards a Phaneuf trade. The better-known transaction was with Detroit. Stephen Weiss and Brendan Smith were part of that possibility, with the two clubs haggling over a Red Wing prospect to be included. A major reason that fell apart was Toronto saw what Philadelphia got for Braydon Coburn, and it gave them cold feet about this package.
The second circumstance involved Los Angeles. The Kings considered Phaneuf after Slava Voynov's suspension. Word is the two clubs spent quite of bit of time on it, but could not agree on money retention. The inability to come to a consensus on that issue affected the quality of the return.
Ottawa gets the short-term gain, as Phaneuf's 2016-17 salary is lower than Cowen+Colin Greening+Milan Michalek. They stay at 47 contracts (out of 50). So I'm guessing they will try to do more. This creates flexibility for it.
The long-term implications for Toronto are staggering. One year ago, the Maple Leafs were at $42M in cap money for just eight players in 2017-18. Those men were Tyler Bozak, David Clarkson, Jake Gardiner, Phil Kessel, Leo Komarov, Joffrey Lupul, Dion Phaneuf and James van Riemsdyk. Three of the biggest numbers are now gone, although they keep $1.2M of Kessel.
(Nathan Horton's at $5.3M, but that's going to be on long-term injury forever and ever, amen.)
I've got them now at approximately $25M for five players in 2017-18. Cap space is power, and they have it.
A look at Crosby's scoring surge
Here's the scariest thing about Sidney Crosby's leap into the NHL's Top 10 scorers: he's not cheating.
Most centres are asked to play low in the defensive zone. It can help you transition to offence with speed, but it also means you have a longer skate and increases the possibility a scoring chance disappears by the time you get there. We know coaches demand defensive accountability, and no one, not even Crosby, is immune.
As he struggled to start the season, opponents wondered if the Penguins would move him higher or allow him to "blow the zone," just to get him going. With 12 goals and 22 points in his last 11 games, no one's worried about Crosby anymore. They're worried about themselves against him.
Watch where he's coming from, too. Let's check out a few highlights:
His first goal on Monday night, which put the Penguins up 4-1 on Anaheim, is created when he pressures Ryan Getzlaf at the Pittsburgh blue-line. Getzlaf is Cam Newton to Crosby's Von Miller, panicking into a bad turnover and score. But, look where Crosby comes from. He's in proper position, below his own faceoff circle, before making an incredible read and forcing Getzlaf into a mistake. He goes, what, 190 feet to score that goal?
His second goal comes after all the Penguins collapse upon the slot when Marc-Andre Fleury can't find the puck between his legs. Crosby makes the turn towards the point as the puck heads there, and his pressure creates another turnover — leading to a ridiculous breakaway goal. Again, he goes the length of the ice in seconds to launch a dagger into the Ducks.
Not satisfied? Okay, let's go back to Pittsburgh's first game after All-Star, a 6-5 win over the Senators.
Crosby had a hat trick and we're going to focus on the third one. When the Penguins force the turnover, Crosby is the last guy between Fleury and the play. You'd think he actually is a defenceman, because both Kris Letang and Olli Maatta are up-ice.
This one isn't as clean, but, again, he gets to the Ottawa net as the Senators somehow lose track of him. "Talk about puck luck," Pittsburgh play-by-play man Paul Steigerwald says as Crosby scores. It was certainly flukey, but you make your own luck, right?
Even when he's not going end-to-end, he's still committed to the proper position. Our final example comes from Jan. 21 against Philadelphia.
On this one, the Penguins are forechecking. Crosby is skating toward the Flyer net, but turns to pick up his man, a potential outlet. Maatta makes a terrific pinch with the captain backing him up, a move that creates a Philly turnover. Seconds later, Crosby scores from what Danny Gallivan would call an oblique angle.
Compared to some other goals in this scorching streak, he does not go the length of the ice. But he's always where his team needs him to be. Cheating? Crosby doesn't need to. If you're trying to stop the Aptenodytes, that's a problem.
30 Thoughts
1. During a recent radio appearance, an interviewer asked if the NHL made a mistake not inviting Crosby to All-Star. He did struggle and no one can argue Evgeni Malkin's selection, but this is Crosby, so you understand the question.
Last year in Columbus, I was in a restaurant near some league staffers when the Penguins announced via Twitter he would not be playing. I asked the NHLers if he was still coming to kiss babies and shake hands — he's excellent at that stuff — and they didn't understand why there was even a question. They had no idea it was coming.
The league had enough problems with this year's selections that there's no chance it would go out of its way to snub him. But I do wonder if last-second withdrawals affect relationships.
2. Back to Ottawa for a second. No confirmation, but I'd heard the Senators looked at Fedor Tyutin of Columbus in addition to Phaneuf. Shorter contract, but the ex-Leaf is a better player. And don't sleep on Ceci. One scout who saw Edmonton destroy the Senators last week pointed out that in the middle of the carnage, Ceci quietly made some nice plays to take away Connor McDavid's gap and speed. Not easy to do these days.
3. Nothing imminent as far as I can tell, but the clock is ticking on Justin Schultz in Edmonton. Like Cowen with Ottawa, it is time for both the player and organization. A deal will happen, it's just a question of when.
4. With Dustin Byfuglien off the market, your best bet for offence from defence is Keith Yandle. But can anyone see the Rangers considering it until Ryan McDonagh's situation clears?
Yandle played 27:33 Saturday and 25:19 Monday. Not only were those his highest totals of the season, they were tops on the team in two critical wins. It's hard to see New York staying afloat with both gone.
5. Another defender we're going to start hearing more of is Vancouver's Dan Hamhuis. Dallas makes a lot of sense.
There was some speculation over the weekend Washington is a sensible destination due to his long history with Barry Trotz. But it's hard to see it working cap-wise without a long-term injury. Brooks Orpik is coming back. Even more importantly, the Capitals are getting strong contributions from Dmitry Orlov and Nate Schmidt. Trotz talked at All-Star about not wanting to upset a good thing, and those two fit in perfectly.
GMs also talk about making sure that if you're going to give up something valuable (player, prospect or draft pick), make sure it's for something much better than you have. Brian MacLellan might already own the right blueline mix — as long as everyone stays healthy.
6. What does Byfuglien's contract tell us about Andrew Ladd?
It's hard to say for sure because no one is talking, but here is my interpretation. Ladd, agent JP Barry and the Jets worked hard to move towards a deal at various points over the last seven months or so. Both sides bent, until they both felt they'd bent enough. My belief is the Jets were not willing to go above six years and $36M. That was their line. This one stalled and the Jets shifted their focus.
I heard on the weekend the two sides were about $750,000 apart per season, but one source not attached to either side said it is closer than that. With Byfuglien, the player bent on term and the team bent on dollars. Does GM Kevin Cheveldayoff revisit this? And, more importantly, are there last-minute concessions anyone is willing to make?
7. The math says the Jets can't do Byfuglien, Ladd plus non-bridge extensions for Mark Scheifele and Jacob Trouba. Can the Jets do Byfuglien, Ladd and Scheifele if Trouba is traded? Would they even want this option? That's my biggest question right now.
Opponents are preparing as if Ladd will be traded.
8. There were a few coaches and executives who said Winnipeg's situation was a perfect example of the disconnect between theory and real life.
"If I was in their shoes," one exec said, "I'd trade both." He's not the only one who said that, pointing to the risk of long-term contracts to 30-year-olds on a team not close to the cap ceiling. But he, and others, admitted it wasn't realistic for Winnipeg.
The rabid fan base wouldn't accept a total sell-off. You're creating two huge holes in the lineup and there's no guarantee you're getting anything back that can help you next season. The Jets are supposed to be building, not re-building.
"They could have made two trades that helped in three years, but everyone might be fired before then," another GM laughed. "Wrong time to do that."
9. Final Manitoba note: this will start the Trouba/Travis Hamonic talk again. I don't know. Not even the Jaws of Life get anything out of Garth Snow, but the surest predictor of future performance is past performance.
Snow draws a hard line with restricted free agents, especially before arbitration eligibility. If a short-term bridge is not an option, that could be a very, very difficult negotiation. If it is an option, things are different.
10. Also on the Islanders, can't see Snow doing anything that jeopardizes New York's ability to go for it this season.
They've played 51 games, tied for fewest in the East, so they're in a good spot. Only Washington, Florida and Boston have a better goal differential in the conference. They were not close to the playoffs when the GM traded unrestricted-free-agent-to-be Thomas Vanek in 2014, but no one would be surprised if he takes his chances with Frans Nielsen and Kyle Okposo this time.
One interesting note: when Michael Dal Colle was struggling in OHL Oshawa, there were rumours the Islanders would be willing to consider a move. But he's got 31 points in 14 games since a trade to Kingston. He's not struggling anymore.
11. On the other side, Carolina is three points back of the Islanders for the final playoff spot, a postseason challenge no one expected. But, the Hurricanes are at 54 games. Everyone ahead of them in the Wild-Card or Metropolitan race has played fewer.
Do they hold on to their assets because they're still in this? Here's betting GM Ron Francis sees what happens when the games played totals even out. If the Hurricanes fall back, it makes his decisions easier. If not?
12. As Pekka Rinne continues to fight the puck, would Nashville consider adding a goalie?
It's been a long time since he was pushed and it might make sense to bring in someone who could do it. Don't think we're talking about anyone with term, but maybe a Jonas Hiller, a Karri Ramo or a James Reimer. They all have starting experience and contracts up at the end of the year.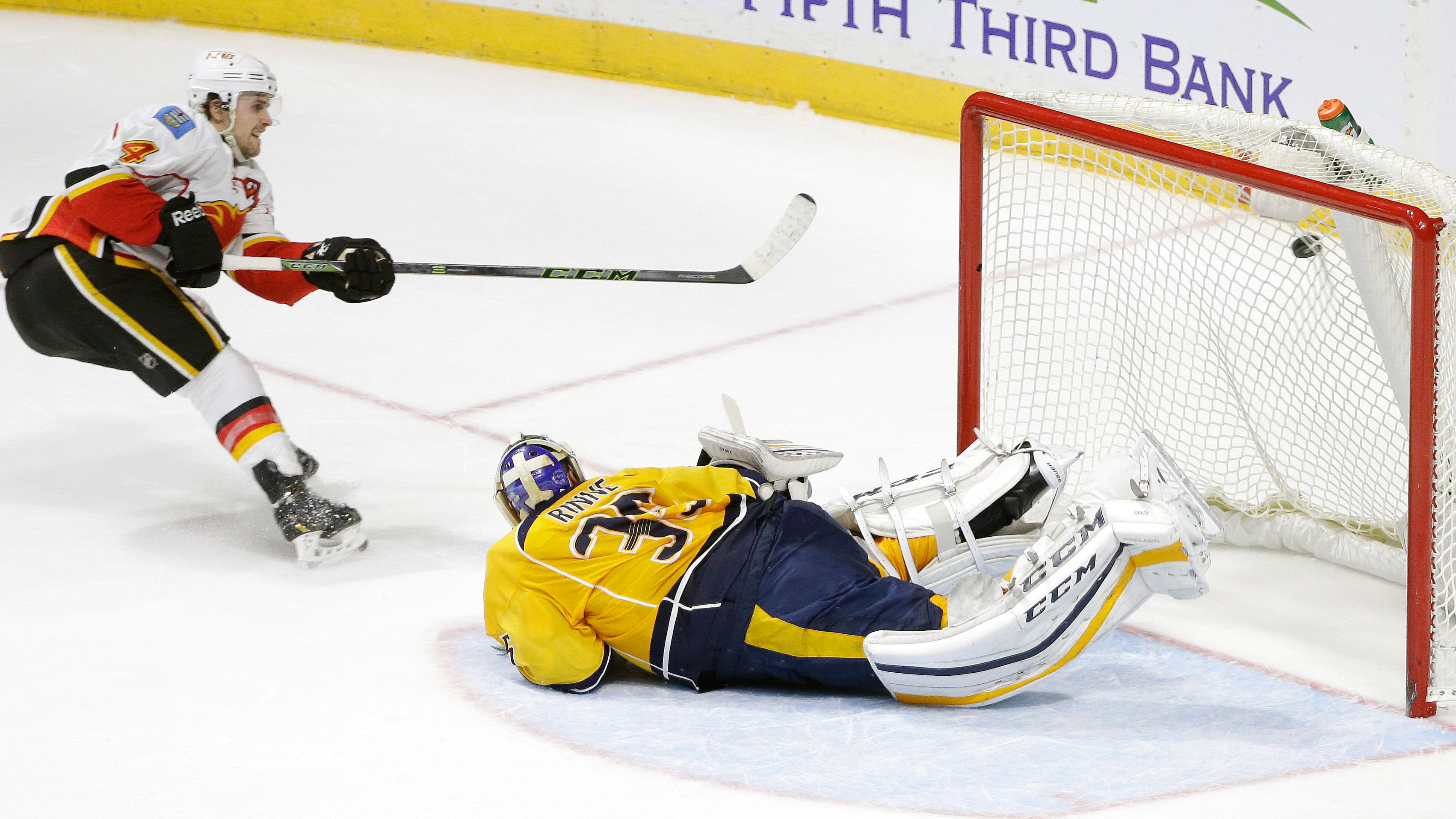 Rinne is on-pace for his lowest save-percentage in any of his full seasons. It's not like missing the playoffs is an option, either.
13. Strange timing last week as Arizona assistant GM Darcy Regier suddenly left the team. It certainly was weird, and, on the weekend, there were rumours his tenure ended because of an argument with ownership. The Coyotes flatly denied that. Regier did so, too, via text.
14. Next on the Florida extension countdown, Vincent Trocheck.
Now-retired Ryan Whitney played with him in AHL San Antonio, and made it very clear he thought Trocheck would make a successful leap. He leads the Panthers with 17 goals, and talks are supposed to intensify over the next week or so.
15. For months now, Blues GM Doug Armstrong's been saying he wants to see his team when healthy, and they just can't get there.
Blue-line anchor Alex Pietrangelo is out at least three weeks, which takes St. Louis right to the deadline — just as Jaden Schwartz closes in on a return. The good news is the team is loaded on the right side, as Robert Bortuzzo can now play regularly behind Colton Parayko and Kevin Shattenkirk.
The question will be coach Ken Hitchcock's deployment. Shattenkirk is first and Parayko second in offensive-zone starts among the defence. Pietrangelo was sixth. Bortuzzo is the only one lower, but played 26 fewer games.
At practice Monday, Hitchcock had Bouwmeester (Pietrangelo's regular partner) with Shattenkirk. So it looks like that's the new top pairing. I'm a Shattenkirk fan, and last year when he was hurt, teammates said it was so much harder exiting the zone.
16. Other good news for St. Louis? The team and city are honing in on being the host for the 2017 Winter Classic, in conjunction with the Cardinals.
Bill DeWitt Jr., managing partner of the baseball team, pushed for this and, according to several sources, was the first to pitch an outdoor game for the 2018 World Junior Hockey Tournament — which ended up in Buffalo.
It's a smart play by the NHL. Deserving market, 50th anniversary of their NHL arrival (a major reason Los Angeles got the All-Star Game) and pushes the Blues when there are dollars available from the NFL Rams' desertion. That dual hockey/baseball ceremonial face-off right after the football team left was intelligent local politics. So is this.
17. What does that mean for Toronto?
Well, Jan. 1 falls on a Sunday in 2017, and this gives the NHL and NBC an out for avoiding the NFL. The Blues and (reportedly) Blackhawks can play on the Monday. That opens the Sunday for the Maple Leafs, who will not be overshadowed by football at an outdoor game. So, I'm wagering on Toronto Jan. 1 and St. Louis Jan. 2. (Although I'm not sure the Leafs were thrilled when told they weren't getting the Winter Classic itself.)
Winnipeg is expected to get a Heritage Classic too, earlier in the season. Both ESPN's Scott Burnside and The Pittsburgh Post-Gazette's Dave Molinari reported one for the Flyers and Penguins, too. Those guys are pretty sharp, but I don't know when we're talking about here.
18. Another rumour to tackle: That Calgary was angry about the Dennis Wideman suspension because they were close to trading him.
No doubt there were some conversations (everyone gets talked about), but it sounds like a deal was nowhere near completion. False alarm.
19. Wideman's appeal to Commissioner Gary Bettman is Wednesday. The last two times Bettman's been through this with regards to officials, he lowered them.
Daniel Carcillo's 10-gamer for elbowing linesman Scott Driscoll in the 2014 playoffs dropped to six. In 2008, he halved a Michael Peca punishment for grabbing referee Greg Kimmerly in the arm to five games. There is some serious doubt, though, he will decrease Wideman's 20-game ban. That could take us to our first neutral arbitrator appeal under the new CBA, and everyone is expecting it.
Patrick Kaleta and Shawn Thornton had previous opportunities to do so, but declined. The wording indicates an arbitrator can only overturn if the length of the suspension imposed is not supported by "substantial evidence." The NHLPA was not willing to challenge that in either player's case, but there is a wrinkle here.
In previous suspensions involving an official, there was either a clear beef between the two men, or someone got in the way of a punch intended for another player. This is neither.
20. The concussion spotter protocol took a beating in the first hearing, as it was revealed the individual contacted the bench about Wideman's injury. Wideman, who felt very badly the trainer was taking the heat, admitted to refusing to leave the bench.
The obvious questions that come out of this are a) was Calgary fined, and b) will the NHL change the protocol? A spotter cannot order anyone removed from the game. The answer is not until this whole process plays itself out.
First of all, evidence is allowed to change from meeting to meeting, so the league wants hear everything before deciding. Second, expect the Flames to defend themselves. Third, and this is the tough one, everyone believes everyone else is manipulating injuries for maximum effect.
Concussions are a difficult animal. You can feel fine, then develop symptoms later. But, in situations like this one, where there's so much emotion and so much is on the line, people are going to challenge you.
21. Maple Leafs head coach Mike Babcock was heavily criticized for comments about concussions last week, saying, "I think when a player says he's okay to play and keeps playing, he's okay to play." Calgary's head therapist, Kent Kobelka, worked with Babcock at the 2010 Olympics. Might explain Babcock's commentary as Kobelka took blame.
22. Alain Vigneault made his displeasure clear with the lack of supplemental discipline to Wayne Simmonds for the McDonagh punch. (For his part, Simmonds responded, "I'm not a dirty player," on Tuesday.)
The Rangers did not understand how Milan Lucic got a game for his retaliatory whack to Arizona's Kevin Connauton, but Simmonds escaped without further punishment.
Meanwhile, another Flyer is eliciting concerns. That's Radko Gudas, who was ejected for a low hit last week against Montreal, a play that put Lucas Lessio on the injured list.
Gudas was suspended three games for an illegal check to Mika Zibanejad's head in December, and the worry is going lower on the body is his solution to keeping edge in his game. It doesn't always work, and it's fortunate for everyone involved the Lessio injury wasn't worse.
23. Good interview by longtime CHL reporter Gregg Drinnan with Hockey Canada President & CEO Tom Renney on the NewsKamloops website.
As Hockey Day in Canada descended in the B.C. city, Renney discussed his desire to get 16-year-olds out of junior hockey — no specifics, but the concept of "a heck of midget league across Canada" — and revealed a wish to raise the NHL Draft age limit to 19. (Currently, you must be 18 on Sept. 15 of the draft year.)
Renney said there have been conversations about the latter possibility with Bettman, Deputy Commissioner Bill Daly and Colin Campbell.
I followed-up, with both the NHL and NHLPA admitting discussions about it, although they stressed things are a ways away, if ever. It's interesting to me, though, that no one completely discounted the idea. Something to watch, for sure.
24. Huge weekend for Montreal, as the reeling Canadiens won back-to-back against Edmonton and Carolina.
Against the Hurricanes, Montreal gave up just three chances from directly in front of the net, with Ben Scrivens stopping two of them. That's a huge improvement from Wednesday's loss to Buffalo, as the Sabres scored three times from the doorstep, two of them wide open.
Buffalo players made it clear they were confident in their ability to get to the net and pressure the Canadiens' defence as necessary. (It should be noted they put P.K. Subban in a different category, saying his only issue was "trying to do too much.") Montreal also did a nice job with Connor McDavid, who takes half of his shots from in tight and doesn't miss the net often. He did not have a shot on goal from the slot that game.
25. One Sabre on Carey Price: "You guys should give him the MVP again."
26. Had a funny conversation after the morning skate that day with Carlo Colaiacovo and Ryan O'Reilly.
Colaiacovo talked about getting to know O'Reilly and how hard he works. Then, he added, "And he's a vegetarian. I don't know how you can get the energy necessary to play without meat or chicken." (This was when the centre joined in.) Do you go out for a steak dinner with the rest of the team? "Yes," he answered. What do you have? A salad? "Well, two salads," O'Reilly laughed.
He said he's done a lot of reading on the subject and became a vegetarian two summers ago when the Avalanche told him he was going back to centre. "I wanted to lose eight-to-10 pounds." His influence is growing. Zach Bogosian went vegetarian too, "although I did it just to see if I could," he said.
27. Colaiacovo said O'Reilly's had a massive influence on Sam Reinhart.
"Honestly, when I saw him in training camp there was no way I thought he makes the team this year," the 454-game veteran said. "But he's come a long way. He deserves to be here."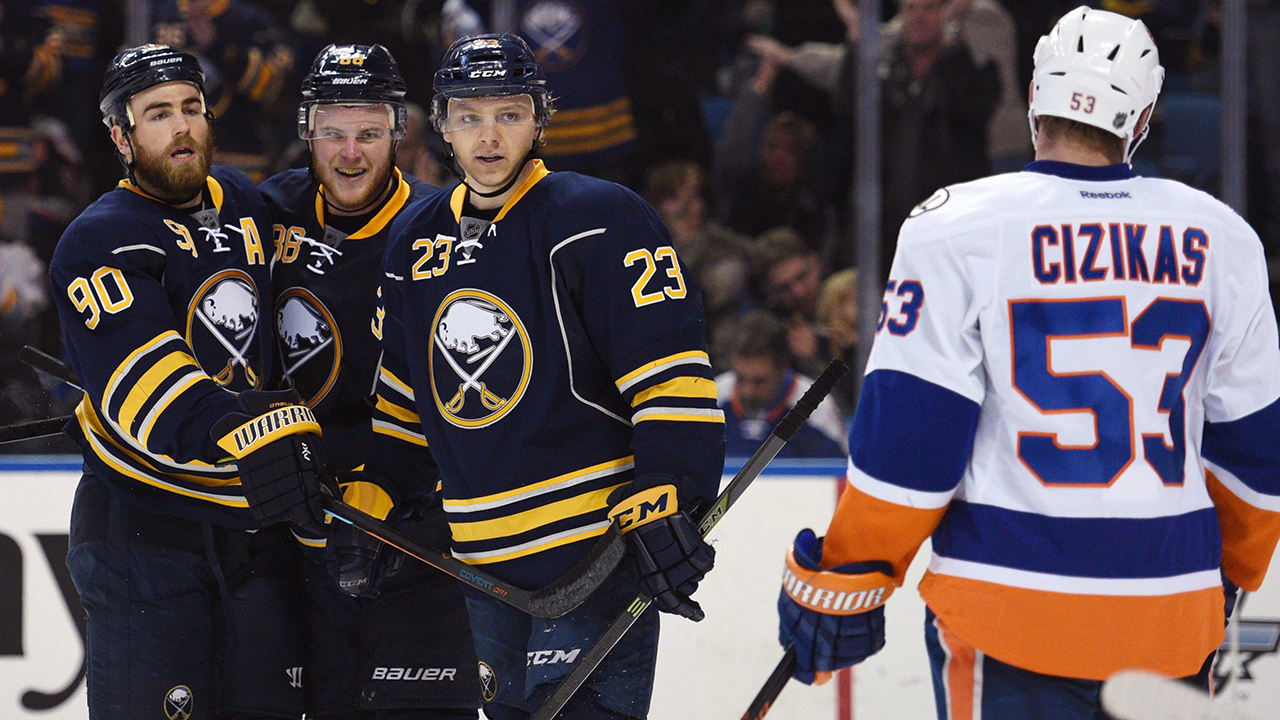 Both Colaiacovo and Josh Gorges said the exact same thing: Reinhart works hard and has ridiculously high hockey IQ.
28. With John Tortorella back in Vancouver last week, everyone couldn't help but reminisce about the wild brawl with Calgary in 2014.
The Hockey Night in Canada camera that caught the intermission charge to the Flames dressing room was not hooked up to a tape machine. So, the only video we had of the fracas went to air. Word is the stuff we didn't see was equally good. Too bad.
29. The hotter Crosby gets, the more tweets I get about trading him in our media hockey pool. (Pierre LeBrun happily let that out on radio after we made the deal.)
Here's how ours works: It's an auction, and you get $286 for 26 players — making the average $11. You have the option of extending someone's contract for another season, by adding $5 to his salary. Crosby is at $46, so I decided this year was going to be it, he'd go back in the bidding pool for 2016-17.
I thought my team would be good, starting the year with (among others) him, Jamie Benn, Corey Crawford, Oliver Ekman-Larsson, Mark Giordano, Dylan Larkin, Okposo, Tyler Seguin and Joe Thornton. But we came out of the gate like hot garbage, the plankton of our pool.
A few weeks in, people started asking about Crosby. Like everyone else, I thought he'd eventually get going and decided I'd rather lose him for nothing rather than making an awful deal that ended up, well, on radio. Pierre was the most aggressive pursuer. We made each other miserable for a few days.
I told him he wasn't getting Crosby without giving up a $6 Nikita Kucherov and a $7 Mark Stone, both of whom can be kept next season. Eventually, he agreed, as long as I included Giordano, not eligible to be re-signed. (Scoring defencemen are massive.)
So there you go. Pierre is in second place, and I've moved up three spots without changing my roster in two months.
30. After Mike Vanderjagt ripped Peyton Manning — and the quarterback responded in kind — I went to Indianapolis to cover the fallout at the team's first day of mini-camp. (Those were my Score days.) Vanderjagt, who promised to talk, ran away.
The Colts, who wanted no part of this controversy, were totally unhelpful. Manning stood at his locker, knowing exactly what this unfamiliar reporter came to ask. I wasn't nervous or anything, but when two people who don't know each other are about to discuss a difficult subject, you never know where it's going to go.
He was outstanding, very professional. (So were Chad Bratzke and Edgerrin James.) Always wanted to see those three do well. Even though I lost $200 on Carolina, I've got no problem with Manning going out on top.