Honestly, I thought my main focus on Tuesday was going to be on Tampa Bay/Toronto, for Episode I of "Stammergeddon" — as The Tampa Tribune's Erik Erlendsson superbly named it.
But now, another game leaps into the limelight.
Last Saturday, I asked Kelly Hrudey and Nick Kypreos if players ever tell teammates how contract negotiations are going. What locker-room protocol exists when someone is getting close to a new deal? Do you let them know first?
"No," they both said. "You might tell a close friend, but the whole group doesn't know until it is done. Nobody needs to know."
"And then," Kypreos added, "next dinner is on you."
Money can be a divisive thing. A couple of years ago, we did an "Inside Hockey" on the Buffalo Sabres. It was the year Christian Ehrhoff and Tyler Myers signed big deals. One of the questions asked to then-Sabres Jason Pominville and Derek Roy was if those contracts affected the rest of the room. I'd heard yes. I expected them to say no. To my surprise, they admitted it.
Which brings us to Winnipeg. The Jets host St. Louis on Tuesday night, entering the evening five points out of the playoffs.
And it will be their first game since a mammoth Tim Campbell story where he reported on the initial contract demands of Dustin Byfuglien, Andrew Ladd and Jacob Trouba. Campbell indicated Byfuglien asked for eight years and $55M; Ladd six years and $41M; Trouba "more than" $56M over eight.
How is everyone — including the fans — going to react to all of this being out in the open?
Look, the players aren't stupid. They know what's going on, who's a free agent, who needs a new contract and who doesn't. What they generally don't know is who is asking for what. This is…unusual. You run the risk of players looking at each other and saying, "Really, he's asking for that?"
And, they've got to answer questions about it right before a game they need. To me, this is someone in Winnipeg warning the Manitoba faithful that painful choices are coming. But which ones?
There's less worry about Byfuglien and Ladd. They're veterans, they've been traded before, they've seen just about everything. They won't like this, but they'll grit their teeth and play through it. Their agents, J.P. Barry (Ladd) and Ben Hankinson (Byfuglien) pretty much shrugged it off, although they declined comment. (We'll talk more about their situations shortly.)
The bigger concern should be Trouba. He's a confident lad, but he's struggling. His minutes are fluctuating. He hasn't been through this before. It's his first circus in a white-hot market and you never know how someone will react.
Fans understand why Byfuglien and Ladd are going for it financially. They are unrestricted free agents, and are two of the best on the market. Trouba, as a 21-year-old restricted free agent, has a greater hill to climb. He's got less power under the CBA and, unless you're a superstar, it's a battle to make the big money in your second contract. If any of these guys are going to hear it from the crowd, it's Trouba.
His agent, Kurt Overhardt, seemed shocked when asked for a comment. "The information abut Jacob is incorrect," he said. "Incorrect."
Another agent, upon reading that quote, texted, "This is going to be a problem."
I wrote about Overhardt last season when Ryan Johansen had a contract stalemate with Columbus. His reputation is well-known. Like many agents, he will see this as a situation that calls for ferocious protection of a young client. He's not going to be happy, and the fallout could be long-lasting.
Winnipeg went through an ugly, public divorce with Evander Kane one year ago. Very curious to see how much this relationship needs to be repaired. Or, is it a public admission that it can't be?
30 Thoughts
1. Let's go over each case, and what is known about them.
I'd heard similar rumours about Trouba, that the initial request was definitely higher than Dougie Hamilton (six years, $5.75M AAV) and in the Drew Doughty range (eight years, $7M AAV). You always ask high to start. Anyone who doesn't is a terrible negotiator.
The hardest thing about comparing either to Trouba is both signed after their third season, statistically their best. Prior to that, Trouba was ahead of Hamilton both numerically and in terms of usage, but behind Doughty. So far in 2015-16, he's not trending up, but remember the ask was before play began, when he was coming off a high.
When Doughty signed that contract, he wasn't the Drew Doughty he's become. The Kings, who hadn't yet won a Stanley Cup, fought it to the point the defender almost missed the start of the 2011-12 season. Also, it is believed the Jets wanted to go long-term with Trouba, which raises the value of any potential deal, because UFA years are being bought.
If Winnipeg wanted to go six or seven years, my guess is they hoped to come in around $5.5M, but braced for $6M-$6.5M.
2. When Ryan Kesler signed his extension in Anaheim (six years, $6.875M AAV), it affected two other negotiations — David Backes's and Ladd's.
Of the three Winnipeg discussions, I think this is the one that's seen the most progress. Word is both sides have bent on term, with a six-year length agreed upon. On salary, it sounds like the two are less than $1M apart per year, but more than $500,000. It's not insignificant, but also not insurmountable. They are grinding each other, with the biggest issue likely to be that both Ladd and the Jets feel they've compromised enough.
There's a deal to be made here, unless the public revelation throws it off the rails.
3. Byfuglien: this is the toughest one, because it doesn't sound like there's been much negotiation. Very little talk, apparently.
Campbell's report aligns Byfuglien exactly with the recent extension of Brent Seabrook, who is 24 days younger than his former Blackhawks teammate. Seabrook took less money to stay. Would Byfuglien? And, do you believe, like I do, that Winnipeg fears term more than money in this scenario.
There were rumours the Jets didn't want to go past three years.
4. As for Stamkos, I never thought his contract situation was a distraction until The Great Twitter Controversy of 2015.
It's such a goofy thing. How many of us have accidentally "liked" an article or followed someone when we didn't mean to? Happens all the time, and then you feel like an idiot for having to unfollow a person who doesn't deserve such rudeness.
Hard to get a feel for what's happening, but I'm not as sold on the conventional wisdom that if Stamkos doesn't sign by the deadline, the Lightning have to trade him to get something. Maybe the better idea is to take a run at the playoffs and keep the cap space if he does decide to go elsewhere.
In this tight world, you can do a lot with $7.5M of freedom. The Lightning are right up against it with a lot of business to take care of.
5. Can't help but wonder if there's any way Tyler Johnson's nagging injuries affect Tampa's free-agent outlook.
6. During the last week, I fiddled around with some potential trades for Stamkos, should it come to that. You know what made a lot of sense? Montreal.
That's right up Marc Bergevin's alley, going for it with the best possible rental. Stamkos, who has a no-move, would probably agree to play with old friend P.K. Subban. But can you see Steve Yzerman sending him to a potential postseason opponent? Me neither.
7. That wasn't the only trade proposal I came up with. If Colorado decides it can't (or won't) sign Tyson Barrie, wonder if Vancouver, badly needing a defenceman, makes a play.
Would the Canucks do Ben Hutton and Jake Virtanen? Could see them trying Virtanen and Yannick Weber, but I'm not sure that would be enough. Just spitballing. Thank goodness there's a real trade to talk about.
8. When Pascal Dupuis retired, one source indicated to start looking at defencemen who would be available making his $3.75M (or around there) as potential trade targets for Pittsburgh. Trevor Daley was on that list, although I'd be lying like a rug if I claimed to foresee a Daley for Rob Scuderi trade.
One defenceman we may not see in a Penguins uniform too quickly: Derrick Pouliot. "We're going to be careful with him," GM Jim Rutherford said last Saturday, "We were too quick to push him last year. It's better to leave him in the minors, where he can play and play and play. There were nights he didn't care, and that's not good, but he's getting better and developing."
9. After I spoke to Rutherford, there were rumours he considered Randy Carlyle for the Penguins head coach job. That makes sense, but a couple of things probably prevented that.
First, the Penguins would have to give up compensation. They need their draft picks. Second, under the NHL's coaching formula, he'd be more expensive than Mike Sullivan.
This is not to say Pittsburgh cheaped out, but between that and the draft pick, it made sense to go with the guy who knew the organization.
10. Sullivan's contract is for three years, which includes this season.
Rutherford said he contacted some of the coach's former employers in Boston, where Joe Thornton was the captain. One of those people was former Bruin GM Mike O'Connell, now director of pro development for the Kings. "I've known (Mike's) family for a long time," O'Connell said Monday. "His father runs a hockey program in Boston and my kids played there. He's a great person."
He coached Sullivan in San Diego of the old IHL in 1990-91, then brought him to the Bruins as coach of AHL Providence in 2002. The next year, he was leading the big boys and won the division before blowing a 3-1 first-round lead to Montreal. After the lockout, several key free-agent defections killed the momentum, which led to the Thornton trade.
"We had success with Mike, he did a fine job. We just didn't have the right team for him. We lost all those players. He listened and he communicated — two ways. Me to him, and him to me. He always told the truth to players. Sometimes it's not pretty, but they knew when they did well, and he made sure they knew when they did not do well. They appreciate that."
11. I once heard that Sullivan could help himself if he smiled once in a while. O'Connell had a good take on that. "You don't see too many smiles behind the benches."
12. Rutherford paused when asked what he wanted. "I hate answering these questions," he said. "I like Mike Johnston and this day is difficult enough for him." Then, he added, "I want Mike to take control and make players accountable, if you're not doing what the coach thinks you should do, put him on a lower line, or not play him. It's hard to do with a team like this."
The Penguins' players have to realize the team's changed the GM, and the coach twice. This is on them now. Nowhere else to look.
13. With Kris Letang's 26 minutes out of the lineup, it's tough to tell too much about Sullivan's blue-line thoughts.
Brian Dumoulin played 26:11 Monday night, the highest of his career. He took a penalty, too. Most of the forwards were consistent. Biggest changes were Chris Kunitz (up 2:53) and Matt Cullen (up 2:35). Nick Bonino was right at his average, impressive since he had a fight and sat five minutes. Phil Kessel dropped 1:59.
Curious to see if that's a trend or because Washington had four power plays.
14. Florida Panthers executive chairman Peter Luukko, on what the new lease agreement with Broward County means for the club: "Stability, a long-term commitment to the facility and the marketplace," he said Saturday.
"When you are retaining players, making trades, attacking free agency, we can tell them we are in South Florida to stay. The second piece is the money for capital improvements, utilities and insurance. It makes the team a sustainable business now. You can be committed knowing there will be some losses, but when they become unsustainable, it's difficult to operate and, quite honestly, have fun doing it. We can focus on winning."
He agreed with a comment made by Carolina president Don Waddell at the board of governors meeting, that losses now are nowhere near as bad as before the 2013 CBA. "It's all on us now, no excuses…Even before this, we promised our concern would be to re-sign our good, young players for many years to come. Our strategy has not changed."
I specifically mentioned Aleksander Barkov and Aaron Ekblad. Not surprisingly, Luukko agreed they were the two key names.
15. Was there any point Luukko thought the proposal would fail?
"We were confident, but you always worry about another item on the agenda sending things sideways. Something could happen, votes can change, or the worst-case scenario for us, the vote could be put off until after the holidays. When you are dealing with governments, you learn early that one weapon they have is to do nothing. Businesses have to do something, to earn a living, pay the payroll. A government, if a negotiation is not going well, they can just stop."
When that didn't happen? "The elation was like winning a round of the playoffs."
16. In a league starving for offence, the Panthers have been asked about talented Brandon Pirri, who scored 22 goals last season.
He's on-pace for 16 this time, and is three-of-four in the shootout. He had one massive dry spell in 2014-15, but put together seven different streaks of goals in at least two consecutive games. That hasn't happened this time around.
What may make Florida cautious is the team is 22nd in goals per game. You hate to give up someone like him and need his skills after they're gone. Pirri is arbitration-eligible.
17. Another team getting calls is Washington, about Marcus Johannson. It makes total sense.
One year from unrestricted free agency, not sure he can fit into their long-term salary structure. But, on a team that is in it to win it, word is they want to see Andre Burakovsky grab onto a top-six spot and keep it before they consider this move.
18. One GM on the Pacific Division: "That's held up trades, because even they thought some of their teams would be out. But they're all in it."
19. Last week, Virginia Beach City Council approved a deal with United States Management to build a $210M arena that would seat 18,000.
"We feel confident that this market is right for an NHL team," Andrea Kilmer, USM's President and CEO, told The Virginia-Pilot newspaper. "We have had discussions with NHL officials themselves about this possibility, about what we are doing. Now that we have our approval, we can certainly pursue that more aggressively."
The article brings up the possibility of relocation as much as expansion, but you know how the league feels about that. According to a couple of sources, the city did request an expansion application, but did not want to spend the $2M fee to apply. Without approval for a new arena, that could have been wasted money.
Virginia Beach would rank behind Las Vegas, Quebec City and Seattle — if it ever gets its arena act together.
20. One of the NHL TV events I enjoy watching is Nashville's in-game interview with the backup goalie. I'm amazed — and impressed — the Predators do it. It pre-dates the regular current interviewee, Carter Hutton.
"When I came here, I admit I thought it was kind of odd," he said Monday.
Is thinking about it a distraction during the game? "No, you just try to give the viewer something that was said in the room…although you know not to say anything you shouldn't."
Does anyone try to bother him? "Oh yeah, you'll get a towel in the face, a stick in the face…our trainers always try. Sometimes, we'll try to mix in a word, nothing too crazy. something theme-based. When we were in Detroit, I used the word 'mechanic,' you know, fine-tune our game."
21. Hutton's route to the NHL was a long one, very similar to another Lowell success story, Dwayne Roloson.
"I played at the RBC Cup (in 2006) and had no scholarship offers. Lowell saw me and said they'd take me. I didn't know anything about the school. But I wanted to play."
It was a partial scholarship, so his parents (Jack and Linda) had to come up with the other $14,000.
"We're a blue collar family. My father works in the sheet metal business, my mother at Royal Bank. I sat down with my parents and we decided we had to do it. Take the chance. Going there got me started. I took more pride in doing well, being more committed at school and on the ice. I had a bag of hockey equipment and some clothes. No cell phone or computer. I was the guy using the pay phone to make calls with a toll-free number. When I got home for the first Christmas, I saw that nothing had changed. That's when I embraced being away…My dad had a saying, 'Hockey equipment is cheaper than a lawyer.' I made the most of it."
Sure did. He played four years at Lowell and earned a double degree.
Do you ever think of what you'd be doing if it didn't work out? "I try not to think too much about it. Probably working at Tbaytel," he said. That's the Thunder Bay telephone company.
22. Hutton looked to have a home in Chicago, where he played 109 games in the organization over two seasons, including his NHL debut, a 3-1 loss to St. Louis on April 27, 2013. But the Blackhawks signed Antti Raanta during their run to the Stanley Cup and Hutton knew that was it. Then, Nashville called.
"They flew me down and recruited me. My family was laughing that I'd never been recruited before."
The Predators website will release a short feature on his interaction with Pekka Rinne next weekend, and Hutton knows his role.
"I'm a sounding board for him. Manage his emotions, don't add to his frustration, don't add fuel to the fire. There's enough pressure as it is. I tell him, 'Worry about what you can control.' It's enough of a roller coaster already." Good interview.
23. Some numbers on the Rangers from Sportlogiq, the analytics company we deal with: the average NHL team gives up slightly less than one-quarter of the scoring chances it allows on the rush. Last Saturday night, the Flames drove that number up to 31 per cent.
That can happen against Calgary, which works to enter your zone with possession. What has to concern New York even more is that Edmonton scored six times (not counting the empty-netter) despite only 20 per cent of its chances coming off the rush.
You look back at the video and see how the Rangers are having trouble with both dump-ins and carry-ins. That's a rough combination.
24. Another example: The chart below is the league average of shots per zone.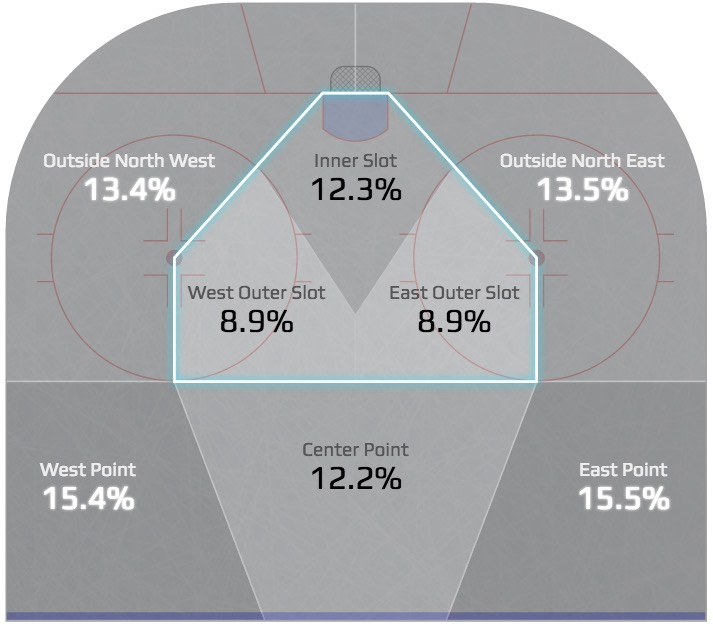 Below is New York's breakdown.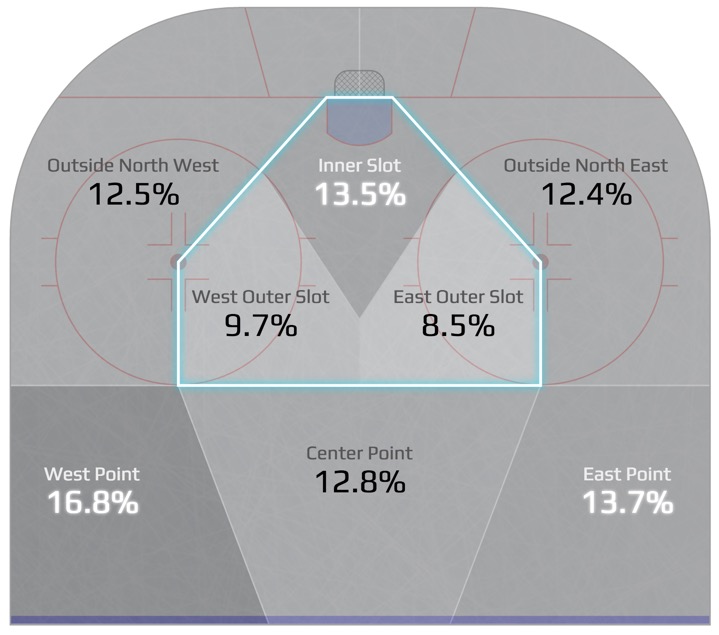 When Alain Vigneault said the goalies were bailing them out, he was right. Opponents are getting in tight. Still think the Rangers are too good not to figure it out.
25. This is the time of year I start checking out potential NCAA free agents. Doesn't sound like an incredibly deep crop, as teams will keep spots open to wait out the Aug. 15 decisions of Mark Jankowski and Jim Vesey.
One getting notice is Yale goalie Alex Lyon. Lyon, a junior, is not guaranteed to leave school, with one season of eligibility remaining.
From Baudette, MN, he attended Toronto's development camp last summer, with Chicago, Edmonton, St. Louis, Vancouver and Winnipeg among those who also extended an invitation. Sounds like Carolina is closely watching him now, too.
26. As Jonathan Bernier prepares to resume his NHL career against Tampa, one of the things that really helped him get his mind straight was the AHL schedule.
"With a week off, you get away from hockey for a few days," he said Monday. "That mental break really helps. You don't think about it."
That rarely happens with the big-league schedule. As mentioned two weeks ago, Kings goalie coach Bill Ranford believes strongly in Bernier and explained how his former pupil reads the blade of a shooter. Bernier nodded.
"The winning goal (against Utica on Sunday) was an example. I knew he was going high-blocker on me. But, he was bumped and (it went low). I just have to be more patient, and everything will be okay." He smiled a few times in his media scrum on Monday. That's a good start, it had been awhile.
27. Was wondering why Toronto sent Kasperi Kapanen to the world juniors already, and not William Nylander, who is expected to go.
Apparently, the Finns, this year's hosts, badly want their players in early.
The Marlies finish their pre-Christmas schedule next Saturday in Hershey. If the plan is still to send Nylander, he goes then.
28. The NHL and NHLPA are getting closer to finalizing their goalie equipment group. Mentioned a few weeks ago that Cory Schneider was to be joined by Devan Dubnyk and Braden Holtby.
Looks like two more netminders coming, with Steve Mason and Mike Smith among the possibilities. Also: an equipment manager, a trainer, a doctor and an engineer.
29. In detailing some information about the women's outdoor game to be played the day before the Winter Classic, it was thought the American players who are scheduled to be at the USA Hockey Development camp would get some kind of leave to play at Gillette Stadium. Not so sure about that now. And, not so sure USA Hockey is the villain here, either.
Their camps, set up in conjunction with several of the team's best players, were planned awhile ago, and it's unclear when they were notified about the game. Don't know what the miracle solution is. Very unfortunate.
30. At Toronto's practice on Monday, met University of Windsor head coach Kevin Hamlin. Seemed like a nice guy, until he pointed out that since former MLSE President Richard Peddie and I started wagering on Western/Windsor games, the Lancers lead my Mustangs 2-1. They play again on Feb. 6, and I expect victory.
Hamlin's done a great job at Windsor, as much as it pains me to admit. Dion Phaneuf's brother, Dane, plays there now.
31. I'm not one for giving advice, but wanted to direct you to something, if you're interested.
Sports Illustrated recently did a story on a book making its way through the NFL, entitled The Obstacle is the Way by Ryan Holiday.
I've read it before. It's very easy to get sidetracked now, especially by things that really shouldn't matter. Whether it's mass media, social media, peer pressure, etc. if you choose to listen to too many things, you paralyze yourself and don't act as you need to. I'm (mostly) good at avoiding that, but we all have our moments.
If you're a person who struggles with this, I'd recommend it. Good luck.