• Busy Bergevin trying to get something going
• GM Dorion has tense meeting with Senators players
• Behind Jonathan Bernier's big comeback season
Since I started covering hockey, five different people owned the mantle "Doctor of Discipline" — Brian Burke, Colin Campbell, Brendan Shanahan, Stephane Quintal and, now, George Parros. All came with good intentions, looking forward to the challenge. The first four were battered by the experience, happy to leave the constant conflict, where no one's happy with the job you are doing.
Players were thrilled by Parros's ascension. He's popular, he's smart, and even though he played the fighter's role, his discipline record stayed clean.
That love affair lasted less than five months. Last week was difficult for Parros, who ended Andrew Cogliano's consecutive games played streak at 830 for a shot to the head of Los Angeles's Adrian Kempe. Privately and publicly, there was an outcry among current and former players, feeling Cogliano's previously clean record should have cleared him.
Then, as everyone calmed down, the Kings' Dustin Brown received only a fine for drilling Pittsburgh's Justin Schultz into the boards. Brown's been suspended less often than you'd think, but his reputation — as compared to Cogliano's — ripped open fresh scars.
And I wonder: is there a better way?
People who supported Parros brought the facts: Brown's only career suspension (in 1,011 regular-season games) was in April 2013. Even though many people may not like the forward, Parros, as one source said, "does not have the luxury of not liking anyone." They also argued that if you go through previous supplementary discipline for interference, Cogliano's suspension was very consistent with that standard.
I do appreciate Parros and his staff (Patrick Burke, Damian Echevarrieta, Ray Whitney) making principled decisions and sticking to them, no matter the uproar. But last week didn't feel right, and not just to me. Should we have a debate about the process?
As it stands, the Department of Player Safety does not look at a player's history until they've decided the action is worthy of suspension. Cogliano was not given the benefit of the doubt. Brown did get it.
Don't confuse this with "Repeat Offender" status. The CBA limits that to the previous 18 months, but the NHL's position is that only determines whether a fine is calculated in terms of days or games lost. The league's standard is that once a suspension is coming, all history is relevant.
We make decisions based on reputation all the time. When our kids fight, which one is usually the instigator? Among our friends, at our workplaces, how do we handle situations based on what we know about the people involved?
Last Saturday afternoon, New Jersey's Nick Palmieri hit a fallen Sean Couturier into the boards. It was similar to Brown/Schultz. Not a peep. And not surprising. It wasn't Brown, so it went almost unnoticed. But that's what happens. Why were the Penguins so upset? Because it was Brown.
Running Player Safety is as tough as it gets in hockey. It chews up and spits out the faces atop the Department. Do you keep walking down the same path, or do you try to find another way?
31 THOUGHTS
1. There is a Board of Governors meeting scheduled for All-Star Weekend and I'm curious to see if the eSports NHL tournament will be officially unveiled. According to several sources, the league wanted to open registration in February and begin the online event in March. I'm not sure how the competition is going to work, but the most intriguing thing I heard was the "World Champion" would be recognized at the 2018 NHL Awards. That is a fantastic idea. This is the most excited I've been about video games since a university roommate bought a Game Boy with Tetris.
2. Before he ended up in Anaheim, I asked JT Brown his thoughts on this foray. Brown, the NHL's foremost gamer, said, "Don't launch it until you know it works properly." Good advice.
3. I think Montreal GM Marc Bergevin wanted to get through those three games against Boston to see if the Canadiens had a shot at getting back into the race. We know the answer, and it is no. Bergevin, busy at even the quietest of times, is very active, trying to get something going. There's a reason he won't use the word "rebuild," and that reason is Colorado. The cap has evened-out the NHL. Everyone has a fatal flaw, and just because you are bad one year doesn't mean you're bad the next. I don't think he's trading Carey Price, Shea Weber or Victor Mete. I find it extremely unlikely he's trading Jonathan Drouin. Other than that? He's listening and ready.
4. Only one man has ever won the Hart and the Selke in the same season: Sergei Fedorov in 1994. If he keeps it up, Patrice Bergeron could be number two.
5. A lot of the teams who are active, we've heard before. Buffalo, Montreal, Pittsburgh, Rangers, St. Louis, Ottawa. Watch Los Angeles. Just broke a six-game losing streak, but not satisfied with where they are.
[snippet id=3816507]
6. Ottawa's players and GM Pierre Dorion had a tense meeting last Friday, the day after an ugly loss to St. Louis. Word is Dorion challenged them for playing so poorly. Apparently, the players were pretty blunt in giving it right back. It's not a huge surprise. As one GM always says, "There are only two moods: Winning and Hell." Losing stinks and puts everyone on edge.
7. As for his roster, it sure sounds like Dorion is getting a lot of calls on Jean-Gabriel Pageau. He's a good player and his stellar playoff resume has not gone unnoticed. Pittsburgh is believed to be among those circling. (Mark Letestu remains an option there, too.) Boston joined the group of teams checking out Mike Hoffman. St. Louis remains on the radar (and elsewhere), looking for a scorer. I'm not saying this is their choice, but I do think the Senators have done some due diligence on Robby Fabbri's injury.
8. One under-the-radar player who gets asked about quite a bit: Minnesota's Charlie Coyle. I'm told that's not a new occurrence, and GM Chuck Fletcher gets these calls every year. So, my sense is it's happening (again) recently. Fletcher wouldn't comment, but I'm under the impression it would take a heck of an offer to make him even think about it. Coyle hasn't scored as much as people thought, but he's a physical presence who can play multiple positions, protect the puck and make you work for every inch.
9. Calgary was on the lookout for a winger, but the Flames are pulling back. Micheal Ferland's got 19 goals, Michael Frolik is getting healthy and there is increasing hope Kris Versteeg will be an option, too.
10. The most interesting detail I heard about Edmonton's hiring of Paul Coffey is when they initially approached him, he admitted his busy schedule didn't allow him to watch a ton of their games too closely. For all the talk about skill development (which he can definitely do), this strikes me as the Oilers searching for a fresh opinion on what has happened and who they can depend on. I've said and written before they are shellshocked by what's happened, but with Connor McDavid, you can come back quick. Coffey is very perceptive, and the organization's brain trust wants to hear what he has to say once he gets involved. It's a fresh perspective, since he hasn't been there every day.
11. I know there is a lot of concern in Edmonton about a return to the "Boys on the Bus," but I'd be stunned — unless Wayne Gretzky wanted the major hockey role. I don't think he does, and I think the Oilers recognize the market's wariness otherwise.
12. I'm amazed at the rumours out of Chicago that Joel Quenneville could be in trouble. If he wants a change, that's one thing. But getting fired? Really? Quenneville would be unemployed as long as he wanted to be unemployed. And someone could very well drop a Babcock-style contract on him.
[snippet id=3638287]
13. Frederik Andersen backed away only slightly from his Philadelphia post-game comments, saying he should not have mentioned Toronto's power play. What concerned him is that people took that to mean players were unhappy with their ice-time on the man advantage, when he said he meant that those on power play should be as aggressive as the penalty-killers. Otherwise, he re-iterated the team had to figure out who really wants to play for it.
At times, it's appeared joyless in Leaf-land compared to last season. Seven players in Monday night's 4-2 loss to Colorado need new contracts, ice-time's been a major storyline, Mike Babcock is as hard-driving as it gets and they have one regulation win since Dec. 28. But a few players argued against the idea they aren't having any fun.
"There's a big difference in what you see out there and what we know in here," Leo Komarov said. "One of you writes it, and everyone says it."
"Last year was special, and maybe you can't do that again because it was surprise success for a new group," James van Riemsdyk added. "But it's not like everyone's punching a clock when they get here."
14. What this might do is give everyone some insight into where Toronto's going with its front office, specifically Lou Lamoriello's influence and future. As several GMs pointed out, during Lamoriello's heyday with the Devils, anyone who did not buy into the program was a goner.
15. So Travis Dermott, what was Ron Hainsey saying to you here? "He's making sure I knew which way to go if we won the faceoff…and which way to go if we lost it."
16. Colorado hired Jussi Parkkila as its goalie coach last summer because of his familiarity with Semyon Varlamov. However, the true Avalanche netminding success story is Jonathan Bernier, who beat the Maple Leafs on Monday night for the team's 10th-straight victory. Parkkila admitted he and Bernier didn't know each other at all. What was the first thing Parkkila noticed about his newest pupil? "No bad days," he answered. That's huge for Bernier, and a big change. When he was going through difficult times in Toronto, he wore it. Very openly. It's a difficult way to live, especially in that market.
17. As for technical changes, Parkkila says the biggest adjustment was in Bernier's "reverse VH." He and I talked while walking to the Colorado bus, so I didn't have time to pry further. When that happens, a call goes out to the "goalie whisperer," InGoal Magazine's Kevin Woodley. He did see some obvious differences.
"The change is very noticeable," Woodley wrote via text. "Basically, he used to be inconsistent with how he went into his posts, sometimes with blade of skate on post, sometimes with shin of pad on post and less often with bottom edge of pad (toe box) on post. Now it's consistently toe box, he does it consistently and more often (used to stay up on his skates more) and his entry into and exit off the posts are noticeably cleaner…He is cleaner and crisper in movement, bit more spot to spot, with proper rotation, and less flow than last year. Leaves him square more, set earlier, not caught moving as much, beating plays on his skates. Also seems to be a little more upright, slightly narrower stance, not getting hunched over and spread out."
Still half a season to go, but Bernier is a big comeback story so far.
[snippet id=3700369]
18. Hours before that win in Toronto, Avalanche defenceman Erik Johnson warned his team "hadn't accomplished anything yet. You'd think when you win nine straight games, you'd be easily into the playoffs. But we're not."
Monday's game began 13 of 16 on the road. It's a big test. Colorado's enthusiasm reminds me a lot of last year's Maple Leafs. Sometimes, there are jealousies between young and old, but Johnson and Gabriel Landeskog say it isn't an issue because their youth is serious about preparation. Alex Kerfoot, who said the schedule has been the biggest adjustment from the NCAA to the NHL, added the one thing he noticed right away was how their veterans "take care of their bodies all the time."
19. I was very surprised at how small Samuel Girard is. His new teammates wondered about that, too. Then they saw him play. "He has to have great vision," Johnson said. "And he does."
"Unbelievable skill, watch him with his stick," added another. "He barely gets hit."
Nathan MacKinnon talked up Mikko Rantanen. "But he did score 20 goals last season when some of us had our worst years," MacKinnon added. "So we shouldn't be that surprised."
20. When I spoke to MacKinnon last week, he had moved within one of Tampa's Nikita Kucherov for the most primary points in the NHL. (That's goals plus first assists. He is now the leader.) What did that mean to him? "It means I have the puck on my stick too much," he laughed. "I'd better move it."
He's going to be in the MVP conversation if he keeps this up and the Avalanche hold strong. He knows media is talking about it, but didn't want to stoke the flames. "It's so early. The worst thing I can do is get ahead of myself. Being in the conversation is fine."
I wondered if, last summer, MacKinnon asked fellow Nova Scotian Sidney Crosby about how to come back from hard seasons. "I didn't ask, but I saw every day. What you notice is that in his bad years, he put so much pressure on himself. Now he's having more fun again, he's the best player in the world again. That's something I took away. This is supposed to be fun. I can be very hot-headed, but I'm trying to let more things roll off my shoulders. It's a cliche but true, you can have fun and be competitive."
[snippet ID=3322139]
21. To that end, for the first time, the Avalanche put a ping-pong table in their player lounge. So, who is the best, who is the worst, and who is the worst loser? "(Nail) Yakupov is the best," MacKinnon answered. Then, he paused and laughed. "I will take the other two. I'm not great, and I'll snap, too. When Tyson Barrie beats me I don't like it."
22. Speaking of Barrie, he took the morning skate in a non-contact jersey in Toronto. Curious to see what will happen with him. I could see other clubs trying to pry him out of there, since Colorado is on a tear while he's absent. Everyone needs puck-moving D.
23. There is one line of questioning that never failed, until I got into the Colorado room. When Joe Nieuwendyk played in Toronto, his roommate was Matt Stajan, playing his first full NHL season. The Hall-of-Famer told a great story: that Stajan hoarded the TV remote and forced him to watch totally hilarious garbage like The Fifth Wheel.
So, whenever I find out guys have roommates, I immediately ask who hogs the remote and how bad their TV choices are. It always, always, always results in one player burying another — until I met JT Compher and Tyson Jost. Each took equal ownership of the remote and equal blame for bad TV choices. (They like The Bachelor.) This kind of roommate respect is very disappointing.
24. Every time Vegas wins a game, someone in the NHL sends a text that says, "Five more people just applied for the Seattle GM job."
[relatedlinks]
25. Tage Thompson is a big boy, and when he fills out, good luck containing him. His father, Brent, coaches AHL Bridgeport and was no shrinking violet as a player. When was the first time Tage knocked him down as they skated against each other? "I was about 17," the St. Louis rookie answered. Did your father say anything? "No, he doesn't say much. He got right back up and went right back after me." Tage smiled then added, "He gave me great advice about the NHL — don't take any day for granted."
Thompson told Blues broadcaster Darren Pang that coming back from the AHL after the bye week is a bigger-than-expected adjustment because of the stick. The American League has a deal with a manufacturer that most can't avoid. (Usually, older veterans are exempt.) In the NHL, you can use what you want. So, being in the minors means a much stiffer shaft, and controlling/shooting it is a bit of work once you get back to your whippier NHL model.
26. New Jersey plans to announce Wednesday whether or not Taylor Hall can face Nashville Thursday, and therefore compete in All-Star. But he has not cancelled his plane ticket and is undefeated in the three-on-three, so there's a storyline. Charlie McAvoy and Morgan Rielly, both considered to replace Victor Hedman, are out with injuries. Zdeno Chara is absolutely deserving, but Boston certainly could request he rests. I could see the NHL going to Mikhail Sergachev or Anton Stralman (or Aaron Ekblad).
The league is warily monitoring some last-minute decisions not to play, but we'll see. There is a solution: if you are an All-Star but don't want to get on the ice, come down for an expenses-paid weekend, try some commentary on the broadcasts, walk through the crowds/concourse during the skills and the game itself, kiss babies, sign autographs, take selfies. It's great public relations, you make fans for life. With the three days off for Christmas and the five-day break, there is plenty of downtime. Sell the game. Everyone benefits.
27. Looking forward to seeing the "gates" that will appear in the puck-control relay. They are vertical with three openings. As a player skates closer, one of the three will light up, and you have to get the puck through that hole. Neat idea.
28. Didn't know Jim Johansson well. But, at one international competition, a few American "extras" were saying they did not feel part of the group. Since they weren't eligible unless injuries forced someone out of the lineup, they weren't practising with the team. The coach was only concerned about what he had at his disposal — and that was it. The trip was a huge disappointment for them, a sore spot. One player's wife said she'd never let her husband do it again.
A few years later, that player was selected to another American team. I told him I didn't think he'd go again after the previous time, but he said, "It's different now. Jim Johansson. He's got a gift for making you feel important, no matter how small your role." Last year, he called Ryan Whitney out of nowhere, offering the newly retired defenceman a spot on USA Hockey's Board of Directors. "We can use you," Whitney said Johansson told him. "He always knew how to make you feel important."
That's a tremendous skill. What a huge loss for the sport. All the best to his family, particularly his young daughter.
29. After the 2004-05 lockout, the Montreal Canadiens held a small ceremony during the next season. They honoured Red Fisher for 50 years of covering the team. (It should have been a larger celebration, but he didn't want that.) Someone asked if the previous year should count, since there was no hockey. Fisher bellowed, "Of course it counts! Do you know how hard it was to cover them last year?" Loved that line, and it was the truest window into his personality I witnessed.
30. The biggest Oiler fan I know is Irshad Bangash, one of Rogers' IT specialists bailing me out whenever I forget my corporate password. Wounded by Edmonton's difficult year, Irshad recently went to Pakistan and brought back a terrific mug with his country's hockey logo on it. Of course, this is not our on-ice version, but field hockey. Pakistan is a dominant force, with four World Cup championships, three Olympic Gold Medals and eight Asian Games victories. The Wayne Gretzky of Pakistan is Sohail Abbas, whose 60 goals in 1999 is the record for one calendar year. I appreciate the mug, and know Irshad's only disappointment is he couldn't bring back someone to help kill penalties.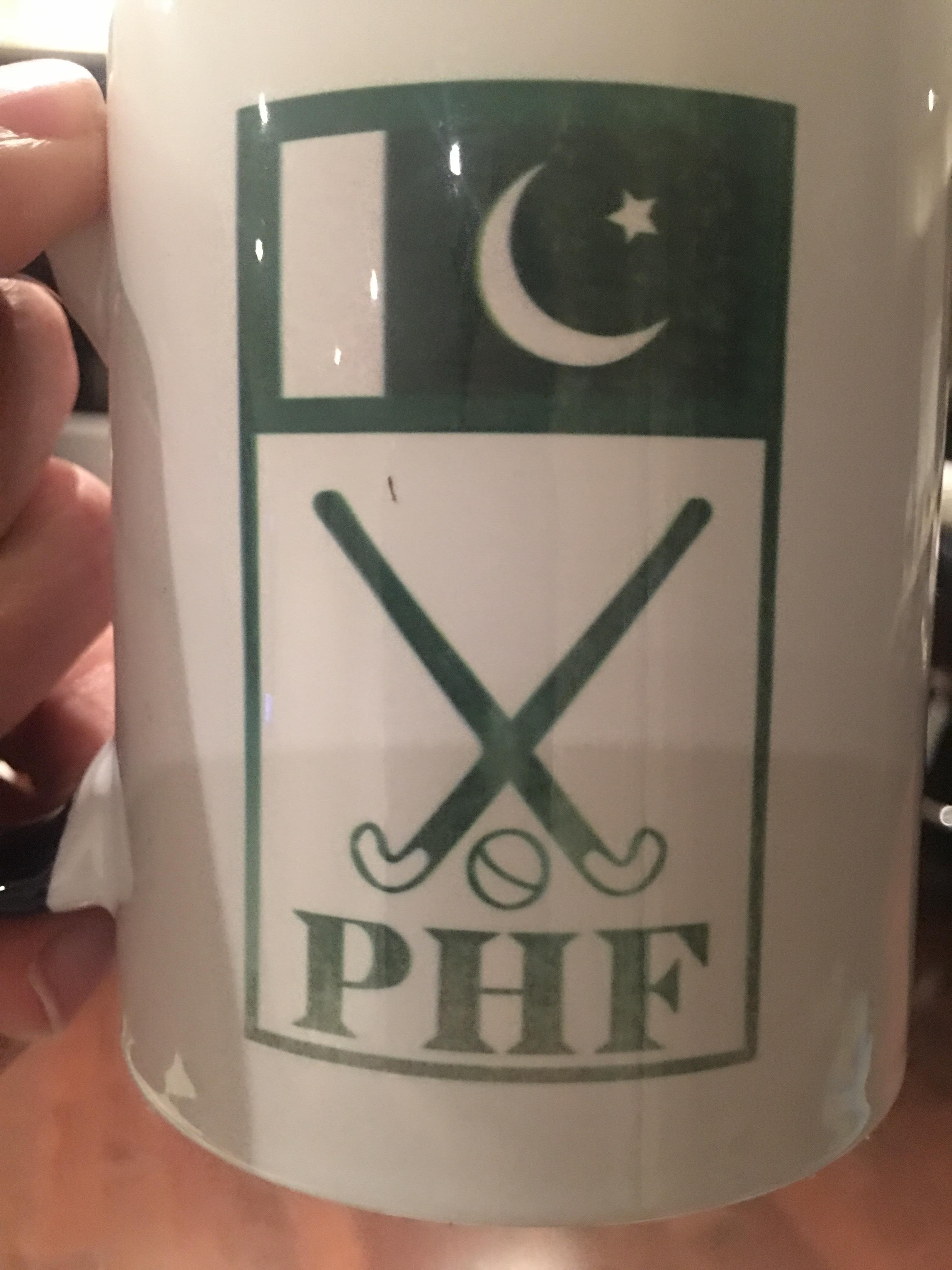 31. A few years ago, the Heisman Trophy introduced a fan ballot as part of its voting. Anyone can do it, and all of the submissions are rolled into one of the 929 total votes. At the Professional Hockey Writers' Association, we are copying the idea. This year, we are re-introducing mid-season awards.
There are a few reasons. First, it's fun. Second, it puts the year-end trophies in our minds a little sooner, so we can start thinking about the legit contenders. Third, it gives you another reason to hate us. We've added a few "different" awards, like the Rod Langway defensive defenceman idea. The deadline is Thursday. You are welcome to vote and contribute, at bit.ly/fanvotephwa.