One NHL executive reached out Sunday to ask more about Erik Karlsson.
He said, "I thought you were being overly careful."
That's true.
Here's what we know: As per Karlsson's contract, the Senators have the right to ask him for a list of 10 teams he can't be traded to. He has 48 hours from the request to submit it.
I'd heard that, in the aftermath of his "I'm going to get what I'm worth" comments two weeks ago, Ottawa made the ask. But it was difficult to prove. Karlsson doesn't want to throw any gasoline on an already raging fire. His agent, Don Meehan, declined to comment. Same went for Senators general manager Pierre Dorion.
Karlsson and Drew Doughty are similar. Both are brilliant players, among the best in their sport. They've also got that twinkle in their eye when it comes to dealing with media. Neither minds a little mischievousness. They've got great senses of humour, and can shiv you with a pointed line.
When Doughty made the comments to The Athletic that started all this, you could almost see him saying, "Boy, I'm going to have some fun today." He knows reporters are coming for him, and he doesn't mind giving them something to talk about.
[snippet id=3638287]
The difference between the two is where they play. It sounds insane to write that Karlsson must be more careful in Ottawa than Doughty in media-heavy Los Angeles, but that's NHL reality. Doughty's Kings are surging, holding off surprising Vegas atop the Pacific Division. Seven months after taking eventual Stanley Cup champion Pittsburgh to double-overtime in Game 7 of the Eastern Conference Final, the Senators find themselves 29th overall.
In the immediate aftermath of Karlsson's comments, there was a lot of anger inside the organization. Owner Eugene Melnyk is always the flashpoint, but it went deeper. There was at least one tense meeting between the captain and team officials. In a conversation with Sportsnet's Arash Madani last weekend in San Jose, the franchise cornerstone said his quotes were taken out of context.
That's a window into his regret: making those comments during such an awful run.
Karlsson told Madani leaving is "not something that I've ever considered. It's all about winning. I want to be on a – I've been here for nine seasons. I've invested my entire career into this organization. They've given me everything that I feel like I need to succeed. I think we're moving in the right direction. This is the place I want to win with. I want to win in Ottawa. That's where I'll always be. It's going to be my home, no matter where I end up playing when I get older, if that ever happens. So that's the thing: I want to be where home is. I'm comfortable at home, I like it at home and Ottawa is home."
He's not himself on the ice right now, and he's going to have to scratch his way back there. That said, Karlsson's earned everything he will get from his next contract. But, before we can safely say it's going to be in our capital, there is ground to repair.
One of the theories around Ottawa's request for Karlsson's list was that the Senators were trying to rattle his cage, just as much as he rattled theirs. Not long after I relayed that theory to someone, I was contacted by another source. He pointed to 2010-11, a year the Senators dropped to 26th in the NHL.
That season, Ottawa asked for every eligible player's trade list, then sent Mike Fisher to Nashville, Chris Kelly to Boston and Alex Kovalev to Pittsburgh. That is going to be the blueprint once again. The Senators have 10 players with some level of protection, and all will be asked for their preferences.
This source added everyone's taken a deep breath since the original comments. The Senators know that dealing Karlsson out of spite is a horrendous and soul-crushing move. Instead, they are looking at the reality of their situation. Only Buffalo sits lower in the East. There are major contract decisions to be made with Derick Brassard, Cody Ceci, Matt Duchene, Mark Stone — and the captain.
The one thing I absolutely believe about Karlsson is he wants to win. The Senators are considering some major surgery. How will he feel about that? That's probably the most important question. What if he disagrees with the vision? There isn't a team that wouldn't want him. But, man, that's a tough trade to make.
What makes all this different is it's believed to be the first time Karlsson has been asked for his list. Although, I think it's a real long shot a trade happens.
31 THOUGHTS
1. Laurent Brossoit is improving in the Edmonton goal, but the Oilers have looked at some external contributions to their crease. Nick mentioned Winnipeg's Michael Hutchinson, playing extremely well for AHL Manitoba, but another goalie they looked at was Detroit's Petr Mrazek.
Remember, he blanked the Oilers 5-0 last month. But, he's really struggled lately and Edmonton was watching so it's probably on the backburner now. I thought something might be imminent when, after making it look like they were scratching Ryan Strome Saturday in Montreal, he played and Anton Slepyshev sat. Slepyshev does not need waivers, and could be sent to Bakersfield if the team needed a roster spot.
2. I can't imagine Florida will wait too much longer to wade into the goalie pool, either. And I think they are looking for someone young-ish who might be their future.
3. With Kris Versteeg out a long time, Calgary may look for a power-play specialist and someone who brings edge to their game. They feel a little "too nice," outside of Travis Hamonic, Micheal Ferland, Mike Smith and Matthew Tkachuk. I could see the Flames part of a growing group eyeing Buffalo's Evander Kane.
4. Loved Tkachuk's response to his one-game suspension, coming back as an absolute force against Vancouver. Chris Johnston reported that Ray Whitney from the Department of Player Safety is expected to meet with Tkachuk to explain the problems, and once he figures out whistle-to-whistle, he's going to be an even bigger force. There's a lot to like about the way he approaches the game. He watches a lot of hockey, and is often one of the first guys at the rink on both game and non-game days.
He added that it's not unusual for him to show up at 3:45 p.m. for a 7 p.m. game. He takes it seriously. Last week's suspension (one game for poking Matt Martin from the bench) came because the league is still raw from having to suspend Luke Witkowski 10 games when Tkachuk jabbed at him. The NHL didn't want to do that, but it was black-letter law. Witkowski was forced to pay a heavy financial price.
5. Whatever it may look like with his ice-time, I left Vancouver last week believing the Canucks have a long-term plan for Jake Virtanen. They see a big, strong, fast guy who can shoot it. Whatever happened before, they don't want to give up. I do think, however, they will try to find another spot for Alexander Burmistrov.
6. General managers without a contract for next season (that we know of): Doug Armstrong (St. Louis), Jim Benning (Vancouver), Chuck Fletcher (Minnesota), Ken Holland (Detroit) and Lou Lamoriello (Toronto).
There's a suspicion Washington's Brian MacLellan is in this category, too, although the Capitals do not reveal that information. It would make sense, since coach Barry Trotz is in the final year, too. There are some real good GMs there. If they don't keep their current jobs, they'd be candidates for each other's spots.
7. There have been rumours that Brendan Shanahan would like to "bring back the band" in Toronto. That is, keep everyone in the front office in the same positions for at least one more season. But there's no confirmation and a real desire to keep this kind of information very quiet.
8. Interesting decisions ahead for Pittsburgh. Do they go after a veteran goalie as insurance? Do they add another centre? What about a scoring winger? Two of the three? All of them? I don't think they worry too much about the future — they are in it to win it as long as Sidney Crosby and Evgeni Malkin can drive the bus.
But, how many assets do you really have and how many are you willing to give up? I'm very curious to see what GM Jim Rutherford prioritizes and how many things he can address. The worst part of their schedule is over, and you know they will be ready when it matters.
9. I've wondered what kind of trade partner Edmonton could be for Pittsburgh. The Oilers certainly had interest in Ian Cole, although I'm not sure how the Brandon Davidson waiver claim affects things. The ask was high. There are two UFA-to-be-pieces that could make sense for the Penguins: Mark Letestu and Pat Maroon. They know Letestu well. My only question about Maroon is Mike Sullivan loves speed, and Maroon, a finisher, isn't a burner.
10. Sullivan had a good quote last week: "Hockey is a belligerent game." I'm going to steal that one.
11. The Athletic's Josh Yohe had an interesting story from Matt Murray about Phil Kessel. Murray said Kessel uses several different sticks per game, featuring different stiffness and specifications. I had a chance to ask Kessel about it when they practised in Toronto. He says what he adjusts is the height of the stick; he's finicky about how long or short it is and can feel the slightest difference in his ability to control the puck.
It was a fascinating conversation, very similar to stories about Ichiro Suzuki and his bats. How many sticks do you use during the season? "Maybe 200," he answered. Word is that, while in Toronto, Kessel went through 240 in one season and only Dion Phaneuf was anywhere close. Listening to players talk about their craft or their tools is really something.
12. Riley Sheahan on what he learned about the Penguins: "How hard they compete in practice. They fight for every puck."
He added how many of them stay after to work on individual skills.
13. Don't ask about Jack Eichel. Other than that, the Buffalo Sabres are willing to listen. The price would be high for, say, a Sam Reinhart, a Rasmus Ristolainen or a Marco Scandella — but it doesn't mean they won't consider offers. What might happen, too, is general manager Jason Botterill waits the full season to evaluate some of those core pieces before deciding whether or not to move them. Apparently, the Sabres want to improve their quickness as much as their talent. They feel they are too slow, both with their feet and with their decision-making.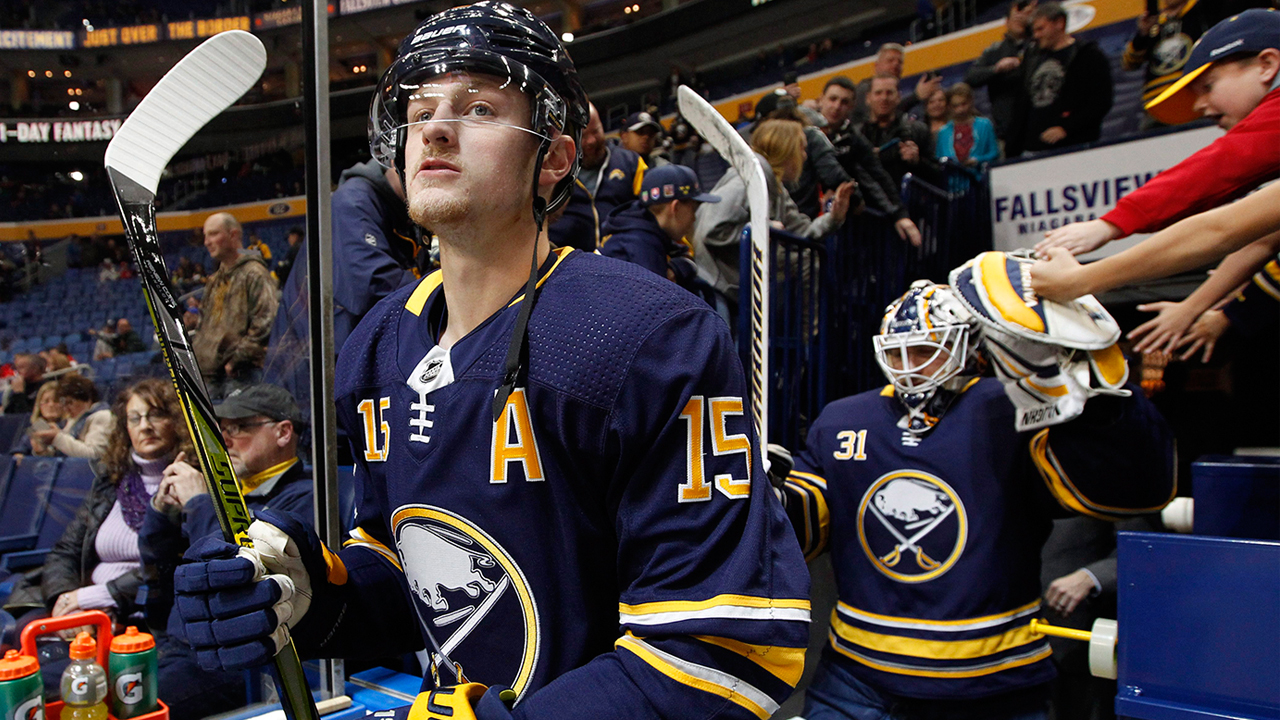 14. Obviously, Buffalo has rental options with Kane and Benoit Pouliot. Kane will be highly coveted, and potential pursuers say the Sabres are looking at the 2016 Andrew Ladd and 2017 Martin Hanzal trades as comparables. Ladd went from Winnipeg to Chicago for Marko Dano, a first-round selection and a conditional pick. Hanzal's move from Arizona to Minnesota (with Ryan White) was for a first, a second and a fourth. The Sabres feel Kane is an even better option, so they will aim higher. Buffalo fans are hoping the winger brings back a stud defender, but it's hard to see that for a rental.
15. There was a lot of discussion last week about Carey Price changing his equipment as he returned from injury. Buffalo's Robin Lehner has done it twice. Lehner changed his gear during the summer, went back into the old stuff after some early struggles and returned to the newer items a couple of weeks ago.
16. NCAA Princeton Tigers has three free agent players teams are scouting. The one with the highest ceiling is Ottawa's Maximilian Veronneau, a forward who has 19 points in 14 games this season. There's another forward, Eric Robinson, and a defenceman, Calgary's Josh Teves. The Tigers recently sent a note asking NHL clubs to limit their interactions with these players to certain games, times and practices.
Guess it was getting out of hand.
17. At the recent NHL board of governors meeting, commissioner Gary Bettman and deputy commissioner Bill Daly indicated a desire to solidify the futures of player and puck tracking. It's taken too long to get to this point, but the league is pushing hard with the encouragement of its teams. Bettman indicated we're looking at the 2019 playoffs at the earliest, with camera-based technology instead of chips embedded in the players' equipment or pucks. (Daly indicated that was too expensive.)
Jogmo, a German company, made a pitch to be used at all-star weekend in Tampa. The NBA uses SportVU (a camera-based system) for its data and analysis, but there are doubts hockey will go that route. The NFL's choice is Zebra Technologies. In 2016, their tags were put in players' pads to track speed, acceleration and deceleration. Now, the balls themselves are tagged. Next season, the NFL will partner with Amazon Web Services, which powers MLB's excellent Statcast.
I'm not sure which company the NHL will go with, since, as Bettman said, it is looking to "invent technology that doesn't currently exist."
I'm looking forward to it. I think it will settle a lot of arguments about what really matters.
18. The bigger debate between the NHL and the NHLPA might actually turn out to be sports science. Many teams use some form of tracking for this department. Calgary, Philadelphia and Toronto are among those who use Catapult. I follow that company on Twitter, and its work is very interesting. However, there are a couple of teams that don't use it because they are concerned about inconsistencies when the radio technology is indoors. (Catapult built its reputation with Australian Rules Football and rugby, which are played outdoors.)
Others use Kinexon. There is a lot of terrific stuff that can be accomplished: including scheduling proper rest days and better understanding of injuries. The NHLPA has long worried that this will be used against players. For example, if player X is up for a contract extension, does his GM look at the data and say, "His knee is down to 75 per cent strength compared to last season. Do we really want to do this?" Over texts with a few players, there is a sense they trust some teams more than others. Pittsburgh scored well. (I know you will ask, but they weren't comfortable sharing which teams don't.)
Second, who owns the data? For example, I mentioned above that the NFL uses a company called Zebra. Earlier this year, the NFL Players' Association cut its own deal, with a wearable-device manufacturer known as WHOOP. The league does not allow them to be worn during games, although it has been reported some sneak them in under wristbands. The NBA banned similar devices during games in 2016. MLB does allow it.
With that agreement, the players can sell their own data — to make video games more realistic, for example. No doubt the league would want this as part of Hockey Related Revenue. Will the players disagree, saying, "Our bodies, our call?"
19. All of a sudden, it's a very interesting time. It's hard to see Seattle as anything but the 32nd NHL city. The league has lusted after this piece of the Pacific Northwest for years. The most recent expansion was designed for it, only to see the region trip over the first hurdle, never getting into the race. This time, Seattle has solid ownership and a legitimate arena plan. It is clearly ahead of Houston and Quebec City in the pecking order, with almost three years to get ready for the 2020-21 season.
The US$650 million asking price is almost CDN$850 million, which is insane for Quebec. I can't see the NHL going to 34 teams, so at that point, you start looking for uncertainties.
20. You can remove Carolina from that list. Tom Dundon's purchase comes with the normal seven-year commitment to keep the team in its current location and commissioner Gary Bettman fights hard for this market.
If Arizona can't sort out its arena situation, Houston has to be the place — to maintain the east/west balance. There are non-stop rumours about Ottawa, but those are met with firm denials. Calgary owner Murray Edwards isn't thrilled with his current situation, but said at the board of governors meeting that the team is not for sale.
The Islanders unveiled their vision for Belmont Park at a public meeting on Sunday, and wisely won't consider any other scenario. (The Oak View Group, which won approval to redevelop Seattle's KeyArena, is the driving force behind this plan, too.)
Until those organizations finalize their futures, the hopefuls watch with interest. And, there is always worry about Florida. Whatever happens, the NHL has three very legitimate options for expansion/relocation. It's been a long time since we could say that. There may not be an overwhelming desire to re-draw the map, but, if necessary, there is the ability to do it.
21. Let's clear up one thing about the Carolina sale. In the presentation to the governors, the team was valued at US$460 million for 50.01 per cent, and US$550 million for the remaining 49.99 per cent within the next three years. That's $230 million now and the possibility of $275 million later. However, it is expected that Dundon actually will be purchasing 52 per cent at this time. The valuations stay the same, but adjust the payment amounts.
22. Apparently, the NHL is considering investing in Fanatics. I was looking at buying one of their ugly NFL Christmas sweaters. Minnesota Vikings, of course.
23. You're always curious to learn how a new GM will react to a difficult situation, but I really liked the way both Ron Hextall (and Dave Hakstol) handled the "Fire Hakstol" chants and pressure in Philadelphia.
That organization has a historically short leash for coaches, but Hextall made it clear he wants to change that. He showed up in the dressing room to defend his coach, and, days later, passionately informed the media Hakstol wasn't going anywhere. (The only thing missing from that burst was Hextall chopping down reporters with a goalie stick.)
Hakstol said he knows what he signed up for. The Flyers don't admit it, but privately, word is they feel one year away from a true assessment of how good they are. Second, Hextall worked hard to convince Hakstol to leave North Dakota three summers ago, luring him to Pennsylvania with what is believed to be a six-year contract. He's invested in his coach.
24. I liked that Anaheim/New Jersey trade for both teams. The Devils badly wanted a right-shot defender, with several players indicating they liked their chances for the playoffs if one landed in Newark. It's probably a relief for Sami Vatanen that the rumours are finally over, since there'd been so many.
Arizona, Montreal and Toronto were among those that took very long looks at him. Adam Henrique is going to thrive around that massive, nasty team once everyone is healthy. The interesting one will be Joseph Blandisi. At 23, he's been close to a point-per-game AHL player, but hasn't done it at the higher level. You get some scouts who really like him and some that really don't. The Ducks tend to evaluate extremely well. I'm curious to see how it unfolds.
25. NHL.com's Kevin Woodley, who I refer to as "the goalie whisperer," is a major force behind the unofficial "Bunny Larocque Award" — given every season to the best backup goalie in the league. (He credits a writer named Paul Campbell for coming up with the idea.) Larocque's widow, Helene, found out and was very appreciative, so Woodley stepped up and created an actual trophy, presenting it to the winner. He's based in Vancouver, so the 2016-17 winner, Scott Darling, was presented with it last Monday, when the Hurricanes were in B.C. This is a great idea with awesome execution.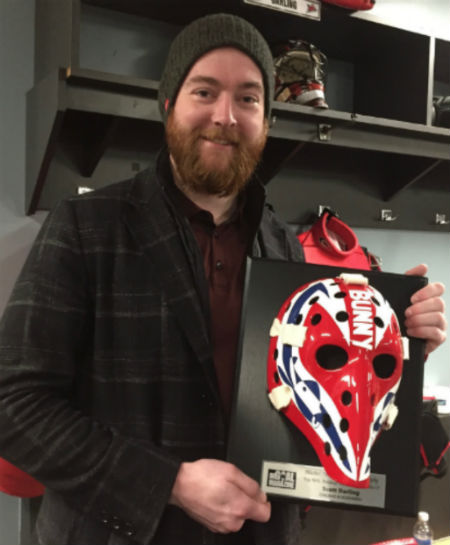 26. Brock Boeser was at 1.09 points per game a week, and has dipped slightly to an even 1.00. It will be hard to keep that pace without Bo Horvat, but he's given himself a chance to be in rare territory. Since 2005-06, only three rookies have averaged a point-per-game in at least 70 appearances. They are Alexander Ovechkin (1.31), Sidney Crosby (1.26) and Evgeni Malkin (1.09). Sources say, decent company.
27. Nazem Kadri is on-pace for 42 goals. His professional high is 32, achieved last season. He beat that total once in the OHL, with 35 as 19-year-old in London. This century, there are four players who scored 40 goals for the first time as 27-year-old: Markus Naslund (41 in 2000-01), Brian Gionta (48 in 2005-06), Henrik Zetterberg (43 in 2007-08) and Patrick Kane (46 in 2015-16). Kadri doesn't have a great shot, so he's got to get close and get greasy to earn them.
28. Thanks to Detroit's Ken Daniels for this one: last month was the highest-scoring November since 2005. But there is a change is in the amount of power-play goals. Twelve years ago, 34 per cent of the 1,207 November goals (404) were with the extra man. This time, just 22 per cent — 263 of 1,185 — were on the man advantage. The totals aren't as inflated this time.
29. Buffalo's Kyle Criscuolo wrote his Harvard thesis on whether or not college athletes should be paid. Let me guess: he wrote they should.
"I said they should at least be eligible for sponsorships," he laughed.
30. Unsolicited advice for players crossing the border: don't bring an empty suitcase on your flight. Leads to long delays at customs.
31. Great to see Paul Kennedy back working Tampa Bay broadcasts.