• Who goes at No. 7 in the draft?
• Sabres could be in on Ralph Krueger as head coach
• Offer sheet compensation figures
Sam Cosentino's 2019 NHL draft rankings for May are out. I concede this is much more his expertise than mine. He knows these guys much, much better than I do.
From what I'm hearing, there is some consensus developing around the top four or five. Jack Hughes and Kaapo Kakko are one-two, with Kaako widening eyes in the early days of the world championships. (Thumbs up to New Jersey's social media team for lusting after both players on its Twitter feed. Very good.) The Rangers at number two can relax and be happy with whatever they get.
#IIHFWorlds pic.twitter.com/m5dqabJi1j

— New Jersey Devils (@NJDevils) May 10, 2019
A few teams I spoke with believe WHL Vancouver defenceman Bowen Byram and U.S. National Team Development Program centre Alex Turcotte are separating themselves at three and four, although Sam thinks one of Turcotte's teammates — centre Trevor Zegras — is in that group. Sixth on his list is WHL Lethbridge centre Dylan Cozens.
That brings us to No. 7.
You'll hear it millions of times between now and June 21. It is the phrase, "The draft really begins at…" This year, that sentence will often end with "…at three, with Chicago." What the Blackhawks do after Hughes/Kakko affects everyone else. But, there is another variable, and that is who takes Russian winger Vasily Podkolzin.
I've seen more of Thanos the past two years than Podkolzin, but certainly know his reputation. He's a talented, talented player — as skilled as anyone available in June. But he's locked into an overseas contract for at least another two years, which limits the number of NHL teams willing to consider it at this time.
"If you need help next season or the year after, you can't take him," one exec said this week. "But if you can afford to wait…it could be like a delayed powerball victory."
Adding to the intrigue is that this type of situation can mean the player drops like a stone, as concerned clubs pass him by. But an unofficial straw poll sees a couple of situations high in the draft that can afford to play the long game.
(Brief interlude: At this time, I introduce the Isiah Thomas rule. As a young reporter breaking into the business, Thomas warned me that, "At the draft, everyone lies." In 1996, two months before the NBA draft, he told me, on tape, that he was taking Marcus Camby. Remembering his previous rule, I didn't believe him. When he did select Camby, he laughed and said, "That time, I was telling the truth." Great memory.)
Back to Podkolzin. New Jersey and the Rangers aren't going there. The suspicion is the Blackhawks won't either, since they are determined to regain peak relevance now. The biggest question about Chicago is whether or not they take Byram, since they have selected three defencemen in the first round and another in the second during the past two drafts. (I'd take the best player available and sort it out, but I'm not in charge — luckily for them.)
That brings us to Colorado. The Avalanche are stocked with good, young players. This is a rising team that will get votes as a Stanley Cup contender in 2018-19. It can afford to be patient. Now, some teams are more careful about drafting Russian players with options. Mikhail Grigorenko didn't work out with the Avalanche, and they have to sort out Nikita Zadorov's future. There are differing opinions on whether or not Colorado would do it, but there's no doubt they are in a great position to take the gamble.
At five is Los Angeles, and, like the Blackhawks, are pushing to regain the mystique. It would be a surprise. Then comes Detroit.
No GM is more secure than Steve Yzerman, returning to the scene of his greatest triumphs. Even before his announcement, there was a belief the Red Wings liked Podkolzin's game. The organization has a great history with Russian players, and Yzerman had success with drafting them in Tampa Bay. They won't be afraid, if he's the No. 1 guy on their list.
We're six weeks away, and already the smokescreens are going up. The playoffs have been great. The off-season intrigue adds to the fun.
[snippet id=4532907]
1. On Sunday, Southampton hosts Huddersfield Town to close its Premier League schedule. By Wednesday, its former chairman, Ralph Krueger, is officially a free agent. According to multiple sources, Krueger is rising on Buffalo's list of coaching candidates. He's got a real shot at the job. John Shannon reported earlier in the week that Tampa Bay assistant Todd Richards is no longer a candidate. There is a belief Jacques Martin is out, too. Sheldon Keefe is only leaving AHL Toronto for a better situation. I think Edmonton is more likely for Dave Tippett. Sabres GM Jason Botterill spoke to Krueger before hiring Phil Housley in 2017. I can't find anything with a cursory Google search, but I wonder if there is a connection between Krueger and Botterill's father. Dr. Cal Botterill, a prominent sports psychologist, teaches at the University of Manitoba and has longtime Hockey Canada connections. Krueger is from Winnipeg and is a longtime international hockey participant.
2. Ottawa's list includes Dallas assistant Rick Bowness, incumbent Marc Crawford, NCAA Providence's Nate Leaman, AHL Belleville bench boss Troy Mann, Martin and Toronto assistant DJ Smith. GM Pierre Dorion will pare down this group over the next couple of weeks. Tippett is the favourite in the Alberta capital, with Smith and Dallas assistant Todd Nelson also possibilities. In Anaheim, I assume Dallas Eakins until proven otherwise.
3. Another Toronto assistant, Jim Hiller, has blanket permission to interview with anyone, and is not expected back. Nashville is believed to be among the interested teams. Makes sense as Hiller has a reputation for power-play expertise. Former Florida coach Bob Boughner is a possibility as an Edmonton assistant. There are lots of rumours about Andrew Brunette next to Joel Quenneville in Florida, and there're also rumblings of movement alongside Jeff Blashill in Detroit.
4. Odd quirk in Patrick Marleau's contract: his signing bonus is paid in two instalments, one in July, one in December. Remember, he controls his future, but that adds a wrinkle to any potential move.
5. A couple of executives who said there was definitely something to the Evgeni Malkin trade rumours think those will die down. "If their goal was to rattle his cage," one said, "he got the message." When Malkin arrived at the world championships, the future Hall-of-Famer told reporter Simon Galkevich, "I had a bad season…Sometimes criticism is justified. This time it's probably justified." Malkin also controls his future.
6. With teams beginning their scouting meetings, a few interesting situations slipped into the public domain. Let's examine a few. First, what are Minnesota's plans for Jared Spurgeon?He'll be 30 in November, with one more season on a $5.2M cap hit. Ideally, the Wild re-sign him, but Spurgeon might be their most tradable asset at a time they don't have too many. There'd be a ton of interest. There already is, but Minnesota has to make a decision. It would be a surprise if Jason Zucker returned following last season's aborted trade to Calgary. There's always interest in scorers.
7. How will Vegas get under the cap? The Golden Knights are already over this year's $79.5M figure and close to the projected $83M for 2019-20. Defenceman Colin Miller fell out of favour, but teams who tried to take advantage of his healthy scratches were told the Knights aren't interested in simply giving him away. I don't know how likely it is, but they will be asked about two of their fan favourites: arbitration-eligible William Karlsson and leading goal-scorer Jonathan Marchessault.
8. What does Cale Makar's arrival mean for Tyson Barrie? Two right-handed shots, and Barrie is one year from unrestricted free agency. After a 59-point regular season, Barrie added eight more in the playoffs. The Avalanche have always made it clear that if you want him, it has to be a "hockey trade."
9. Is Tyler Myers' departure from Winnipeg a guarantee? A lot of us assumed so, but this may depend on if the Jets trade Jacob Trouba, and, if so, what comes back in return. (The betting line is Trouba does get dealt, but we've all lost wagers before.) It's hard to see GM Kevin Cheveldayoff losing both without acceptable cover. It will be challenging for the Jets to match what Myers can get in free agency, but he's spoken very highly of the organization and it wouldn't be a stunner if he tried to make it work.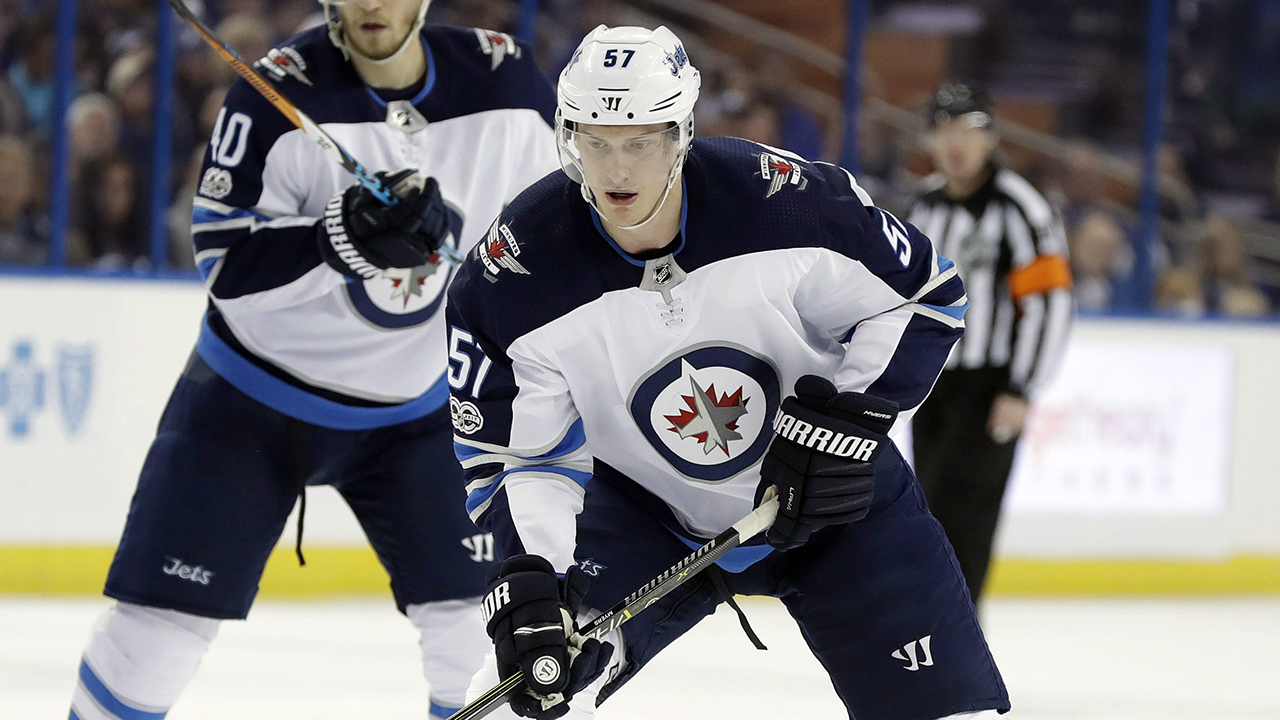 10. What is Vancouver planning on the blue line? Derrick Pouliot out, Luke Schenn expected to get an extension. It's possible only one of Alex Edler, Ben Hutton and/or Chris Tanev is back next season. The Canucks are going to investigate countless possibilities.
11. What is Columbus going to do with its cap room? We all know who is likely to go. Matt Duchene always keeps his options open. The Predators will have to do some surgery to make it work with him, and Montreal — which made a quiet pitch for him around the deadline — is also expected to make a play. The Blue Jackets went for it this season, and were rewarded with the first playoff victory in franchise history. GM Jarmo Kekalainen isn't afraid to be aggressive, and the team is about $30M below the projected ceiling. Will they feel the need the weaponize their cap space right away, or take a more patient approach?
12. I don't think San Jose has given up on extending Erik Karlsson. As Nick Kypreos reported Saturday, term is going to be a challenge for him and his suitors.
[relatedlinks]
13. Information about the Islanders is difficult to come by, but one rumbling is the club is really grinding away with unrestricted free agent centre Brock Nelson, trying to get something done.
14. Pat Maroon's superb spring could help Wayne Simmonds. The latter has to get healthy, but what Maroon's reminded everyone is that you need those kinds of players in April, May and (hopefully) June.
15. Player to watch at the world championships: Sweden's Joakim Nygard. The 26-year-old left-shot winger still intends to play in the NHL next season. He's going to select three-to-five contenders to narrow his choices, before picking the right fit. Calgary and Ottawa were among the expected short list.
16. Quote of the week, an NHL GM, referencing Ken Holland's mammoth new $5M/year contract in Edmonton: "I can't wait to argue with my owner that I'm 50 per cent as good as he is."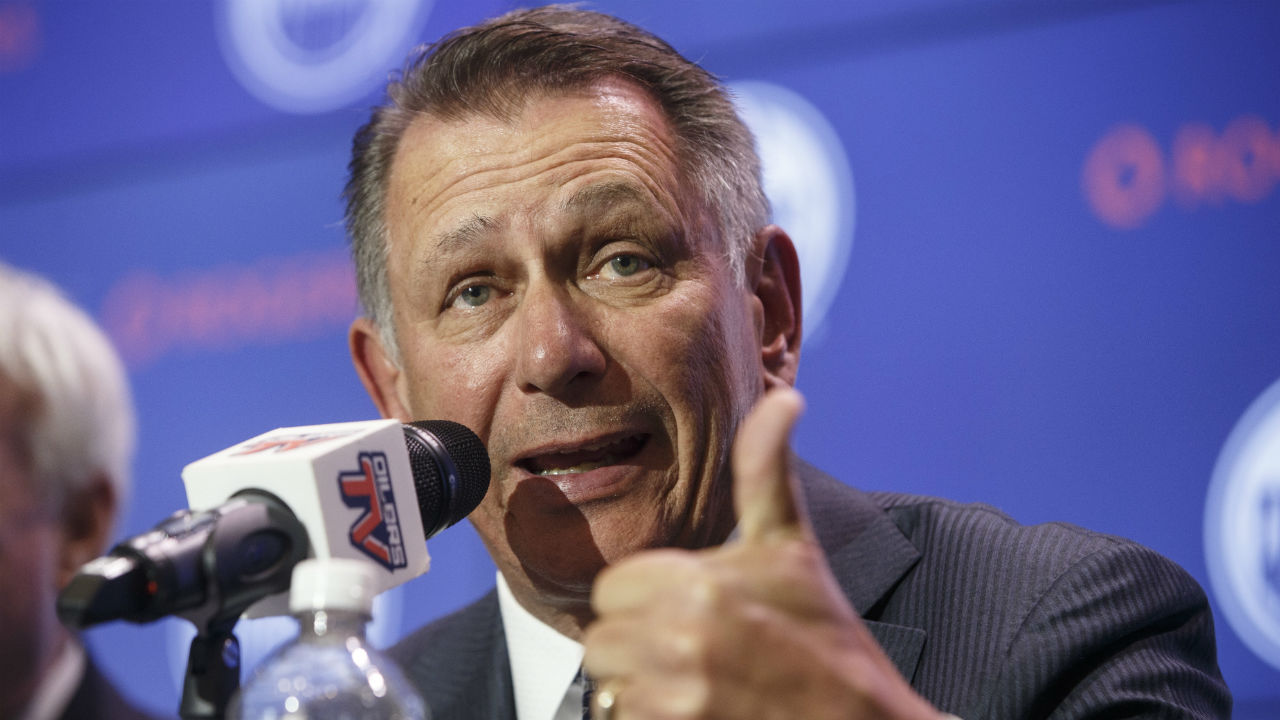 17. At his introductory media conference, Holland talked about his trip overseas shortly after Steve Yzerman took over as Detroit's GM. "I went over to the world under-18 championships," Holland said. "As I was over there, I realized that I still had the passion, the energy, the enthusiasm, the desire to continue to be an NHL general manager." A few of his peers saw it. They could see he was energized by being there, and becoming a consultant was not going to satisfy him. It's clear he knew he was going to give up the seat in Detroit months before it happened, but he worked hard, refusing to mail it in despite that. If not the No. 1 contender, he would have been very high on Seattle's list, but would be almost 66 years old when the puck dropped. The time for him was now. Holland described a situation where the Oilers would compete for the playoffs while building for long-term success. It will be interesting, because some candidates took pains to make it known this is not a short-term fix.
18. Prior to Holland's hiring, the Oilers were considering a Milan Lucic buyout if there's not a workable trade. The true cap relief would be in years five to eight, when his payout drops to $625,000. The next four seasons would be stiff. One year ago, other clubs said Edmonton's asks were unrealistic. We'll see this time.
19. Quote of the Week II: "Ken will be happy because he's closer to the outstanding wood oven in the backyard of his summer place."
20. Josh Currie scored at 13:02 of the second overtime on Saturday to give AHL Bakersfield a 3-2 win over San Diego, keeping the Condors alive, trailing the Gulls 3-2 in their second-round series. Another of Holland's early decisions will be Bakersfield coach Jay Woodcroft's future. Woodcroft did an excellent job with the team and its prospects, but the expectation is Todd McLellan will want his former Oilers assistant to re-join him with the Kings. Woodcroft built a new identity for himself, but where does he see a better future?
21. The Oilers/Condors have a prospect in the AHL some teams are scouting: 23-year-old left winger Evan Polei, who played at WHL Red Deer. Last season, his first as a professional, was split between Bakersfield and ECHL Wichita. This time, he had 20 points in 53 games as a full-time AHLer. I'm told someone's going to take a chance on him. We'll see if it's Edmonton.
22. Seattle's prepared to take its time for a GM search. If they find the right person, they'll do it, but there's the possibility of a process slowdown.
23. Ottawa plans on taking a run at extending Thomas Chabot when he's eligible on July 1. If the Senators are going to build some goodwill with the fanbase, signing a cornerstone young player is the right place to start. The president of hockey operations search has been humbling for Eugene Melnyk. Not only was he rejected by the top candidates, but he couldn't even get a meeting with them. The latest moves on the business side indicates the organization is still below its season-ticket and corporate-sales targets, although the fact Nic Ruszkowski is staying on through the end of his contract indicates this change isn't as nasty as some of the previous ones.
24. One official, on Gabriel Landeskog, who refused to blame the linesmen for the controversial offside review that negated a Colorado goal in Game 7 vs San Jose: "He's going to get every call for the rest of his career."
25. My new proposal for NHL video review: coaches get two challenges per game. Challenge goaltender interference, puck over glass, puck hit netting, who high-sticked who, should something be a major, whatever everyone wants to throw in there — lose your timeout for a goaltender interference mistake, a penalty if anything else is wrong. (Situation room regains control during last minute of regulation and all overtimes.) I'm all for eliminating the offside review. If we've learned anything, it's that linesmen call it pretty well. We're arguing about millimetres, and that's not what this was supposed to do. The onion is being sliced too thin.
26. David Krejci made his NHL playoff debut in 2008. He's got 98 post-season points. Players with more during that span: Sidney Crosby (181), Evgeni Malkin (164), Alexander Ovechkin (126), Patrick Kane (123), Marian Hossa (114), Jonathan Toews (110), Nicklas Backstrom (106). As Larry David would say, "Pretty, pretty, pretty good."
27. No defenceman's had 20 assists in one playoff year since Brian Leetch's 23 during the Rangers' 1994 Stanley Cup run. In Game 1 of the Western Final, San Jose's Erik Karlsson and Brent Burns recorded numbers 13 and 10, respectively. The NHL record is 25, set by production machine Paul Coffey in 1985. Could Karlsson make a run at that if the Sharks move on? Others with a chance at a high number are Carolina's Jaccob Slavin (11) and St. Louis's Alex Pietrangelo (9). This century, Duncan Keith has the most — 18 during his Conn Smythe performance of 2015.
28. Another chase: most minutes played in one post-season. Drew Doughty's atop the list with 747:33 from Los Angeles's second Stanley Cup, in 2014. (This stat goes back to 1997-98.) Burns has a shot at it. Doughty played 26 games that spring, and if Burns keeps his current pace of 28:53 per night, he would surpass that total in the same number of appearances. In researching this, you're reminded that Chris Pronger and MacInnis both averaged over 35 minutes per game for the Blues in the 1999 post-season. The rest of you are slackers.
29. Don't know how often this happens, but Carolina's Warren Foegele — tied for 11th with five playoff goals — has a unique backstory. He was a higher pick in the NHL draft than he was in a junior draft. Passed over twice in Ontario, he was finally selected 135th overall by Kingston as an 18-year-old in 2014. (A growth spurt during his time at St. Andrew's College didn't hurt.) Two months later, the Hurricanes took him 67th in the NHL draft. Has to be rare that someone goes that much higher in the NHL than junior in the same season. He went to NCAA New Hampshire before going to the Frontenacs, but this was an astute pick by Carolina.
30. The NHL/NHLPA released some of its key off-season dates and information to teams and agents in the last week. The interview period for unrestricted free agents begins at 12:01 a.m. ET on June 23, and restricted free agents can be contacted three days later. The average salary for 2018-19 was $3,244,126 — a 4.14 per cent increase over 2017-18. No team can walk away from a salary arbitration award lower than $4,397,832. I know, I know: what you all want to see are the offer sheet compensation figures, so here they are (don't forget that any term longer than five years sees the AAV divided by five — not six or seven):

31. Finally, congratulations to Matt Cane, hired by New Jersey as Director of Analytics. A few teams have tried to hire him, and this is the opportunity he chose. His work I'm most familiar with is on contracts. He'd do an annual spreadsheet predicting what various players would get on their upcoming deals, with guesstimates for different term lengths. His model was reasonably accurate, and I'll miss going through it.